Hear more stories of Star Wars fans who found each other through a galaxy far, far away.
Han Solo and Princess Leia Organa. Anakin Skywalker and Padmé Amidala. Maz Kanata and Chewbacca. These pairs might be seen as some of the power couples of the galaxy far, far away -- a match of two high-profile figures, achieving through their relationship something greater than each of them alone. Okay, maybe don't tell Chewie about that last one. Here on Earth, we've got our own power couples in the Star Wars fan community. As we home in on Valentine's Day, let's take a look at some more of those pairs that combine their love of Star Wars with their love for each other. (And in case you missed part one, you can check it out here.)
"Aren't you a little cute for a stormtrooper?"
You might have heard stories about people who meet their perfect match in the hospital, but Daniel Wolsey and Tyjana Sovine of southern California have an added twist to that tale: they were both at the Naval Hospital in San Diego participating at a costumed event. Daniel attended as a costumed member of Rebel Legion's Sunrider Base, while Tyjana was there as support for the Southern California Garrison of the 501st Legion. Despite coming from opposite sides of good guys and bad guys, the two got to know each other more after continuing to run into each other at different costumed events, and eventually Daniel and Tyjana became a couple.
The two of them enjoy costuming from the saga, and can be found trooping at many events in the region, from charity work to conventions to Star Wars theme nights at baseball games. Additionally, Tyjana is a skilled photographer, always with her camera ready for capturing these events to share. When asked how being involved with Star Wars fandom has helped continue to build their relationship, Daniel says that it gives them the chance for "having fun with each other and getting the opportunity to experience different things."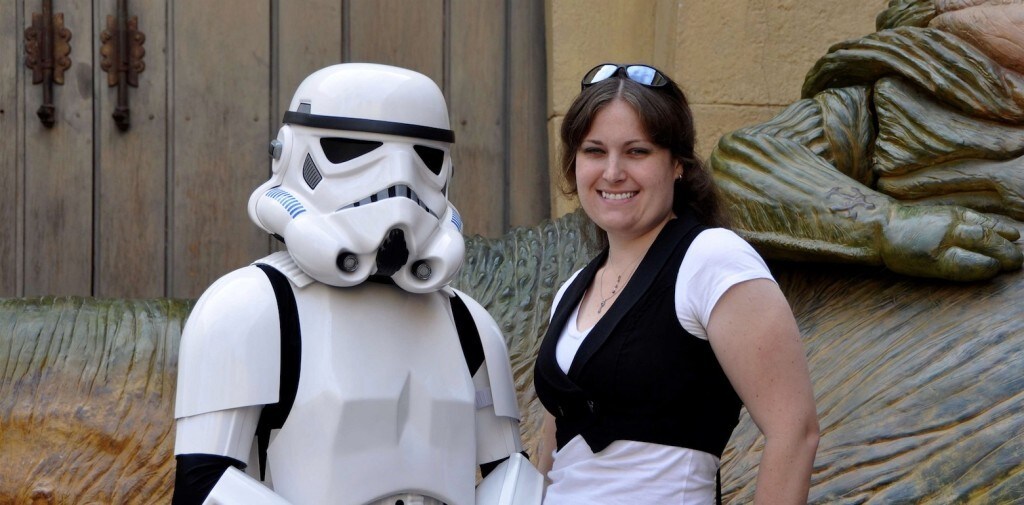 On top of their costuming, they also like collecting Star Wars merchandise, and are into many aspects of the fan experience: gaming, reading books and comics, belonging to local fan clubs, and of course, attending Star Wars Celebrations. Their favorite Star Wars couple is Han and Leia, because as they put it, "they bring out the best in each other."
Daniel and Tyjana are looking forward to future Star Wars, and are very excited about the Disney acquisition of the franchise. Daniel sums it up. "It will be an ongoing piece of history that will give us something to talk about for years to come and allow us to embark on many new adventures."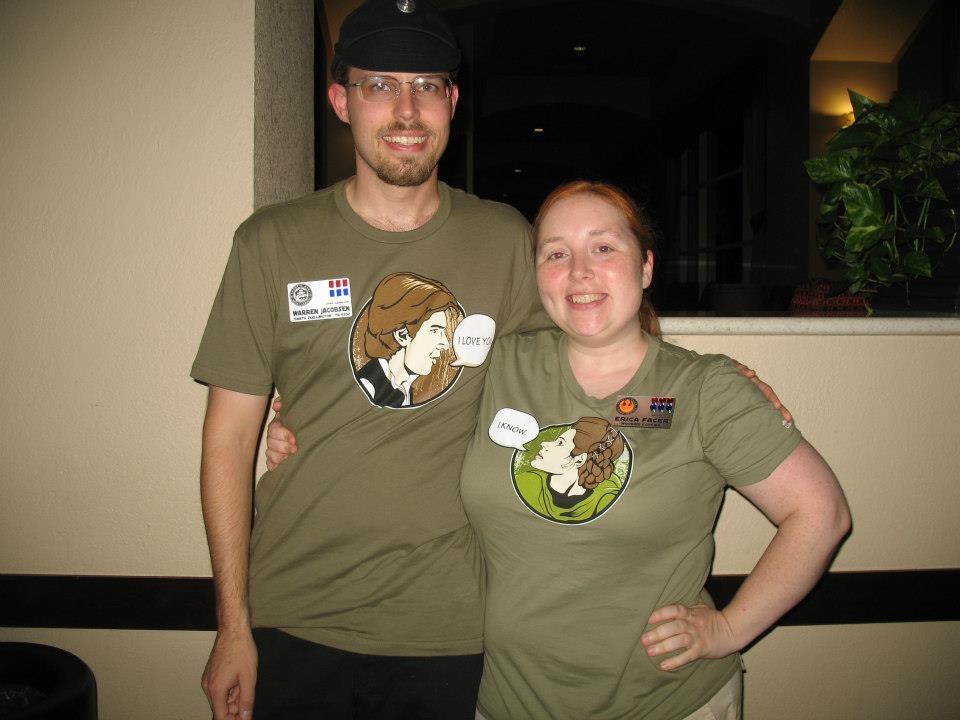 A conventional relationship?
One thing that many Star Wars fandom power couples have in common is that they were first connected through their love of Star Wars. And that's certainly the case for Erica Facer, from a small town in upstate New York, and Warren Jacobsen, from Riverside, California. They first met each other in the discussion forums on TheBothanSpy.com, a fan and collecting site, and when forum members gathered together at Star Wars Celebration III in Indianapolis in 2005, Warren and Erica finally met in person -- and started dating a few weeks after that.
Warren discusses their involvement at The Bothan Spy, saying, "We both participated in contributing website content, like hosting contests or posting autograph collecting tutorials. Erica had developed quite a reputation for winning online trivia contests, a tradition she carries on to this day at conventions big and small. While neither of us is as active online as we once were, we still maintain a large group of international friends we enjoy seeing at conventions."
Now together in east Texas, the pair have been very active in the fan community: They're both staff at The Bothan Spy and members of the Dallas/Fort Worth chapter of Fan Force, and occasional guests on The Rantcor Pit podcast. Erica is also a member of Rebel Legion's Kessel Base and the Republic Service Organization, and won the Ms. Star Wars 2011 competition at All-Con Dallas. A lifelong collector, Warren is an active contributor to the Star Wars Collecting Database and a member of the 501st Legion's Star Garrison, often traveling several hours for events in Shreveport or Dallas.
Both agree that Han and Leia are their favorite Star Wars couple for multiple reasons. Erica likes the fact that "Leia isn't a damsel in distress and has saved Han on several occasions."Additionally, the couple have homed in on some relationship advice from the princess and the scoundrel. "Han and Leia always tell each other how they really feel -- I think Warren and I are similar," says Erica.
"They really do have a great dynamic," Warren says. "They are both willful characters with hearts of gold."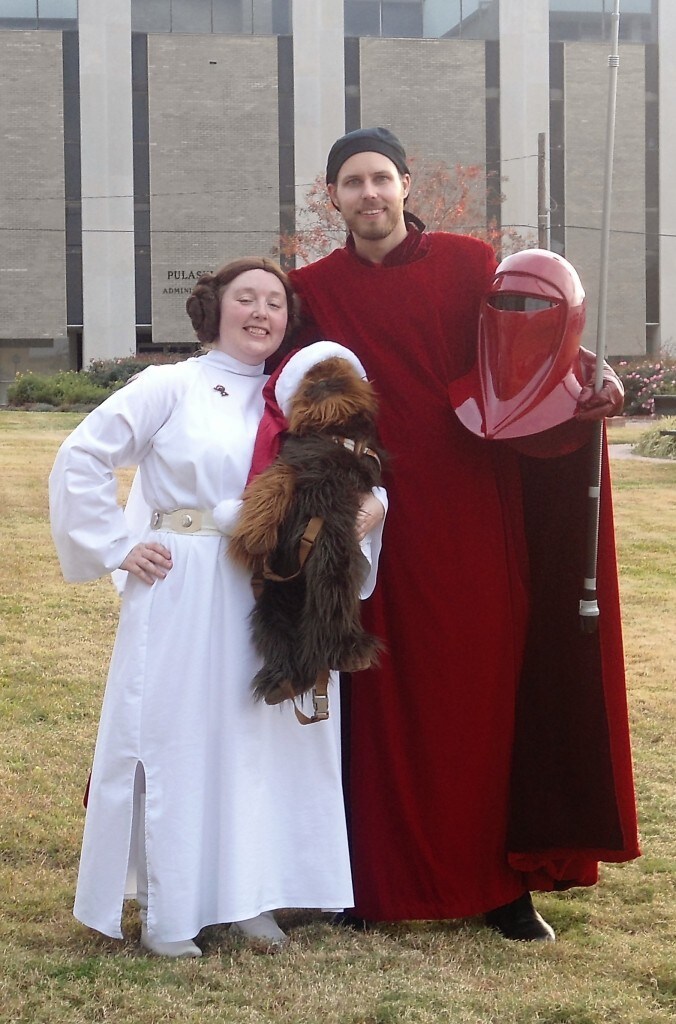 "While Star Wars does surround us like the Force, I'm not sure Star Wars is what binds us together," Warren says. "However, I can say that having a common love of Star Wars and other geeky things does provide many opportunities for us to spend time together, be it a quiet evening watching a movie or show, or going off on another wild adventure." Many of those adventures include participating in Star Wars Celebrations and their local convention scene. They regularly attend All-Con in Dallas, Ark-La-Tex Comic Con in Texarkana, Texas, and plan to return to Geek'd Con in Shreveport, LA for a second round this year.
But it was Star Wars Celebration in Anaheim last year that had something special for them -- exactly 10 years after first meeting at Celebration III, the two got engaged. "At the beginning of the con, I thought he might propose, since we had met at Celebration in Indiana 10 years earlier, but the con ended on Sunday and it hadn't happened." Erica says. "Then we went to Disneyland Sunday night with a few friends. We had just exited the Finding Nemo submarine ride, and our friends had wandered away. Warren chose that moment to propose! I was very surprised. He gave me a vintage 1980 Empire Strikes Back ring."
What's next for Warren and Erica? You guessed it -- there's a wedding coming up this spring!
So if you're tired of looking for love in Alderaan places, take a cue from these power couples, and get involved in Star Wars fandom. You're bound to make friends, and you never know...you might meet someone special that you'll end up sharing the galaxy with. Obi-Wan warned Anakin to stay away from power couplings, but that doesn't mean that you have to! May the Force of love be with you!
James Floyd is a writer, photographer, and organizer of puzzle adventures. He's a bit tall for a Jawa. His current project is Wear Star Wars Every Day, a fundraising effort for a refugee aid organization. You can follow him on Twitter at @jamesjawa or check out his articles on Club Jade and Big Shiny Robot.