Meet couples who found each other through the power of the Force.
The Force isn't the only power that binds the universe together. There's also the power of love, which can bring two people together. And when both of those people are big deals in their fields, like a Rebel leader and a top smuggler, we have a power couple. Just as the galaxy far, far away has Leia and Han, here within the Star Wars fan community, we have our own power couples: fans who are strong with the Force on their own, but when united in love, form an unbeatable duo. With Valentine's Day right around the corner, let's check out some of these positive power couplings and find out how love and the Force figure into their lives.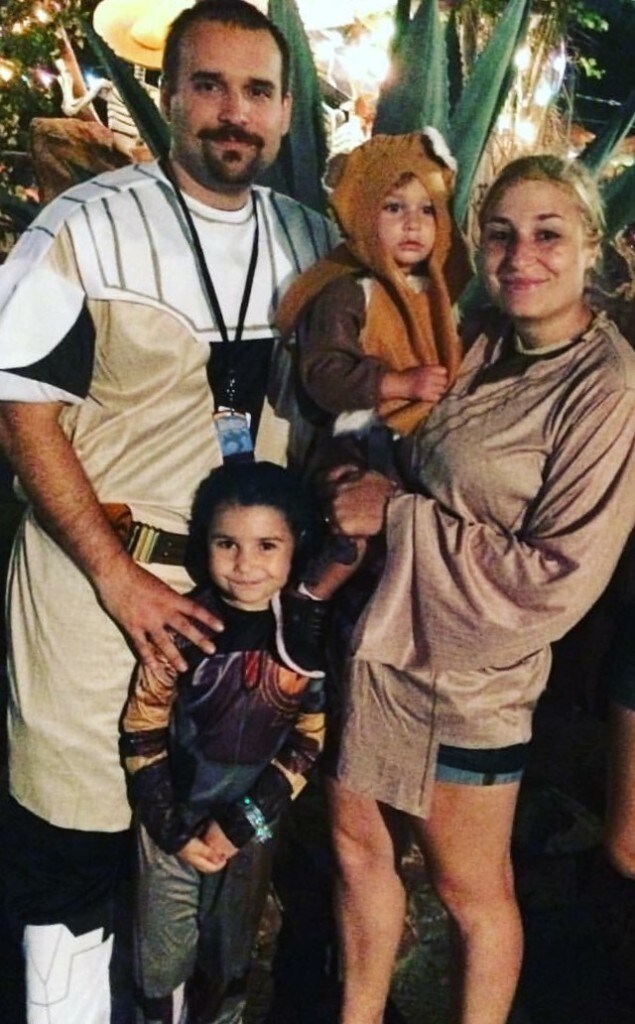 Her worshipfulness and the scruffy-looking nerf herder 
The relationship between Han Solo and Princess Leia started off a bit rocky, and that's how it was for Nina and Ryan Kiar (pronounced "care"). Meeting while working in security, Nina didn't care for Ryan at first, but after a few months of slow romance, these collectors discovered that the other was a rare find. Ryan is a lifelong Star Wars toys collector, also into playing games like The Old Republic and reading the books, while Nina collects toys, clothes, magazine articles, and Disney pins. Currently married for seven years with Ryan now a police officer and Nina a stay-at-home mother, this pair of fans share their love of Star Wars with their two children.
"Star Wars always gives us something new and exciting to explore together," Nina says. To wit, the pair can be spotted in their home city of Santa Cruz and around the Bay Area, checking out toy shows and comic book shops for Star Wars collectibles, both vintage and new. Last year, they attended Star Wars Celebration in Anaheim, where Ryan stood in line for an hour and missed Mark Hamill to get Nina an autographed picture of her Sith crush, Ray Park -- now Nina's favorite Star Wars item.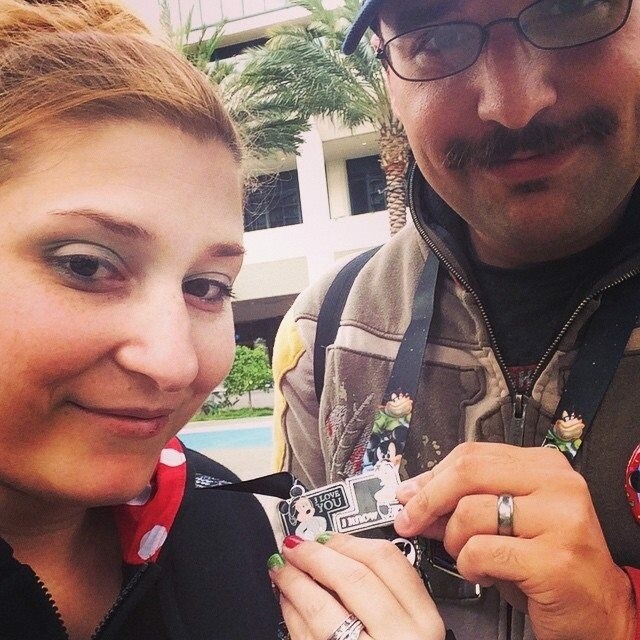 How else do they express their love of Star Wars together? With "I love you" / "I know" as their couple catchphrase, Ryan and Nina spent their anniversary last year watching The Force Awakens, and hope to spend their next anniversary at Rogue One. They're also big fans of the Star Wars areas of Disneyland, and they both can't wait for the upcoming Star Wars-themed expansions. They recently went to Disneyland and made matching astromech droids at Star Traders.
What makes them stand out even more as a power couple? Heeding Yoda's advice, they are passing on what they have learned: "We really want our children to be involved with our love of Star Wars," says Nina. And apparently it's working, as their five-year-old daughter love Star Wars Rebels so much she dressed as Sabine for a visit to Disneyland last fall, blue hair and all. Ryan hopes that he "can take her to see The Force Awakens soon." Looking toward the future, the Kiars are ready to take on the whole galaxy: they plan on getting matching "I love you" / "I know" tattoos in Aurebesh. How's that for the power of love?
"I love EU." "I know."
Like many fans of the Star Wars Legends novels, Brian Larsen from the Seattle area and Nanci Schwartz from the Orlando area went online to find a community to share their common love of the Expanded Universe and create their own stories. Nanci reports, "I met Brian in 2010 (right after Star Wars Celebration V), thanks to him commenting on my fanfics. We became fast friends thanks to our mutual love of the X-Wing series. We actually started dating when Brian came to visit for Star Wars Celebration VI and Dragon Con in 2012. If it wasn't for Star Wars, we wouldn't be married right now!"
Brian adds, "Suffice to say, we're not a couple without Star Wars. Without fanfiction centered around Star Wars, we never would have met. Without Star Wars Celebration, we never would have started dating. And without a convenient historic date of May 25, we would have had a really hard time choosing a significant wedding date."
The couple elaborate on what really brought them together: both had been writing for different EU-oriented fan sites, and Brian had the idea of making a new site focused on a weekly podcast, and turned to his friend Nanci to be a co-host. What began as a team in hosting the Tosche Station blog and podcast transformed into romance and a permanent partnership, with Brian and Nanci tying the knot in 2014. During the day, they are an admin at a utility and an IT guy, but after hours, Nanci and Brian (along with their dog Mara) manage Tosche-Station.net as "a hub for Star Wars/geek culture opinions and reviews created by people who are less represented in fandom at large."
When asked who their favorite couple in Star Wars is, they both picked their favorite from Legends. "Luke Skywalker and Mara Jade," Nanci says. "I love that they started out not as love interests, but grew to love each other over time. They complement each other so well, and they have the best snark." Brian agrees.
"Probably also Luke and Mara," he says,"just because I find their relationship dynamic to be so compelling. If I have to name something else, I'd go with Wedge Antilles and Iella Wessiri from Legends, just because I like the idea of a couple butt-kicking normals who settle down and raise another generation of butt-kicking normals."
And if you think their love of Star Wars is only online, think again! Their house is decorated with Star Wars art, action figures, and lots of Star Wars kitchen gadgets. Nanci's favorite kitchen gadget is their X-wing knife block! Living in Orlando, they have annual passes to Walt Disney World and often visit Hollywood Studios for all the Star Wars attractions. Right now, they're probably enjoying a Star Wars Day at Sea aboard the Disney Fantasy.
On what Star Wars brings to maintaining their relationship, Nanci states, "I think it's important for couples to share interests, and our biggest shared interest is Star Wars. We can always depend on Star Wars to provide us with entertainment or cheer us up. We talk about Star Wars a lot, especially now with The Force Awakens in theatres. Podcasting with Brian is still one of my favorite things to do."
Brian confirms the importance of Star Wars in their lives. "It's something we can both share and enjoy, and something that provides the fodder for our shared creative endeavors. Star Wars gives us something shared that brings both of us joy, and there's nothing quite as wonderful as shared joy, is there?"
As you can see, Star Wars fandom is full of stories of shared joy, and I'll be sharing some more stories of top couples from all over the Star Wars fan community this week.
James Floyd is a writer, photographer, and organizer of puzzle adventures. He's a bit tall for a Jawa. His current project is Wear Star Wars Every Day, a fundraising effort for a refugee aid organization. You can follow him on Twitter at @jamesjawa or check out his articles on Club Jade and Big Shiny Robot.