Lucasfilm's Doug Chiang and VW's Jozef Kabaň discuss bringing the ID. Buzz to the light and dark side.
Doug Chiang couldn't pass it up. In early 2022, Lucasfilm and Volkswagen agreed to collaborate on designing two vehicles inspired by Obi-Wan Kenobi, streaming now on Disney+. For Chiang -- designer of the podracer, U-wing, and near countless other iconic Star Wars vehicles -- it was a rare opportunity to combine two passions.
"I got into film design because I love car design," he tells StarWars.com at Star Wars Celebration Anaheim 2022. "A collaboration like this with VW is really wonderful, because I can see the other side."
"We thought, 'Let's see how two cool things can come together," adds Jozef Kabaň, VW's head of design. "We thought Volkswagen and the [Obi-Wan Kenobi] story could work very well."
The result of that collaboration made its debut at Star Wars Celebration: a pair of arresting ID. Buzz electric vehicles -- one strong with the dark side, and one the light. Lucasfilm and VW worked together on the designs for only about six weeks, trading ideas and tweaking designs remotely. But it did take time to find the right approach.
"We went down the obvious route first," Chiang says. The initial goal was to imbue the characters of Obi-Wan Kenobi and Darth Vader into the cars, but early explorations felt too on the nose. "It just didn't seem to be right. It was trying to turn the cars into something else." Lucasfilm and VW then hit upon a simpler concept that felt much better.
"Cars in the Star Wars universe are vehicles or spaceships," Chiang says. "What if we treat them like spaceships? And that's what we started to do." The idea shifted into creating Jedi and Sith starships, making the design process more organic. "By doing that, we came up with a really nice, elegant solution."
"We had a lot of great talks," says Kabaň. "Lots of great, inspiring moments." 
Both vehicles feature design elements that echo their character inspirations. The Light Side Edition includes a beige lower half, a reference to Obi-Wan's Jedi tunic and robes, while the chrome top calls back to prequel-era craft; the pops of blue come from Obi-Wan's elegant Jedi weapon. On the Dark Side Edition, both shiny and matte blacks give the car an ominous feel, while aggressive reds bring forth images of Darth Vader's lightsaber. The symbols of the Jedi Order and Galactic Empire are also featured, respectively.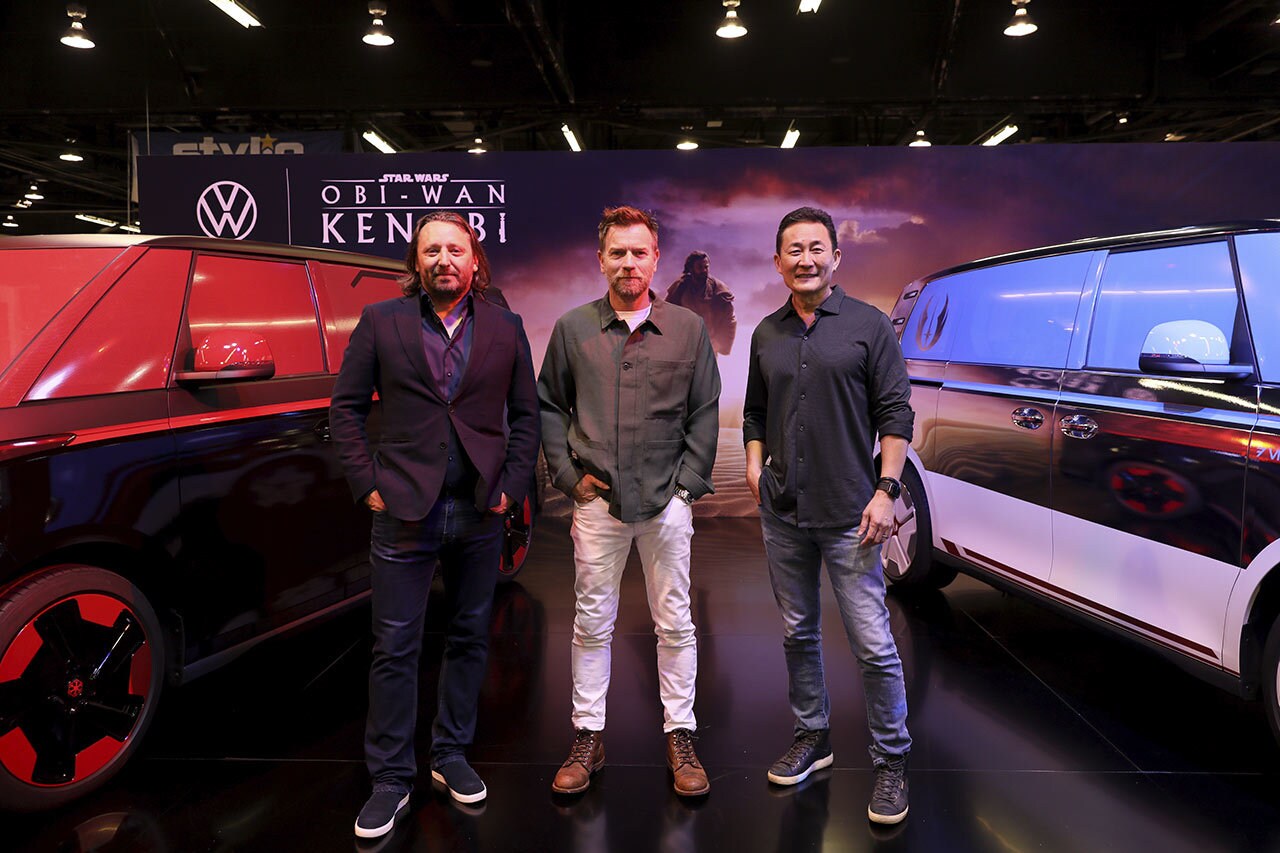 It was only at Star Wars Celebration in Anaheim that Chiang and Kabaň got to see the finished cars in person. It was the worth the wait.
"It's amazing. It looks better in person. Like many things that we do, it can look great in artwork," Chiang says. "But until you actually experience it and walk up to it and touch it, you really can't get the full experience."
"I'm proud of the story," says Kabaň. "Of bringing these dream subjects together."
Watch the commercial for the ID. Buzz, made in collaboration with Lucasfilm to celebrate the release of Obi-Wan Kenobi. 

Obi-Wan Kenobi
is streaming now on Disney+. ©2022 & TM Lucasfilm Ltd. Disney+ subscription required. 18+ to subscribe