Meet some fans who took their first steps into a larger world of cosplay.
This past weekend, the Jacob K. Javits Convention Center was overrun with Imperial stormtroopers, rebel spies, princesses, and scoundrels of all kinds. StarWars.com stopped a few fans to talk about what inspired them to take their first steps into the larger world of cosplay during this year's festivities in New York.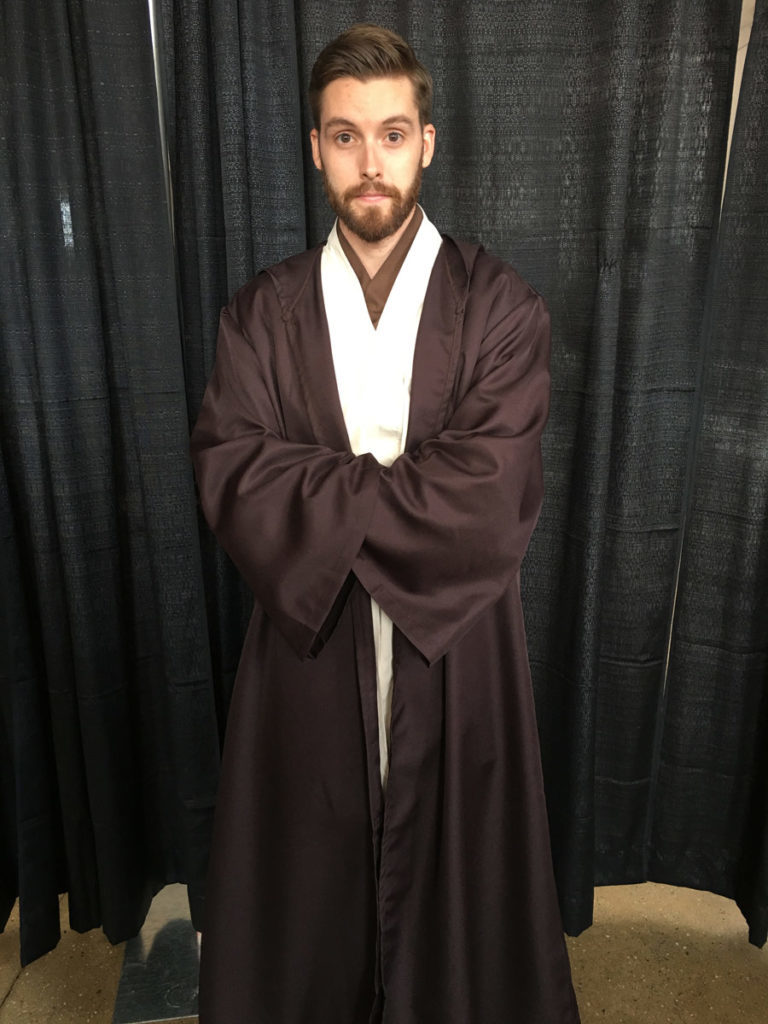 The Jedi
Kevin Valliere's resemblance to a young Obi-Wan was garnering stares on the New York City subway this weekend.
The 27-year-old from Harlem had spent the last few weeks scouring the Internet for the perfect cosplay pieces, tinkering with a toy lightsaber, and soaking his tunic in coffee overnight for just the right discoloration, but even before he donned the robes, he already had the near-perfect Jedi beard -- but not yet quite long enough to pull off the patented Kenobi mustache twist.
Yet it was more than a convenient coif that inspired Kevin to walk the convention floor for two days as a young Obi-Wan from Revenge of the Sith. "Not only is he the character I most look like, he's the character I most appreciate."
Kevin managed to pull off the cosplay on a budget -- just $130 -- and we must say it was a striking likeness, although Kevin was surprised by the response.
"I thought it was a pretty OK costume," he says, but he noticed people subtly taking photos of him on the subway. Ten steps from his front door Friday night, a random stranger across the street shouted out, "I love that costume."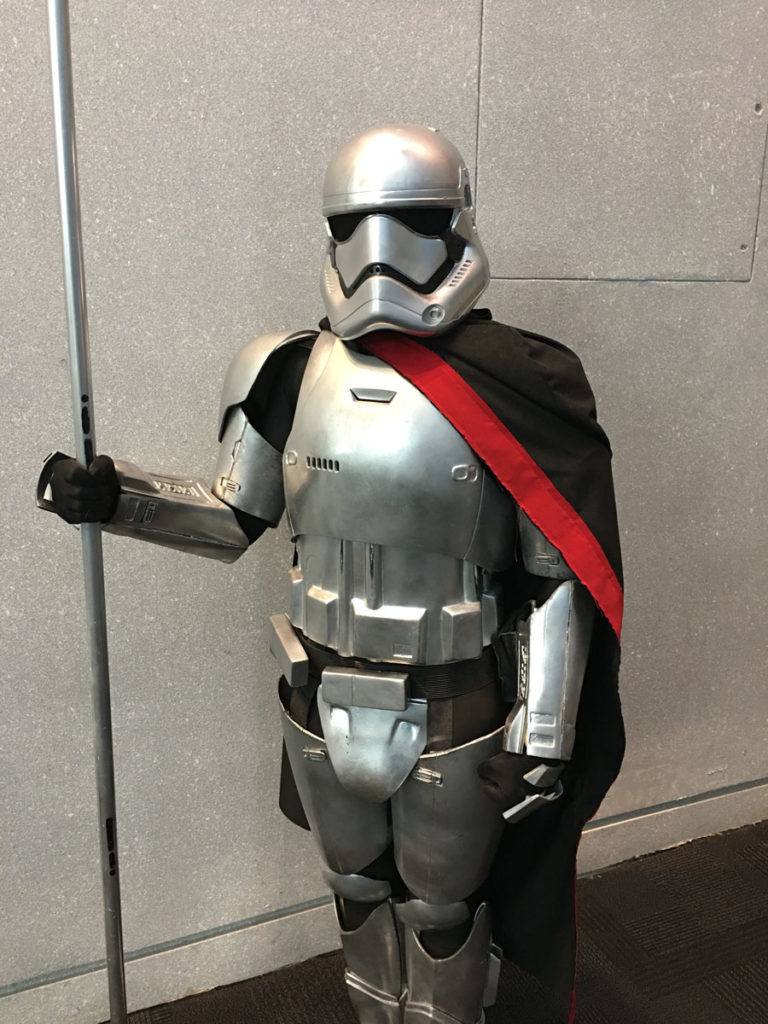 The First Order
How great was Alicia Pfaff's Captain Phasma cosplay?
Delilah S. Dawson herself, the author who recently penned the Phasma novel, squealed with delight when she saw the gleaming armor come into view and posed for a photo op with the chromium-clad stormtrooper of her dreams.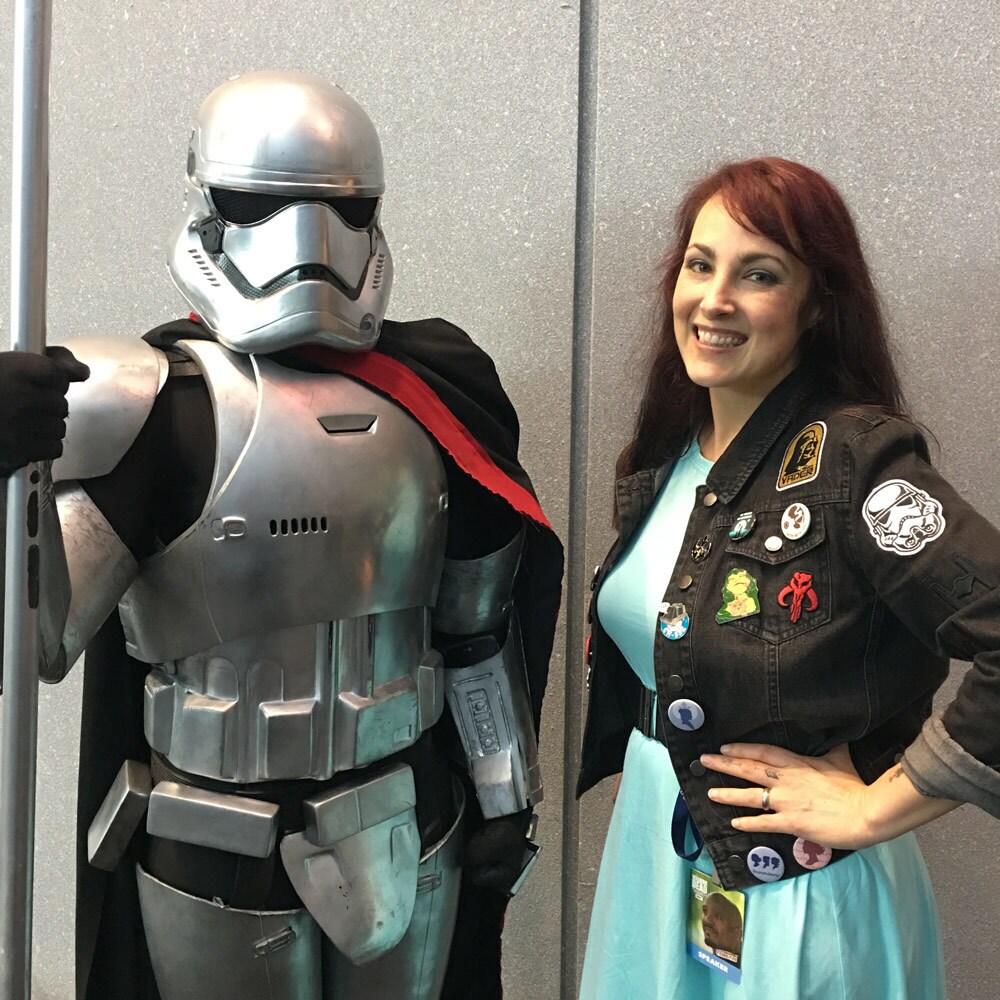 Alicia, a 23-year-old from Rockaway, New Jersey, was suffering from a slight armor malfunction when we caught up with her on the convention floor. She spent the last year planning and prepping her custom-made armor for her first foray into creating her own full suit of armor.
"I love how I feel," she says. "I love the feeling of putting on the helmet and just kind of scowling under my helmet at people."
She was so dedicated to the cause, she even dyed her hair blond to match actor Gwendoline Christie, and endured many long hours of tedious paint applications, foam and fiberglass crafting, and a last-minute trip to Toys 'R Us when her original hopes for a helmet fell through.
The First Order helmet is a slight variation on Phasma's unique bucket, but when Delilah Dawson gives you her seal of approval, we'd say that's a pretty legit armor kit.
"It's a little easier to move than I thought," Alicia says, but it still takes 45 minutes to get suited up with the help of her boyfriend/lieutenant Conner Klien. And bathroom breaks require going through the whole process again, "like a really badass wedding gown."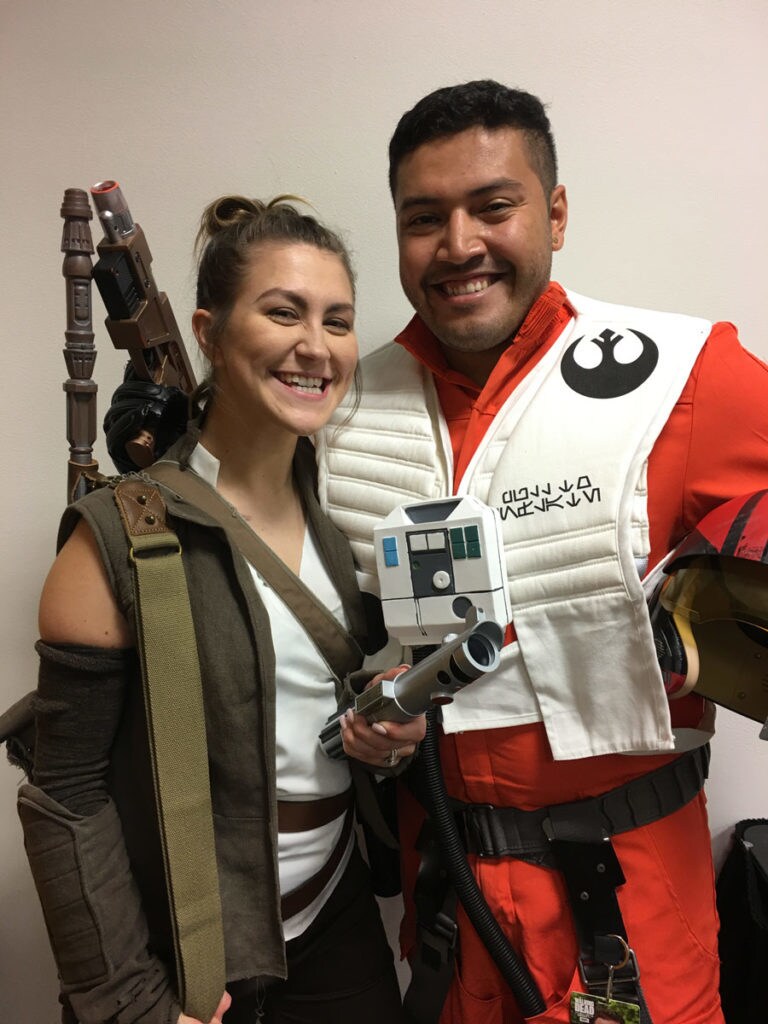 The Resistance
Speaking of wedding bells, a pair of fans from Long Island celebrated their first week as husband and wife with their first cosplay as Poe Dameron and Rey.
Salina and David Lopez say they were a little busy getting ready for their own nuptials so they opted to order their custom cosplays online instead of trying to find the time to build the costumes themselves, although they added some unique touches including a customized studded guitar strap to make Rey's staff a little more travel-friendly.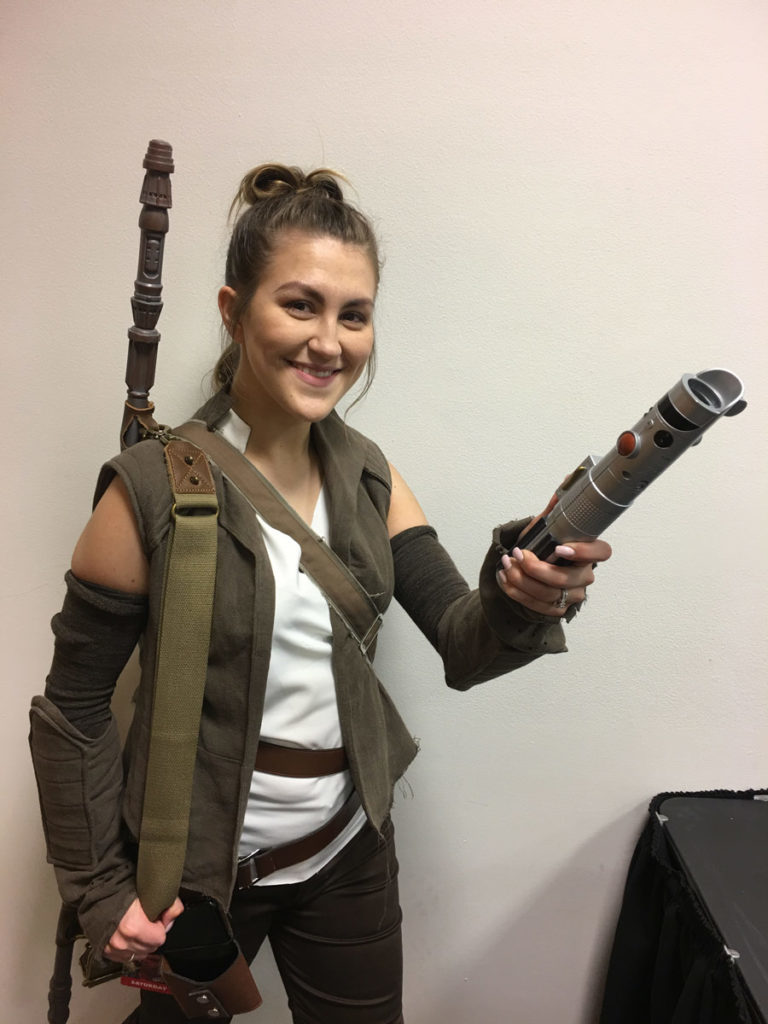 Transforming into the scrappy scavenger took even longer than getting ready for her wedding day, Salina says, to the tune of six hours in wardrobe, hair and make up. "I always do my hair first and then get in the shirt...I keep getting my arm stuck," she says, gesturing to the wrap shirt.
She also endured a wardrobe malfunction when the bandages she planned to use to wrap her arms were too tight and cutting off her circulation. "My mother-in-law was like, 'you're going to lose an arm.'"
In the true spirit of the character, Salina came up with a plan to save her limbs on the train Friday, then completed the costume on her way to the convention with the purchase of a pair of brown socks in the Penn Station K-Mart.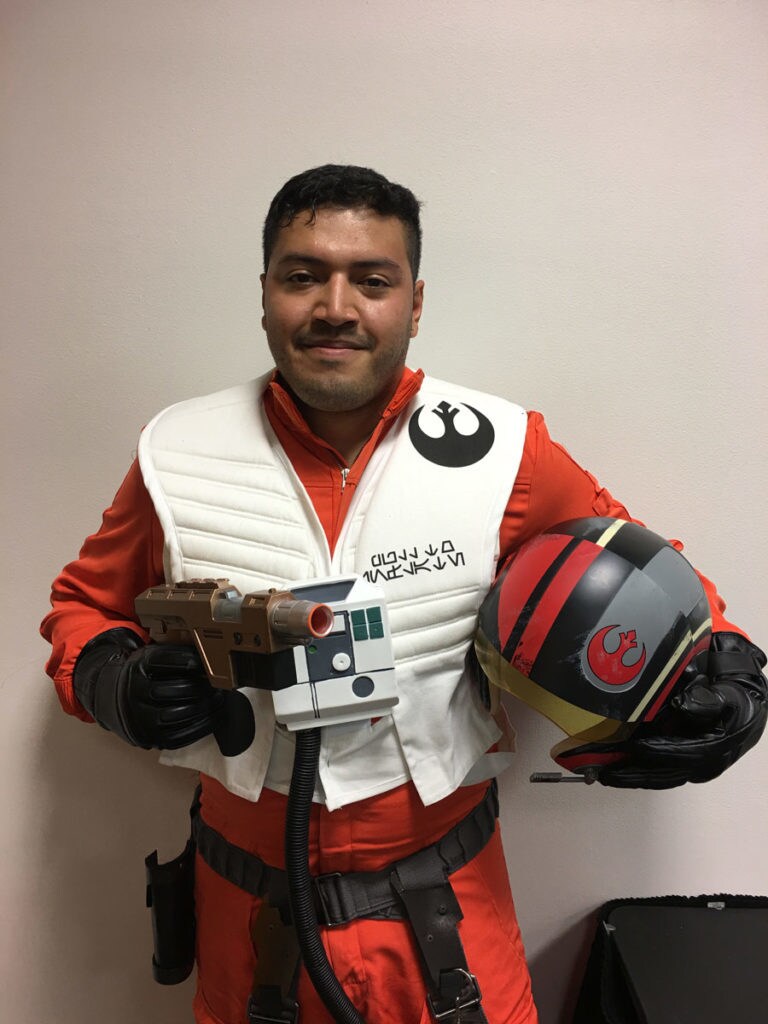 As for her husband, David's transformation into the cause's best X-wing pilot was a childhood dream come true.
"I've wanted this since I was a kid," says the real-life air traffic controller. "I always wanted to be a pilot."
The Hasbro Black Series helmet, which he kindly shared with a curious interviewer mid-conversation, and a custom-painted Nerf gun completed the look, but he can't wait to upgrade the outfit to make it feel more authentic by wearing it to change the oil in his car.
"I can't wait to improve it a little more," he says.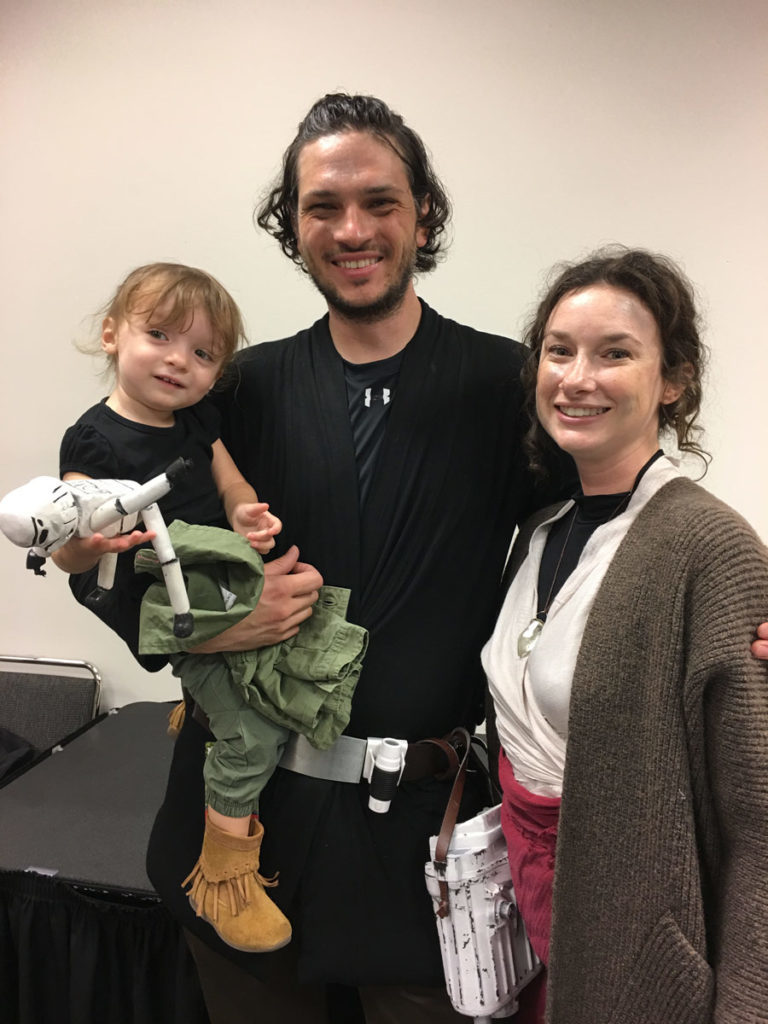 The Ersos
Toddling around with a Stormy doll and an impish grin, not-quite-2-year-old Olivia Petescia's first time cosplaying this weekend was a part of a long-running family tradition of getting into character.
Parents Beth and Chris, who make their home in Brooklyn, had been working on a pint-sized Bespin Leia ensemble when the genius idea struck during a Rogue One rewatch. About five minutes into the film, they had a new plan.
One problem: There were three weeks to go before Comic Con and they were out of the country for two of them. In a whirlwind, they ordered the custom-crafted doll from an Etsy artist, grabbed a kyber crystal necklace purchased during the last Star Wars Celebration, and Beth reimagined rejected fabric from her Rey costume to create her own Lyra getup. Chris then used a marker and an Under Armor shirt to create the base for his Galen cosplay. All three outfits cost less than $150.
The finishing touch? Running into a certain Imperial on the show floor. "We ran into Krennic earlier and we were all so excited," Beth says.
Kristin Baver is a writer and all-around sci-fi nerd who always has just one more question in an inexhaustible list of curiosities. Sometimes she blurts out "It's a trap!" even when it's not. Do you know a fan who's most impressive? Hop on Twitter and tell @KristinBaver all about them!