They're much more than walking carpets with bad tempers.
Much to Learn You Still Have is a rundown of trivia and fun facts, both in-universe and behind-the-scenes, about the aliens of the Star Wars galaxy. Whether you've never set foot in a cantina or you're a well-traveled Jedi Master, you'll find the intel you need.
There aren't many sounds more iconically Star Wars than the howling call of the Wookiee. Ever since our favorite walking carpet showed up in that shady cantina, we've been seeing these lumbering, hairy beasts all over the Star Wars galaxy. But how much do we really know about Chewie's crew? Let's take a look at some fun facts about the natives of Kashyyyk.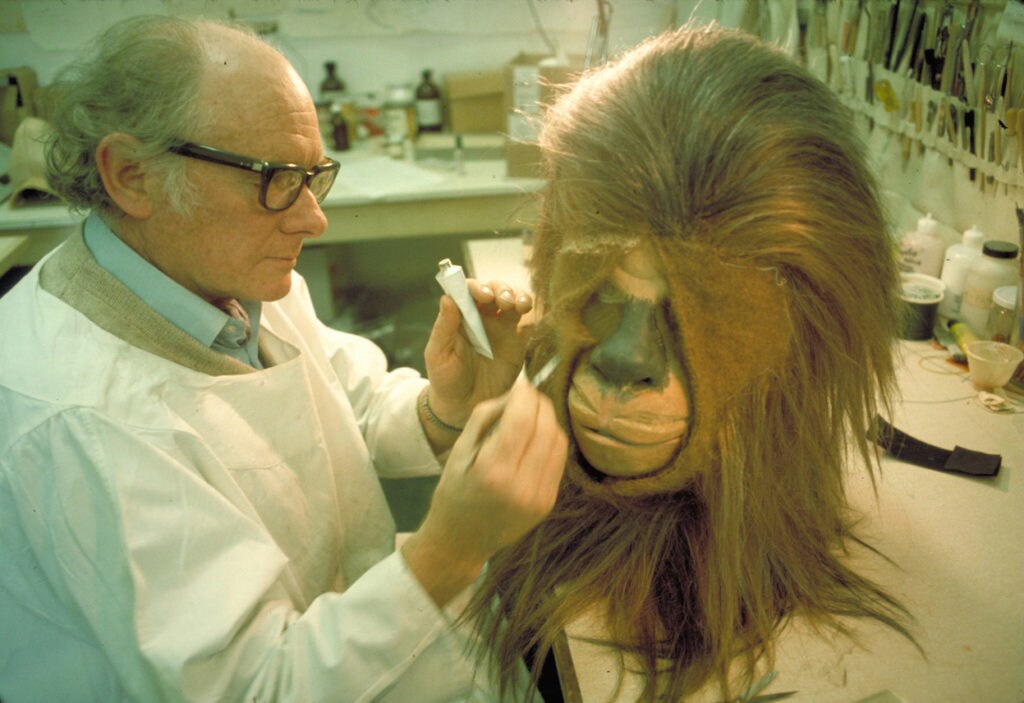 1. They were influenced by multiple animals.
When you take a good look at a Wookiee, you may at first think they resemble a dog, though you could also say they resemble a cat, lemur, or ape-man and you'd still technically be right. George Lucas originally came up with the concept of Chewbacca as Han's co-pilot after people mistook his own Alaskan Malamute canine, Indiana, as a human while riding beside him in his car. When it came time for Ralph McQuarrie to produce some Chewie concept art, Lucas gave him a picture of a lemur as reference. Stuart Freeborn, make-up artist responsible for transforming Peter Mayhew, was given a different reference point, and was instructed to make a creature that was a mix of a dog and a cat. Freeborn had just finished up his work on 2001: A Space Odyssey making monkey-man creatures, and the influence was certainly noticeable. In the end, Chewbacca became a mix of a dog, cat, lemur, and monkey but the animal influence didn't stop there. Ben Burtt was given the task of creating a voice for Chewie as his very first job for the film. He mixed the calls of bears, walruses, lions, badgers, and other types of sick animals to make the iconic Wookiee roar. The most heavily used sound came from a bear named Pooh!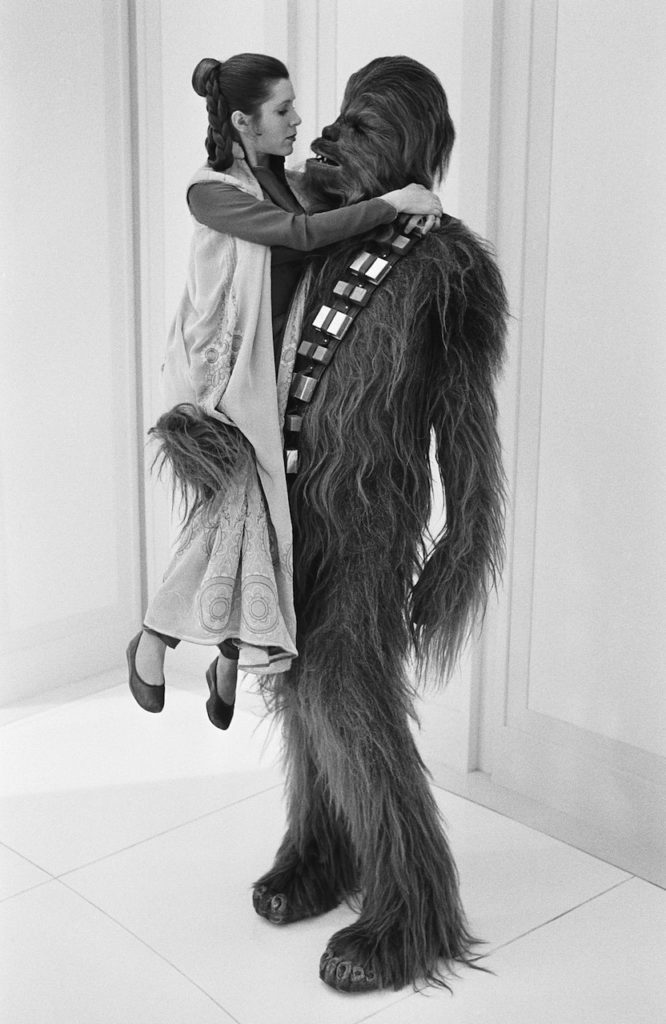 2. They've got your back.
We all know Chewie loved Han. I'll never forget the heartbreaking cry he let out when his buddy was taken from him in The Force Awakens (and the tears I choked back myself!), but this isn't just a characteristic of our favorite fuzzball. Most Wookiees put honor and friendship above all other virtues in their culture. If I woke up tomorrow in a wroshyr tree on Kashyyyk, I'd start making friendly with the gentle giants pronto. When you have a Wookiee on your side, you can take on anything. Getting chummy with Chewie will always give you some extra muscle, but how exactly will you know when you've been accepted by a Wookiee? When they start digging through your hair like they've got a treasure map, of course. In Lost Stars, Thane Kyrell's Wookiee captain Lohgarra made a habit of grooming the hair of her human co-pilot to show that she cared about him.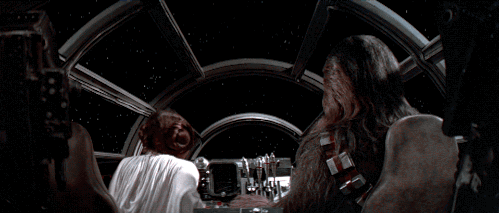 They're also great huggers, but who can forget that?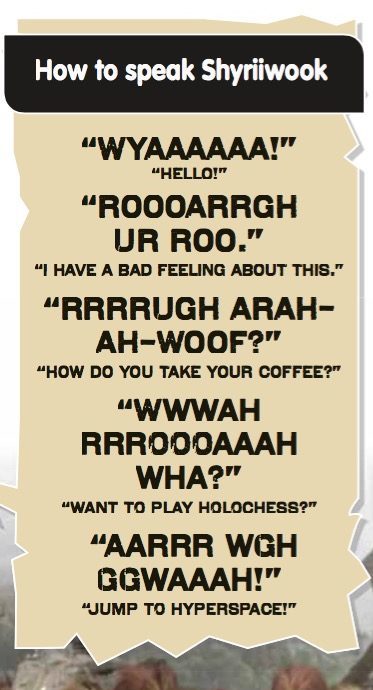 3. They have three different languages.
You may think the Wookiee language can't be too complicated. A howl here, a gruff there. But the reality is there are actually three different languages spoken by the species, all consisting of the same growly howling format. Chewbacca speaks a dialect called Shyriiwook, while other Wookiees may speak either Thykarann or Xaczik. Shyriiwook is the most common to understand, however, as both Han Solo and Rey can decipher Chewie's grunts. The most impressive dabbler in Shyriiwook has to be the Resistance physician Dr. Kalonia, who can actually understand and speak the language. Remember her? That nice lady who helped Chewie bandage his arm and assured him how brave he was? 
Fun fact: Wookiees have 150 words for "wood" but no word for "artist." They see their amazing carving abilities as a survival skill, not a talent.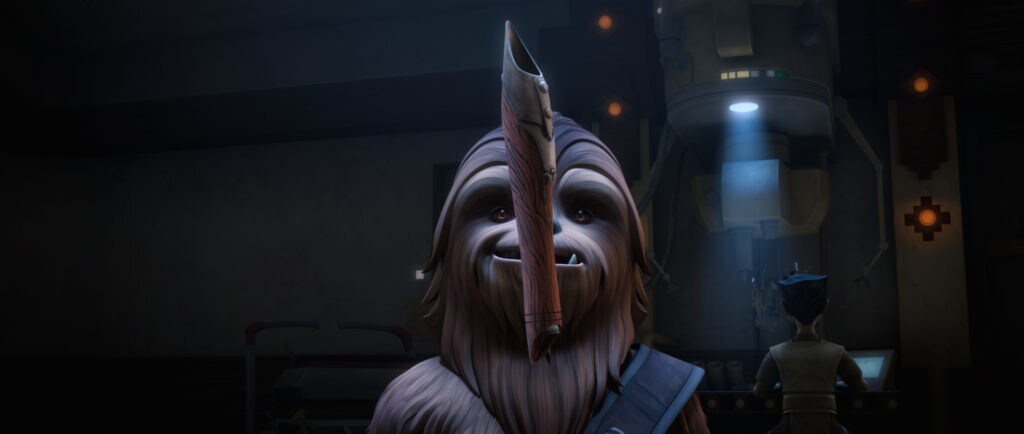 4. They can be Jedi, but it's uncommon.
I really loved "The Gathering" in The Clone Wars where we got to see how Padawan come to get their kyber crystals and eventually construct their lightsabers. I also really, really loved Gungi, the cute little Wookiee Padawan who tried his darnedest to find his crystal, and had to learn to be more patient. Gungi was a rarity, as Wookiees don't normally find their place in the Jedi Order too often -- but when they do, they make a sweet lightsaber. Gungi made his from the bark of a brylark tree, a material that is actually just as strong as metal.