Need more knowledge on the natives of Naboo? Yousa came to the right place.
Much to Learn You Still Have is a rundown of trivia and fun facts, both in-universe and behind-the-scenes, about the aliens of the Star Wars galaxy. Whether you've never set foot in a cantina or you're a well-traveled Jedi Master, you'll find the intel you need.
The long-eared amphibians from Naboo have been represented by brave warriors like Captain Tarpals, or clumsy outcasts like Jar Jar Binks, but the Gungans have a rich history that might surprise you. Care to dive into a sea of fun facts about the water-dwelling, duck-billed creatures?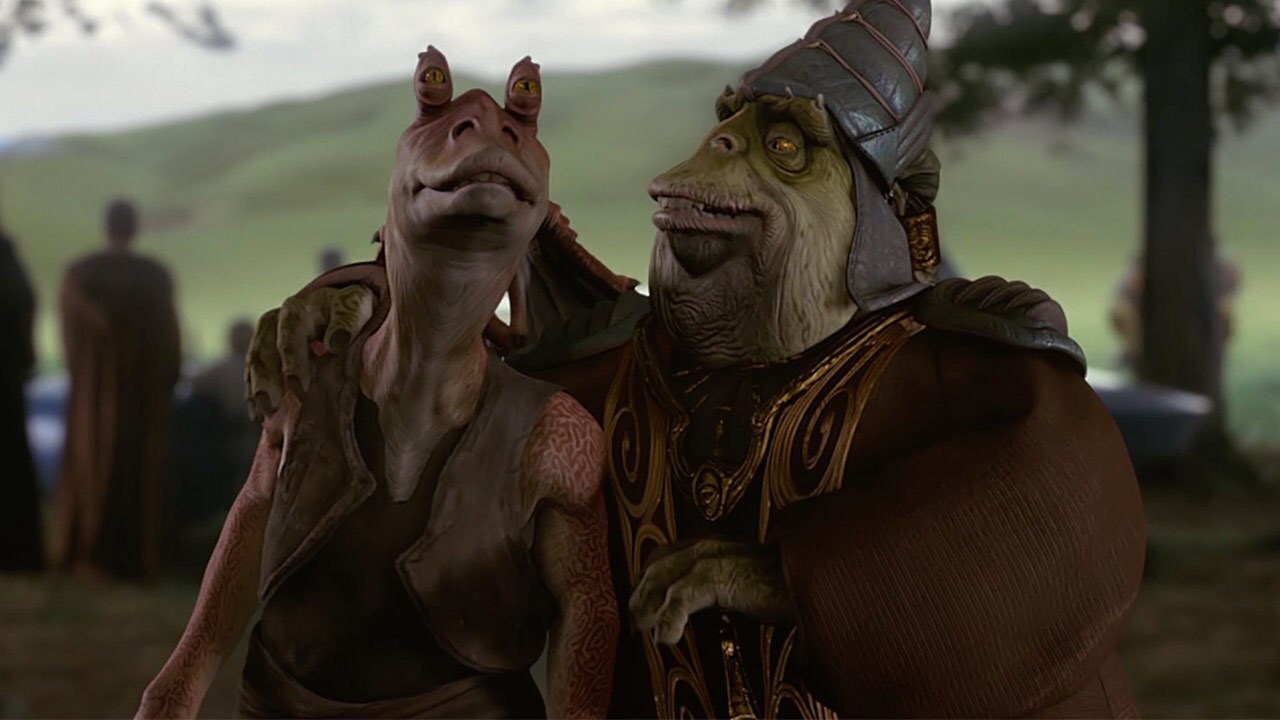 1. There are two main Gungan races.
If you've seen The Phantom Menace, you've probably noticed that the Gungans of Naboo come in varying shapes and sizes. There are some that look more lanky like Jar Jar and Tarpals, and others that have a quite different stocky body type like the leader of the Gungans, Boss Nass. This is because the Gungans can be split into two major races, the Otolla and the Ankura. The familiar Gungans we saw fighting in the Battle of Naboo are the Otolla, and you can tell their race from their long, skinnier body frames and long haillu, or floppy ear-like body parts. The Gungans like Boss Nass are called the Ankura, and they've got much shorter bills, hooded eyes, and a more rotund body frame. We haven't seen many in the Star Wars universe because the truth is, there aren't many left. The Ankura are a much older species of Gungan than the more common Otolla.
2. They have a sacred space. 
Another more reptilian group of humanoids known as the Elders also inhabited Naboo once upon a time. This species actually were in conflict with the Gungans, but little is known about what the two sides were fighting about. The Elders eventually died off, but their massive statues still stand in a location called the Gungan Sacred Place and we all got a peek of it in The Phantom Menace. Rewatch the scene where Jar Jar Binks brings an undercover Queen Amidala to visit with Boss Nass to negotiate an alliance. The heads poking up from the swampy marshland could be of the species themselves or of the gods they worshiped. The Gungans often choose to gather at the Sacred Place during times of fear and anxiety.