The Empire doesn't stand a chance.
Most Impressive Fans is a feature highlighting the amazing creativity of Star Wars devotees, from cosplay to props. If there's a fearless and inventive fan out there, we'll highlight them here.
He's been in this fight since he was six years old, and he sure looks it. James Estrada's son, known only as J on his blog Nerdy at Home Dad, has donned many disguises since his thrifty father first learned how to sew.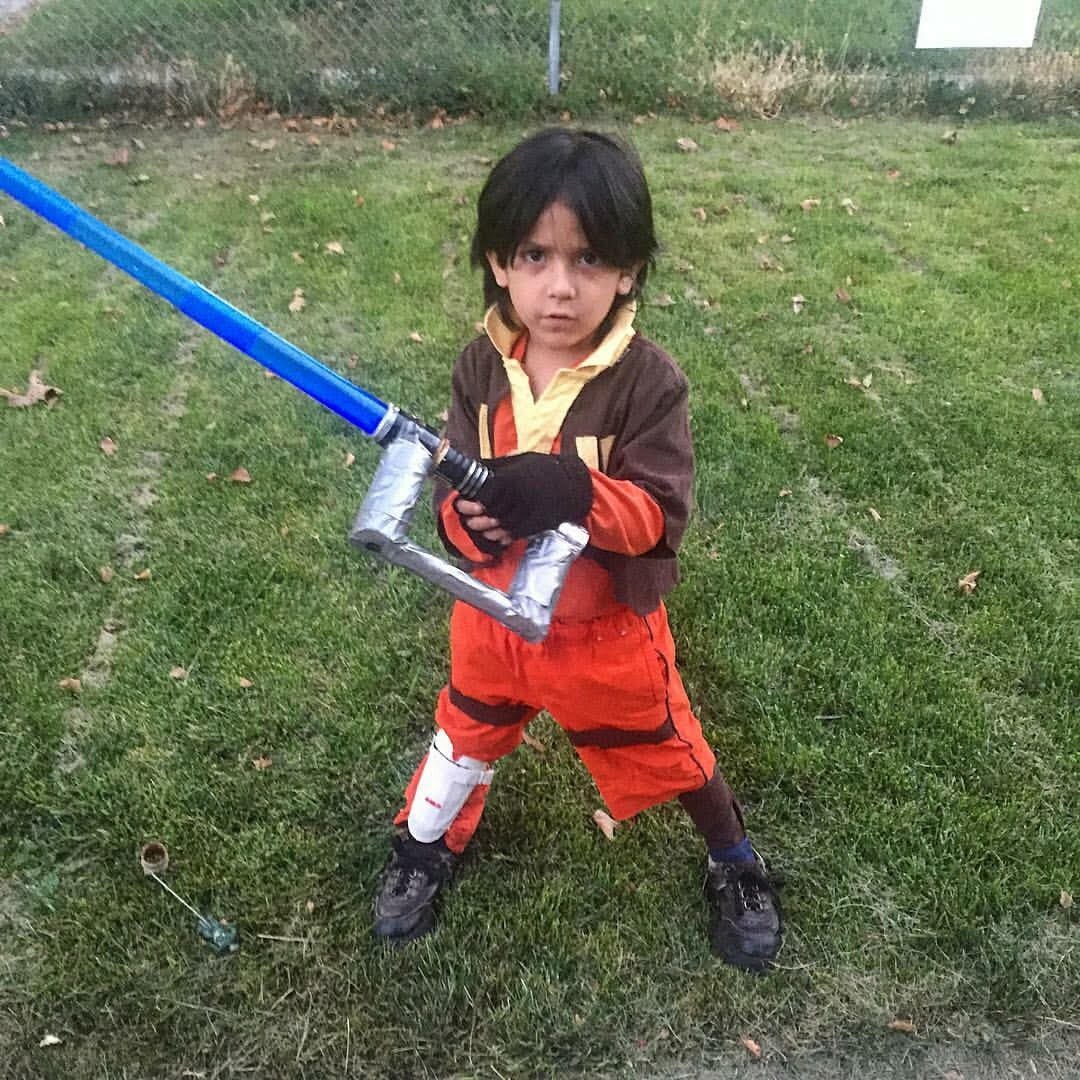 Some 25 custom costumes later -- including several Luke Skywalker iterations and an Ezra Bridger jumpsuit that he wore to a photo op with Mark Hamill -- James has captured the essence of Rogue One rebel Captain Cassian Andor with a budget of just $20, some sandpaper, and spray paint, and a weekend to pull it all together.
Fans who first saw J's kid Cassian cosplay on Imgur and Reddit quipped: "He looks like he'd shoot an informant in the back."
And he would, his father confirms after many a Nerf battle. "He has shot me in the back many times."
From Rocket to rebels
The five-year-old wears his cosplay creations around the house, out on errands, and to the Salt Lake Comic Con near the family's home in Salt Lake City, Utah. It's important to James, 31, that his son's imagination isn't restricted.
James had a hunch he would be crafting a Cassian outfit when he and his wife went to see Rogue One opening night. The hardened field agent uttered the line, "'I've been in this fight since I was six years old' and we just looked at each other," James says. J and his father saw the film later that day, and the boy immediately started asking for his own rebel fatigues.
James' crafting hobby started with the boy's desire to play the anthropomorphic raccoon, Rocket, of Guardians of the Galaxy -- which he now regularly wears as part of a cosplay ensemble. At the time, there simply weren't any store-bought versions available. "I never saw myself as a creative. I went to school for audio production. Yeah, I dabbled in music and stuff when I was a teenager, but something like costume design was never on my radar. And kids are just the perfect canvas. Before Rocket I'd never sewed anything in my life. And now it's all I do, I'm a stay-at-home dad who makes costumes."
When James was still a novice, his first attempt also quickly became his first failure. He painstakingly created the Rocket suit: "Full fur arms, full fur legs, tail, a mask, gloves. It took me, like, months. But I didn't know about knotting off, so it was just one piece of string holding the entire costume together. Two hundred hours just sewing and it was all hand sewn. And I got done and my wife, Analisa, was like, 'Cool, where do you have the knot?' It held for 3 days," then pretty much shredded as J was taking it off for the last time.
Since then, James has gotten savvy to the art of sewing, revamping costumes as J grows out of old favorites, and even procured a sewing machine to cut down on the labor.
'Set a budget'
The budget-conscious father typically tries to find the bones of his projects at thrift shops.
He's also a whiz with duct tape and hot glue, using the former to turn a more standard lightsaber hilt into one similar to Ezra's design. "I know the things that he likes, so I'm always anticipating his next request. A lot of the fabrics I use are just old T-shirts, old khaki pants. Things I can get for a $1 at the thrift store."
For the Cassian cosplay, James was under a tight deadline, looking to have the ensemble finished in time to debut at the Salt Lake Comic Con press conference in January.
He managed to pull it together in a weekend, due in part to some good luck at the secondhand store. "I always carry around a picture of the Cassian costume from the Visual Dictionary."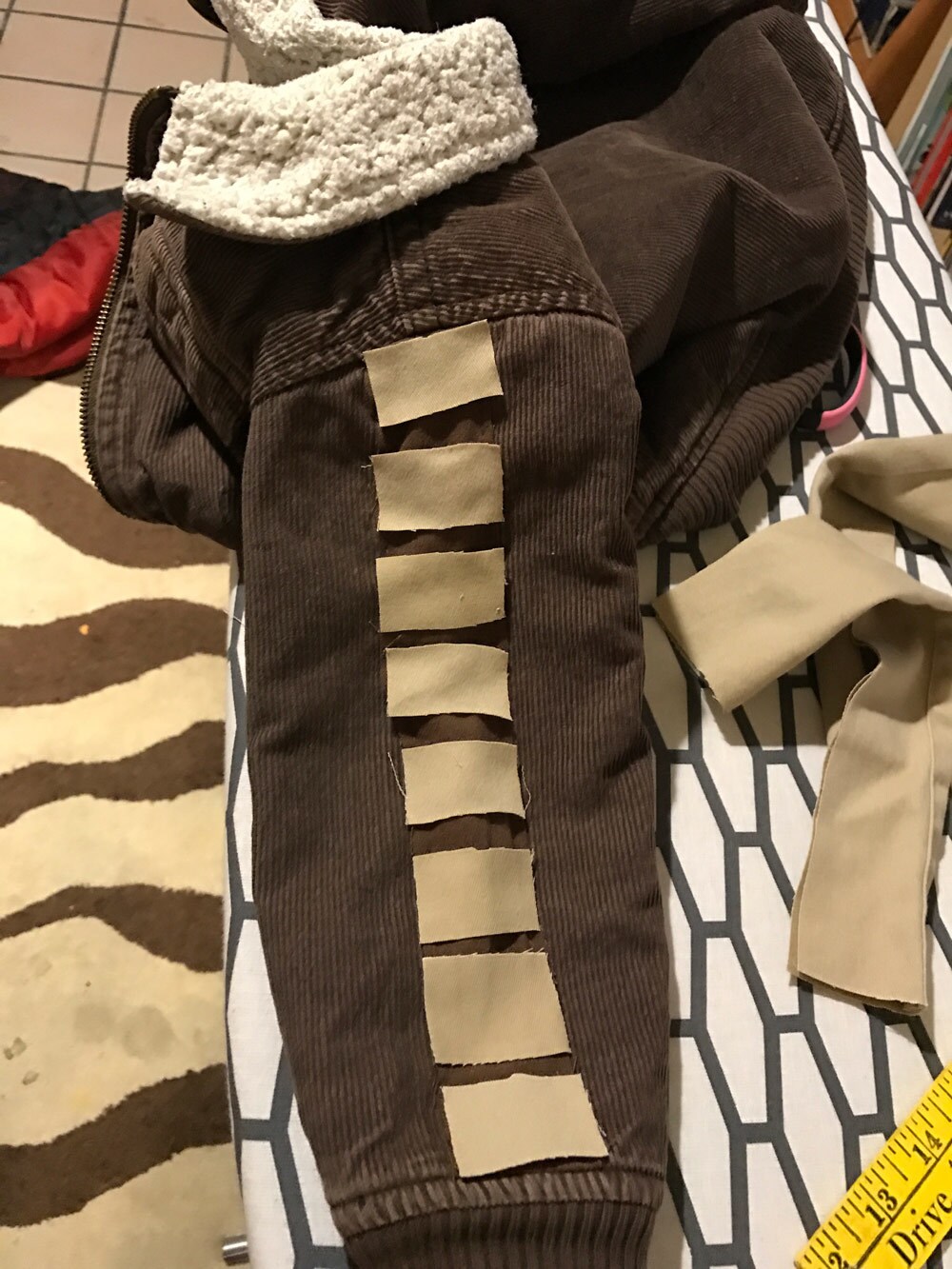 James snagged a brown coat in the right size, shape, and color and a pair of green pants that fit the bill. It's important not to get too hung up on finding garments that are screen accurate, he said. "When you do thrift cosplay, if they get the gist of the character you've done the job," he says. "The one key that I have -- I try to set a budget."
His goal this time was to build the costume for around $20. "Mainly, I don't want my wife to get mad at me," he quips.
The total bill: just $5.
He had already accumulated the foam core badges and scraps of fabric for stripes on the jacket sleeves at home. His wife Analisa is a graphic designer, so the house is full of scraps of black foam core leftover from her presentations.
With the money leftover, he splurged for a Nerf gun made to look like Cassian's BlasTech, which he took apart and painted to better match to movie prop, retaining the orange tip to follow convention policy.
Little rebel
The pint-sized cosplayer is a delight on the convention floor.
"It's fun having him go around and kind of hang out with the Rebellion," James says. When he debuted as Cassian, "We had one friend who was dressed as Leia. J told her, 'You know, I died to get you those plans.'"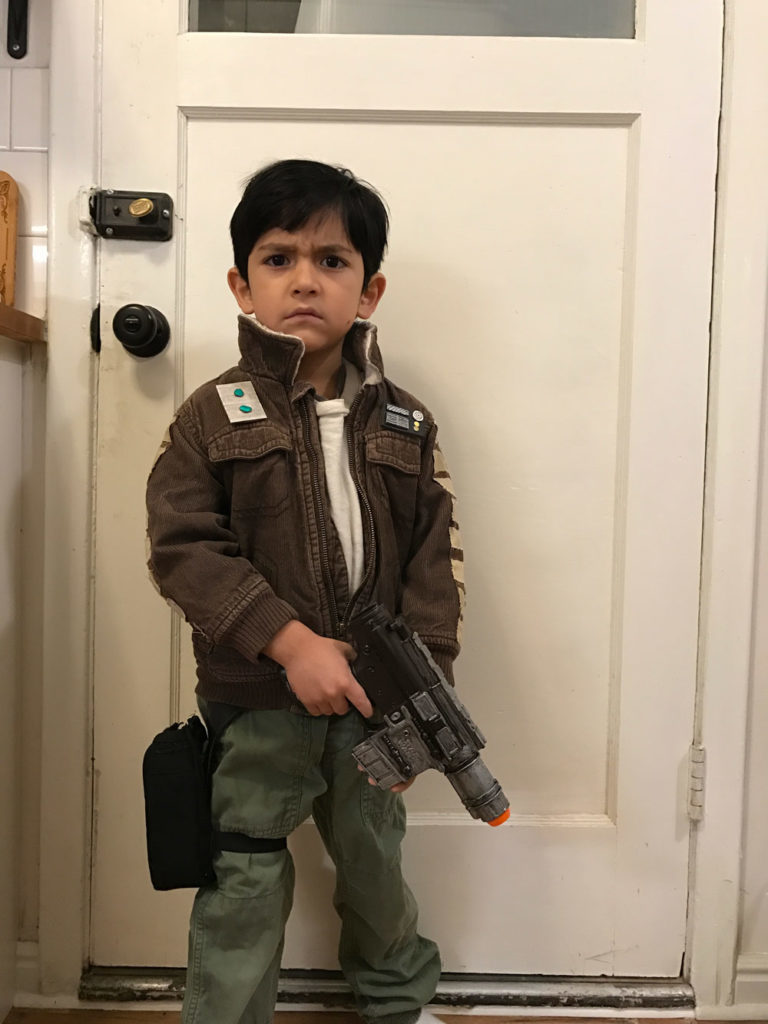 During another year he cosplayed Poe Dameron, J would march up to anyone dressed as Kylo Ren and deliver a perfectly cheeky, "Do I talk first or you talk first? I talk first?" his dad says.
In September, the tiny Ezra Bridger met the real Luke Skywalker for a meet and greet. When it was time to smile for the camera, J pulled a green lightsaber out of his dad's pocket and handed it to Hamill. "Will you hold your lightsaber?" he asked. Hamill obliged, and gave the little rebel a signed badge to boot. Then J responded in kind. "And he's like, 'I have something for you,' and he pulls out one of his trading cards," James recalls, which has been printed up showing J in costume to share with his friends. Hamill tucked it away for safekeeping.
James says they're working on keeping J humble, but it's tough when strangers recognize him at the convention. "Are you kidding me? It's one of those things where I hope he doesn't get it, how big this is getting."
To date, James hasn't joined his son in costume as more than an assistant helping with costume changes, but that could change at the March Salt Lake Comic Con expo. The nerdy dad is considering making himself a K-2SO ensemble to match his son, but he was never a big fan of dressing up. That goes back to being told as a kid that he couldn't be certain characters, like Luke Skywalker, because his hair was too dark for the part.
"I'm trying to make it so he doesn't grow up like I did," James says. "I think Rogue One finally put it into perspective for me. This is why representation is important."
---
The Most Impressive Fans Q&A
Who is your favorite Star Wars character?
J: Luke Skywalker. He's my favorite Jedi and he helps Darth Vader remember that he is good.
James: Chewbacca. As a short person I always envy the tall, and Chewbacca is pretty tall.
Which Star Wars film ranks highest on your list?
J: Return of the Jedi.
James: Empire Strikes Back and Rogue One.
What's your first Star Wars memory?
J: Seeing The Force Awakens with my daddy, meeting Mark Hamill, and Jedi Training at Disneyland.
James: How can I compete with that? I cried during all of your favorite memories because those are all my favorites, too!
Do you have a favorite line?
J: "Size matters not. Look at me. Judge me by my size do you?" I like it because little people can do big things, too!
James: "Rebellions are built on hope."
If you had to choose: join the rebels or live the Imperial life?
J: Join the rebels. They are the best!
James: I think I have to join the rebels. I don't think I can live the Imperial life with the Rebellion symbol tattooed on my arm.
J: Yeah. They'd Force choke the life out of you. [Laughs]
Kristin Baver is a writer and all-around sci-fi nerd who always has just one more question in an inexhaustible list of curiosities. Sometimes she blurts out "It's a trap!" even when it's not. Follow her on Twitter @KristinBaver.