Podcasters and fans came together for a marathon Google Hangout, talking all things Star Wars and benefiting Rancho Obi-Wan.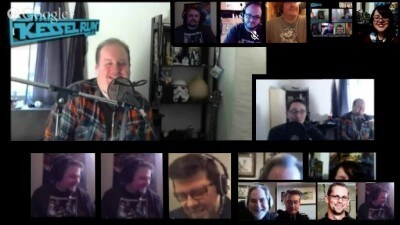 What subject could possibly persuade five webmasters, podscasters, and bloggers to congregate on a Sunday via Google Hangout and chat throughout the day (or until the early hours of the morning for some)? Star Wars, of course, and that's exactly what Randy Lo Gudice, Johnamarie Macias, Jeremy Conrad, Jason Ward, and I did on January 12 as we embarked on the very first Kessel Run, to raise funds for Rancho Obi-Wan.
Initially our M.O. was simple. After a discussion on Twitter we decided to give a marathon podcast a try, landing on 8 hours of broadcasting as an achievable target. After a bit of to-ing and fro-ing between myself and Jason Ward regarding which charity to support, we landed on Rancho Obi-Wan, the home of the world's largest Star Wars collection and one of the places every Star Wars fan must have on their bucket list to visit. Rancho have themselves opted to support the Operation: Paperback campaign. For every $10 donated, Rancho Obi-Wan would donate a Star Wars book to Operation Paperback, which like Rancho Obi-Wan, is a non-profit organization that collects used books nationwide and delivers them to American troops overseas and veterans and military families in the United States.
The project quickly sprang to life. We decided on a date and time (12 p.m. and 8 p.m. PT on Sunday, January 12, for the West Coast, and 8 p.m. - 4 a.m. GMT on Monday, January 13, for me) while Randy, Johnamarie, and Jeremy figured out how to make the cast actually work from a technical point of view. We then started inviting our guests. The team at Rancho got right behind the project, sharing tweets about the forthcoming event. Indeed, our very first guest was from Petaluma -- as Steve Sansweet joined in.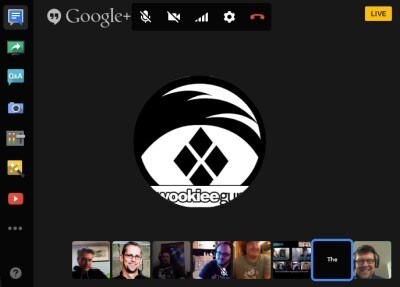 Now, nothing goes smoothly on a Kessel Run. Hyperdrives can fail, inertial dampers can fluctuate and Google Hangouts can decide -- much like the Millennium Falcon -- to use a strange dialect and not talk to Skype or UStream. So after a swift lesson in the intricacies of Google Hangouts we were joined by Steve, who generously gave a good chunk of his afternoon to regaling us with stories from Rancho and his thoughts on subjects far and wide. A better kickoff we couldn't have wished for, and we were soon joined by Consetta Parker who proceeded to tell us of her early days as a fan back in the '70s and thank us for helping raise funds for Rancho and Operation: Paperback.
Dion Detterer from Star Wars Always joined us next and gave a recollection of his time on the Australian set of Revenge of the Sith. Believe me when I say that he was witness to some of the coolest moments -- not only in the third Episode, but in the entire saga. Mike Rondeau of the excellent Cantina Cast was next to join us, bringing his knowledge to the party as we continued to plow through the multitude of subjects that Star Wars has to offer. Dunc and Jawa James from Club Jade swung by as they threw every topic (and James' hat) up into the air and snarked it back into its rightful place. Two more fun guests we couldn't have hoped to have.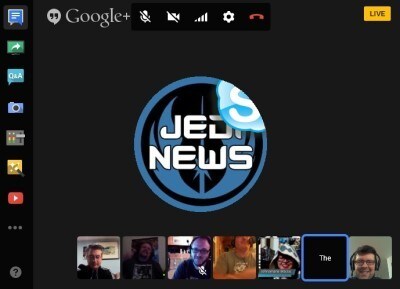 Chris Hamilton of Star Wars Kidscast docked next as we headed towards the finish line and he discussed the huge importance of making sure Star Wars casts its eye at its primary target: children. Being the big kids that we are, it can be all too easy to forget that while George Lucas didn't make a series of kids films, he did make a series of films that kids could enjoy, and Chris makes sure that's never forgotten. Casting rumors, production troubles, box office reports: you won't find them at Star Wars Kidscast. The podcast aims its turbolasers on Star Wars and, most importantly, fun. What better way to excite and inspire the future generations of Star Wars fans coming to join us?
Our last guests in the wee small hours (for me at least) were Cory and Dan from Coffee With Kenobi, which the more discerning listeners will know is one of the very best podcasts out there. By this point I was flagging, it being 3 a.m. for me. So like Wedge Antilles pulling out of the Death Star trench at the last moment, I said my goodbyes and carbon-froze myself to sleep as the show continued, with Joao from the Cantina Cast joining to take part.
Sure, there were technical hitches, connection problems and the like, but the spirit of community and friendship far outshone all those obstacles. Fans and friends came together to complete the Kessel Run, following the broadcast on UStream and sending in questions via Tumblr and Twitter. And in far less than 12 parsecs to boot!
Mark Newbold is the daily content manager of Jedi News and has been involved in websites since 1995. He has been contributing to Star Wars Insider since 2006 and is the co-host of the UK-focused podcast Radio 1138.