Read an exclusive interview excerpt with LEGO Star Wars creators and see interiors from the brick-tastic new book!
The brick-tastic guide to a galaxy far, far away is back — with some special modifications. DK Publishing's LEGO Star Wars: The Visual Dictionary – Updated and Expanded hit stores last week, featuring in-depth info and up-to-date details on the entire LEGO Star Wars franchise, from toys to video games to movies.
Included in the new edition is an interview with Jens Kronvold Frederiksen (design director of the LEGO Star Wars team at the LEGO Group) and Lauge Drewes (design manager at the LEGO Group) by Elizabeth Dowsett, and StarWars.com has an exclusive portion of their chat not included in the book. Check it out, along with some interior pages, after the jump!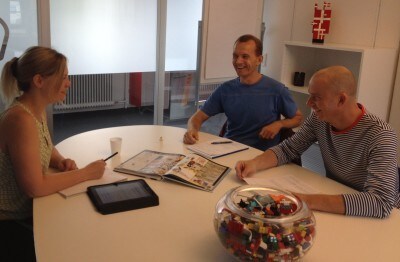 What advice would you give to someone wanting to become a designer at the LEGO Group?
Jens: There are different routes into jobs. And it's changed a lot since we started.
Lauge: Yes, I wouldn't get hired now, not with just the competencies I had when I applied! We expect much more from people these days in terms of skill level and design knowledge. In the old days the process was more open and flexible but now there are specific requirements.
Jens: Yes, there are requirements now, for education and so on, which none of us could live up to, but fortunately you gather some skills over the years!
One thing is that we are a very international department, with product designers from all other the world. Generally we require educational qualifications in industrial design, but of course it doesn't have to be from any particular place, but that's a requirement.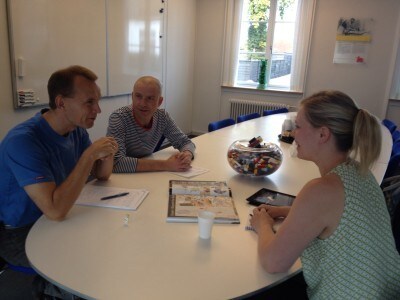 Is being a LEGO fan important?
Jens: A good knowledge of LEGO building and being a LEGO fan is of course a good thing, but also having a good portfolio. We always start with a person's portfolio.
What else are you looking for in an applicant?
Lauge: People need fundamental knowledge, and they need to be able to design things, but they also need to be able to understand processes. Some people are really good at the design side, but as soon as they come into a professional company, there are different requirements.
Jens: I think being able to think about processes and being structured is one thing and being creative is another. The creative part is the most important thing; we can always teach people to be more structured.
Lauge: Yes, if we've got someone who's very structured, then we can't teach them how to be creative—it's easier to take creative people and teach them to be structured.
We also look for an ability to work in a team. It's extremely rare that people here are able to work on their own—everyone has to be able to function well in a team.
How did you come to work at the LEGO Group?
Jens: I was hired in 1998, and it was by chance, through my hobby. I was working in the printing business, and in my spare time I built plastic models—not LEGO models, but models, planes, tanks. I entered a competition, and there were some people from the LEGO Group there looking for freelance designers. We had a talk and they suggested I apply for a permanent job, which I did. Of course as a child I was a big big LEGO fan.
I started as a model builder or product designer and then developed. In 2000, I became creative lead—managing the team developing models. And I've been doing the same thing more or less ever since. When I was interviewed for the first edition of this book, I was senior design manager and now I'm design director of the Star Wars team.
Lauge: I was hired in 1995. One summer, between University courses, I applied to the LEGO Group as a model builder and I got the job — I didn't expect that to be honest. I had been going to become a teacher, but 18 years later, I'm still here. I began building models, and then became a graphic designer, which was a good decision as I've continued in that direction. Over the years, there have been several opportunities to take responsibility and with the support from the LEGO Group, I am now a design manager.
Click on the images below to view the slideshow.