Less talky-talky, more eggy-eggy.
The LEGO Star Wars Holiday Special, now on Disney+, is a delightful romp through some of the greatest moments from a galaxy far, far away. Rey visits Jedi Masters of eras gone by to learn an important lesson -- and it wouldn't be LEGO Star Wars without inside jokes and tongue-in-cheek references galore paired with the festive tale! Nods to the original and unforgettable Star Wars Holiday Special, winks to the Star Wars fandom and toy collectors, and so much more are all included in this special Life Day gift to fans of the Skywalker saga.
You don't have to be a diehard Star Wars fan to spot some of the best Easter eggs hidden in the LEGO Star Wars Holiday Special. We've built a list of 15 favorites just for you.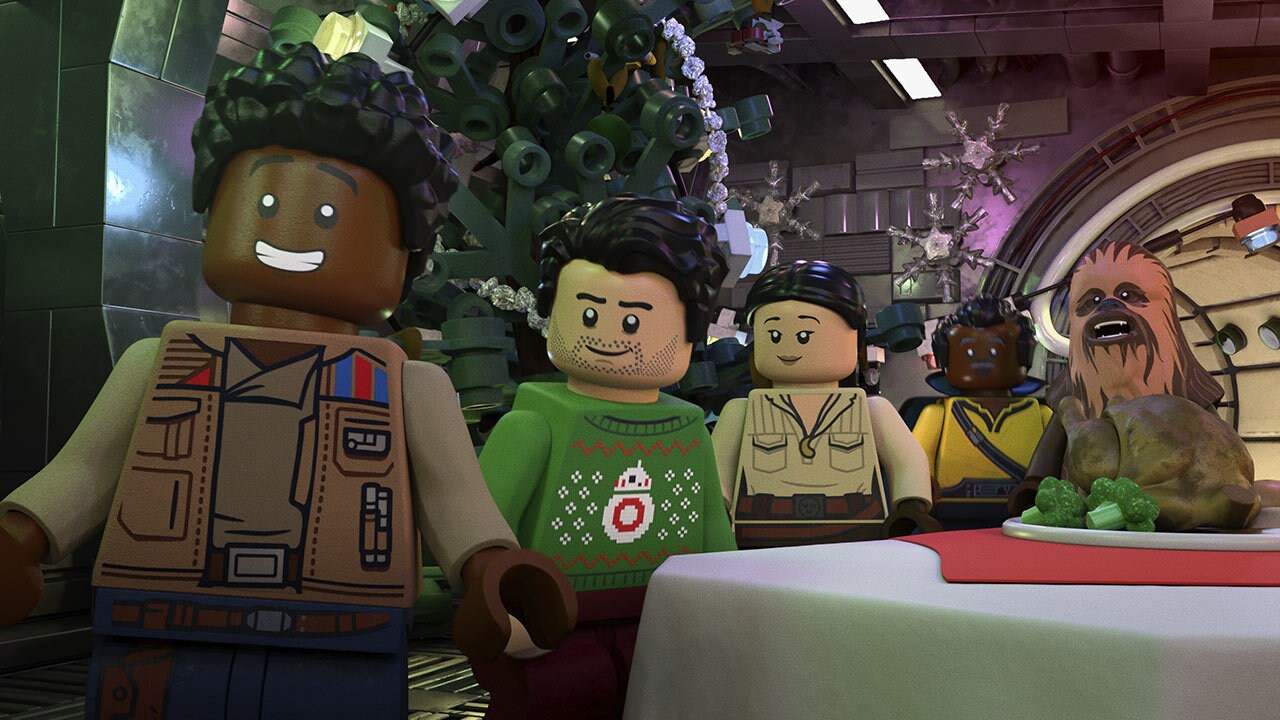 1. Roasted tip-yip can be found at Star Wars: Galaxy's Edge.
Of course Poe Dameron is excited to eat roasted tip-yip. It's delicious! And, best of all, you can try it at Star Wars: Galaxy's Edge at Docking Bay 7 Food and Cargo. And, closer to home, you can cook it yourself with the mouthwatering recipe in the Star Wars: Galaxy's Edge Cookbook.
2. The Aurebesh in Rey's Jedi tome reads "SIDIOUS."
Rey flips through the ancient Jedi texts for a hint of what to do next. Inside the wrinkled pages she discovers an account of the planet Kordoku. The top of the page also has a single word of text written in Aurebesh. It translates to "Sidious," the Sith name for Emperor Palpatine. Foreshadowing, Rey! Watch out!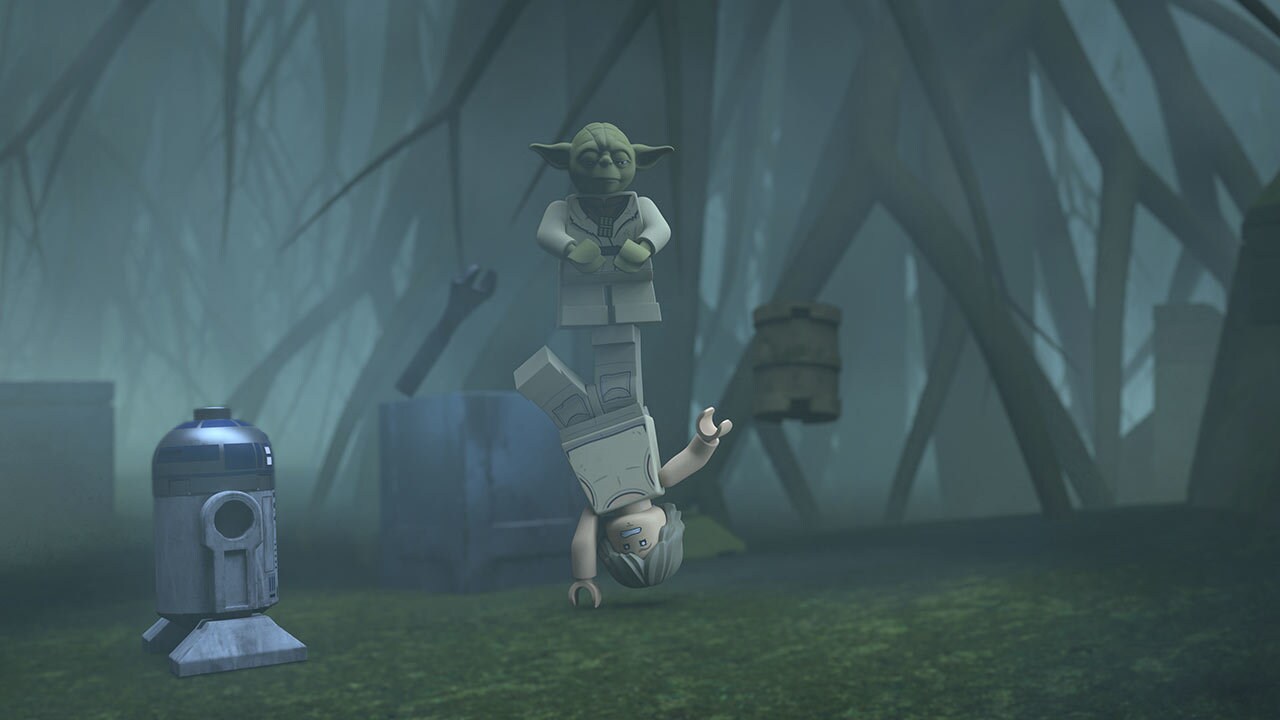 3. Rey's journey through time is complete with musical callbacks to iconic moments in Star Wars and original sound effects.
John Williams' stirring score is so memorable that it only takes a few notes to be instantly transported to the Death Star or Dagobah. Along with those now-classic movie cues come sound effects directly from the films.
"Every era visited in the special uses specific sounds from that era to keep the authenticity," sound designer David W. Collins tells StarWars.com. "The trench run uses original 1977 sounds, Dagobah and Hoth use Empire sounds, the podrace is filled with Episode I pod sounds (that unmistakable Sebulba engine!), and Exegol uses that Episode IX lightning. Even Din Djarin's blaster from The Mandalorian is used for that cameo."
4. The ice sculpture is a festive take on a Gonk droid.
Blink and you might miss it, but the ice sculpture at the Life Day party is an homage to everyone's favorite Gonk power droid. If you want to brighten up your holiday season, you can find a real-life version of the dressed-up droid in the LEGO Star Wars Advent Calendar.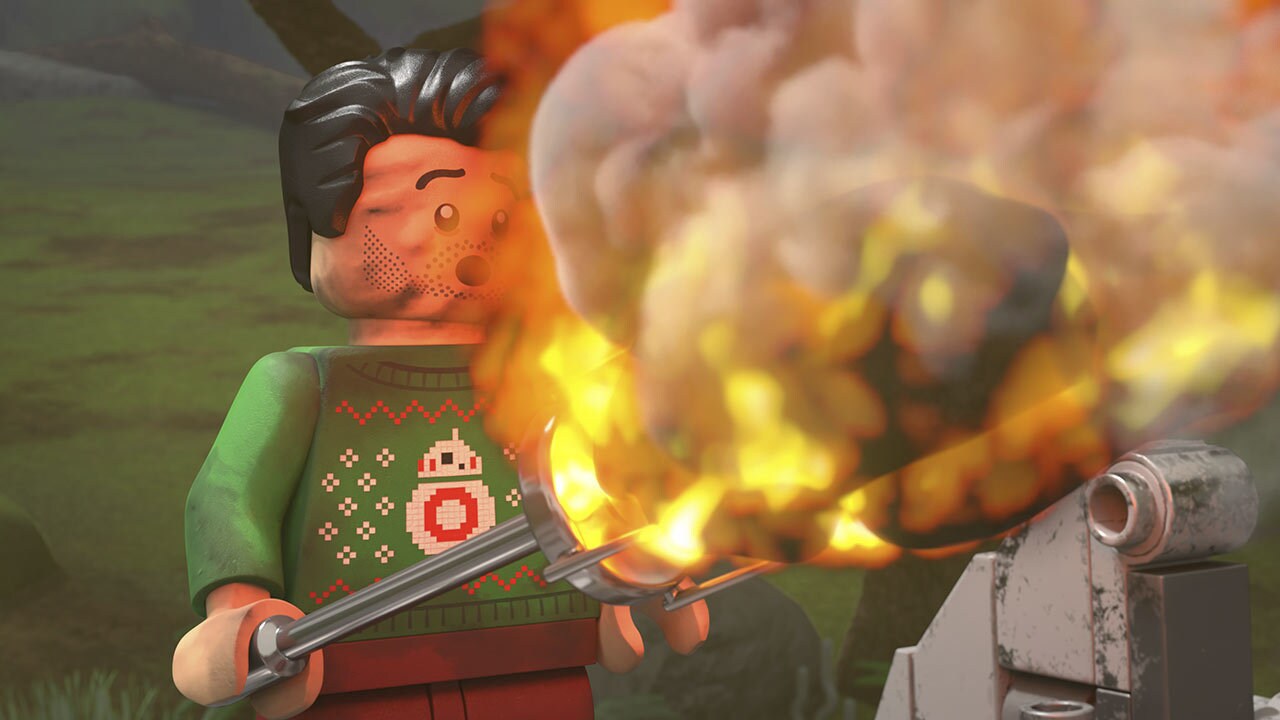 5. Thruster roasting is a tried-and-true cooking method seen at Star Wars: Galaxy's Edge and in The Mandalorian.
Poe Dameron knows his way around a spaceship -- and the grill. Using a podrace engine or a starship engine to quickly cook a tasty meal is a tasty trick known across the galaxy from Batuu to Tatooine.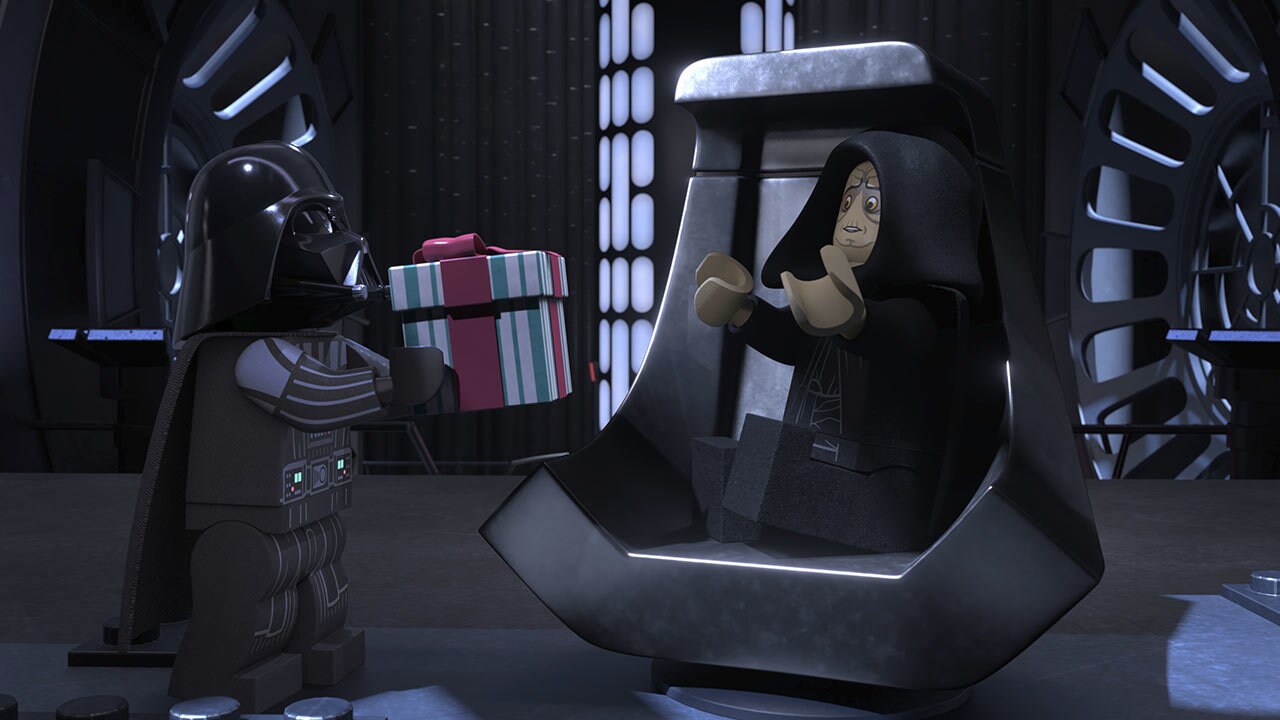 6. Darth Vader does his holiday shopping on Batuu.
Even a Dark Lord of the Sith knows where to find some of the galaxy's best gifts. You can also browse the unique wares from Star Wars: Galaxy's Edge online thanks to the Star Wars Trading Post, or at Star Wars Trading Post at both Disney Springs at Walt Disney World Resort and Downtown Disney District at Disneyland Resort.
7. Chewbacca's family is a callback to the original Star Wars Holiday Special.
While it's become a bit infamous over the years, the Star Wars Holiday Special gave fans their first look at Boba Fett and brought a galactic holiday to life. Life Day originated in the 1978 made-for-TV special. As it opens, Chewbacca is eager to get home to his family of his wife Mala, his son Lumpy, and his father Itchy in time for the Wookiee holiday. The LEGO Star Wars Holiday Special features those same family members on Kashyyyk.
8. Some sound effects come directly from Ben Burtt's work on the original Star Wars Holiday Special.
Not only does Chewbacca's family share the appearances of their original incarnations, they sound the same, as well.
"The amount of sound work that Ben Burtt did for the original Holiday Special is considerable," Collins says. "I found a ton of Wookiee vocalizations for Chewbacca's family in the Skywalker Sound library… [I] made sure that those samples were used when Chewie's family shows up on the Falcon. A good example is most noticeable when young Lumpy dives onto the table to devour the tip-yip."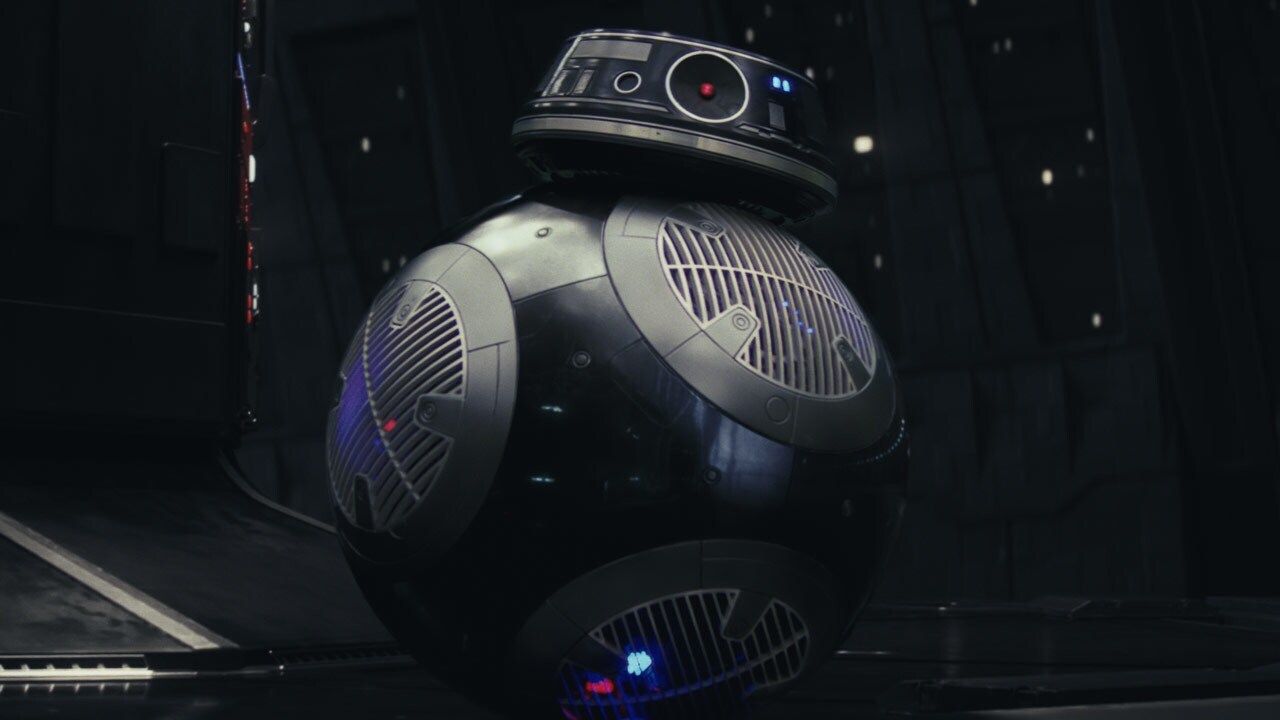 9. The disco ball is a shiny BB-9E, a droid first seen in Star Wars: The Last Jedi.
BB-9E is a dark First Order counterpart to BB-8. In the LEGO Star Wars Holiday Special, however, not even this astromech droid can resist getting into the Life Day spirit. Look for it taking a turn as a disco ball while our beloved heroes celebrate the day.
10. Finn sings a song in Huttese that should sound a little familiar.
You know the tune, but can you sing it in the language Greedo and Jabba the Hutt growl at our favorite heroes? You can now:

Joh blastoh
Joh blastoh
Blastoh moulee rah
O ta panwa yataka
Bo eopie choppa  
11. Mace Windu can be seen falling through the portal alongside Rey and Darth Vader.
Jedi Master Mace Windu was last seen flying through the night sky of Coruscant in
Star Wars: Revenge of the Sith
. It seems only natural that we'd see him still in the air in the
LEGO Star Wars Holiday Special
. Look for him on Tatooine taking on a Sith trooper!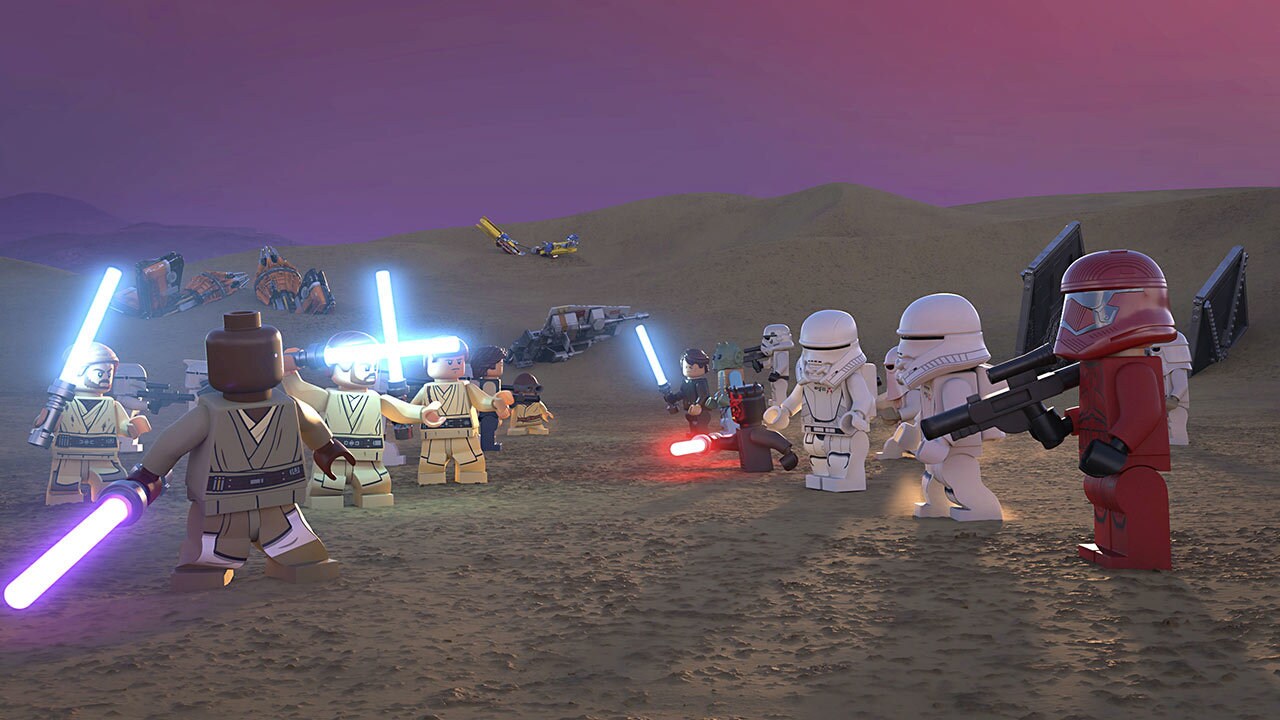 12. The shouts from various stormtroopers are from LEGO Star Wars II: The Original Trilogy.
Sound designer David Collins went back in time himself for some LEGO Star Wars sound effects. "I found those [stormtrooper] death yells in the old LucasArts archive," he says, "and incorporated them into the Rey and Vader portal fight as various troopers go flying around. It's actually my voice from 2006, as the LucasArts sound department did all of the vocalizations for that game back then."
13. A Rodian guest at the Life Day party happily says, "Maclunkey," a nod to a notorious sound effect recently added to Episode IV.
Speaking of shouts, a new sound effect added to Star Wars: A New Hope had fans yelling online as soon as they heard it. "Maclunkey" became an instantly classic Star Wars sound. Hearing it again in the LEGO Star Wars Holiday Special is a fun acknowledgment of the Star Wars fandom's attention to detail and sense of humor.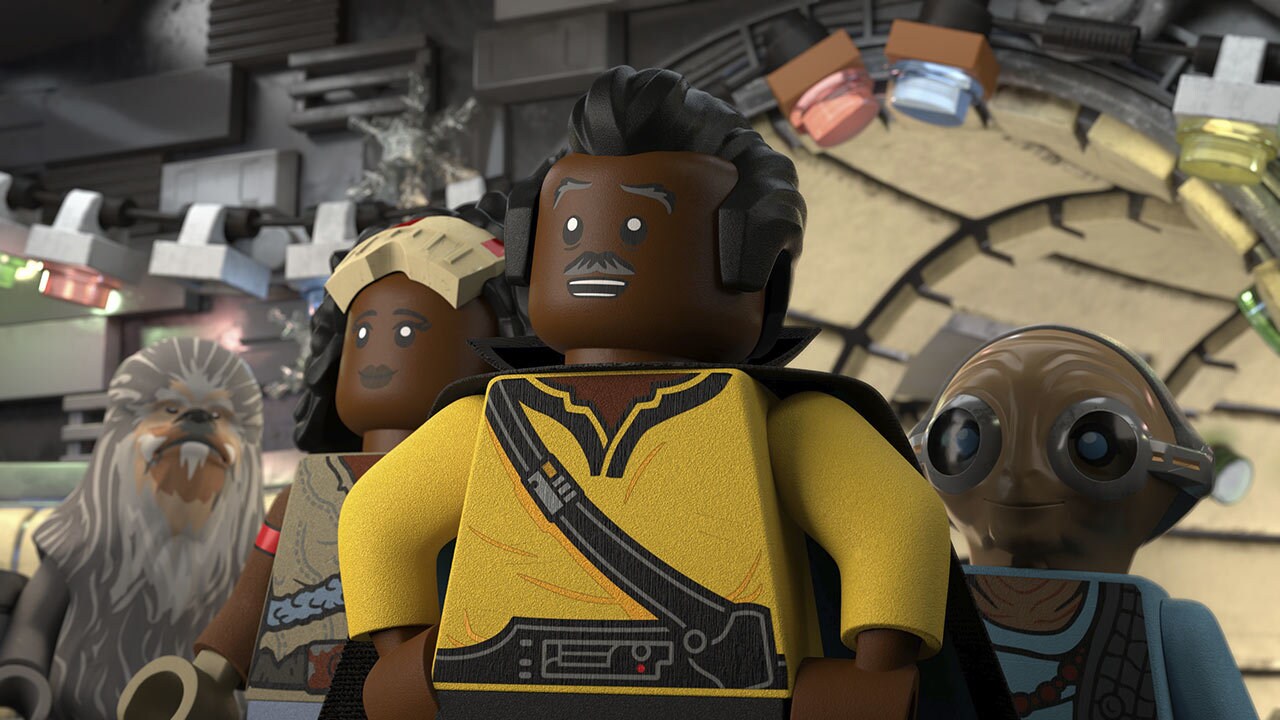 14. Lando appreciates the offworld Jawas, a nod to the Black Series action figures for The Mandalorian.
The red-eyed scavengers made a big impression in the second episode of The Mandalorian and later on real-life store shelves as part of Hasbro's Star Wars The Black Series 6-inch figure collection. Dubbed "offworld Jawas" on the box, Lando's namedrop is another big wink to fans and collectors.
15. Yoda is dressed similarly to Sam the Snowman, the narrator of the holiday classic Rudolph the Red-Nosed Reindeer.
As the story comes to a close, the audience is treated to a jolly little Yoda in a familiar outfit. The black bowler hat and fuzzy, festive vest are an homage to Burl Ives' character in the 1964 stop-motion holiday classic.
Don't miss these Easter eggs and more in the LEGO Star Wars Holiday Special! It's streaming now, only on Disney+.
For more on the LEGO Star Wars Holiday Special, be sure to read StarWars.com's interview with Lucasfilm's James Waugh and Josh Rimes on the making of the special, and check out the trailer.
Star Wars: Galaxy's Edge is at Disneyland® Resort and Walt Disney World® Resort.