StarWars.com talks to Build My Droid contest winner Camille Manet about KP-1 and seeing him come to life.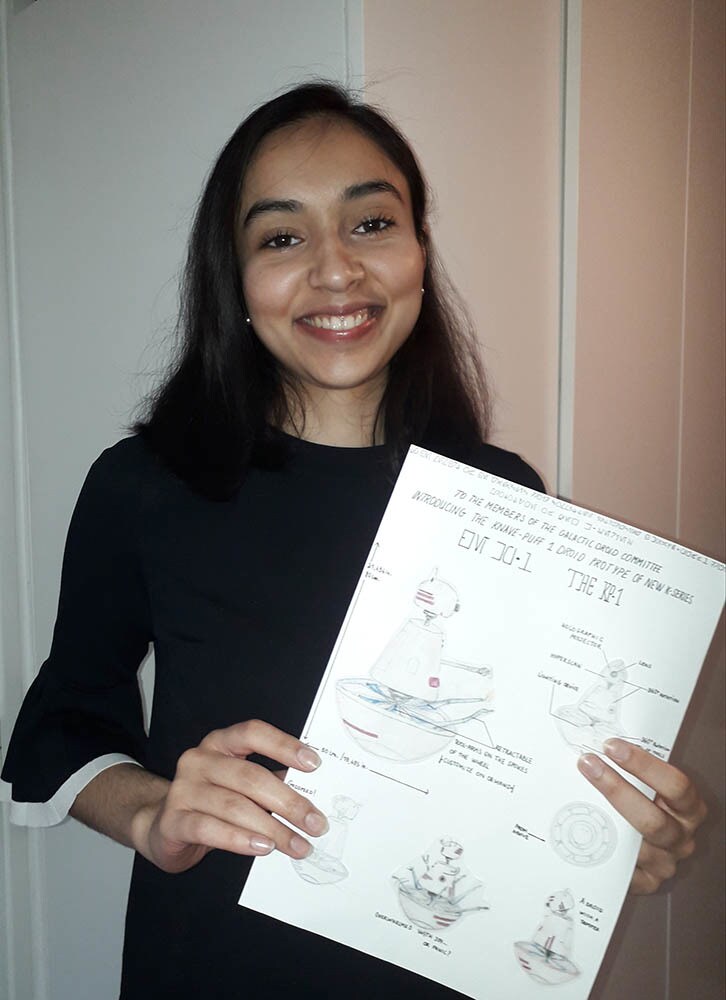 This is the new droid you're looking for. KP-1 -- an astromech consisting of three distinct, modular sections that form a cone shape -- made his debut in Obi-Wan Kenobi Part V. Only he wasn't created by the Lucasfilm Art Department. He doesn't come from the comics or another form of media. And he's not an unused build from a past Star Wars production. No, KP-1 comes to the galaxy far, far away thanks to another source: Star Wars fan Camille Manet.
The 25-year-old, hailing from Paris, France, entered and won the Build My Droid contest from Lucasfilm's Star Wars: Force For Change initiative and FIRST, whose goal is to inspire the next generation of heroes and innovators in science, technology, engineering, math (STEM), and creative arts. Her entry was KP-1: a droid that looked very Star Wars but new at the same time, and was filled with features and personality. Build My Droid offered contestants the chance to see their droid brought to life in a future Star Wars project; little did Camille know at the time that that would be Obi-Wan Kenobi, now streaming on Disney+. "Obi-Wan was my favorite character as a kid and still is," she tells StarWars.com. "I was actually really moved to learn that it would be in Obi-Wan Kenobi precisely because of that."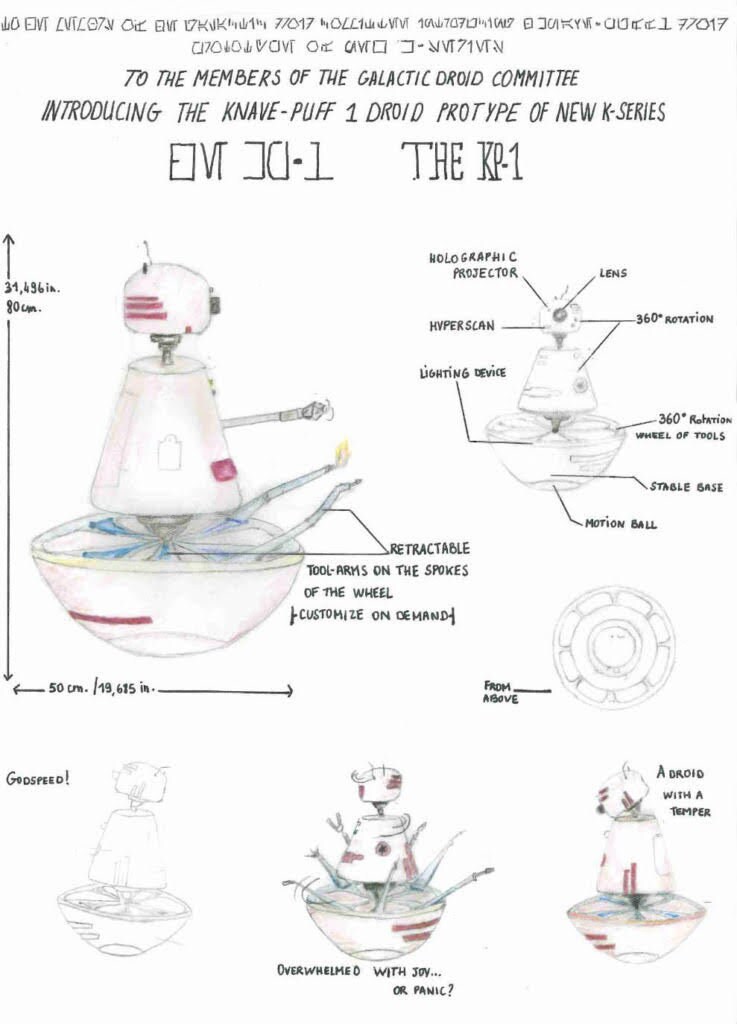 Camille grew up with "the OGs," as she calls them. She loved watching the original trilogy on home video, and has memories of seeing the prequels in the theater as a child. "We all used to play Star Wars on the playground," she says. "We all had parts and mimicked the sounds!" The sequel trilogy awakened her fandom in recent years, leading into her eagerness to enter the Build My Droid contest. When StarWars.com asks Camille about her professional background -- Robotics? Science? Art? -- she can't help but laugh.
"Absolutely none," she says, giggling. "I love cinema, I love movies, and I love Star Wars."
When it came to designing KP-1, Camille noticed that there are many different droid types, but they all seem to be instantly recognizable as belonging to Star Wars. Thus, coming up with something original, while still fitting within the Star Wars aesthetic, would be key. "You can't get it wrong," she says. "That's the balance I was trying to find -- in between the long tradition of droids we know and something entirely new." The cone shape exemplifies this, as it's a fresh form and makes KP-1 easily identifiable as just a silhouette, but the classic astromech dome grounds the design in Star Wars. Even the semi-circle base includes a clever use of spokes that KP-1 can use as gadgets. "I had the wheel as a starting point of the design. I really wanted the wheel, but then I thought about putting it horizontally, and the idea was the arms could be on it and be retractable," she says. "I was hoping, at least, that it was a new design when it came to the tools." As for the pink body and red accents, there's a simpler explanation.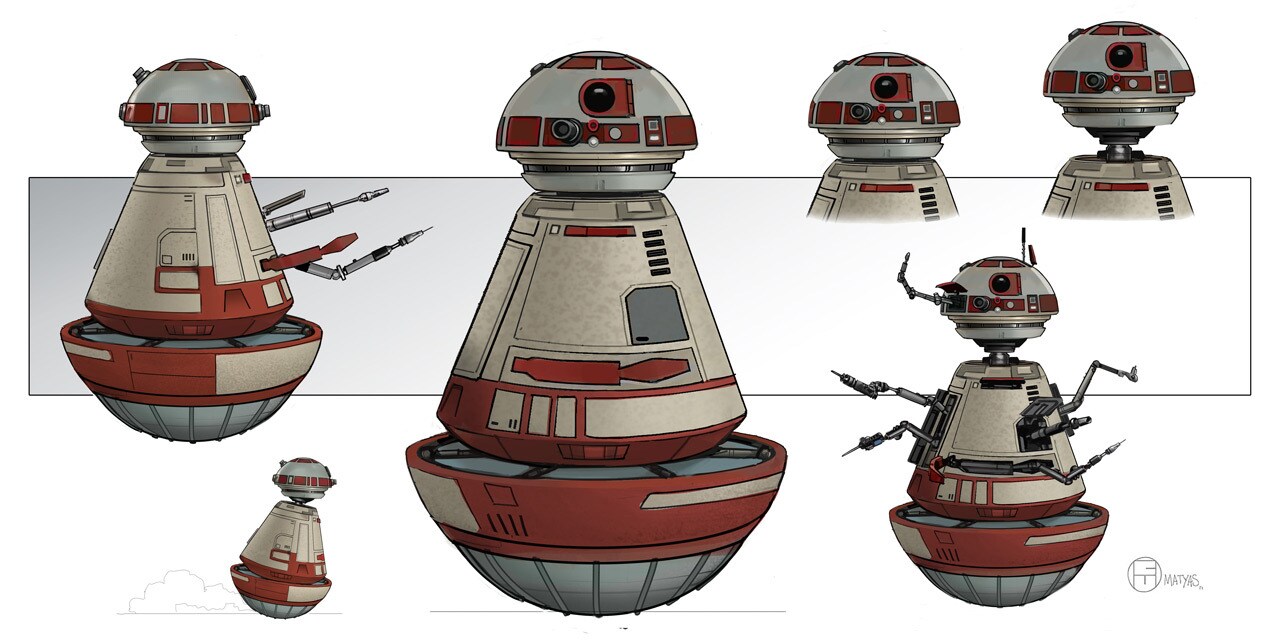 "I think I just liked the color combination," she says laughing. But there was an ulterior motive. Camille wanted to differentiate KP-1 from the most famous Star Wars droids, so she intentionally avoided blue, gold, and orange, as those colors are primarily associated with R2-D2, C-3PO, and BB-8, respectively.
She also had personality in mind when coming up with KP-1 -- as can be seen on her design sheet, Camille imagines the droid expressing all manner of emotions -- and can sum up the droid's character in a word: "Salty," she says. "Definitely salty." And the name, which comes from "Knave Puff," reflects that personality. "The idea was, 'A salty breath of fresh air.' Salty at times, but you're always happy to have him by your side."
On November 21, 2021, Camille received an email with "Build My Droid" in the subject line; upon opening it, she learned that she'd been named the grand prize winner. "I was really happy but it was kind of difficult to grasp," she says. "Just to wrap my mind around it." It felt even more surreal because she couldn't tell anyone, only letting her mom in on the news.
During production of Obi-Wan Kenobi, Camille received some updates from Lucasfilm on the development of KP-1. She met virtually with Lucasfilm art director Doug Chiang, who helped in putting some finishing touches on the droid for the screen. In addition, Lucasfilm showed Camille behind-the-scenes videos and photos of the making of her droid, from 3D printing parts to painting to the final build in the creature shop. "It just doesn't feel real!" she says. "You realize how much work is behind it."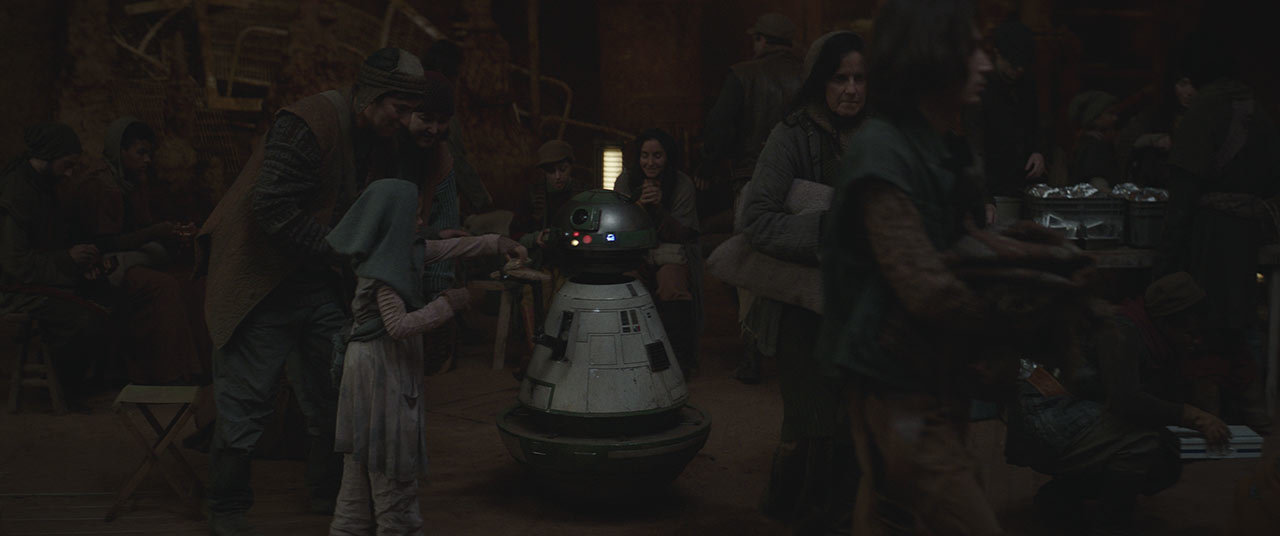 And finally, KP-1 has arrived. The droid pops up around the 5:12 mark of Obi-Wan Kenobi Part V, offering food to a child in the civilian outpost on Jabiim, and later helps seal a door. In his final form, KP-1's colors are green and tan, but the overall look of the droid is almost exact to Camille's vision. "Seeing the droid was a mix of feelings," Camille says after watching the episode. "Joyful, but it was also moving, because as with any creation one spends time on, you invest yourself in it, and the final result is always a relief. But you also part ways with something, which now doesn't belong to yourself alone. It's for everyone's enjoyment and rightly so."
Now that KP-1 is known to the Star Wars galaxy and our own, Camille has one wish for her droid. "It's very exciting. I hope that it brings joy to people too, because that's what Star Wars does," she says. "I hope it makes other people happy, just as happy as it made me."
Watch a new featurette on the making of KP-1 below!