Check out the complete poster collection and exclusive commentary from the artists themselves.
It's becoming a welcome tradition. Over the last few years, Lucasfilm and Disney have collaborated with the artists of Poster Posse to celebrate the releases of new Star Wars storytelling, creating gorgeous posters for The Mandalorian and The Book of Boba Fett. The partnership continued for Obi-Wan Kenobi -- all episodes are now streaming on Disney+ -- with a stunning series of art. The works range from Chelsea Lowe's gritty Western take to Scott Hopko's haunting Darth Vader, all evoking moods and themes from the show. Each poster debuted first on official Star Wars social channels, and StarWars.com is excited to feature the entire run here, along with exclusive commentary from the artists.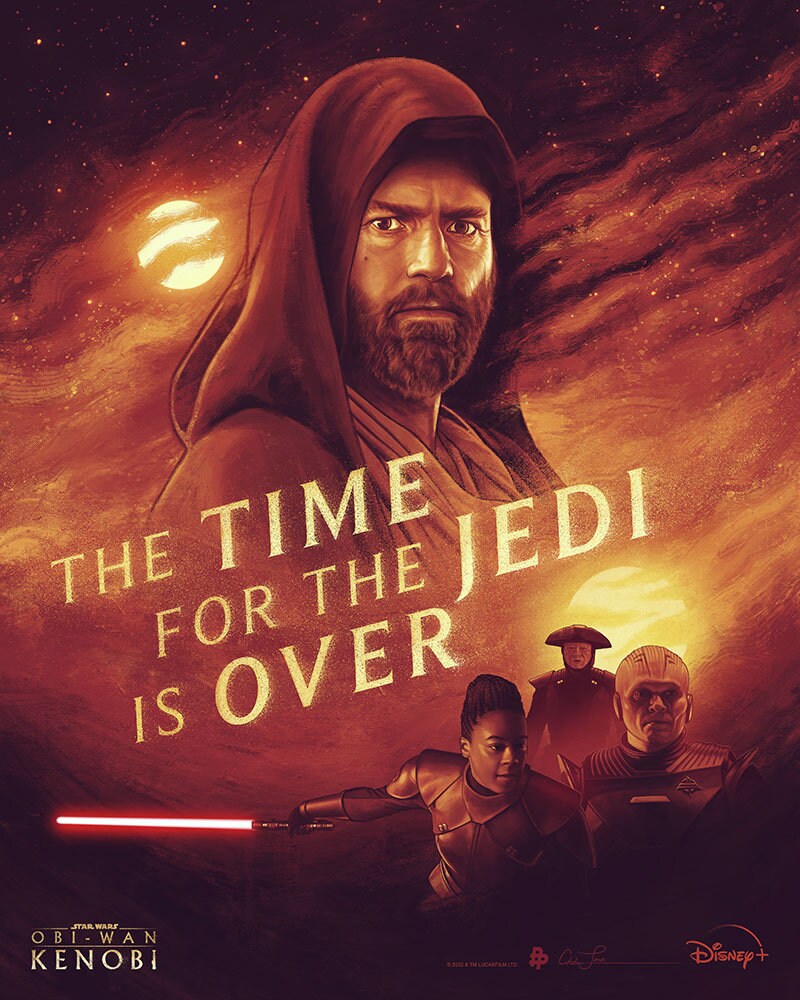 "When I was asked to create a poster for Obi-Wan Kenobi, I was so excited! I knew from the start I wanted him to be the center focus of the poster -- complete with a stern and determined look on his face. I was asked to incorporate Tatooine in some way, so I made sure to give the poster a warm, desert color scheme. I also used some textured, painterly brushes to really help capture the grittiness of a desert atmosphere.
"Star Wars has been a constant in my life ever since I can remember. My late grandfather was always a mega fan and I fondly remember watching the films with him during the summers I'd spend at my grandparents' house. The franchise is iconic, giving us the greatest good versus evil story of all time, and the greatest heroes and villains pop culture has seen. Not to mention it is full of so many themes that are still relevant to our society." -- Chelsea Lowe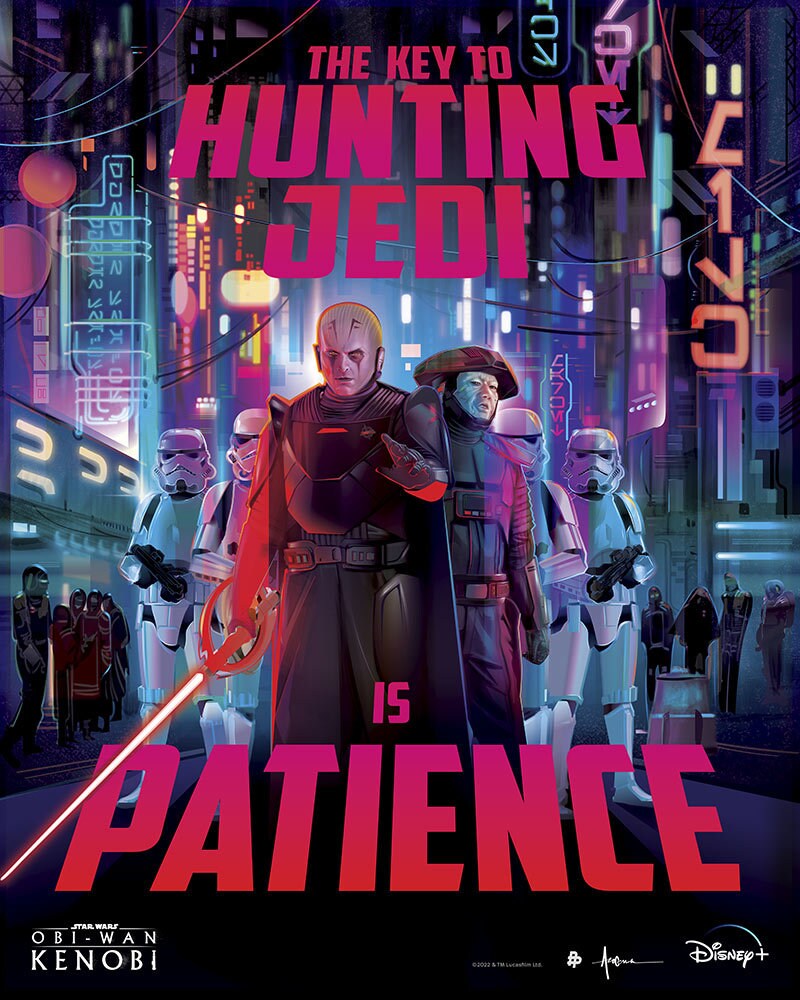 "The key to hunting Jedi is patience; patience is also the strategy for this 50-year-old fan of Star Wars originally from the Bronx, NYC! And having the opportunity to create the art for the second episode of Obi Wan Kenobi is a long-awaited honor. Depicting the Inquisitors within my style of vibrant electric lights and flares, yet keeping them looking as a foreboding galactic evil, was an exciting reward for me. Especially since a majority of my vector art is characterized by modernistic, colorful glows inspired very much from the many years of watching Star Wars!" -- Orlando Arocena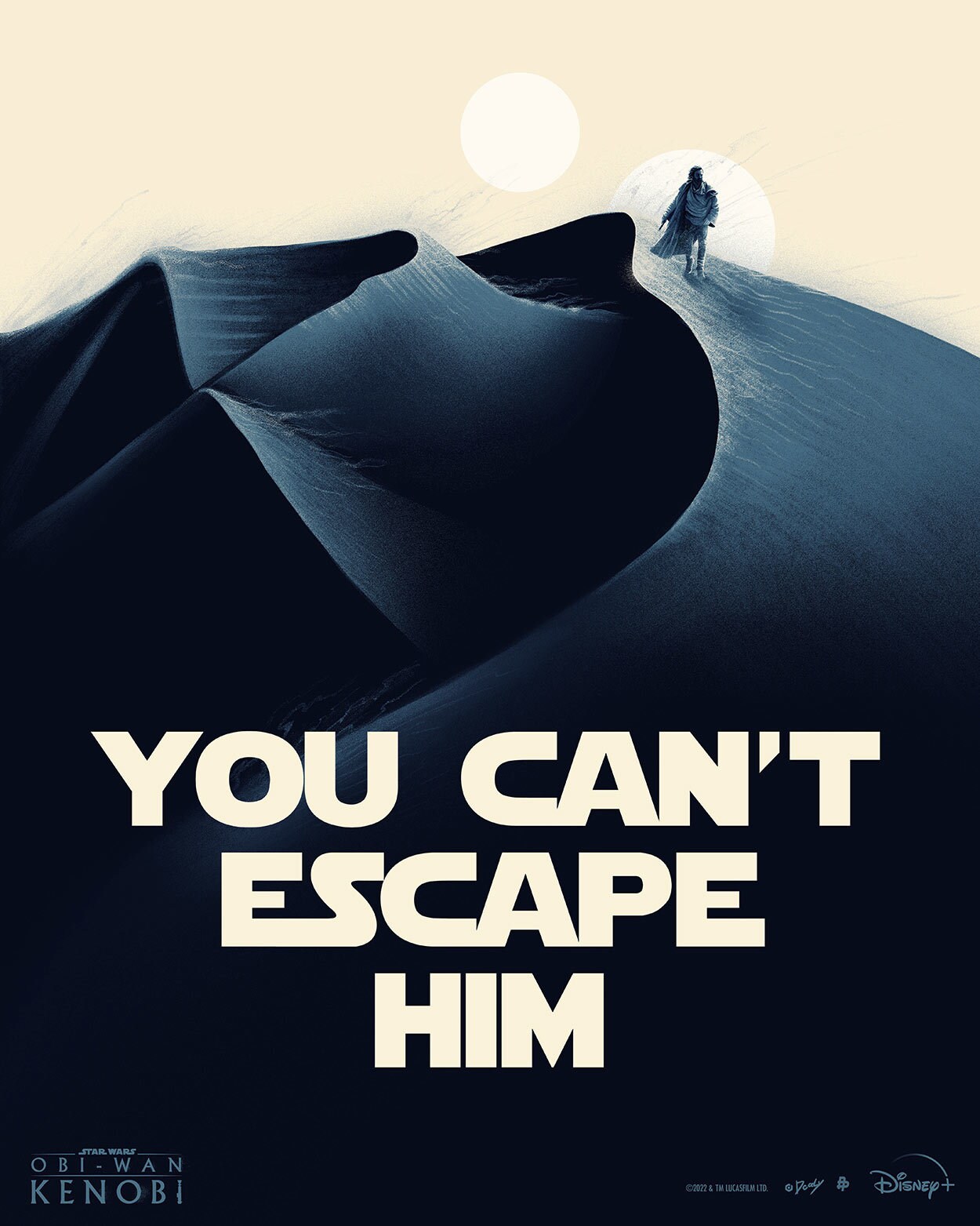 "It's been a joy to create art for Obi-Wan Kenobi. I wanted my piece to capture the bleakness of a galaxy where the Empire is taking over, but with a little hope still in there." -- Doaly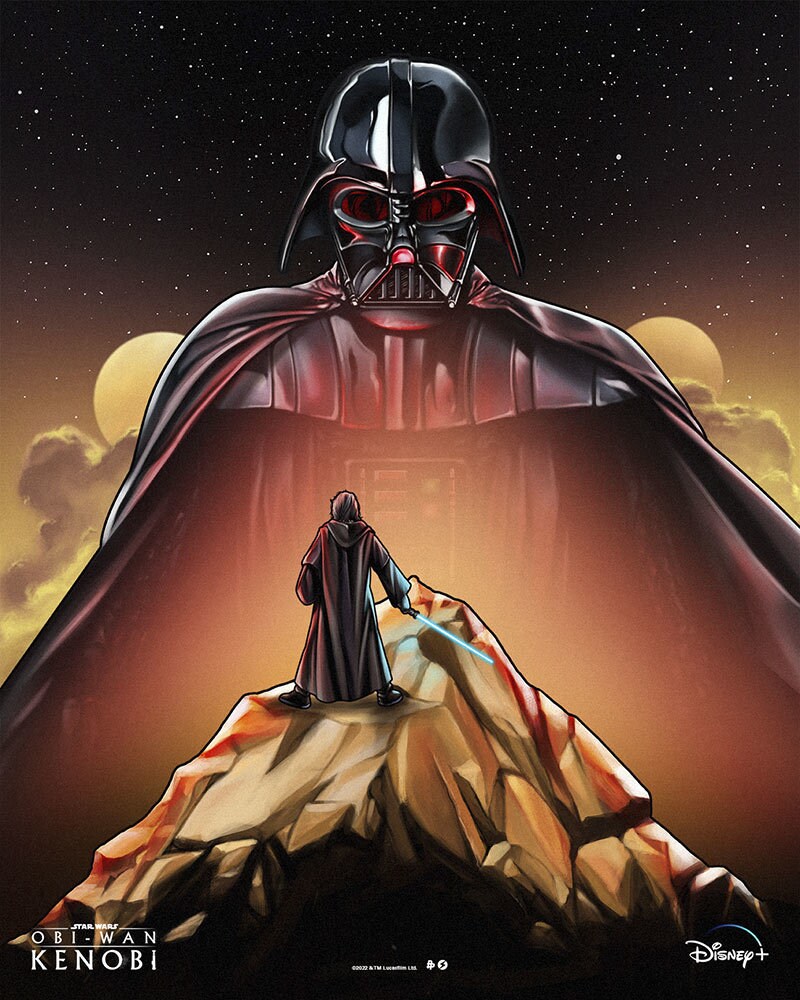 "I grew up watching Star Wars, collecting Star Wars toys, and drawing everything Star Wars, so getting to work on an official piece for Obi-Wan Kenobi was truly a childhood dream come true. Obi-Wan Kenobi has been everything I was expecting and then some. It hits all the right notes, igniting nostalgia while expanding a universe that never ceases to amaze." -- Salvador Anguiano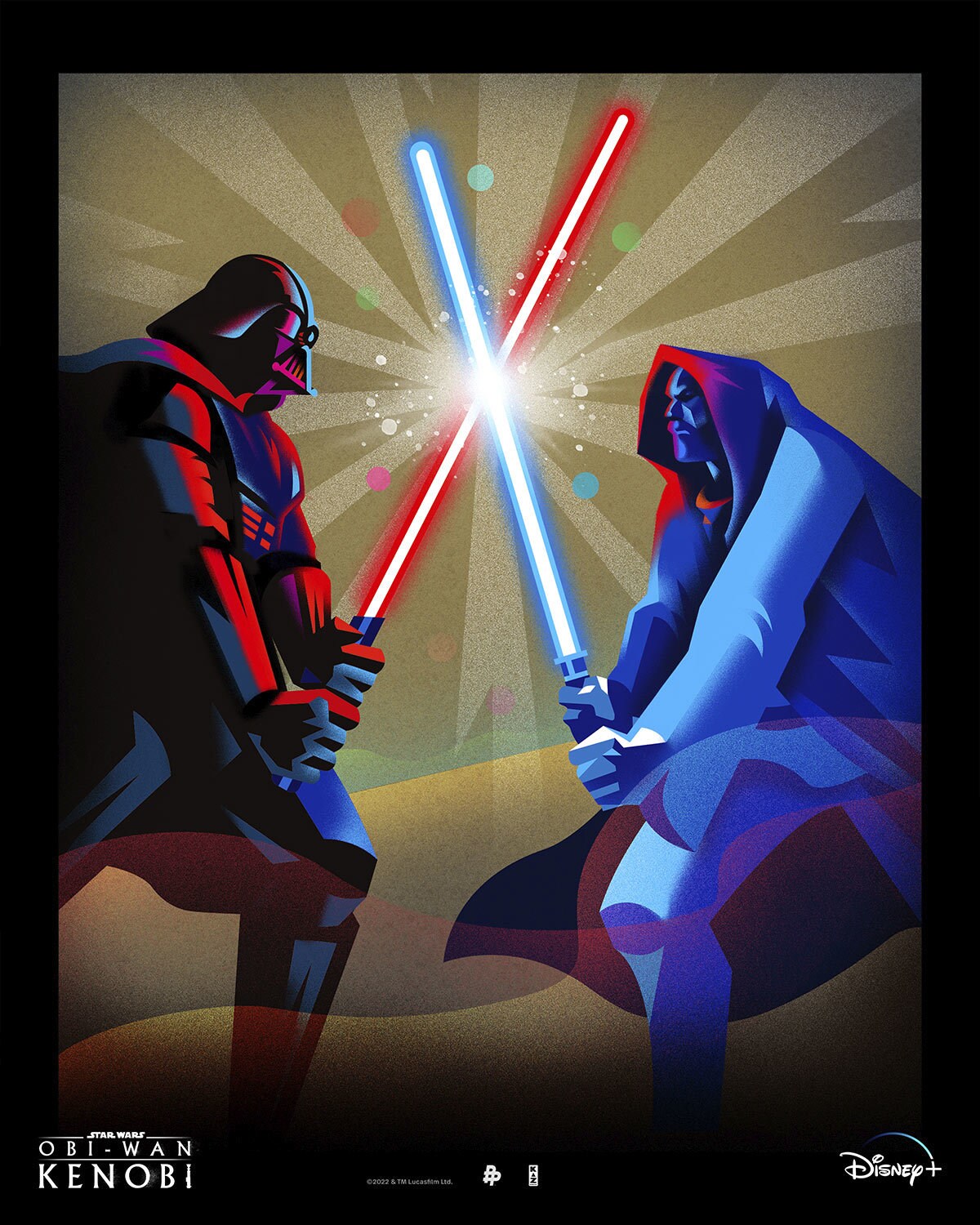 "It was exciting to watch the long-awaited Obi-Wan Kenobi series and have the opportunity to create art for it. My artwork is inspired by the relationship between Darth Vader and Obi-Wan. Having been a Star Wars fan my entire life, it was a pleasure to create art featuring these two iconic and legendary characters, highlighting their fierce history." -- Kaz Oomori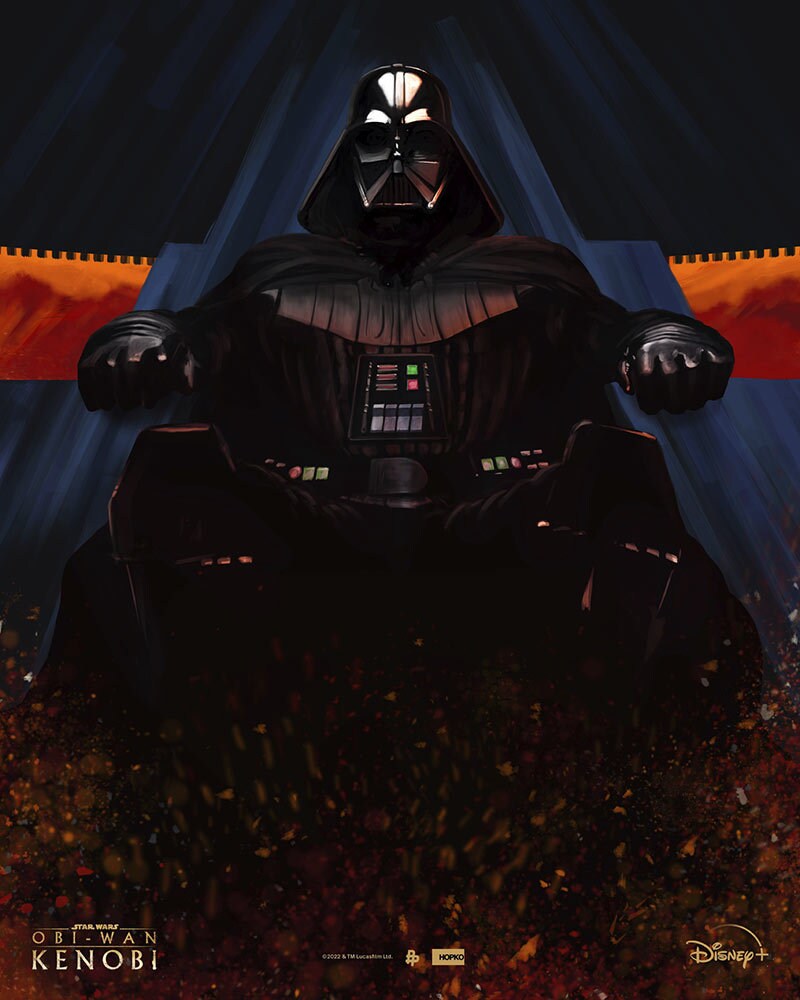 "I was seven years old when I first saw Star Wars in 1977. I was fortunate to watch it three times in one day thanks to my Uncle John being the projectionist at the Auburn Schine Theater in Auburn, New York. I watched each showing wide-eyed from the balcony of that beautiful 1,500-seat, art deco theater, and fell in love with the characters and the story of a galaxy far, far away. 
"Being asked to illustrate Darth Vader sitting on his throne in Mustafar is that seven-year-old's dream come true. The theme of my illustration is 'the light and dark side,' with the throne pointing to Vader's ultimate redemption and ascension to the light side, while his feet are firmly planted on Mustafar. The triangle design represents power in the direction in which it points.
"For me, the Obi-Wan Kenobi series continues the great storytelling that George Lucas started back in 1977." -- Scott Hopko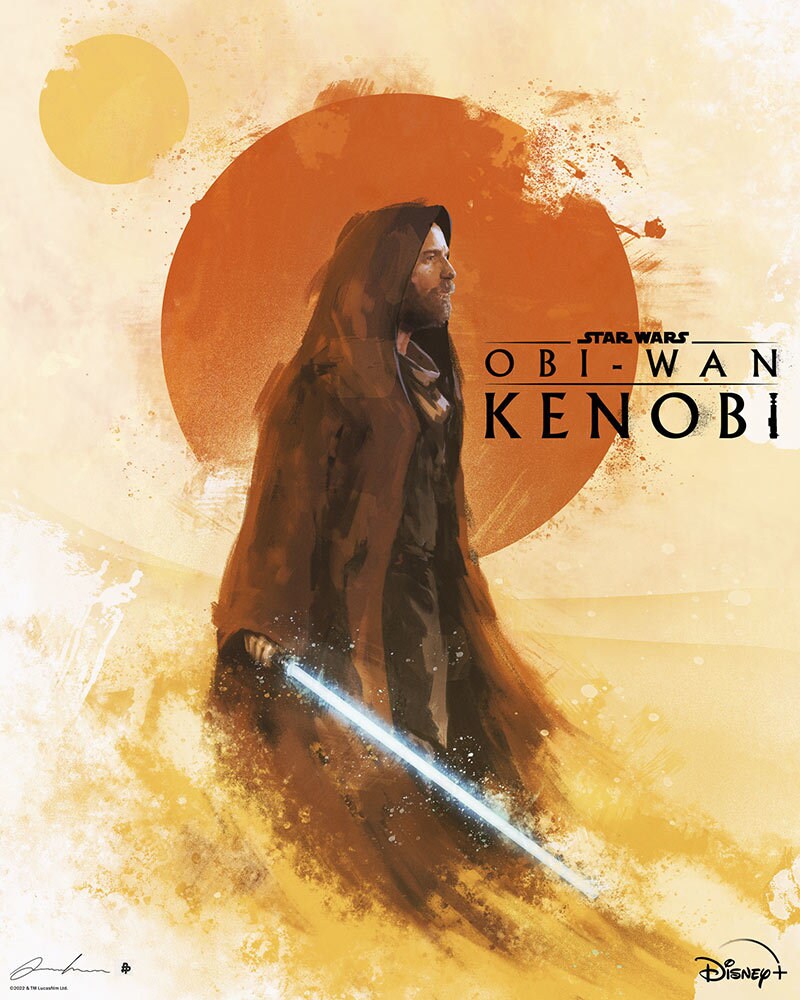 "From the first moment seeing A New Hope when I was incredibly young, I have always been a huge Star Wars fan. The Falcon, the lightsabers, the battle between light and dark -- I was hooked. So when I was given the opportunity to create artwork for Obi-Wan Kenobi, I jumped at the chance. The art depicts our lone warrior, searching the distance for answers to questions long buried in the past, as the wind and sand flow around him." -- Luke Butland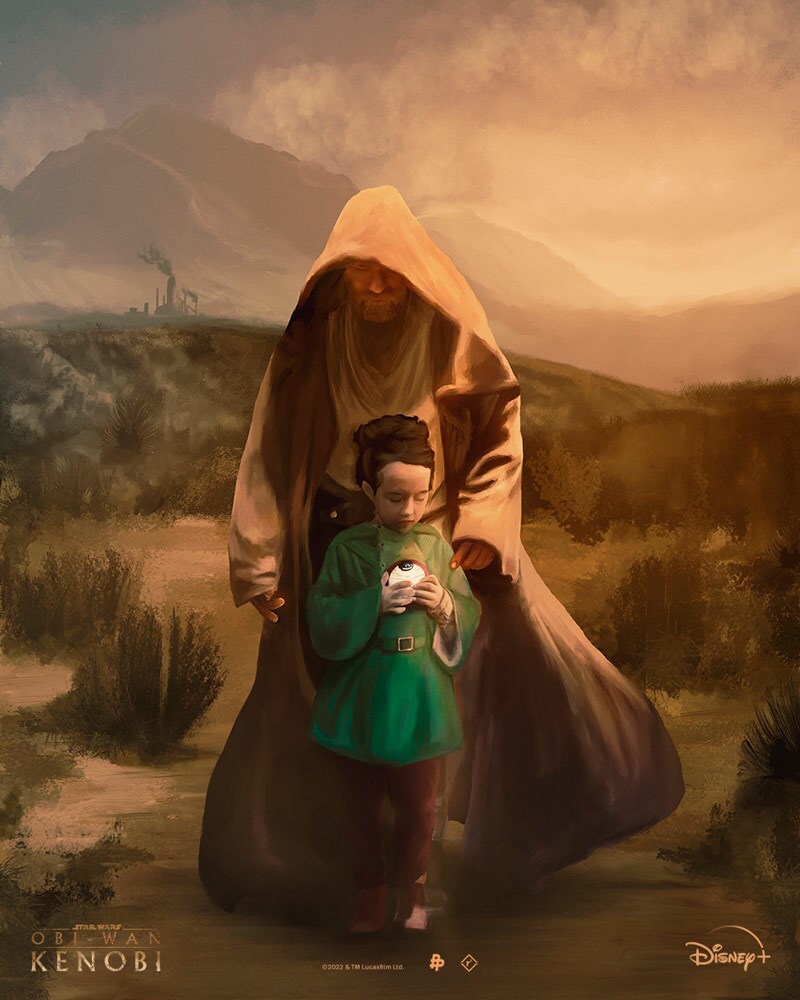 "My job was to show the relationship between Obi-Wan and Leia. I wanted to show peace and security, where the surrounding world has no influence on them and Obi-Wan is like a good spirit who watches over Leia." -- Rafal Rola