The winning entry, sponsored by FIRST and Star Wars: Force for Change, could be part of a future story in the Star Wars galaxy.
Like most Star Wars droids, KP-1 is equipped with a variety of handy tools, a hint of a temper, and the human-like ability to get overwhelmed with joy or panic from time to time. And this unique new prototype, designed by a fan as part of the 'Build My Droid' contest, could be brought to life in a future Star Wars project!
Winners were chosen by a panel of judges including Star Wars creature and special make-up effects supervisor Neal Scanlan; Lucasfilm vice president, creative producer John Swartz; Lucasfilm senior creative executive Pablo Hidalgo; celebrity Star Wars fan and STEM advocate Mayim Bialik; and Dean Kamen, FIRST founder and inventor of the LUKE Arm -- a revolutionary prosthesis inspired by Luke Skywalker.
StarWars.com recently interviewed grand prize winner Camille Manet, as well as runners up Raye Yesaki and Ana Gabriela Lopez Espinosa about what inspired their designs and their dream headcanon counterparts for their original creations.
Grand Prize Winner Camille Manet, KP-1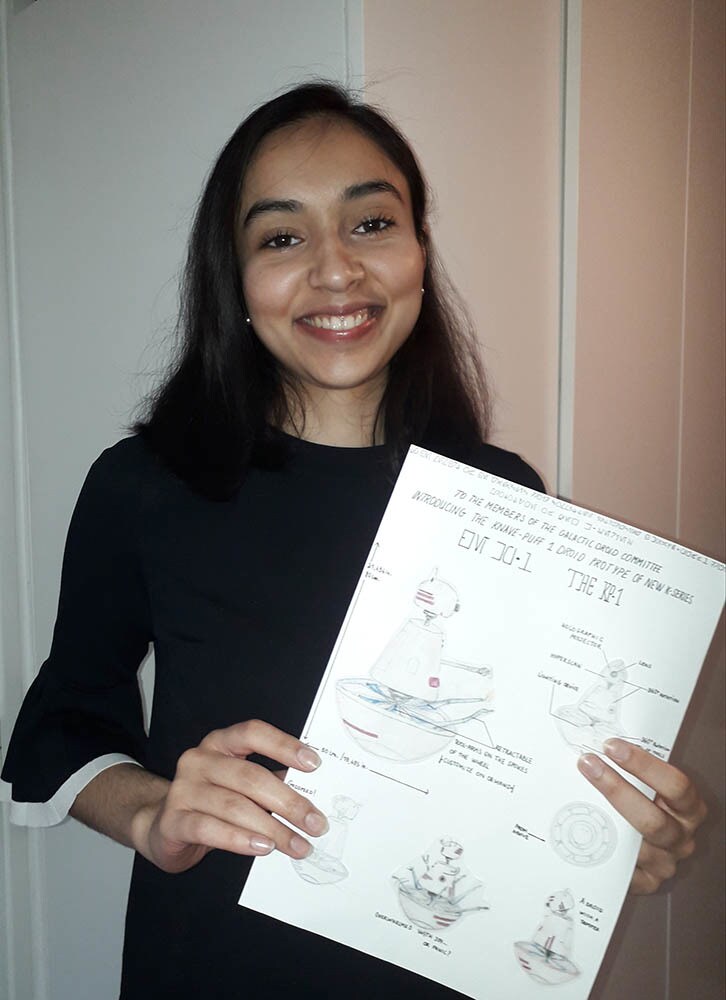 Short for the Knave Puff, Camille's prize-winning prototype design is at once totally original and completely at home in a galaxy far, far away, the latest in a long line of faithful metal-bodied Star Wars companion droids.
In a world where astromechs beep back sassy retorts and protocol droids are given to fretting, the French fan's design started with her droid's personality. In fact, the budding designer says she struggled to even come up with its basic shape before landing on its persona: "Very loyal, easily offended, but never for long. He may panic, especially when he wants to warn his owner of a danger, but will always be determined to carry out his mission."
This playful yet temperamental demeanor was inspired by some of the most beloved galactic droids, she says. "Star Wars droids are known and loved for their loyalty and at times, their insubordinate sense of humor," she adds. "I wanted its name to reflect its character: clever and insightful, always a step ahead, a dash of mischievousness, and as you can't predict where a breath of fresh air will blow, a tad bit unpredictable; a surprise, for sure, but a welcome one."
For decades, new droid additions to Star Wars lore have blended tradition and innovation, Camille notes, and she wanted her dream design to fulfill the same functions. "Every new design is innovative and is a discovery, yet at the same time, feels familiar in its very novelty," she says. "It felt really important for the KP-1 concept to translate that aspect; since the attention granted to details and specificity in the designs of objects, landscapes, life forms etc. is what binds, alongside the story of course, the whole cinematic universe together."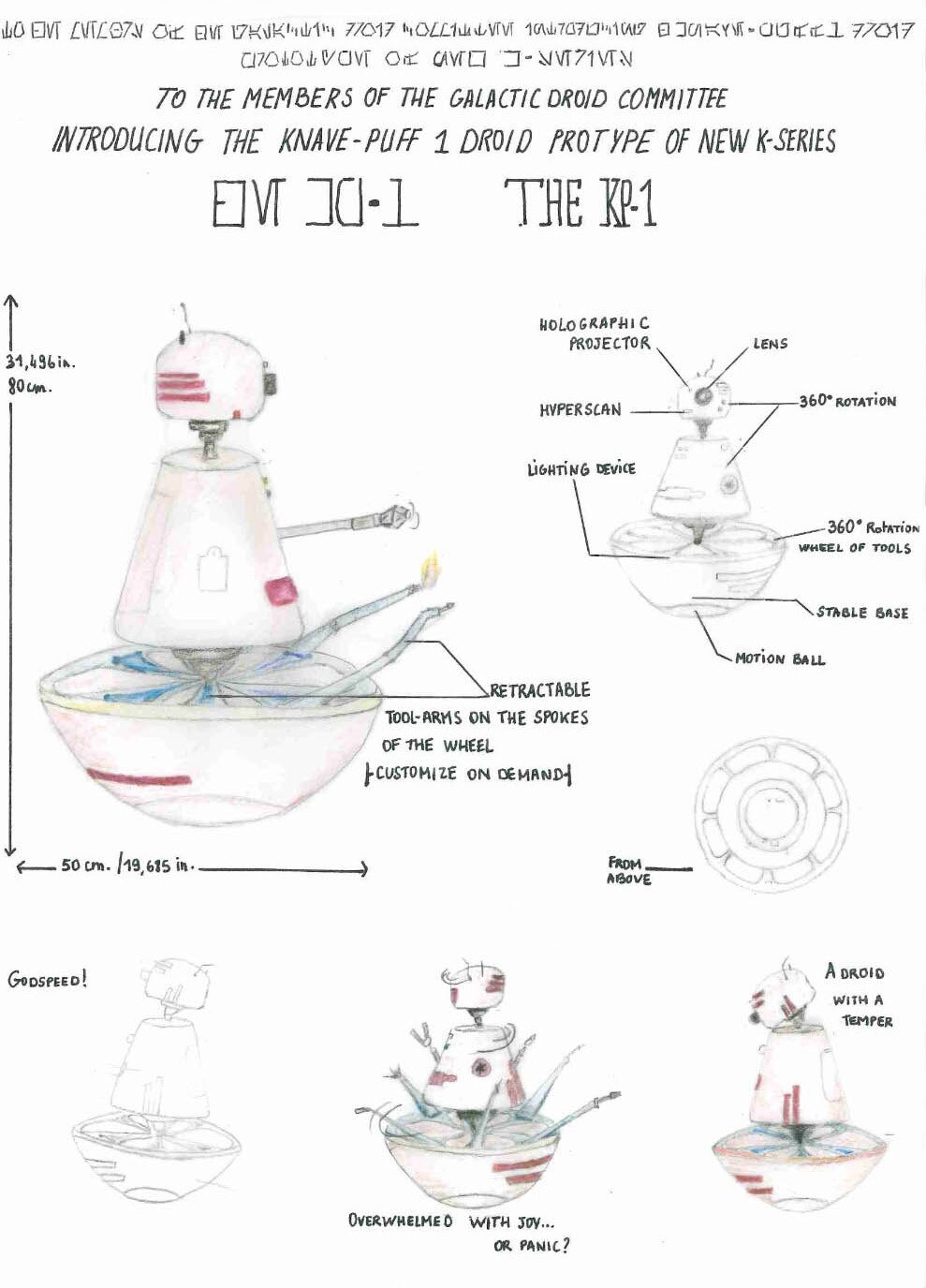 Her final sketch included detailed notes on the droid's height and an array of tools, including retractable tool arms, a holographic projector, and a hyperscanner, concealed on a stable, half-moon base. "If captured, it will go into automatic sleep mode and activate a firewall system that will remove all sensitive information," she notes. Does that make him the perfect Resistance or rebel spy or a loyal servant of the Empire or First Order? "Probably both," she admits. "These two features guarantee an indefectible loyalty, which is needed and useful on both sides. But its personality would probably be too coercive to the Empire or the First Order." However, just the thought of KP-1 babbling next to a Supreme Leader or a bounty hunter is quite amusing, she says. "They would make an odd but charming duo... In any case, the data wipe off would make an interesting scene with any master caring enough to feel sorry about a faithful droid losing all its memories of their time spent together."
Runner Up Winner Raye Yesaki, T0-J4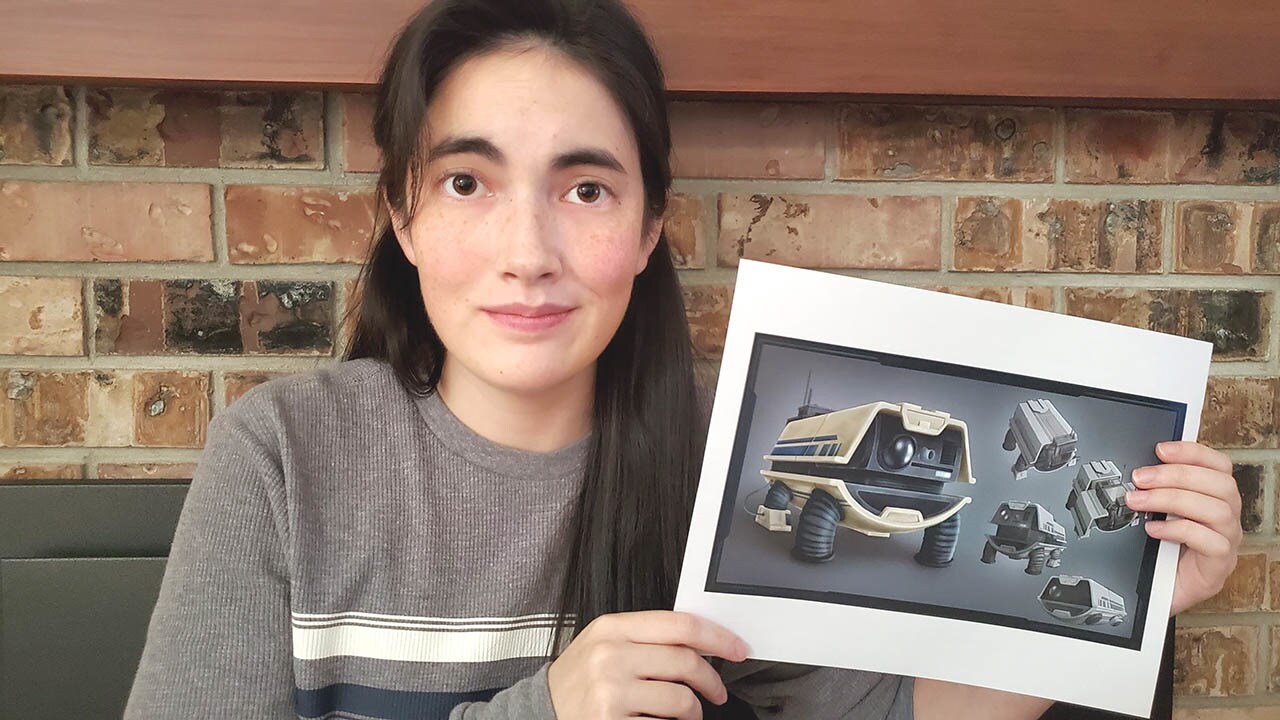 Based on the humble Earth-bound turtle, runner up Raye imagined a droid who was "nervous and apprehensive, but brave when it needs to be."
Christened T0-J4, Raye, who lives in Canada, gave her droid an outer shell and four stubby legs. "I thought that when the droid gets frightened it could retract into its shell," she says.  "This coupled with the type of walk it would have given the leg formation, made it seem like a good fit for a cautious, uneasy personality."  But like all heroic droids, T0 can be brave when duty calls. "You have to be scared first to be brave," she notes, "so T0-J4 would have to have courage often."
With primary functions including spacious data archives and the ability to analyze strange new objects, Raye designed her droid with scouting in mind. "The adventures it would go on would probably include a lot of pre-planned missions, where he is used to research locations in preparation. He could also be brought along to scout and store more information all around the galaxy." In fact, Raye's design is intended to echo one of Star Wars' enduring themes -- the idea that anyone has the potential to be whisked away into an adventure. "An idea that we see so much in Star Wars."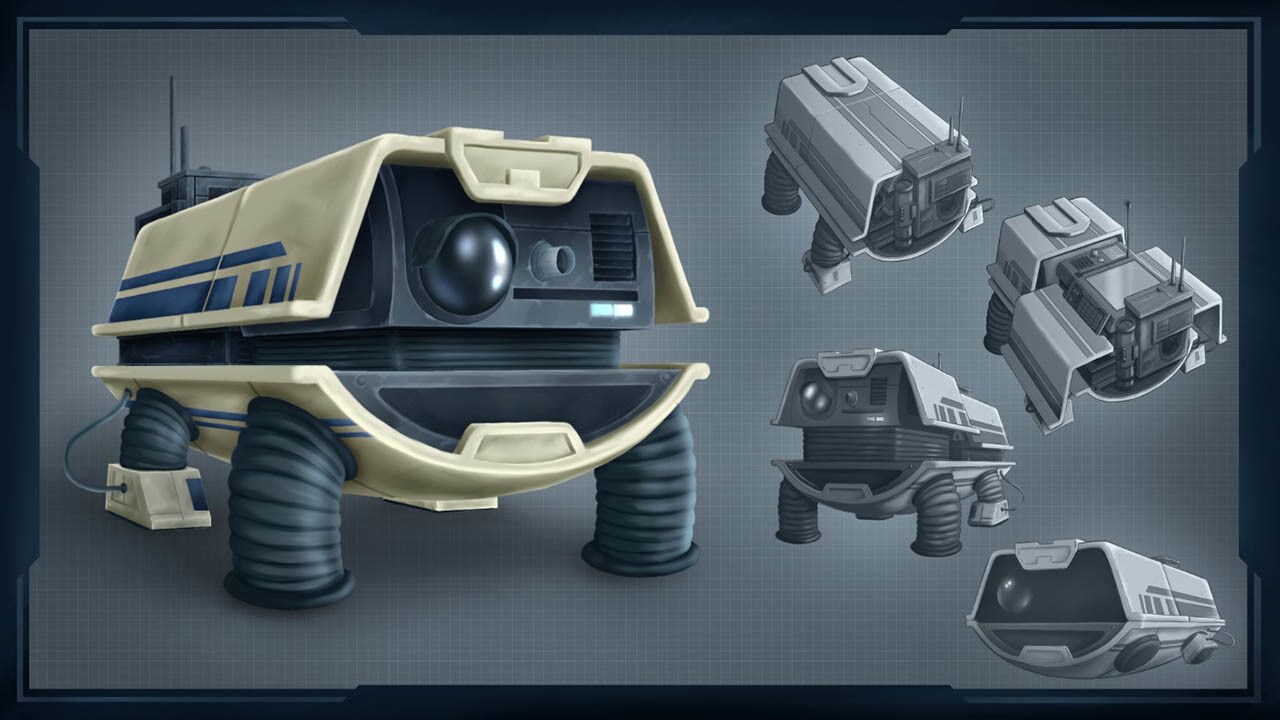 As for the perfect master, Raye could think of at least one bounty hunter and a Jedi who could benefit from the little droid's help. "It might balance out the Mandalorian's personality well, and help prepare for missions," she suggests. "Maybe T0-J4 and someone like Kit Fisto could be good friends. I just think he should stay away from the Vader and the Kylo Ren types.  It seems unnecessarily stressful."
Runner Up Winner Ana Gabriela Lopez Espinosa, QT-5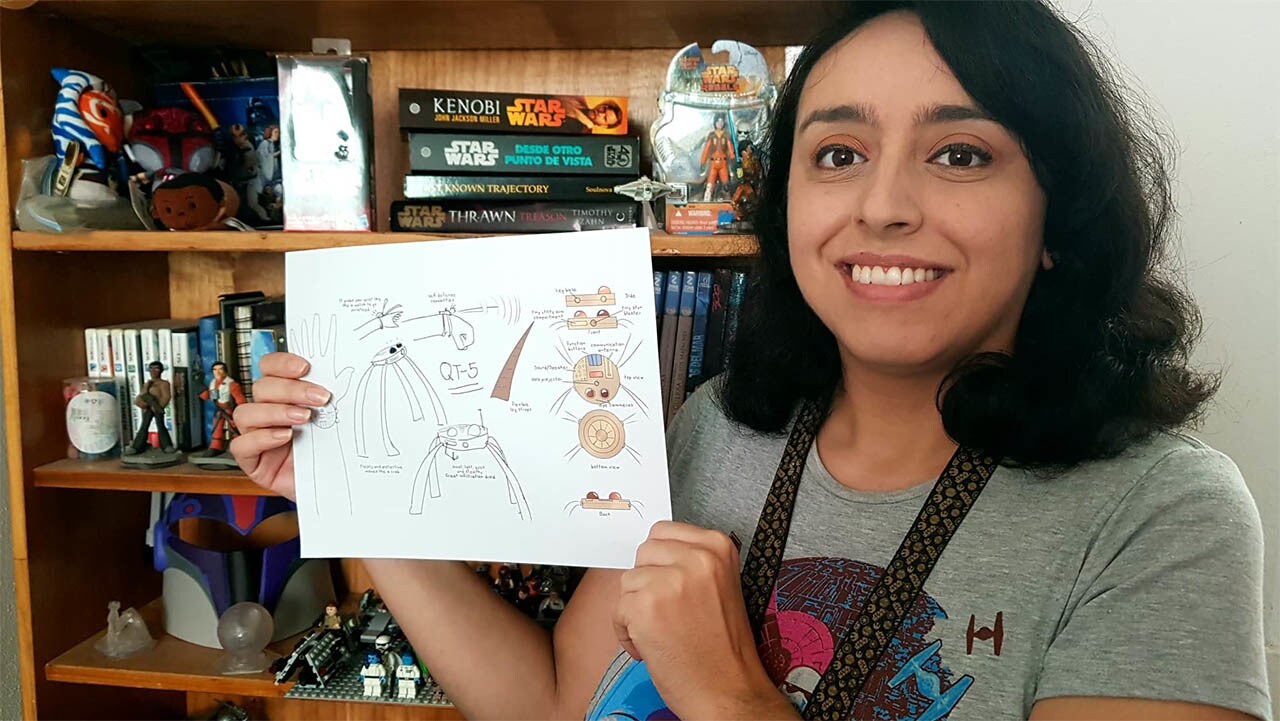 Small enough to be concealed on a humanoid wrist, runner up Ana, who lives in Mexico, created a droid that could be a counterpart to the ID9 seeker droid. But this little infiltration specialist would be more at home fighting the Resistance, she says. Appropriately named to denote an adorable design, this little cutie would be fiercely protective of her master.  "I think her personality traits would develop naturally from her programing. As an infiltration droid she's untrusting of anyone but her owner so she also becomes protective of them from strangers."
It's no surprise that Ana designed a droid with a feisty personality. "I think my favorite Star Wars droid is a tie between Chopper from Star Wars Rebels and K-2SO from Rogue One," she says.
Able to move silently and quickly, and equipped with a camera, antenna, and a self-defense mode, like both Chopper and K-2, Ana envisioned her droid as the perfect pal for secret spy missions. "If the owner is captured and taken away, QT-5 would be able to slip away to look for information, call for help or even sabotage without being detected thanks to her small size," she notes.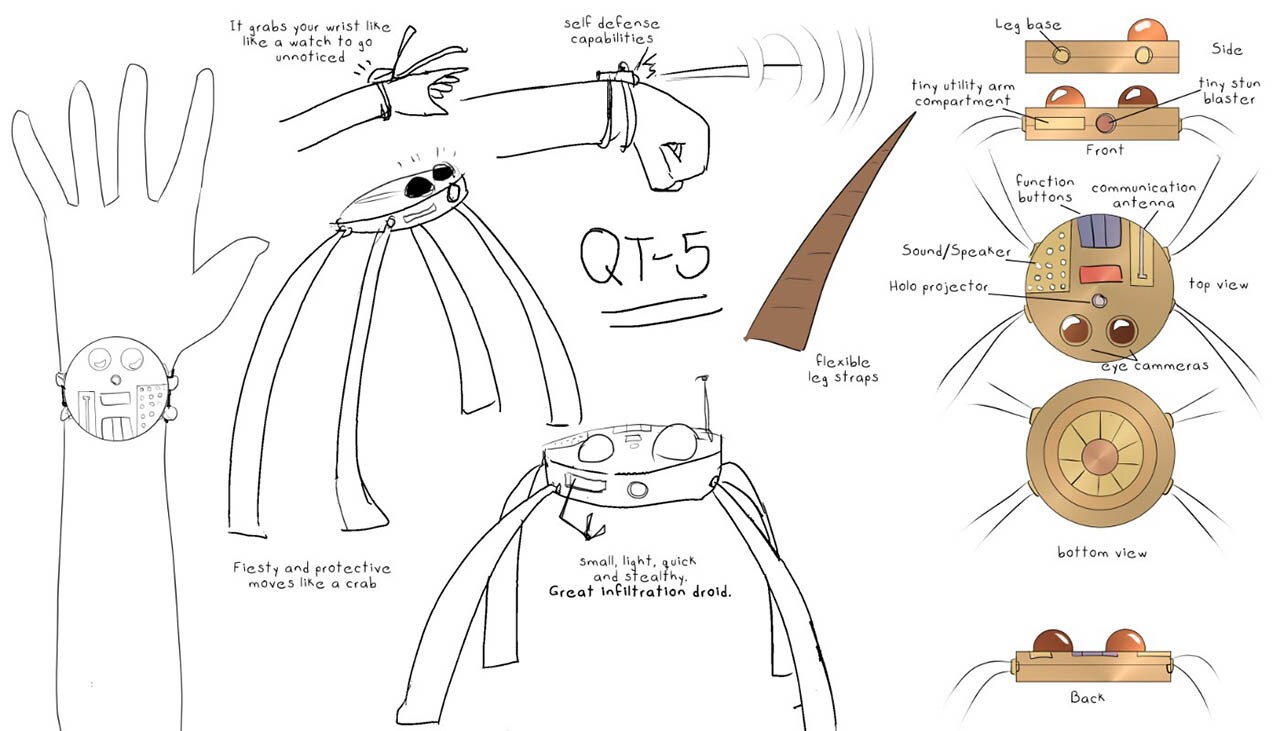 Those traits make this the perfect companion for Vi Moradi on Batuu. "With such a heavy First Order presence in the outpost, you never know when you might need a little help."
FIRST inspires innovation and leadership through engaging, hands-on robotics challenges developed to ignite curiosity and passion in students in grade K-12 and the 2020 FIRST RISE season is powered by Star Wars: Force for Change. Registration is open for all FIRST programs. Learn more at firstinspires.org/firstrise.
Associate Editor Kristin Baver is a writer and all-around sci-fi nerd who always has just one more question in an inexhaustible list of curiosities. Sometimes she blurts out "It's a trap!" even when it's not. Do you know a fan who's most impressive? Hop on Twitter and tell @KristinBaver all about them.
Site tags: #StarWarsBlog