Because National Smores Day. Because Star Wars.
National Smores Day is August 10, and if you have marshmallows and chocolate to trade you can be sure that Jawas will have the cookies that you're looking for.
Chocolate grahams in the shape of the worst desert scavengers provide the base for a sweet and tasty Star Wars treat. These are so delicious you'll need a sandcrawler to store them all. Serve them up with a glass of Blue Bantha Milk and you've got the perfect campfire snack to eat while watching the twin sunsets on a summer evening on Tatooine.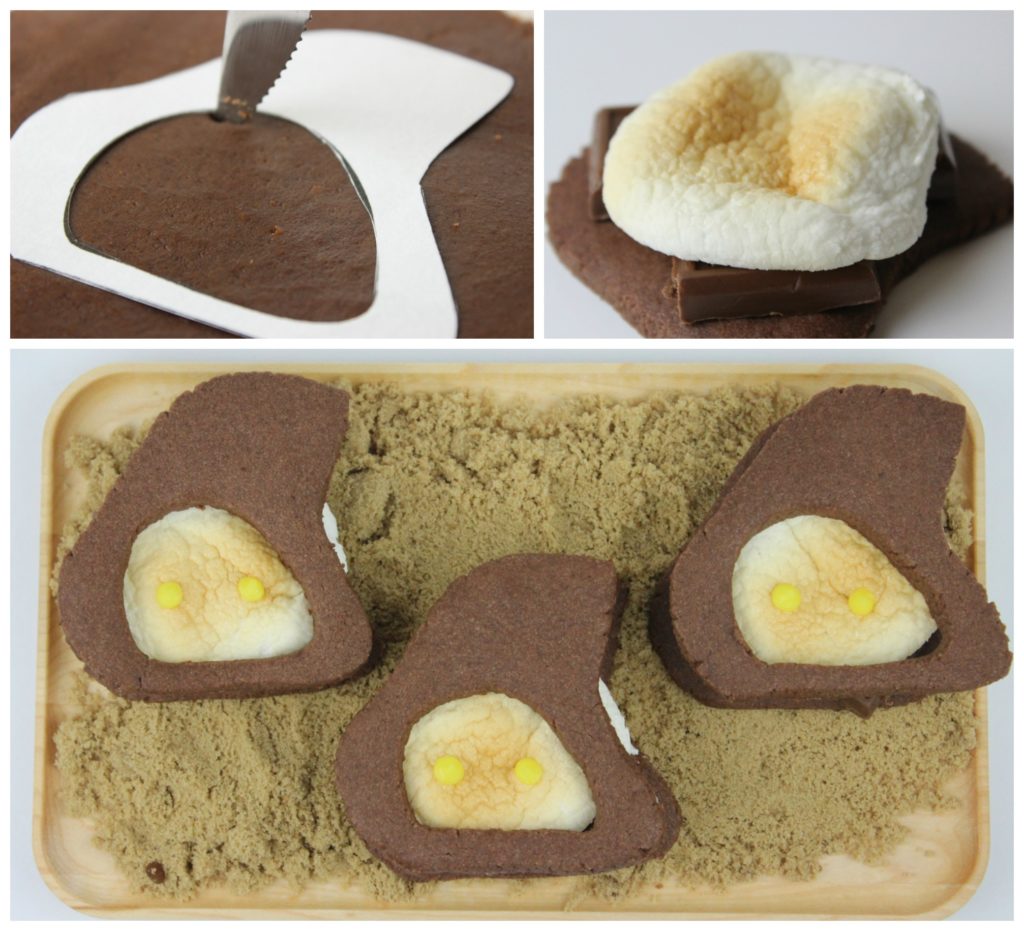 Jawa Smores
You'll need:
Marshmallows
Chocolate bars
Yellow icing
Ingredients:
1-1/2 cups whole wheat flour
1 cup all-purpose flour
1/2 cup cocoa powder
1/2 teaspoon baking soda
Pinch of salt
1 cup (2 sticks) unsalted butter, softened
1 cup sugar
1 egg
1 teaspoon vanilla
Instructions:
In a bowl, whisk together the whole wheat flour, all-purpose flour, cocoa powder, baking soda, and salt. Set aside.
In the bowl of an electric mixer, cream the butter and sugar. Add the egg and vanilla until combined.
Add the dry ingredients and when the dough starts to pull away from the bowl, it's done.
Separate the dough into two disks and wrap in plastic wrap. Keep the fridge until you are ready to use.
Preheat the oven to 350 degrees and prep baking sheets with silpats or parchment paper.
Roll the dough out to ¼-inch and use the template to cut out the cookies and place onto the prepped baking sheets. Half of the cookies should have a face-hole cut out of the center.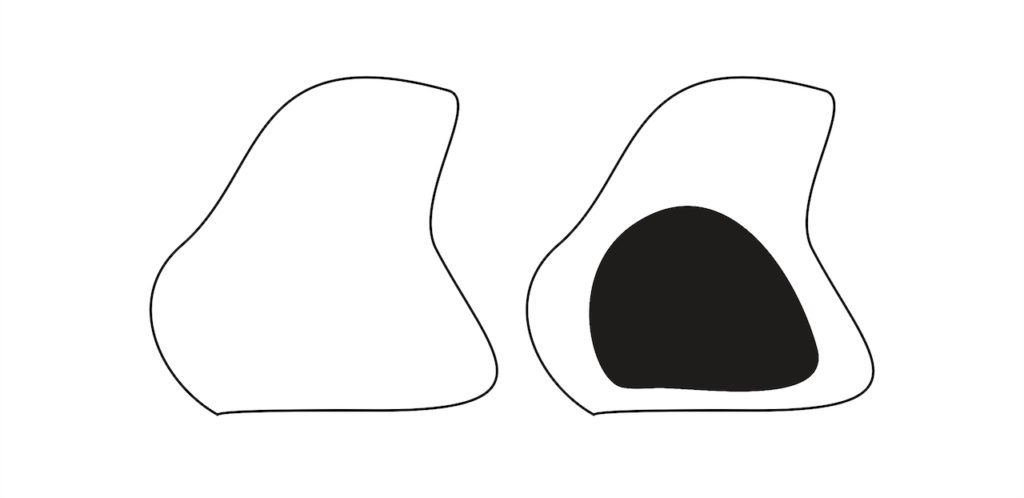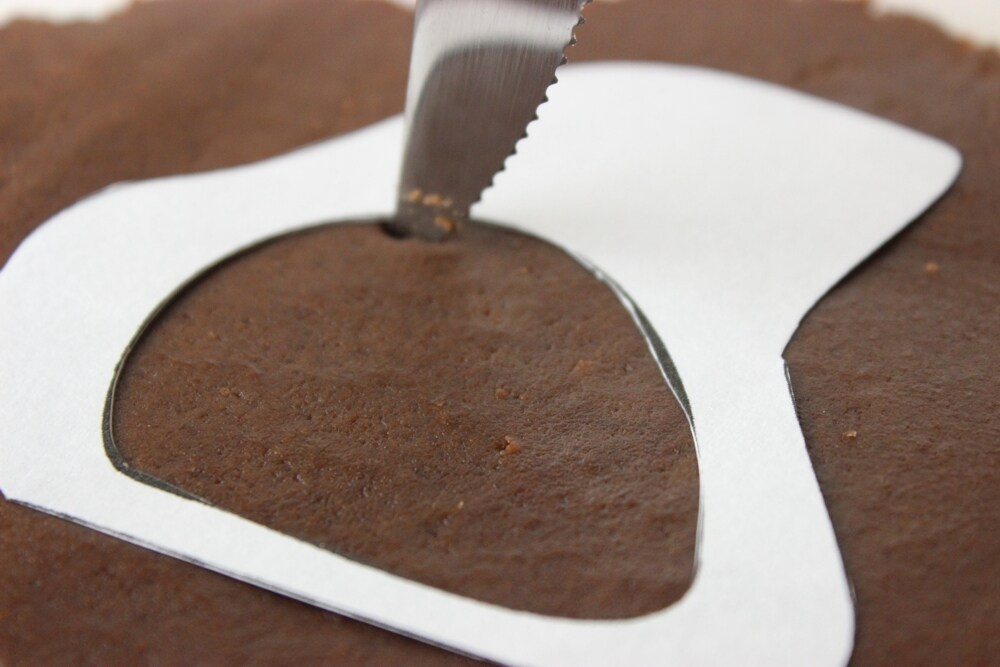 Bake for 10-12 minutes depending on your oven, let cool on a wire rack.
Use a solid cookie as the base and place a piece of chocolate, topped with a toasted marshmallow. Use a cookie with a hole in the center to sandwich on top.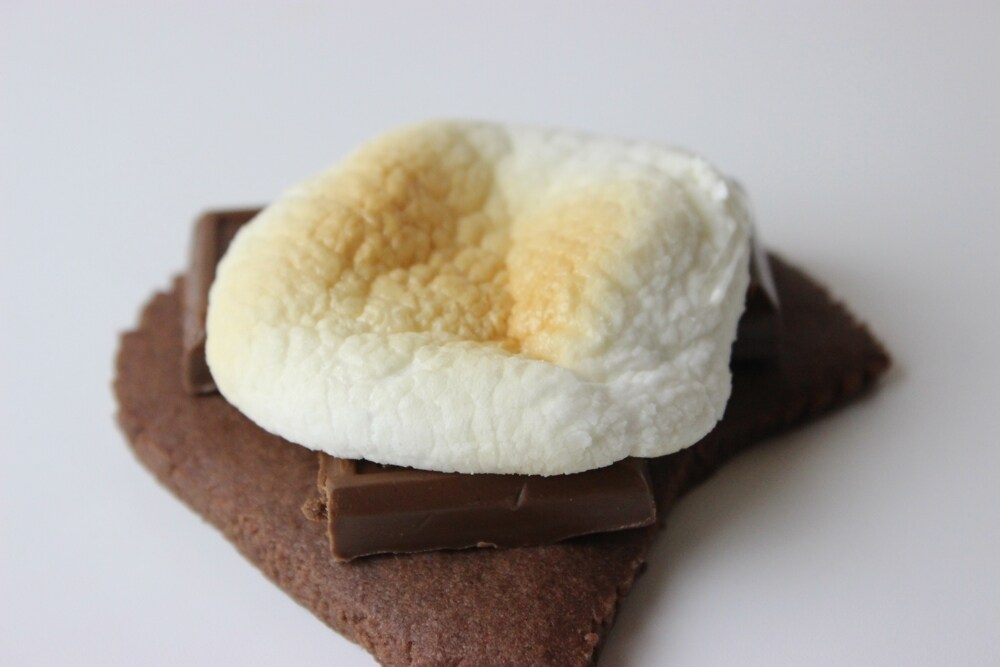 Pipe yellow icing to create the Jawa's eyes and they're ready to serve. Utinni!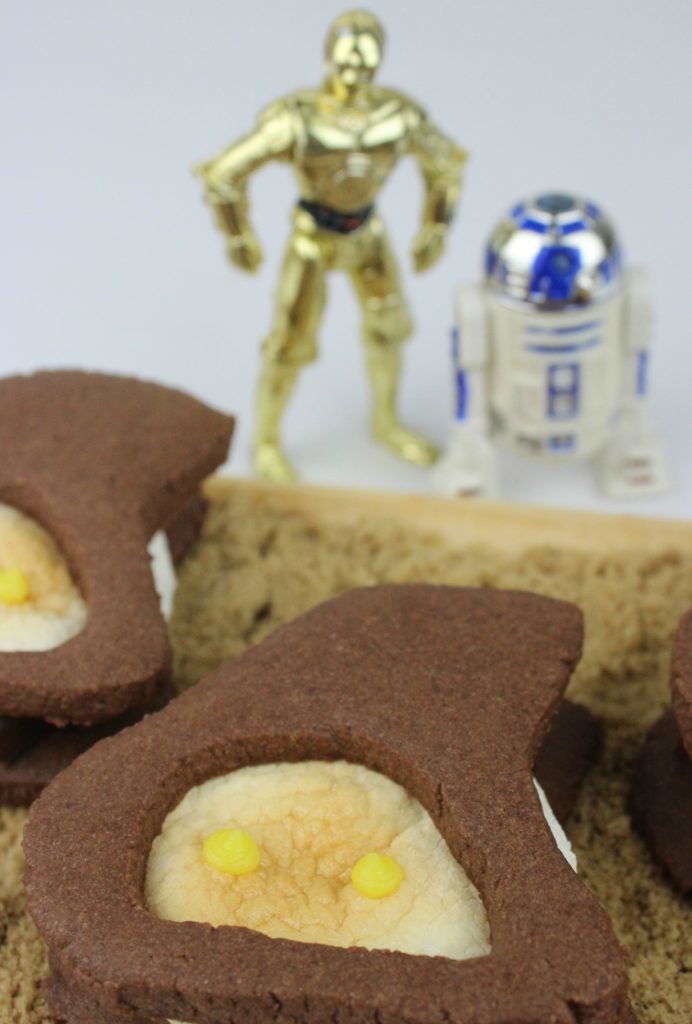 Jenn Fujikawa is a lifestyle and food writer. Follow her on Twitter at @justjenn and check her Instagram @justjennrecipes and blog www.justjennrecipes.com for even more Star Wars food photos.