StarWars.com speaks with Laela French, the director of archives at Skywalker Ranch, about this must-experience exhibit.
Emperor Palpatine is sorely mistaken in his assuredness that Luke's destiny lies on the same dark path as his father's.
Tempting? Yes. Unavoidable? Not exactly.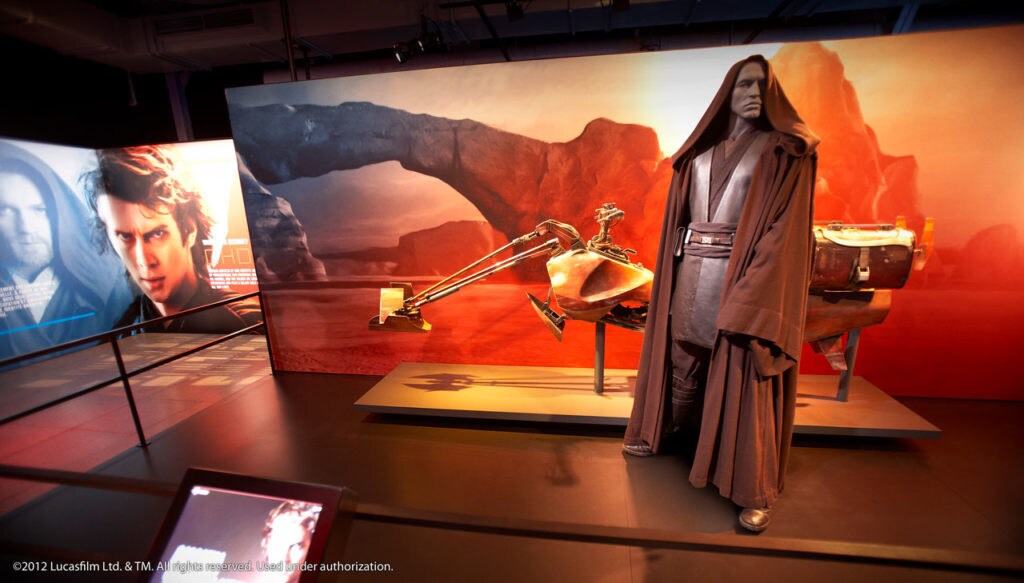 Two people so similar — bound by blood, reared in the unforgiving desert of Tatooine, strong in the Force but for so long lacking the teaching and discipline — are set on wildly divergent courses by the choices they make along the way.
This is the message at the heart of Star Wars Identities, a traveling exhibit on display at The O2 on London's waterfront until September 3, examining the evolution of characters both in-universe and behind the scenes, with a healthy dose of costumes, maquettes, and other artifacts, including a treasure trove of original Ralph McQuarrie paintings.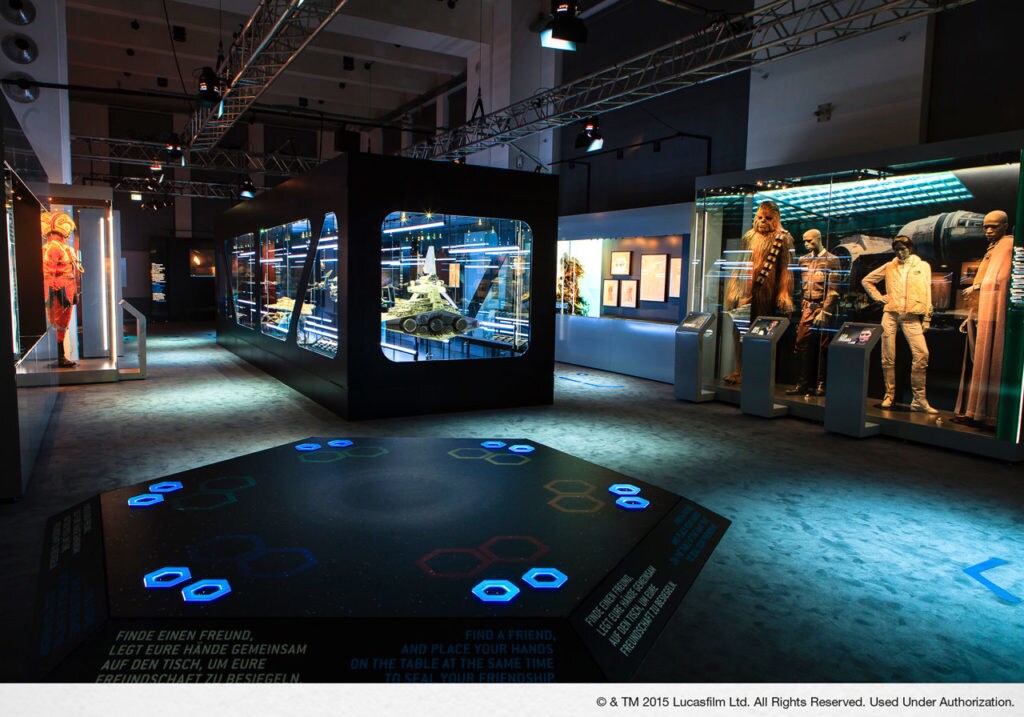 The interactive exhibit — aimed at children 9-12 but thoroughly enjoyable for all ages — has been on the road since 2012, a collaboration with Montreal-based X3 Productions that weaves a scientific and anthropological storyline through some very familiar faces and scenes.  The moral of the exhibition's storyline is deceptively simple: "It's the choices that you make that shape you," says Laela French, the director of archives at Skywalker Ranch, who credits the exhibition's writer Genevieve Angio-Morneau as the driving force behind the fresh take on identity and the forces that shape us. "That's such a powerful message for teenagers, because that's when you're really stepping out on your own, stepping away from your parents, stepping out of your fantasy play world and practicing adult thinking....So who you choose to be your mentor and to be your peers will affect very directly who you become."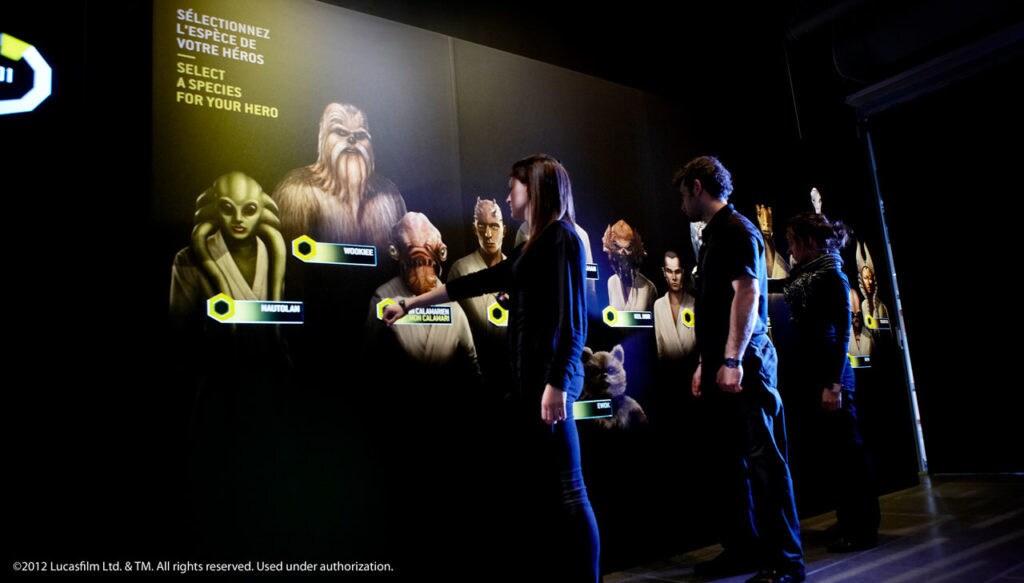 Visitors are invited to create their own character on the walkthrough, choosing species (Ewoks, Wookiees and humans reign supreme as the most popular among guests), character traits, home world, profession, and a mentor to serve as your character's guide. Somewhat surprisingly, R2-D2 has emerged as a favorite trusted guru.
It all leads up to the ultimate question — Join the dark side or the light?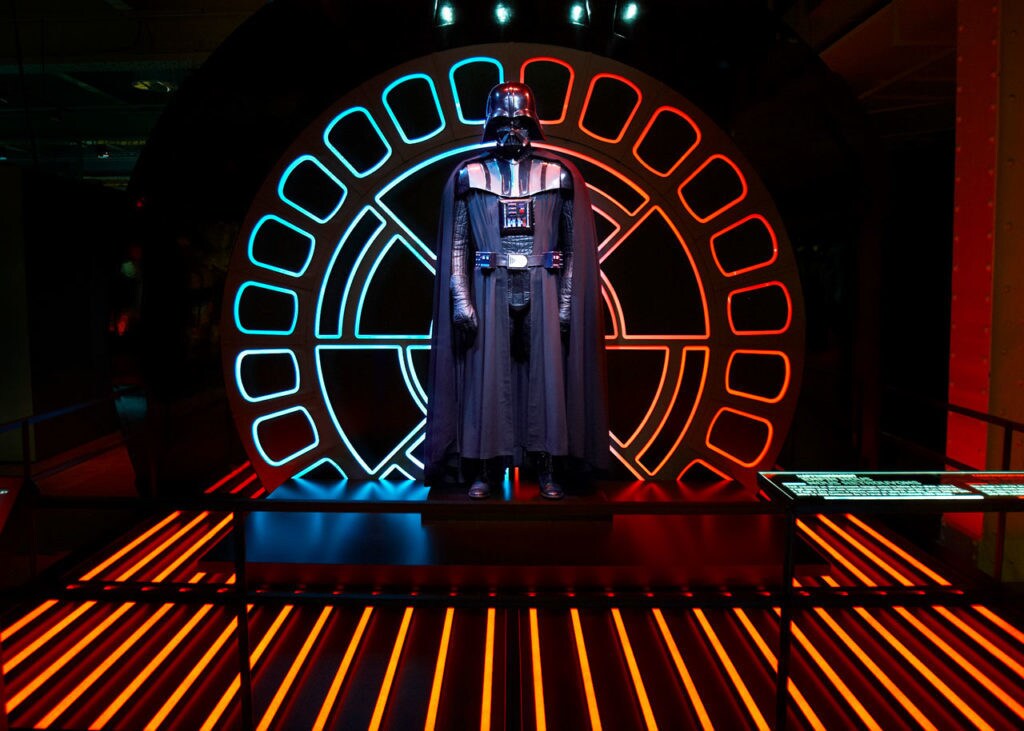 Children love the dark side, French says, in part because of the popularity of Darth Vader and his legion of stormtroopers. "Kids immediately just want to be the bad guys. They're answering the questions like they want to flirt with the dark side. Because that's what kids do, that's what role playing and fantasy playing is all about. That's how they learn morality and ethics."
But about 70 percent of the visitors so far have chosen the light. "Adults are a little bit more locked on," French surmises.
Full disclosure, when it was my turn, I chose a badass X-wing pilot and Force-sensitive Togruta who was guided by General Leia and ultimately rejected the Emperor's offer to join forces. Sorry, Imperial sympathizers — I'm still a rebel at heart.
But French says she's been through the exhibit a whopping 17 times, and that's influenced the characters she's created along the way. The first time through, "I certainly went through and answered every question earnestly and I was like, 'Who is my real Star Wars avatar,' you know? To do that, you had to be honest," she says. "By the seventeenth time I was just going full kid mode like, 'I am dark! I am bad! I am evil!' And it was a blast…if you get the chance to go through it a couple times you start to open up a little bit and revert back to being eight years old."
So a walrus man and a hammerhead walk into a bar...
The exhibit is packed with surprises from the archive's treasures, including some pieces that have never before been put on public display, French says.
Jabba the Hutt's mottled eyes — massive mechanical specimens in sickly shades of pink and pus yellow — are among the few remaining pieces of the lascivious gangster with the anchor tattoo, and make their public debut in this collection.
It was a similar fate for the costumes that made the motley crew at the Mos Eisley cantina come alive in A New Hope, now largely lost, disintegrated, or simply rented for the shoot and never archived. But Ponda Baba's mask holds court, staring out as if he's about to pass judgement on the next passerby, in all his fuzzy walrus-faced glory.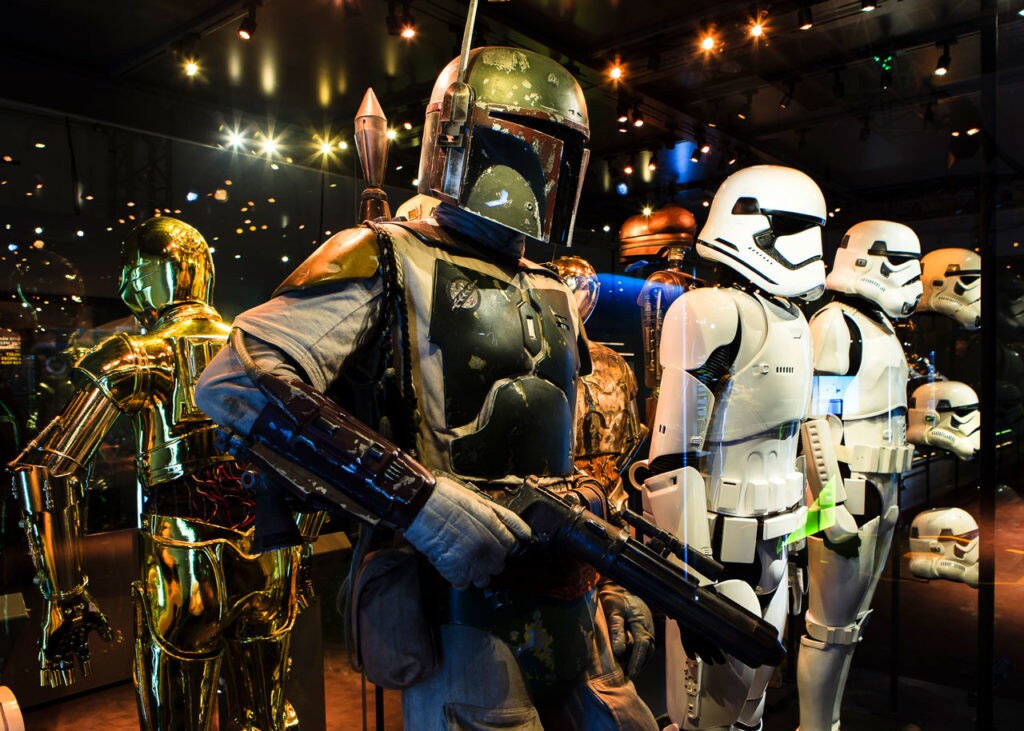 "The things that did get saved were the things that were practical going forward," French says, like ship models and sets of armor that would be reused in the next film. But many costumes and props were destroyed in the making of the movies. "Any kind of creature mask could have gotten ripped or torn," French says. "We have quite a lot, but not every one survived the process of filmmaking."
The production process, however, was meticulously archived. Creature sketches by political cartoonist Ron Cobb provide some insight into other cantina patrons. A note scrawled off to the side on the concept for Momaw Nadon includes this fascinating tidbit: "Very gentle, has religion based on tying and untying knots in cords."
It's the kind of background piece that might otherwise spend years collecting dust in the depths of the archives, but fits perfectly into the theme of identity.
"We definitely had a lot of fun going through the collection," French says. "You see these little treasures. The collection is so rich and deep and we only ever show a fraction of that at a time."
An artist at work
Another showstopper — a massive display case of model ships embroiled in a decidedly non-canonical battle makes for an exciting visual, and some could easily argue that at least a few among the fleet, like the Millennium Falcon in a display nearby, play a key role in the identity of their owners who can't help but get defensive when their ship is being insulted.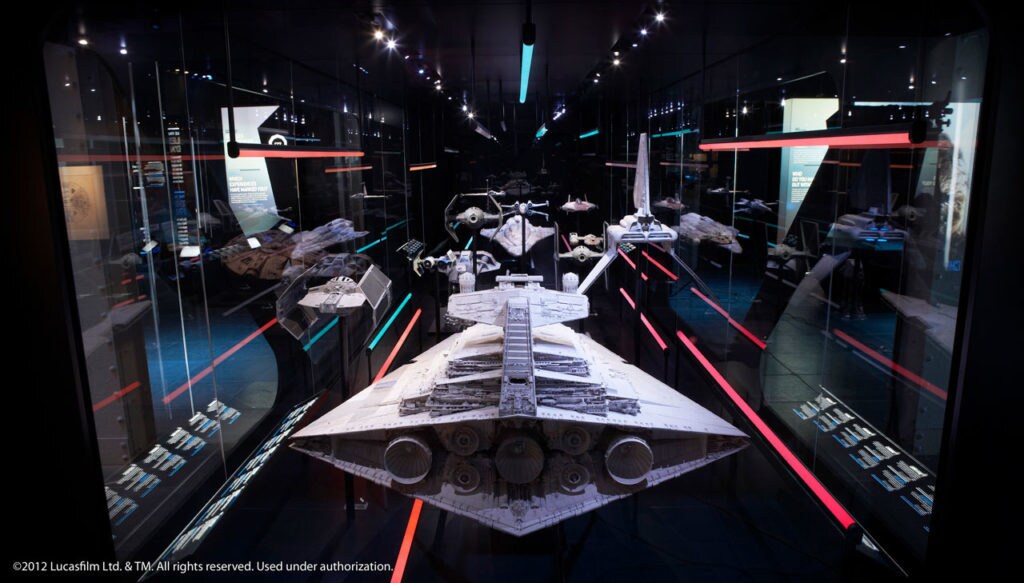 Other sections provide an in-depth look at character studies with a behind-the-scenes look at the filmmaking. A line-up of Jar Jar maquettes and sketches serves as a visual history of what might have been for the goofy Gungan whose long and lean form and floppy ears were initially conceived as a short, stocky build and, at one point, a twisted cone perched on the top of his very surprised looking head.