Learn to make appetizers, meals, desserts, and more that will delight First Order and Resistance supporters alike.
There's been an awakening. Have you felt it? The premiere of Star Wars: The Force Awakens is just days away! More Star Wars means it's definitely the most wonderful time of the year and to celebrate here are recipes and DIYs to throw your own ultimate The Force Awakens party!
Prepare for battle between the dark side and the light with BB-8 pork puns, Millennium Falcon gelatin treats, and more to fill Star Wars-loving hearts and stomachs as your prepare for the new film. May the Force be with you!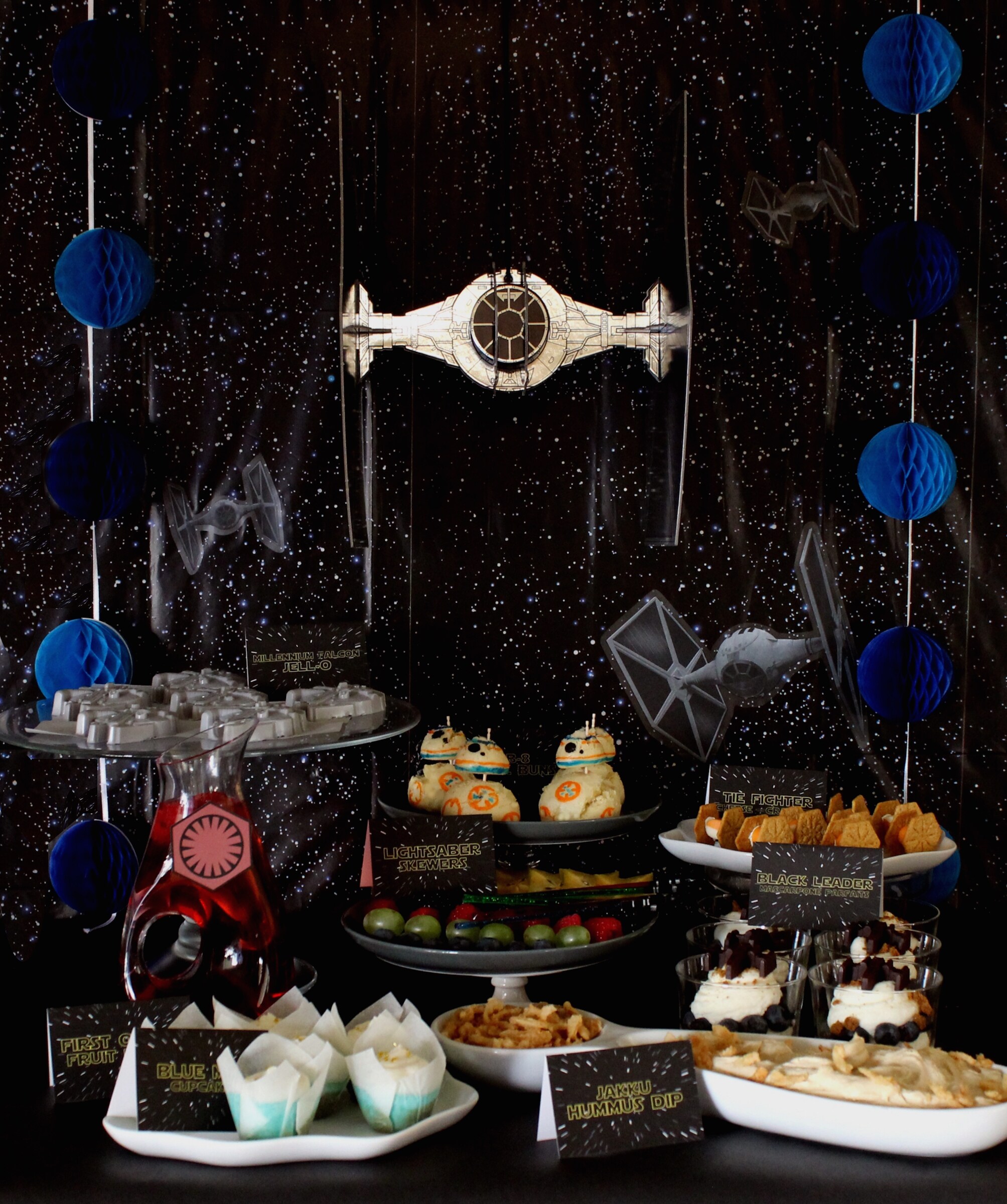 A starry galactic backdrop with oncoming TIE fighters provide the perfect setting for your buffet. Serving plates of food float at varying heights as your guests lightspeed towards the party.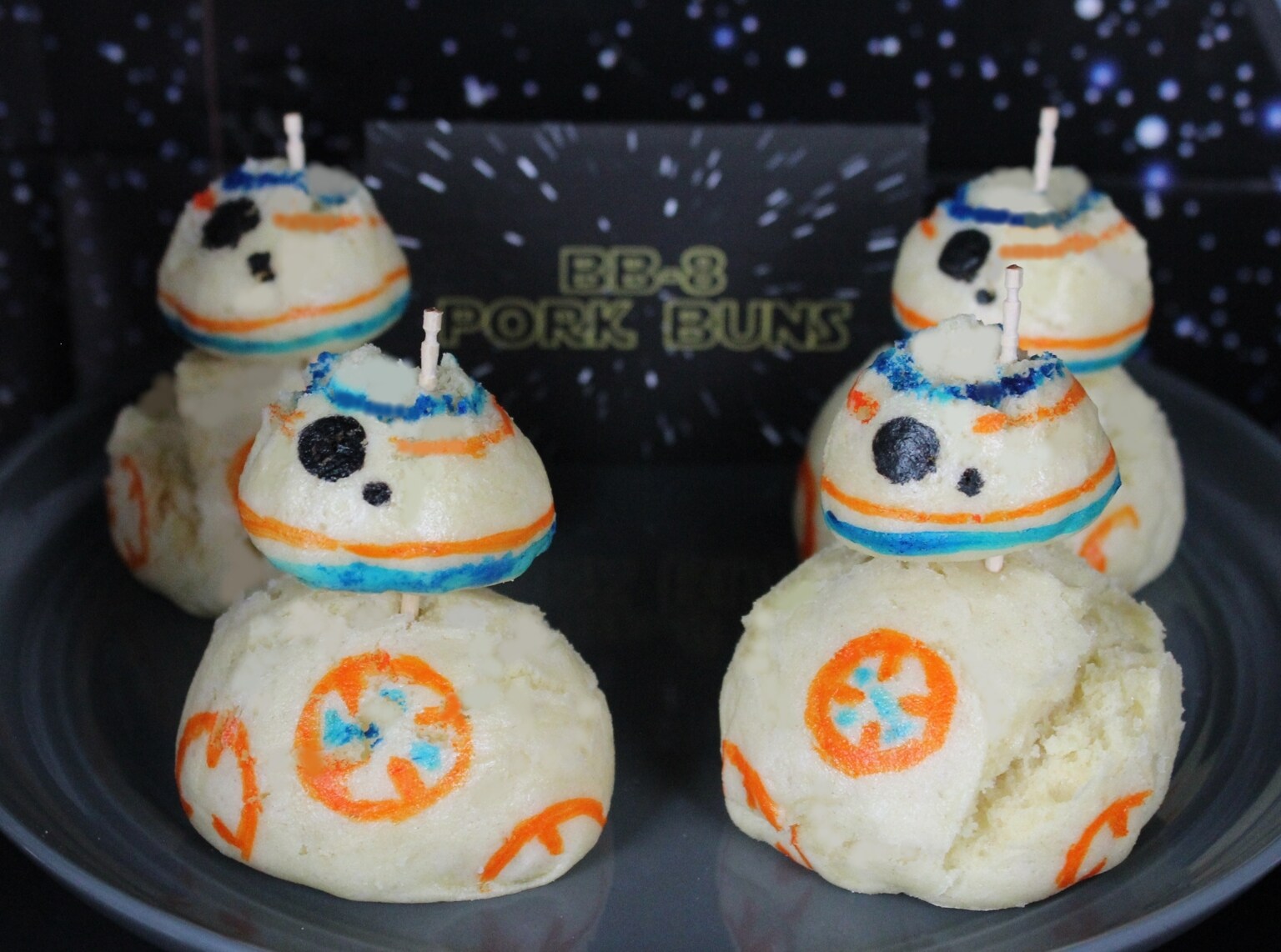 Bao buns are always a savory treat but they taste even better when shaped like the newest droid in the Star Wars universe, BB-8! These spherical astromechs are filled with a sweet and tangy ginger spiced pork. Careful, they may just roll off your plate!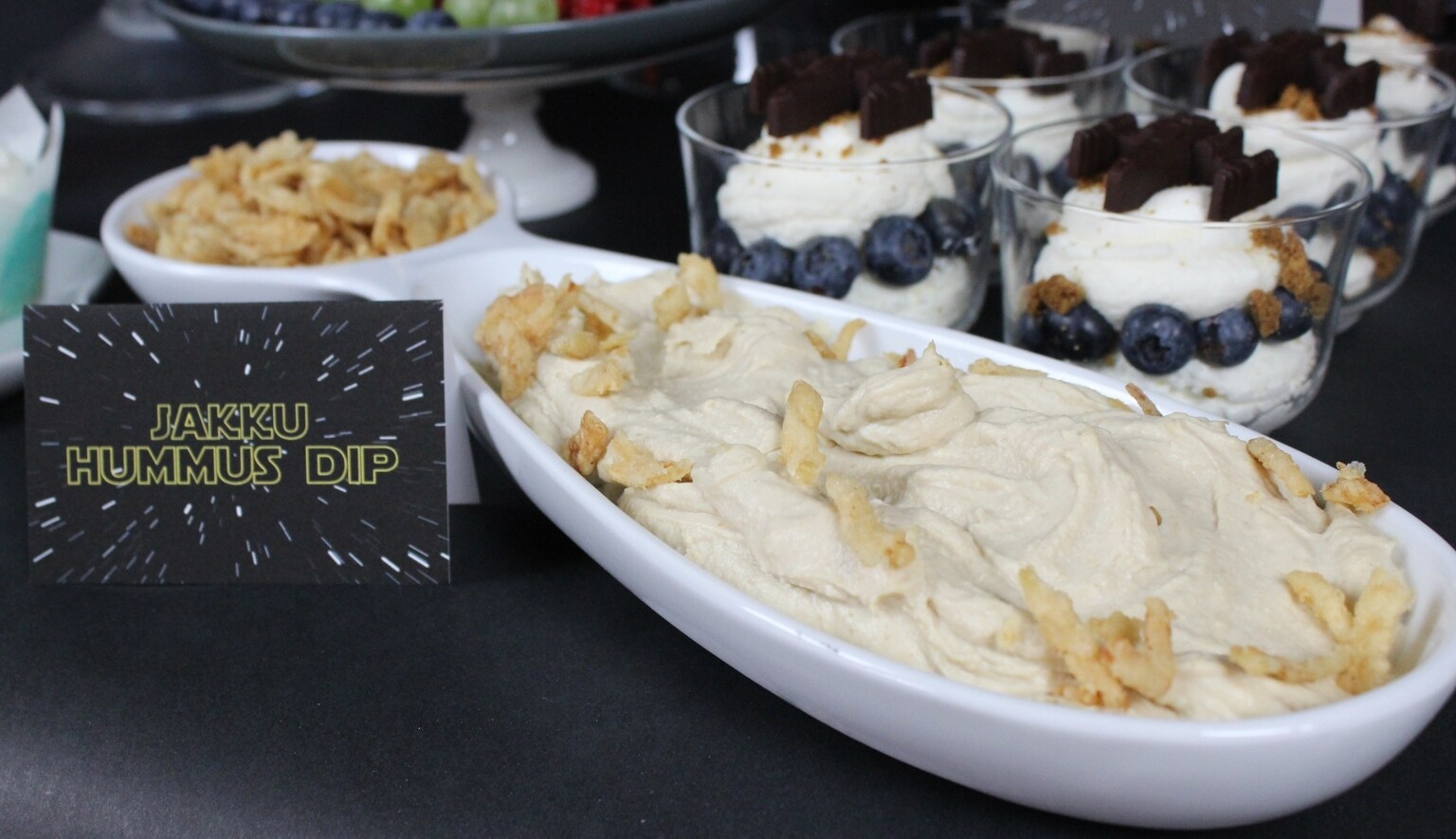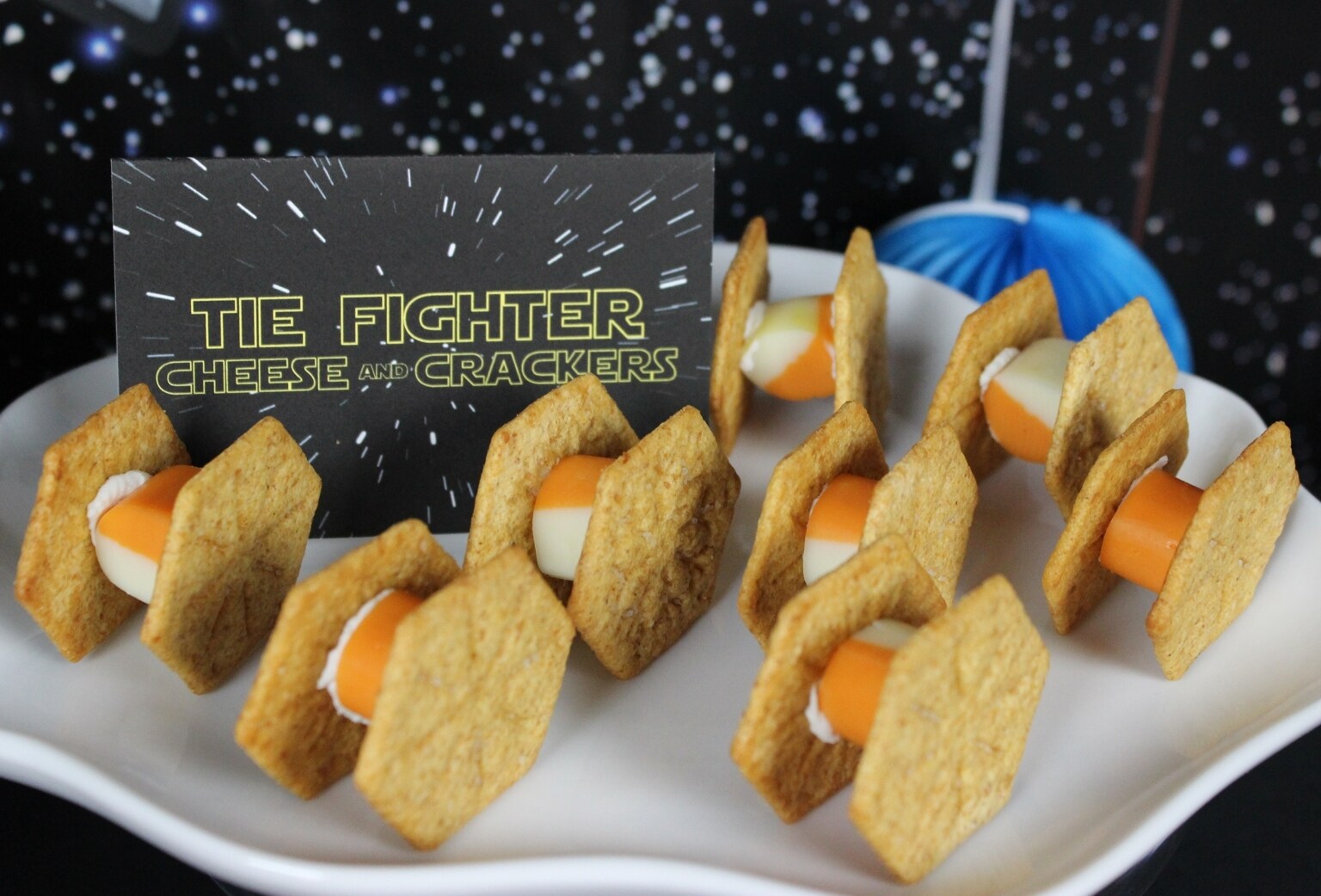 Jakku hummus dip sprinkled with fried onions hold down the party table while cheese and cracker TIE fighters take off in a tempting fight for your appetite.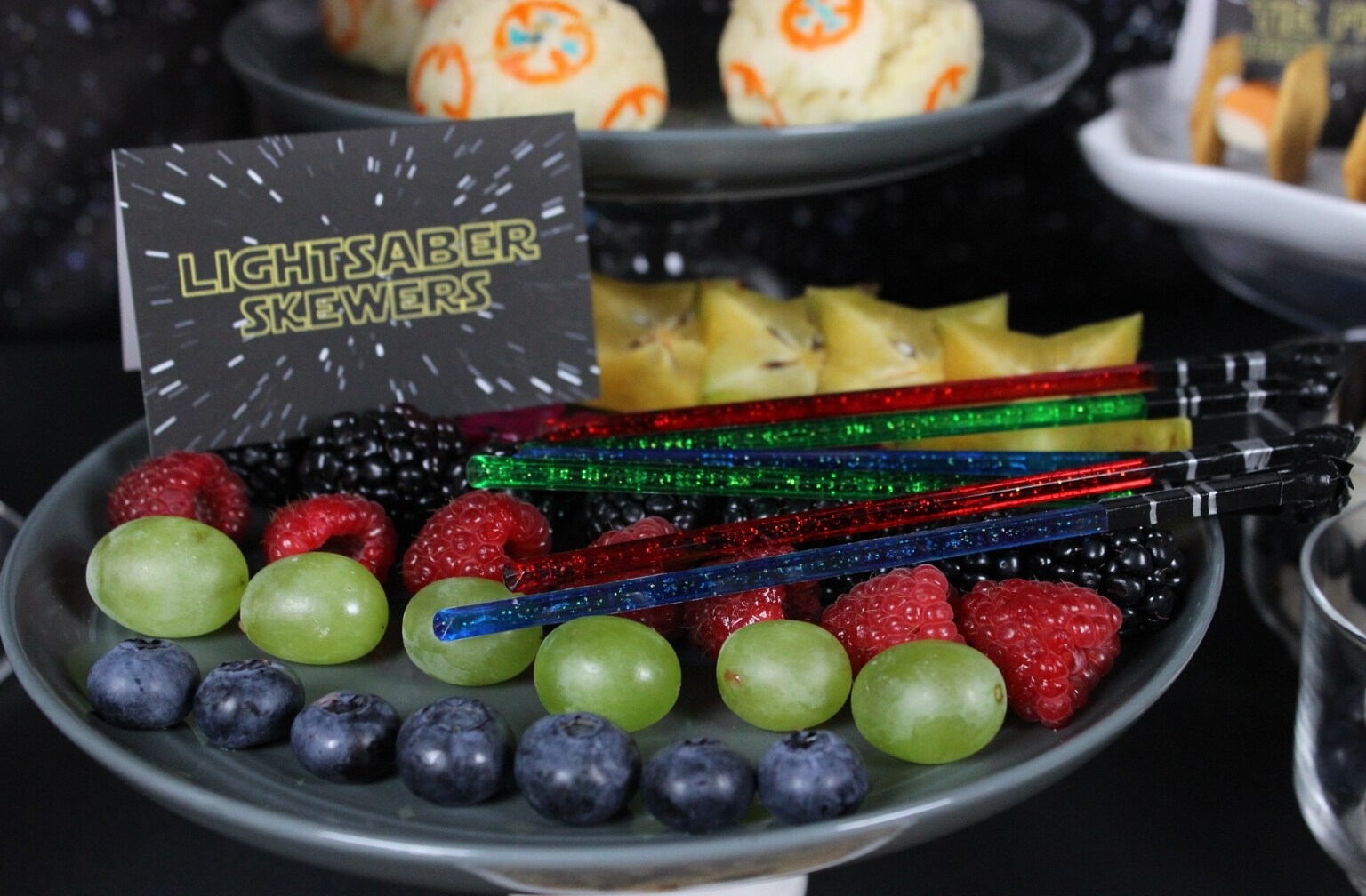 Colorful cocktail stirrers are easily turned into lightsabers with the help of black washi tape. Once you have your saber in hand it's time to take a stab at the fruit tray. It's an elegant utensil... for a more civilized age.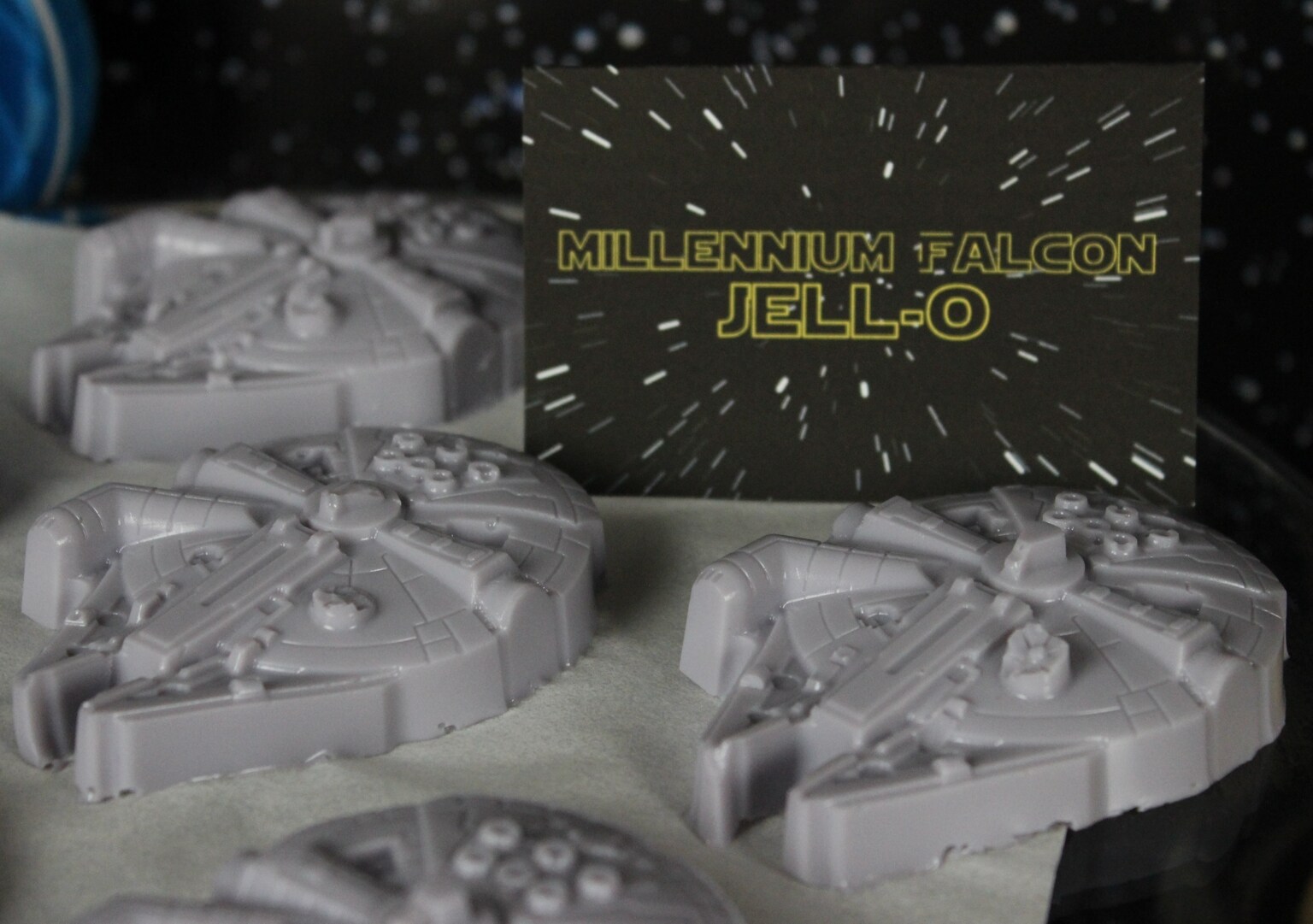 This gelatin treat may not look like much, but she's got it where it counts, kid. The Millennium Falcon is made from sweetened gelatin that's tinted gray to resemble the fastest hunk of junk in the galaxy. Grab yours from the buffet table quick, they'll be gone faster than you can make the Kessel Run.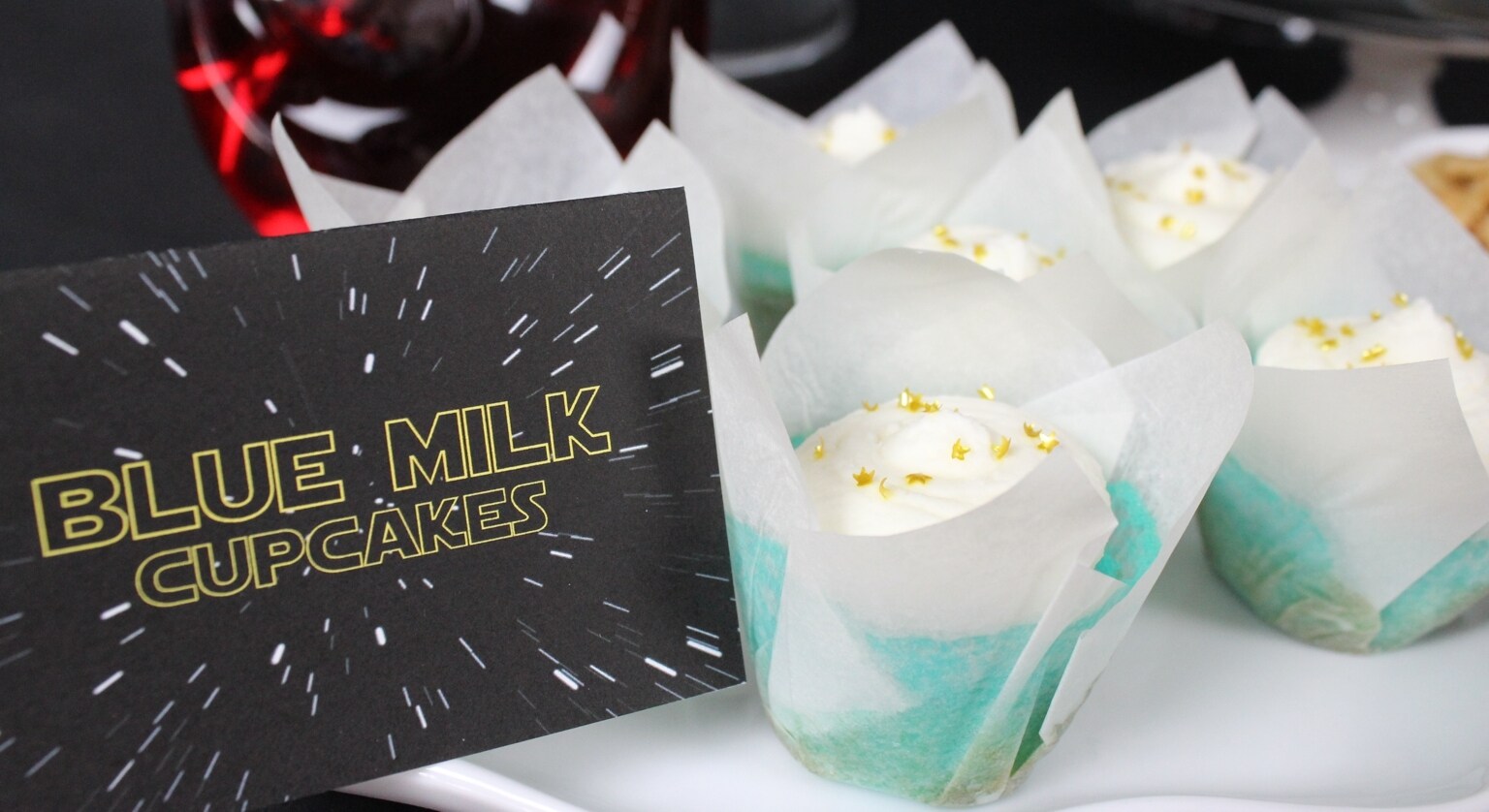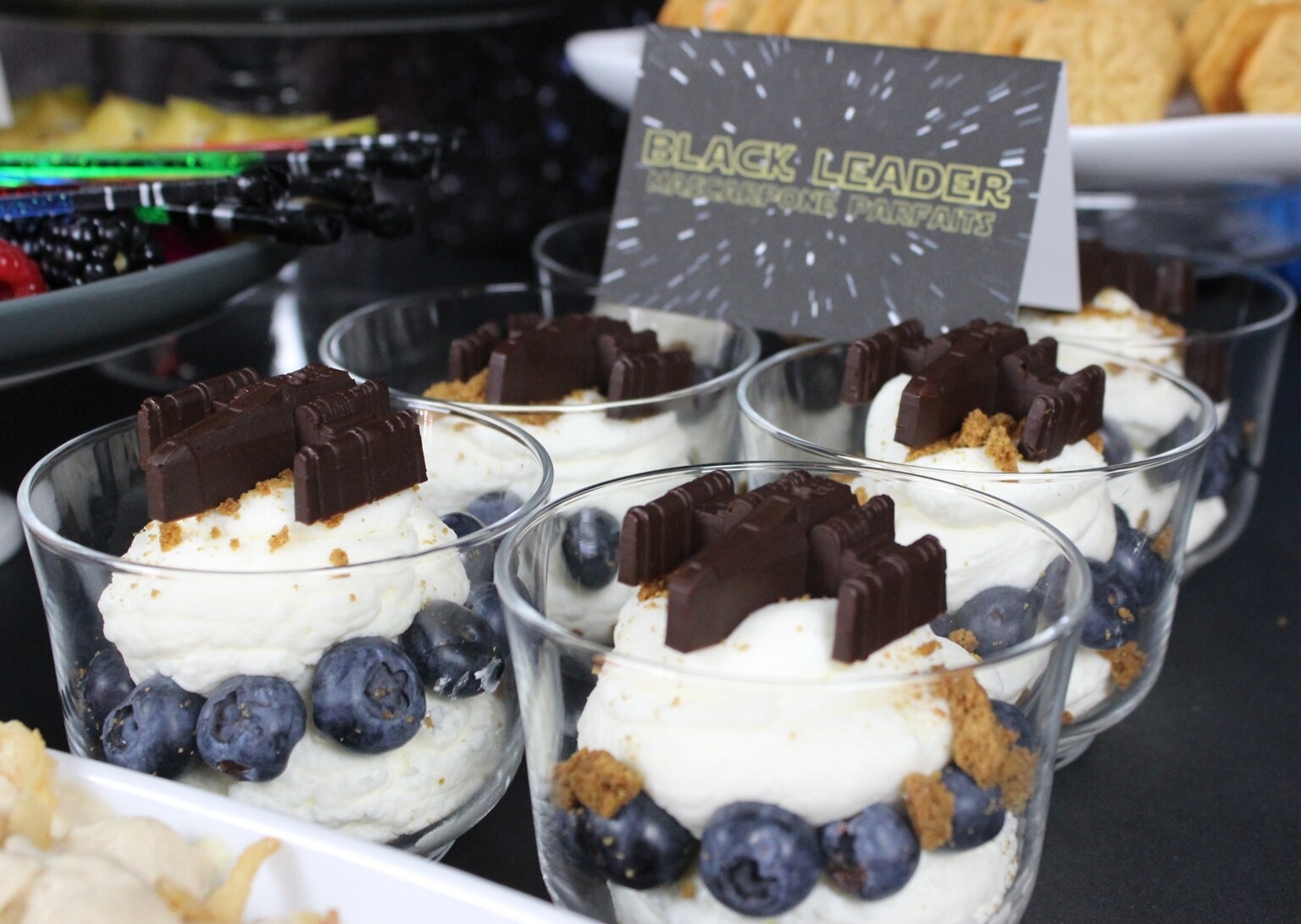 Too full for dessert? Don't be such a nerf herder. Blue Milk mini cupcakes are a must at any intergalactic gathering. Small and scrumptious, you'll have just enough room to try a taste of a Black Leader Mascarpone Parfait. These fluffy sweet treats are made of layers of fresh blueberries, crumbled gingersnap cookies, and mascarpone cream that's lighter than Cloud City. Topped off with a dark chocolate X-wing, a nod to Poe Dameron, leader of the Black Squadron.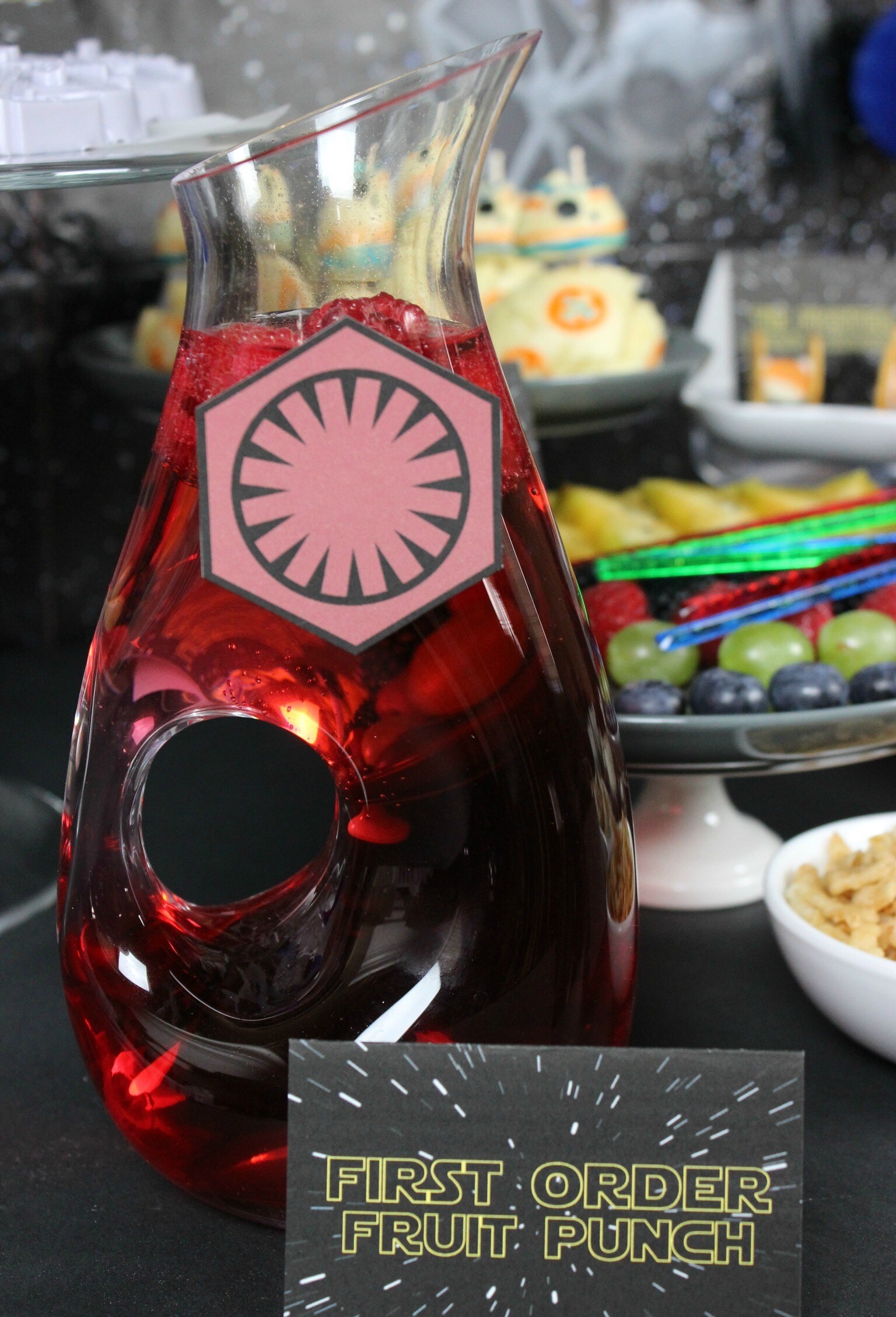 Maybe you've worked up a thirst fighting the Resistance or making small talk at the party. Why not try a swig of First Leader Fruit Punch, a sparkling cranberry drink dappled with fresh raspberries.
Now, for our attack plan!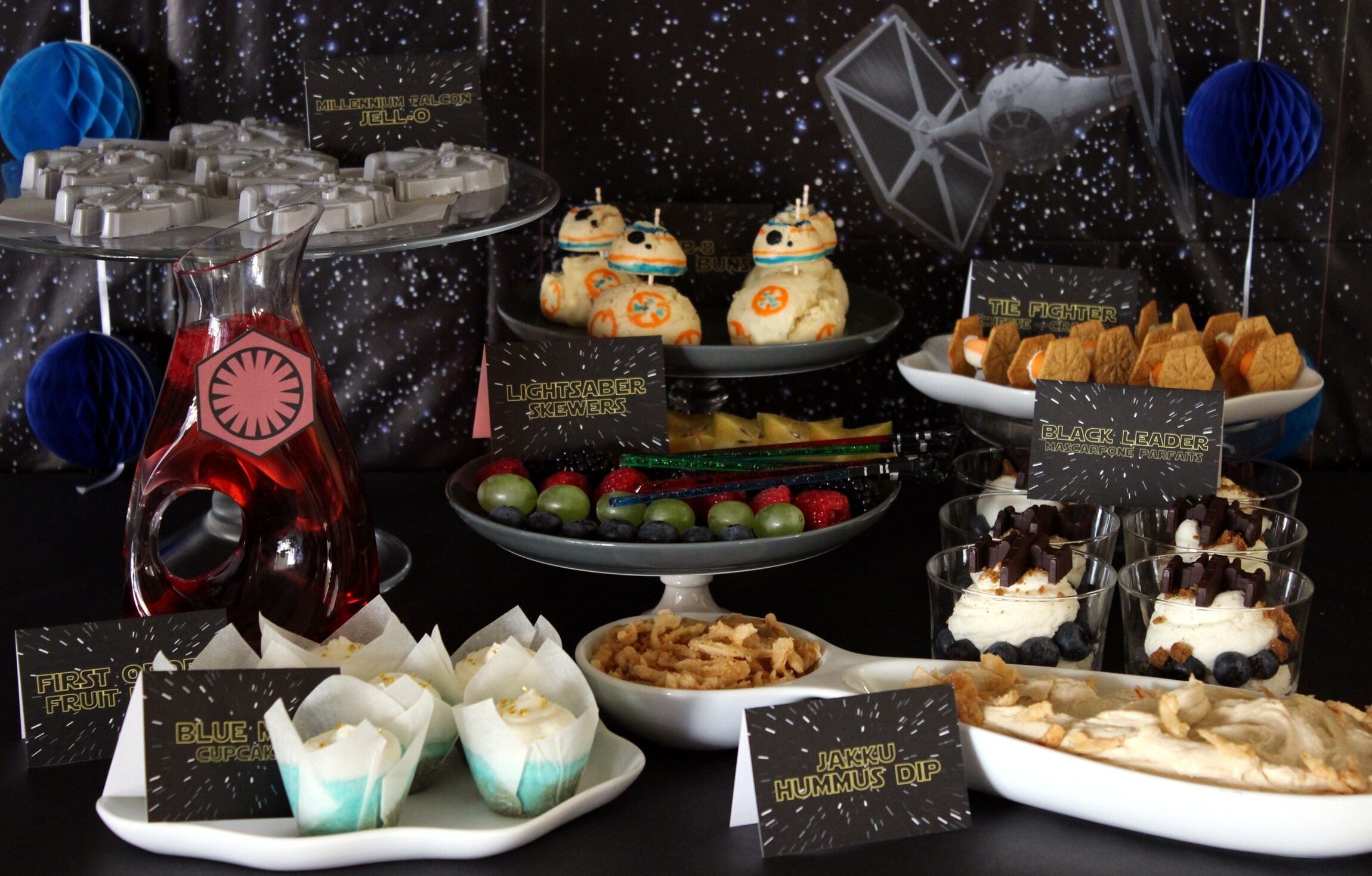 Supplies:
Target
Mini Honeycomb Garland
Michaels
TIE fighter 3D paper model kit
Amazon
Space backdrop for decor
Star Wars wall decals for decor
Millennium Falcon silicone molds
X-wing silicone molds for parfaits
Drink stirrers for lightsaber skewers
Black washi tape for lightsaber skewers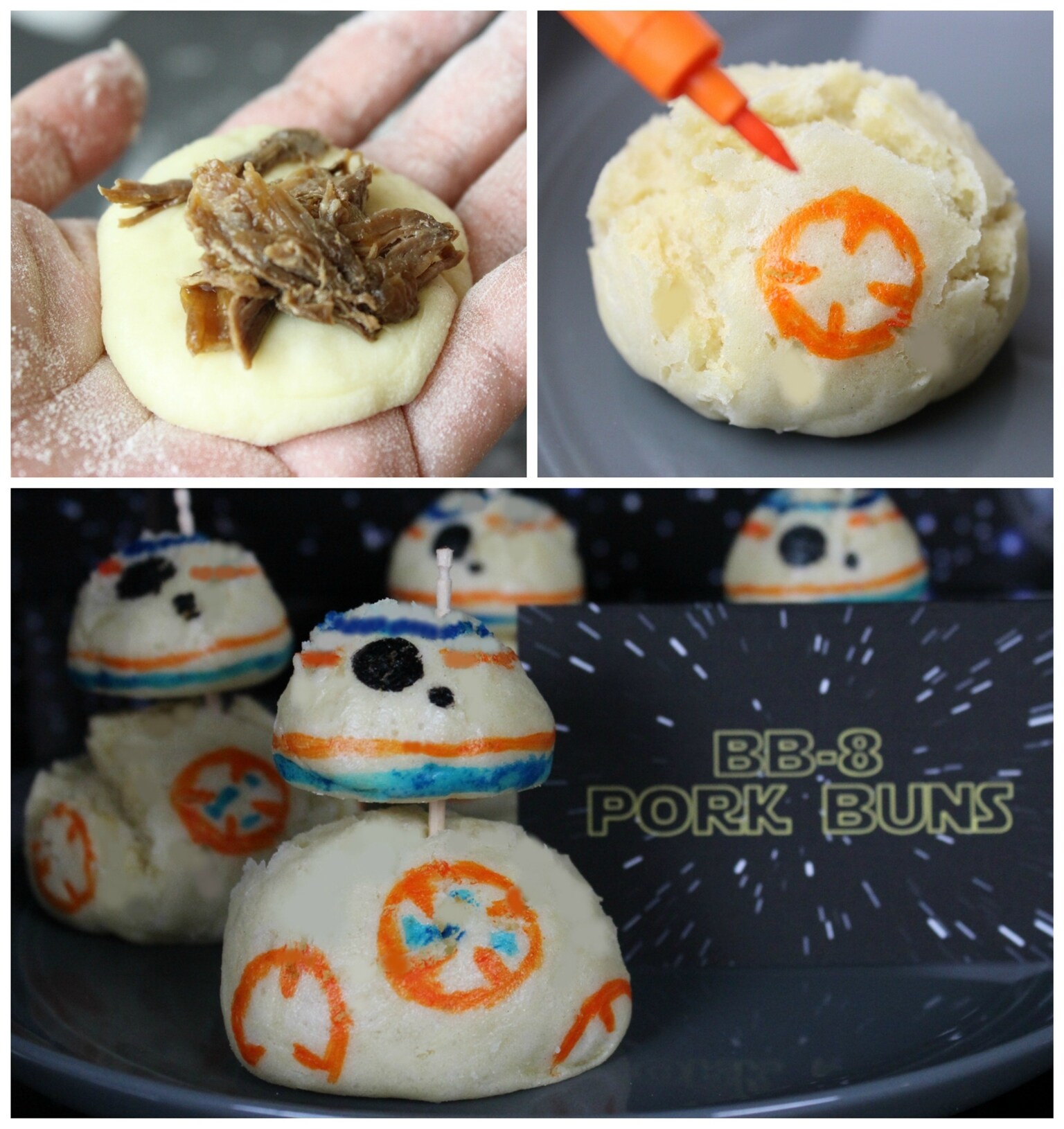 BB-8 Buns
Filling Ingredients:
2 lbs pork butt
1 small onion, sliced
1 clove garlic, minced
2 Tablespoons fresh ginger, chopped
1/3 cup soy sauce
2 Tablespoons sesame oil
2 Tablespoons brown sugar
2 Tablespoons vinegar
Bun Ingredients:
3-1/2 cups pancake mix
4 Tablespoons oil
1 cup water
You'll need:
3-inch pieces of parchment paper
Edible ink orange marker
Edible ink blue marker
Edible ink black marker
Toothpicks
Directions
1. In a bowl combine the garlic, ginger, soy sauce, sesame oil, brown sugar and vinegar.
2. Place the pork butt in the crock pot and lay the onion on top. Pour the sauce mixture over it and turn the crock pot on low for 6-8 hours.
3. Start the bao dough. In the bowl of an electric mixer on low, combine the pancake mix and oil.
4. Slowly add the water until the dough comes together and becomes smooth.
5. Turn out the dough onto a floured work surface. Flour your hands and pinch off a piece of dough, pressing it out into a 2-1/2-inch round circle.
6. Add a small spoonful of ginger pork, then bring up the sides of the dough and pinch closed. Roll in your hands until you form a smooth ball.
7. For BB-8's head pinch off a 1-inch piece of dough and form a small smooth ball.
8. Place both the filled and small bao on cut pieces of parchment and steam on low heat for 15 minutes. Let cool slightly on a wire rack.
9. Using edible ink markers add BB-8's details onto the buns.
10. To serve, use a toothpick to secure the small head to the larger filled bun body.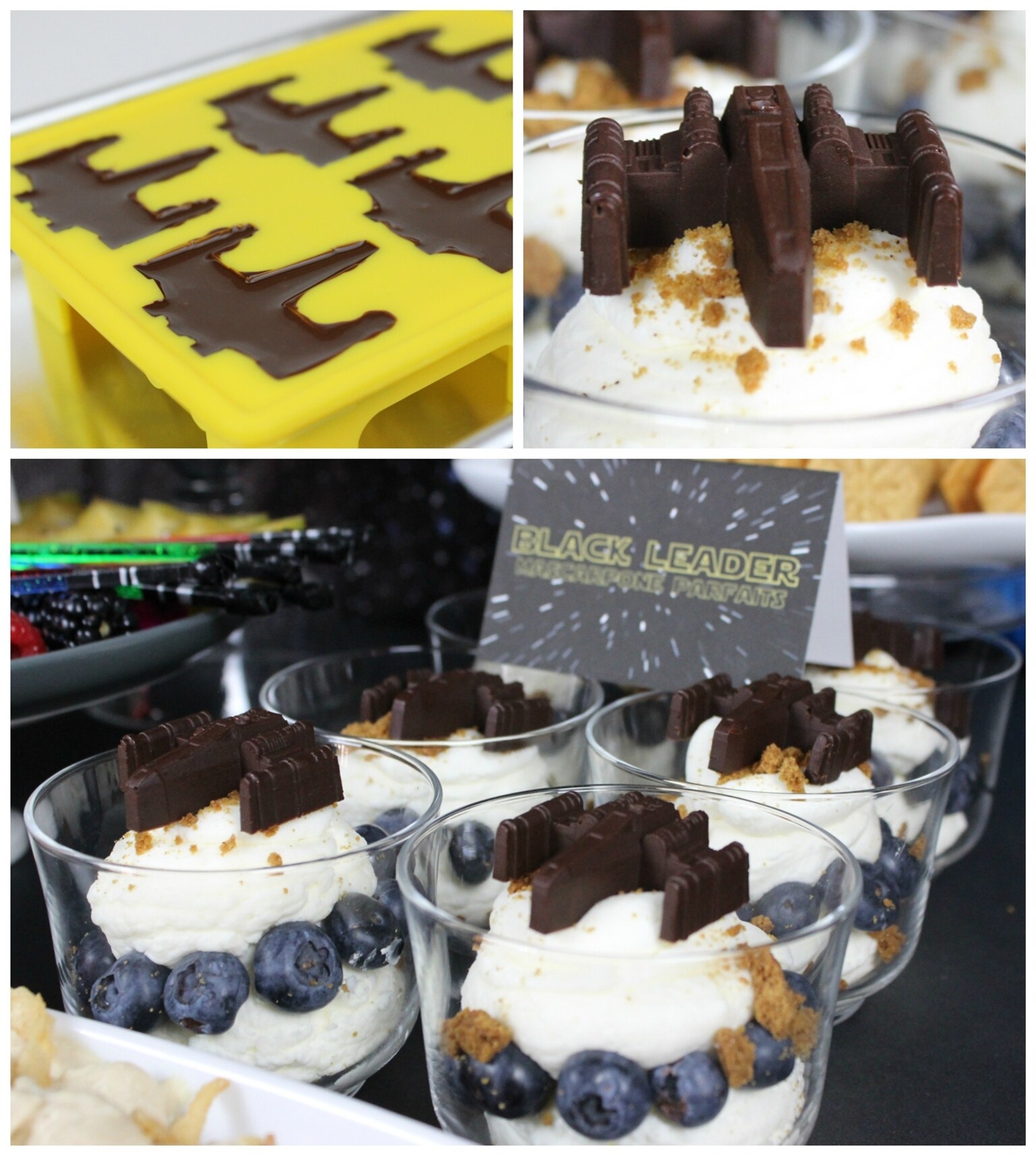 Black Leader Parfaits
You'll need:
1 X-wing silicone mold
6 ounces dark chocolate, melted
1 pint blueberries, washed and dried
1 cup gingersnaps, crushed
Mascarpone cream ingredients:
8 ounces mascarpone cheese
1 cup powdered sugar
1 teaspoon vanilla
pinch of salt
1 cup heavy whipping cream
Directions:
1. Spoon the melted chocolate into the X-wing molds. Freeze until solid.
2. In a medium bowl, stir together the mascarpone, powdered sugar, vanilla and salt. Stir together until smooth, and set aside.
3. In the bowl of an electric mixer beat whipping cream just until stiff peaks form.
4. Fold the whipped cream into the mascarpone mixture until combined, then whip again slightly to add a little more air.
5. Spoon into a piping bag and pipe into dessert cups, layering with the blueberries and crushed gingersnaps.
6. Release the dark chocolate X-wings from the mold and place on top of the parfaits to serve.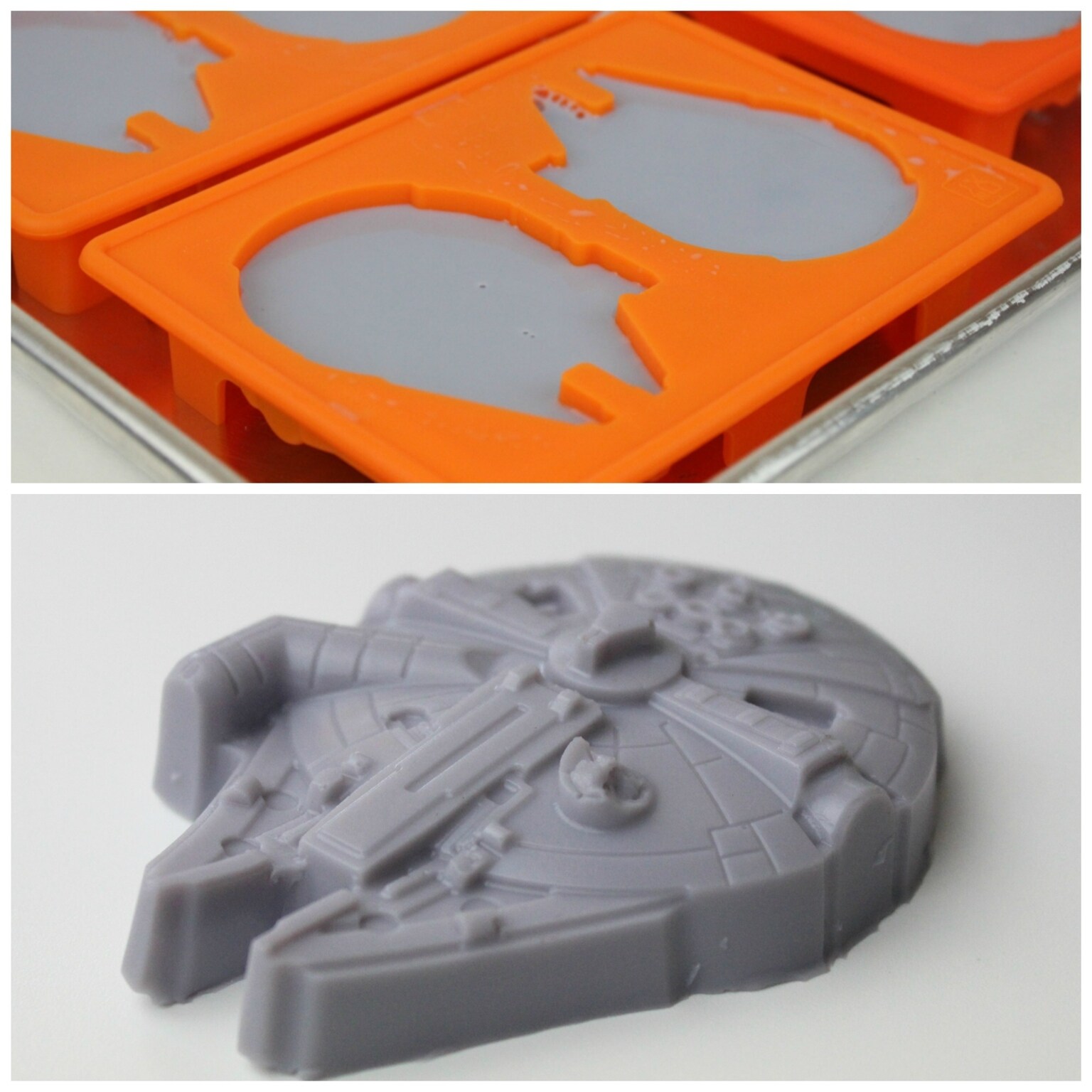 Millennium Falcon Gelatin Treat
You'll need:
1 Millennium Falcon silicone mold
Gelatin ingredients:
2 packets gelatin
1-1/2 cups boiling water
10 ounces condensed milk
black gel dye
Directions: 
1. In a bowl dissolve the gelatin in the boiling water.
2. Stir in the condensed milk.
3. Add a small drop of black food gel dye and stir together until a gray color appears.
4. Pour the mixture into Millennium Falcon molds and refrigerate for 4-6 hours until solid.
5. Carefully unmold the treat and place onto a serving plate.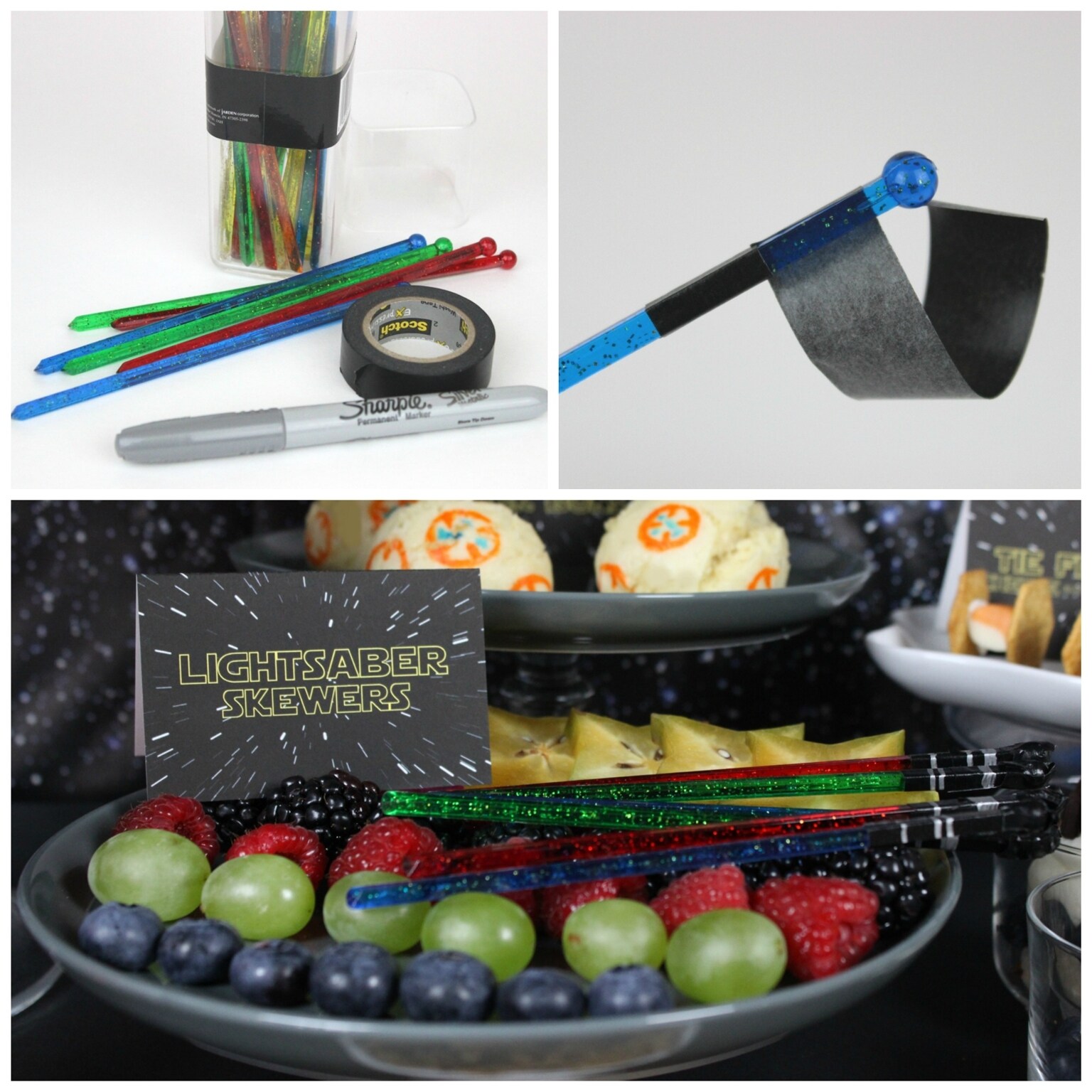 Lightsaber Skewers
You'll need:
Cocktail stirrers
Black washi tape
Silver Sharpie
Directions:
1. Cut a 2-inch piece of black wash tape and wrap it approximately 2-inches up on the end of the drink stirrer.
2. Use a silver sharpie to add lightsaber handle details.
3. When the ink has dried use the stirrers to skewer party food.
Whether you choose the dark side or the light, after this epic party you're finally ready for Star Wars: The Force Awakens!
Jenn Fujikawa is a lifestyle and food writer. Follow her on Twitter at @justjenn and check her Instagram @justjennrecipes and blog www.justjennrecipes.com for even more Star Wars food photos.