The Star Wars collectibles brand talks about bringing Anakin Skywalker's Jedi Starfighter, Wicket the Ewok, Kit Fisto, and more to the meticulously crafted sixth-scale line!
Anakin Skywalker landed at San Diego Comic-Con last month in a Jedi starfighter that looked as if it had just come from a rescue mission above Coruscant. The impressive craft was on display alongside other immaculately detailed and never-before-seen Hot Toys collectibles prototypes.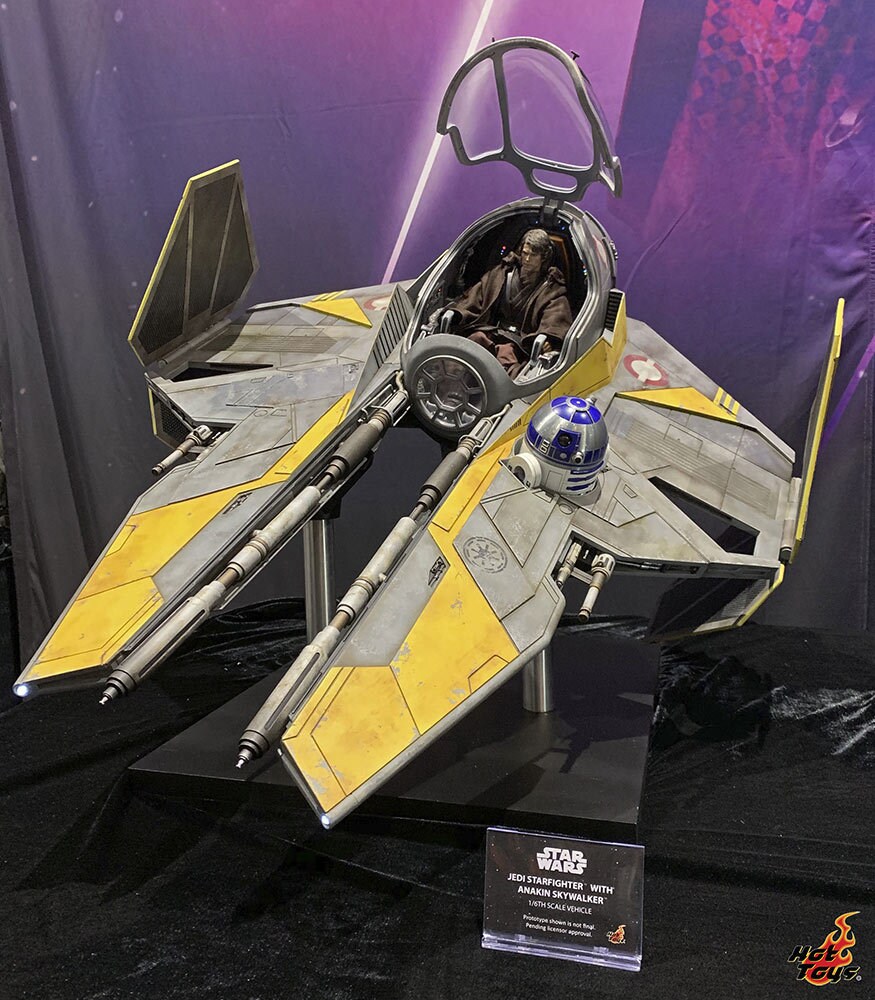 Measuring at over 30 inches long, the elaborate ship is built to hold the brand's sixth scale Jedi Knight, ready to save the completely good and noble Chancellor Palpatine. The sculpted exterior is a thing of beauty, rivaling the specificity of a screen-ready maquette, but it's the cockpit that really got Raymond Chan's attention. Chan, the senior marketing executive for Hot Toys Limited, said designers had very few reference images to work off of as they were sculpting the interior of the vehicle. "We want to make sure the details are correct," Chan says. "You don't see it that much in [Star Wars: Revenge of the Sith]."
Designers are still working on development for the piece, which was just one of an impressive selection of new figures from the precisely sculpted Star Wars line.
An Ewok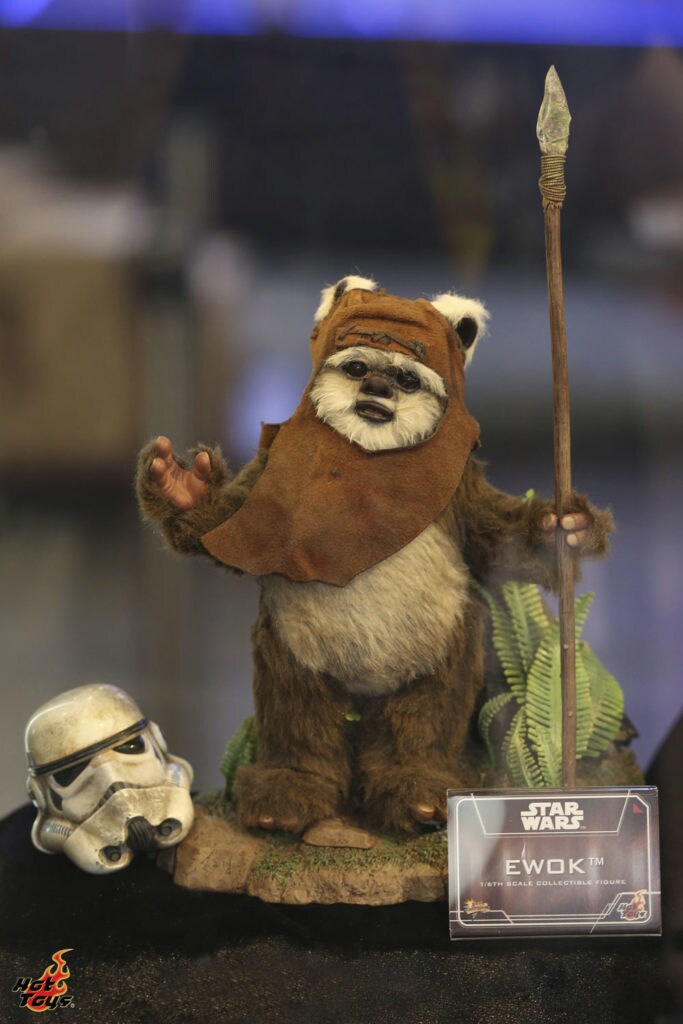 Applying fur to a petite figure is tricky, especially when it calls for adding fuzzy tufts in the miniscule spaces between the features of a diminutive Ewok's face. A prototype of Wicket that was on display marks the first time Hot Toys is producing a member of the tribe from the forest moon of Endor. "I think that's one of the first high-end collectibles with this fur look," Chan adds, although the company has previously applied a notoriously glorious Wookiee mane to its Chewbacca figure. "It's very difficult to capture."
Artists worked painstakingly to apply the faux fur to the figure's plastic base, with special care around the eyes, nose, and mouth. "We are very meticulous," Chan says, including detailed accessories like a carved spear, ready for prodding rebels, and a grungy stormtrooper helmet for drumming practice.
A senator and a Jedi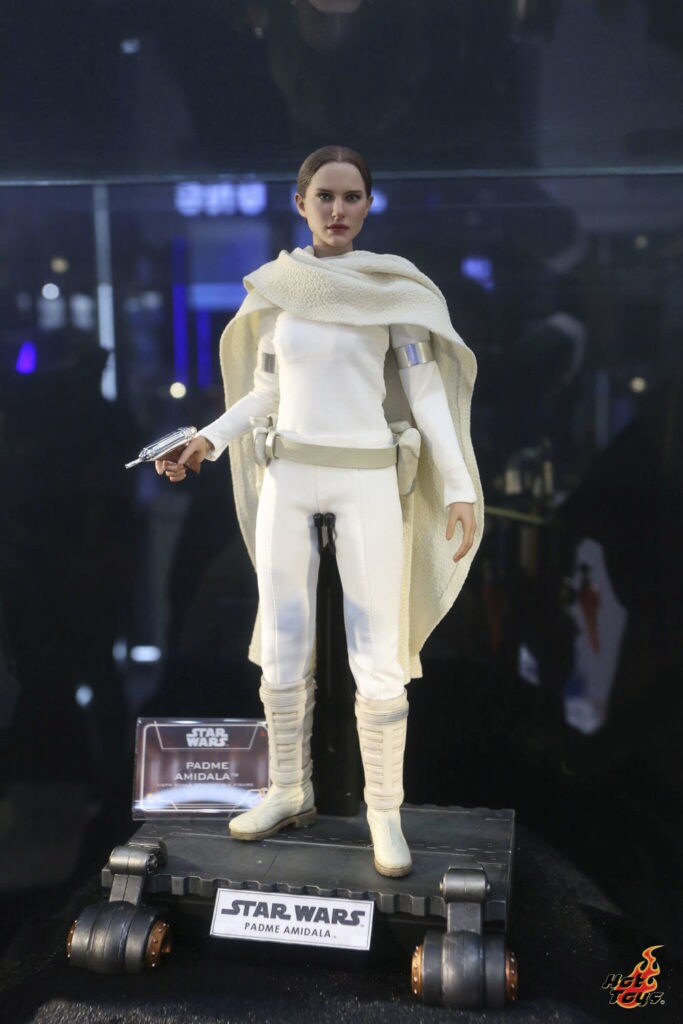 Although the line's human figures usually have sculpted hair, Padmé Amidala's intricate braided and sculpted bun almost looks like real human hair. Designers have captured the character's signature look from Star Wars: Attack of the Clones, ready to spring into action to go save Obi-Wan in the Geonosis arena. 
For the senator's striking portrait, a team of artists led by J.C. Hong handpainted details to bring the sculpted likeness to life, down to the placement of freckles. Subtle mottling gives each figure's skintone a truly life-like appearance. "He really knows how to capture all the skintone colors," Chan says.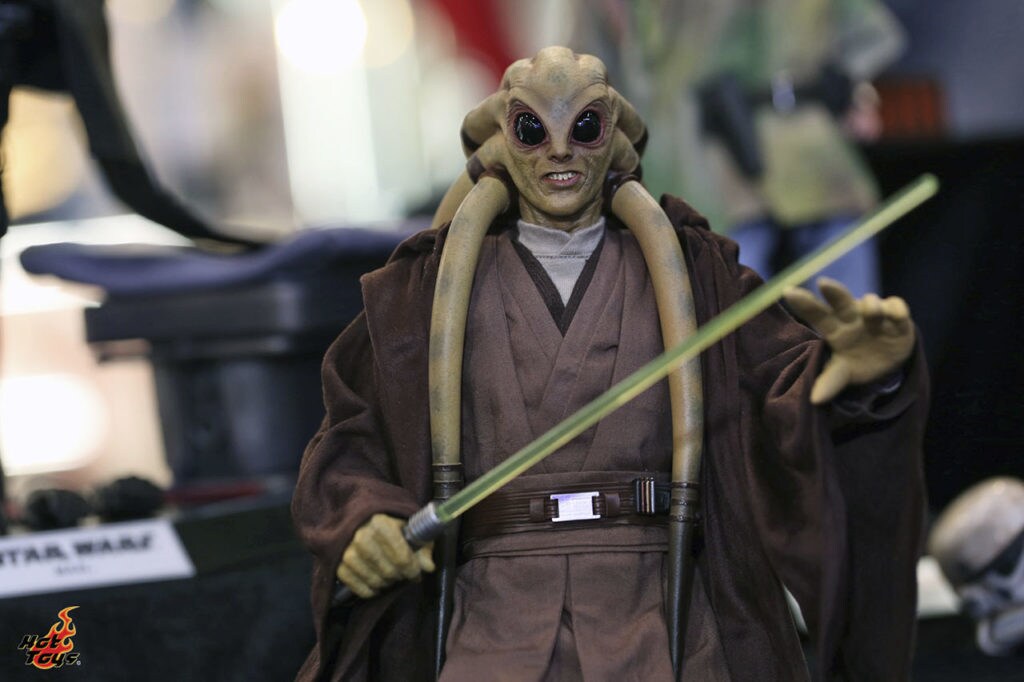 Hot Toys also debuted Kit Fisto, the Nautolan Jedi Master with a tangle of flexible tentacle-like protrusions on the back of his green head, as part of a larger expansion coming to the line in the future, Chan says. "We want to start developing some of the Jedi characters from the prequel films," he says, especially since many of the main characters from Star Wars have already been created.
A crime boss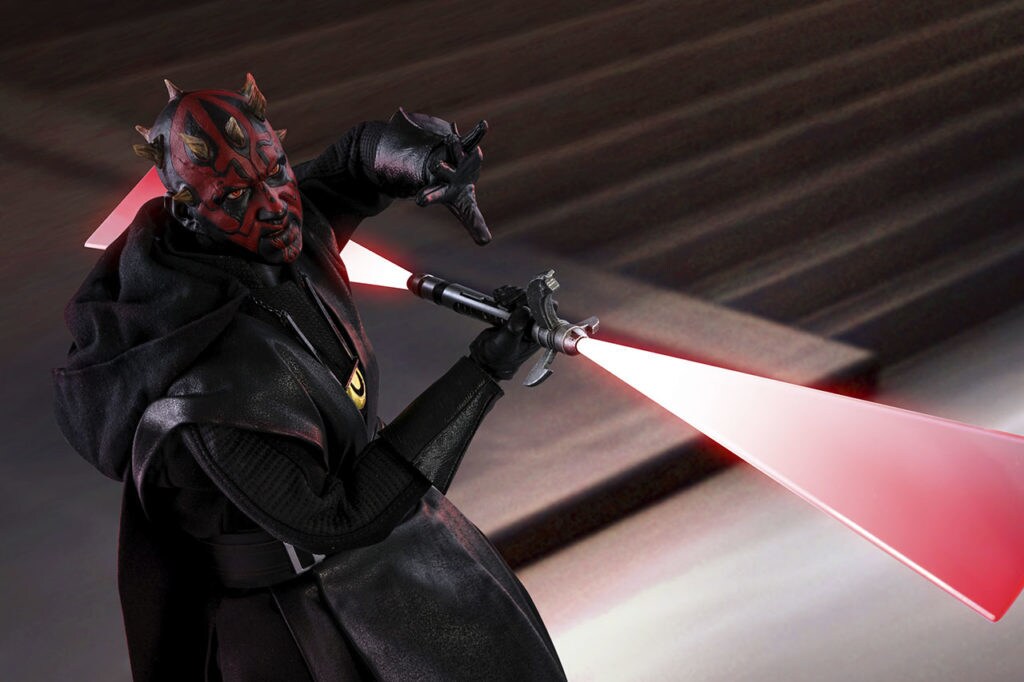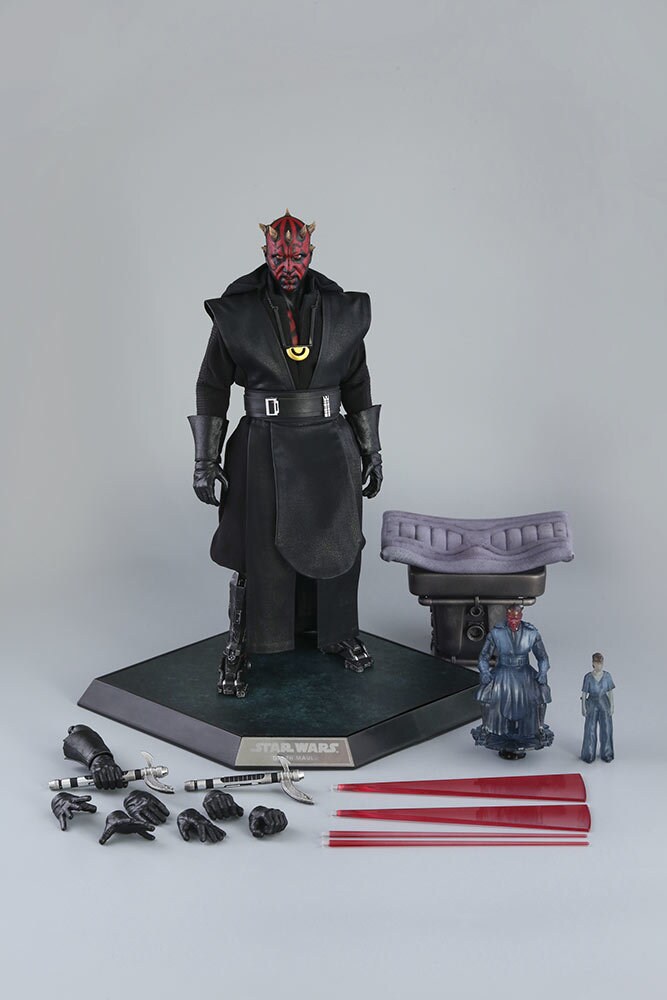 But some warrant revisiting. Maul, for example, was previously added to the sixth scale line as he appeared in Star Wars: The Phantom Menace. A newly-announced version of the horn-headed Force-user is coming soon, this time sculpted as seen in Solo: A Star Wars Story. The likeness was so different, Chan says, from the tips of his horns to the toes on his mechanical legs, that the designers didn't use anything from the earlier version. The figure will come with a number of accessories including a double-bladed lightsaber with light-up, animated swishing action, a small stool to perch on, and a hologram of Qi'ra.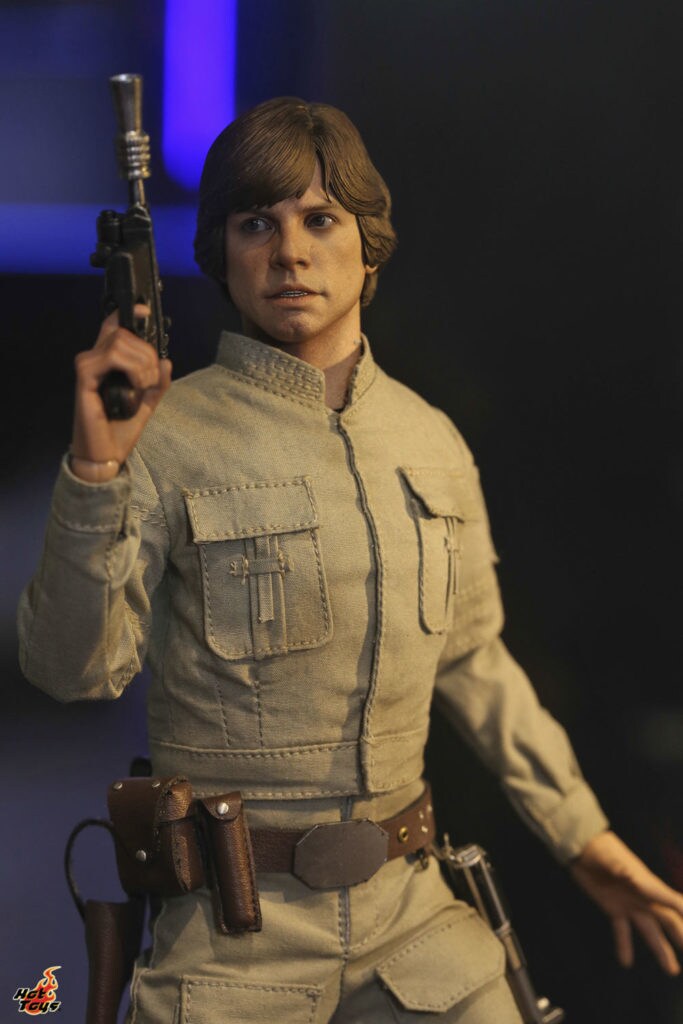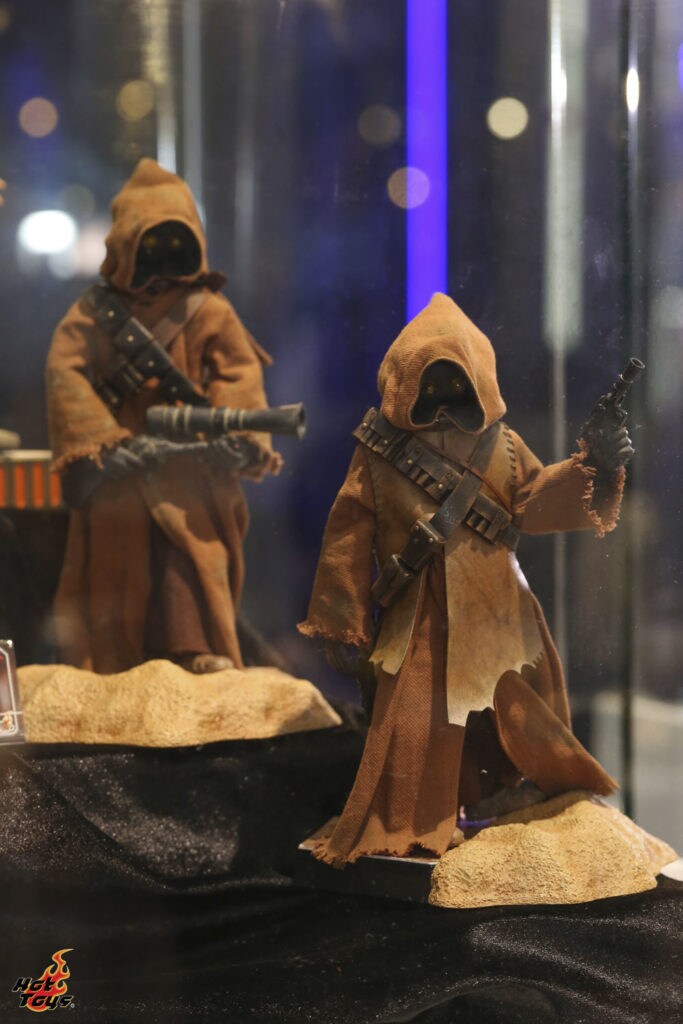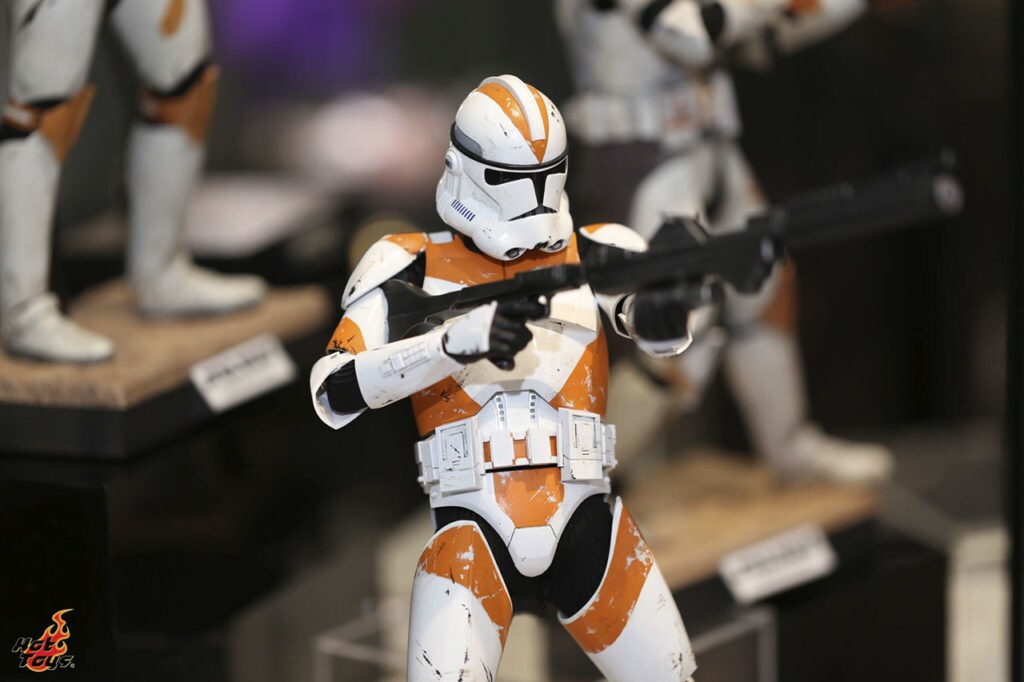 Other first-time reveals at the Hot Toys booth on the convention floor included Luke in Bespin gear before his encounter with Darth Vader, a sand-covered R5-D4 with an interchangeable motivator, two very dusty Jawas looking to make a deal with battery-powered bright yellow eyes peering out from beneath their hoods, a GNK power droid, and Clone Commander Cody.
Many of the figures that debuted at SDCC could be on the market for pre-order as early as 2020, but the design process alone takes about six months depending on the complexity of a figure, with manufacturing adding another year, Chan notes. 
If you've ever wanted to start collecting Hot Toys, now is the perfect time to take your first steps no matter what era of Star Wars storytelling is your favorite.
Associate Editor Kristin Baver is a writer and all-around sci-fi nerd who always has just one more question in an inexhaustible list of curiosities. Sometimes she blurts out "It's a trap!" even when it's not. Do you know a fan who's most impressive? Hop on Twitter and tell @KristinBaver all about them.
Site tags: #StarWarsBlog