Remembering a Star Wars fan and friend who passed away early Christmas morning.
Part of Jerry Treiber's Facebook page header, with the infamous lightsaber.
I first became acquainted with Jerry Treiber nearly 20 years ago. I was Los Angeles bureau chief of The Wall Street Journal at the time, my first two Star Wars books had been published, and I had started my six-year stint as a sidekick on QVC Star Wars Collectibles shows. I was in my office editing a story when I heard a worried voice.
"Steve, is anyone working on a story so hot that someone would want to send a bomb to the office?" asked Inga, my very-worried sounding admin. She got my attention quickly. When I approached her desk I saw a half-opened cardboard box addressed to me with a clearly written return address. Buried in the packaging material I could make out what looked like a hand-made cylinder; it looked far too nice to be a bomb.
I gingerly removed it from its wrapping, snapped opened two clasps and was greeted with the most amazing lightsaber, case, and "power crystal," along with a detailed in-fantasy brochure about how it was made. It was the first fan-made Star Wars gift I had ever gotten, and the beginning of a long friendship with Jerry, a graphic artist and designer from Racine, Wisconsin.
Neither Jerry nor I put it into words at the time, but we were part of the leading edge of the new Star Wars fandom, those kids and adults who grew up loving the original trilogy and never let go of that passion, even in the "dark years" when there was very little Star Wars in the public arena. The resurgence started slowly in 1991 with the surprise success of the first of a trilogy of novels by Timothy Zahn. My first book, From Concept to Screen to Collectible in 1992 awakened a lot of interest in collecting Star Wars. News started coming about the Special Editions and then the prequels, and it's been nonstop ever since.
Jerry liked to speculate about Episode VII, but it's a movie he'll never see. He became one with the Force early Christmas morning and was laid to rest on New Year's Eve. He was 58 years old and leaves his loving wife of 33 years, Sherry, three great kids, and uncountable friends. Jerry struggled last year with cancer and the first of two scheduled hip replacements operations, but he had been taking care of himself, lost lots of weight, and seemed to be in good condition -- so his death was even more of a shock.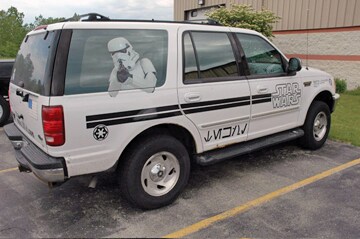 You've likely never heard the name Jerry Treiber unless you're a member of the 501st Legion or met him at one of the many shows and parades he's been involved in over the years. But to me, Jerry was the epitome of Star Wars fandom. He was fun to be with, incredibly creative, selfless, had a self-deprecating sense of humor, and always wanted to lend a hand.
The photo collage that tops his Facebook page shows him in formal attire (with hand-made Star Wars vest and bowtie) at the opening night party for Rancho Obi-Wan in November 2011, carefully cradling that 1994 lightsaber he made for me. There's another photo from the same evening in which he accidentally photo-bombed a picture with Seth Green, thus adding weight to the headline, "It's just me the almost famous."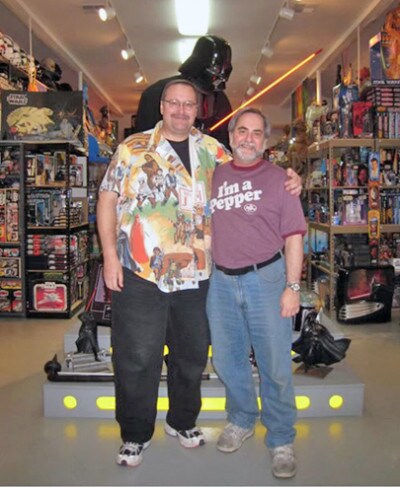 Although Jerry, like so many others, lost his full-time job in the Great Recession, and had his medical problems (four cancer operations), he never complained -- and little could stop him. He conceived and helped build more than 70 floats over 40 years for the community, the 501st, and the 82nd Airborne Division, which made him an honorary member. And among the items we have to remember him at Rancho Obi-Wan besides the 1994 lightsaber: a miniature of the museum with the Millennium Falcon landing on top; a carved Stormtrooper Pinewood Derby-type car; and a Death Star bean-bag toss game. And then there's the "Rancho Obi-Wan Anthem" sung to the tune of the theme from Gilligan's Island!
When Jerry was at his full weight, he thought it would be a bit out of place to march with the 501st as a Stormtrooper, so he challenged himself and built one of the most difficult costumes of all: a Gamorrean Guard. He not only pulled it off in style, he gave himself the nickname "Grunt," like a common laborer or infantryman in the military.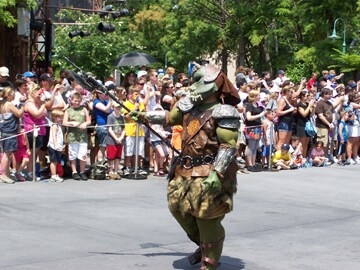 But there was nothing common about Jerry. His white Ford Expedition was covered with 501st symbols and he sometimes acted as the "chauffeur" at friends' weddings. Few things besides family gave him greater pleasure than bringing smiles to kids' faces at parades, events, or at hospitals. Paying homage to the greats at Disney, he called himself an "Imagioneer." He said he could work in a group or work alone "as when I got my first crayons and Mom saw my impressionistic  artwork on the wall."
Jerry affected a lot of folks. Here's part of posting from Philip Zeman of ASMzine.com, a toy and pop culture site. "Jerry was the type of guy you wished everybody was. He had such incredible talents. I've never known a guy who could make something out of nothing. Whether it was a Star Wars prop, medieval weaponry and shields, Monty Python costumes, or just some other knick-knack, he could make anything. If he couldn't find the part in his overflowing garage full of stuff, he could go to the store, spend $10, and get what you needed... But it was his overflowing heart that I will miss the most. He was always willing to give of himself, never putting himself first. He had never complained about his illness, but always wanted to know how you were doing. His family came first, and then his friends, but if you met Jerry, you instantly were his friend and you felt like you had known him for years."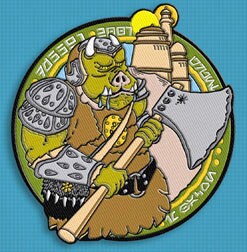 Jerry said it best himself. In July, he posted a brief essay about why the 501st and doing things for kids and charities were so important to him. "There are no words to describe the feeling of a hug from a sick child, or the smile on their face as they ask to take a picture with us. We can't cure their illnesses, but we can give them memories and magic that will last a lifetime." And then he added:
All I can think is that when I die, I don't want people to mourn me... I want them to celebrate my life. I want to know that I made an impact. That I left a legacy that mattered, of kindness, hope and inspiration... And that is what I will strive for, with every moment I have left on this earth….
Steve Sansweet, head of Fan Relations at Lucasfilm for 15 years and now fan relations adviser, is chief executive of Rancho Obi-Wan, a non-profit museum that houses the world's largest private collection of Star Wars memorabilia. To find out about joining or taking a guided tour, visit www.ranchoobiwan.org. Follow on Twitter @RanchoObiWan and https://www.facebook.com/RanchoObiWan