Years ago I had a dream. My collection of Star Wars memorabilia kept growing. And while friends could stop by sometimes and see it, wouldn't it be great to have some way to actually share it with a lot of other fans and collectors! It took a great deal of planning and a lot of time, but the result is Rancho Obi-Wan.
George Lucas announced his latest dream to the world last week. It's somewhat more expansive than mine, but born of the same kinds of passions: falling in love with something, having the chance to collect what you love, and then sharing it with the world. The Lucas Cultural Arts Museum will be an institution like no other: It will concentrate on populist illustrative art that tells a story, art that goes back more than a century and a half and continues into tomorrow with the latest in the digital and cinematic arts.
I was fortunate enough to have worked a little on this project last year, doing some writing and editing on the brochure and other documents. And the more I learned and the more I saw, the more excited I got. George has long shared some magnificent pieces of art from his collection with his employees; wondrous works grace the walls of hallways and offices at Skywalker Ranch and company headquarters in the Letterman Digital Arts Center at the Presidio in San Francisco. He and his friend Steven Spielberg lent 57 of their Rockwell paintings for a six month exhibit at the Smithsonian American Art Museum in 2010 in a show aptly titled "Telling Stories."
How did this all come about? What piqued George's interest? The best way is to let him tell you, from his introduction to the brochure that was submitted to the board of the Presidio Trust.
"I'm a storyteller at heart, and I understand the power of a visual image to tell a story. I know how works of art can ignite children's imaginations and even change their lives. They changed mine. Even before I could verbalize what I was feeling, I was drawn in by Norman Rockwell's ability to tell a complete story in a single image. And so much of that imagery captured American cultural truths and aspirations. It was then that I began to learn the art of visual storytelling. As my career as a filmmaker grew, so did my love of art and passion for collecting."
When George was growing up, he had many visual influences. The weekly covers of the Saturday Evening Post, often graced with a Rockwell painting, sparked his imagination while they "told" stories about America -- or at least how America viewed itself. Comics were another early love, with their panel by panel stories as close as anything to the storyboards George would later use to make his movies.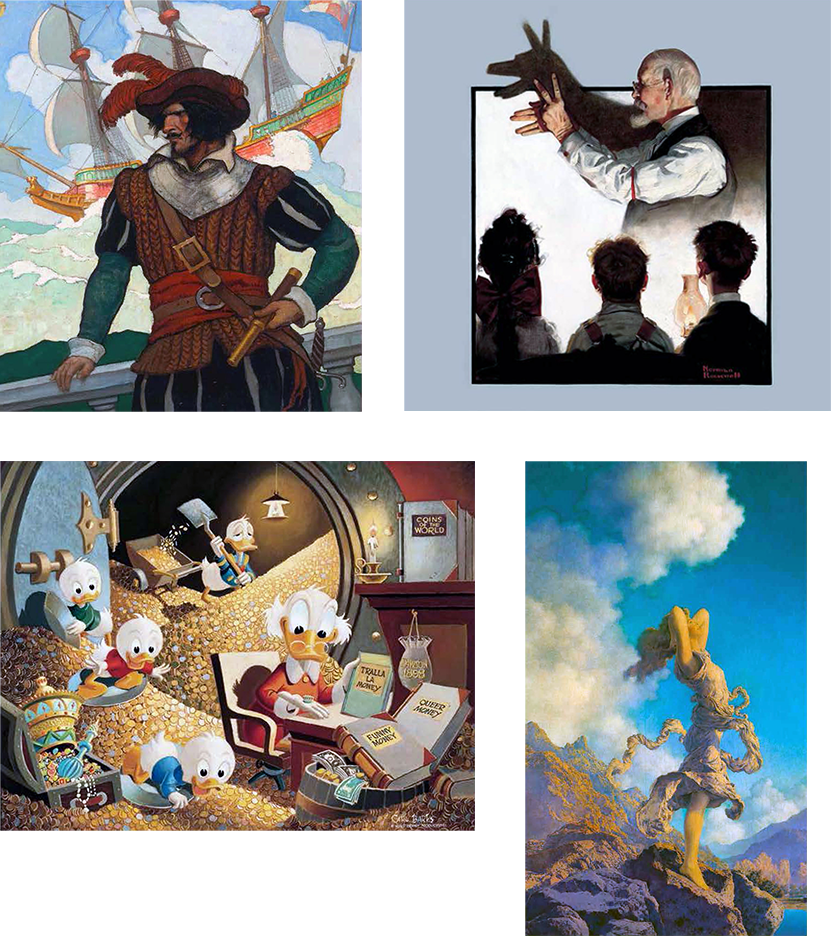 While George's Rockwell paintings have gotten public notice, the rest of the painting collection is equally inspiring. They include heroic works of N.C. Wyeth, luminescent canvases by Maxfield Parish, and oils by Joseph Christian Leyendecker that defined the look of the first part of the twentieth century. Some of my favorites are original illustrations from first editions of children's classic like John Tenniel for Alice's Adventures in Wonderland, Jessie Willcox Smith for Little Red Riding Hood, and E.H. Shepard for Christopher Robin at the Enchanted Palace. For comic art, little could top a Frank Kelly Freas MAD cover of Alfred E. Neuman upside down on a swing or an astounding painting by Carl Barks of Scrooge McDuck in his vault with Huey, Dewey, and Louie sledding down a mountain of gold coins.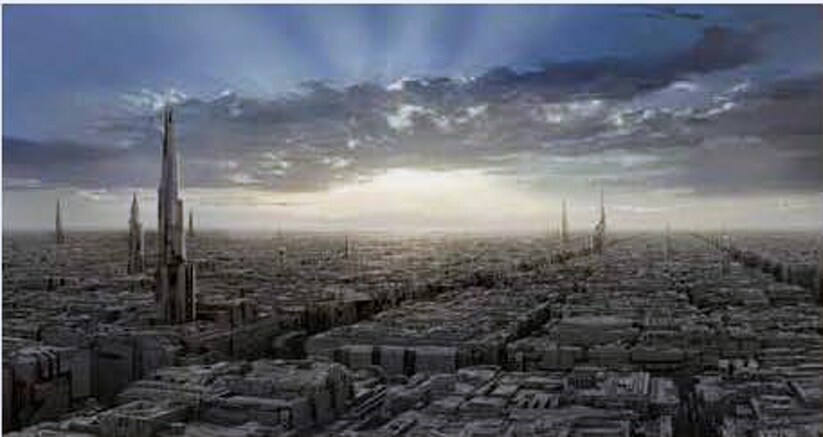 Since artists have always used the technology available to them, whether its charcoal for cave paintings or computers for digital art, and since the Bay Area was the birthplace of digital art three decades ago, it makes sense to include digital painting, digital animation, and visual effects. And yes, fellow Star Wars fans, the Cinematic Art and Design area will include some fashion design, costumes, set design, props, and models from the two trilogies. The museum will have strong public and educational outreach programs, blend in perfectly with the site, and be a major addition to the Golden Gate -- the entrance to Northern California.
The Presidio Trust received 16 proposals in response to its request for concepts for a "cultural institution of distinction" in a beautiful location that was a former military commissary and presently a retailer. I may be just a bit prejudiced, but I can't think of anything that comes close to meeting that goal than the proposed Lucas Cultural Arts Museum. I'd be in line opening day!
Steve Sansweet, Fan Relations Adviser for Lucasfilm, is chief executive of Rancho Obi-Wan, a non-profit museum that houses the world's largest private collection of Star Wars memorabilia. To find out about joining or taking a guided tour, visit www.ranchoobiwan.org. Follow on Twitter @RanchoObiWan and https://www.facebook.com/RanchoObiWan.