The artist discusses his recently released illustration -- and the meanings within.
A Jedi meditates. It's an image we've seen before in film, animation, and comics. But not like this.
The ground seems to ripple in waves beneath the Padawan learner; his lightsaber levitates, pointing upward; peering through the windows before him, we see glimpses of X-wings and TIE fighters in battle, while columns cast imposing shadows. Taking a step back, we see that this Padawan sits not in a temple or dojo. Rather, the wall between him and these images of war takes the form of something much darker: the mask of Darth Vader.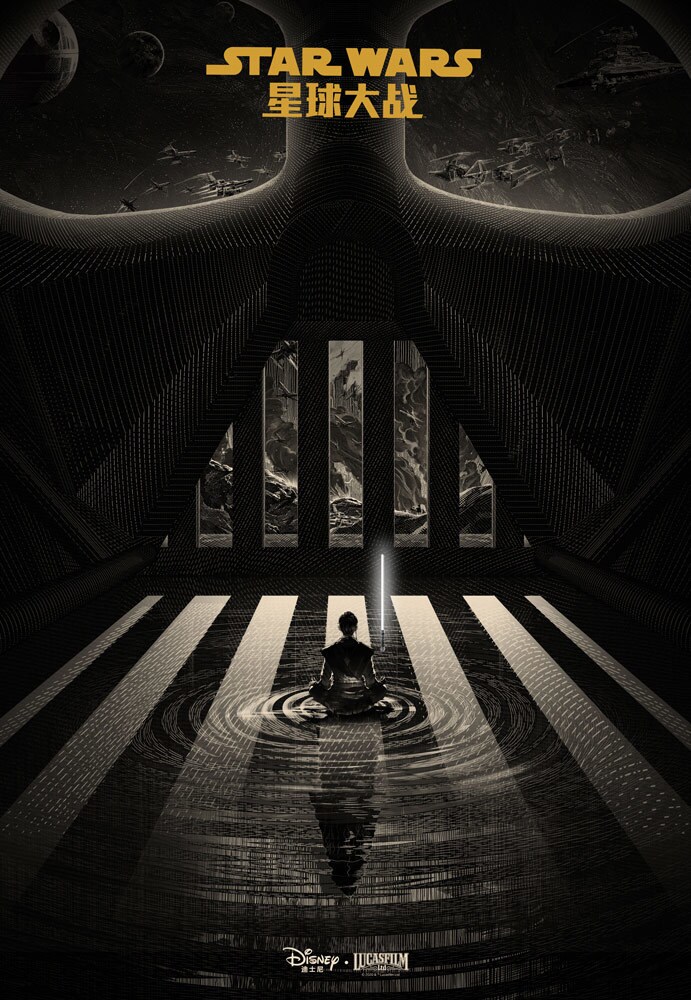 This is the work of Huang Hai, a renowned Chinese poster artist who recently offered the world his interpretation of Star Wars with an illustration called "MASTER · Tribute." Released last month to mark the Lunar New Year, it's a personal, spiritual piece, reflecting Star Wars themes but directly informed by Huang's own culture. "I hoped to express the Force through the lens of Eastern aesthetics. To show it through traditional Chinese art forms other than ink painting and Chinese brush calligraphy," he tells StarWars.com over email. "I meant to show what a Jedi represents in terms of Eastern philosophies. A Jedi embodies a kind of culture, and cultures, per se, are always interlinked."
Huang is a prequel-generation fan. It was the stories of Anakin, Obi-Wan, and Padmé that captured his imagination -- a factor that could explain the use of a Padawan over, say, Luke or Leia or Rey as his poster's central figure. "My first Star Wars experience was watching The Phantom Menace in 1999. It was so visually stunning that I started to devour all the Star Wars movies and stories that I could get my hands on," Huang says. "I came to know about George Lucas and the Star Wars galaxy that is full of wonders."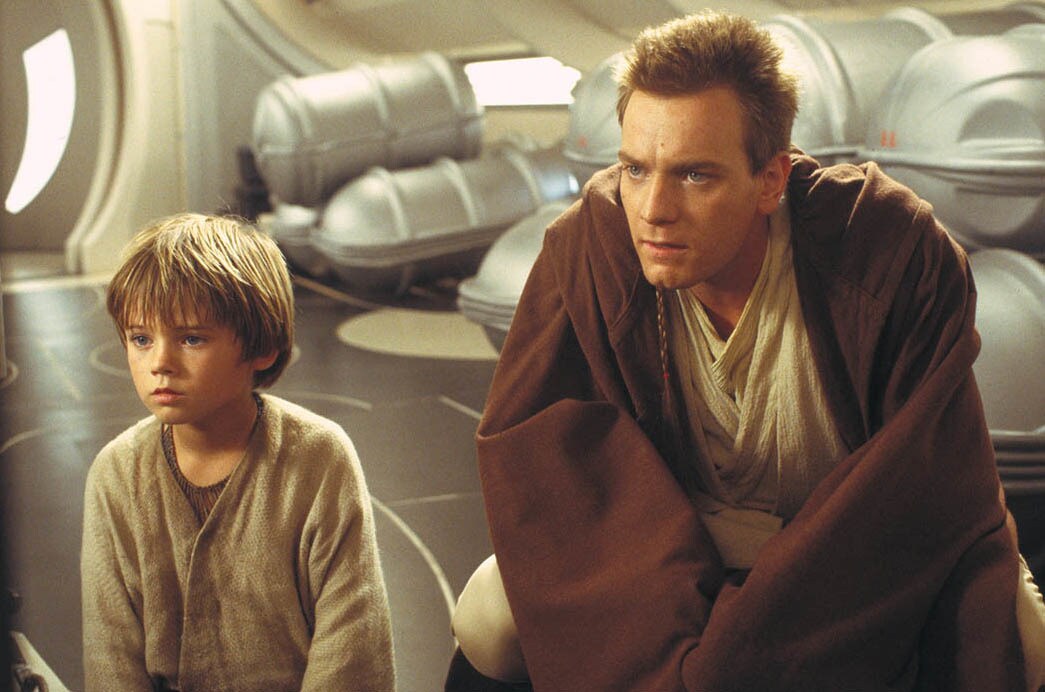 He also, however, saw immediate connections to Chinese culture as he became a fan. And those links would ultimately come to influence his poster years later. "Jedi have a lot in common with Xia Ke, the Chinese knights in the traditional martial arts novels. Both fascinate me," he says. With this personal and cultural connection, Huang took care to convey his feelings about Star Wars when he began work on his illustration.
"Honestly, it was not an easy journey. I spent four months pondering over what point of view I should come from to present the limitless galaxy of Star Wars. What elements best represent the Star Wars? Jedi? Lightsabers? Darth Vadar's helmet? The Force? I hoped that I could come up with an original point of view to showcase the Force," he says. "We finally zeroed in on one idea: 'looking into oneself by looking into the Force.' What it takes for a Padawan to become a Jedi Master is not one's skill level, but his or her balanced control of the Force. In Chinese, we have a phrase, Zi Xing, meaning 'introspection,' which is akin to the concept we were pursuing."
But when one looks at oneself, the reflection isn't always pretty.
"This is why I chose to look into the Force from the inside of the helmet," Huang says. "Facing the temptation from the dark side of the Force is a test that every Padawan faces. Isn't it a test that everyone faces in real life? The Force is like the two sides of light. There is the dark side and there is the light side, and they always co-exist. It is how the universe always is.  What we should do is to find the balance in it."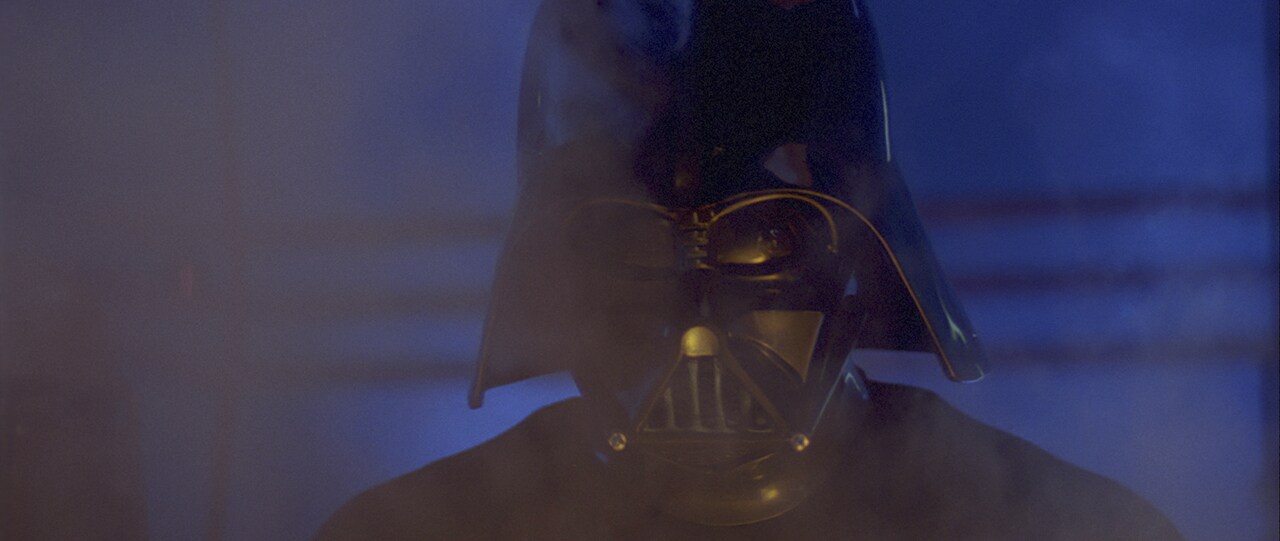 Regarding that balance and how Huang represents it, StarWars.com asks specifically about the role Vader's grille plays in his poster. It forms windows to the outside world, but also casts oppressive shadows -- making it almost look like the bars of a jail cell.
"Great observation!" Huang says. "Does the grille indicate a prison cell or a room with window? For a Padawan, will he or she see despair or hope? Everyone will come to their own conclusion. Star Wars is a universal story. Wherever we come from, we can always relate to this story and arrive at an understanding of our own."
Whatever meaning fans may take from his poster, Huang's Eastern-influenced interpretation of the galaxy far, far away truly comes from the heart. "It's my great honor to have this opportunity," he says. "In my eyes, Star Wars is a story for the world. It's a story that shows we share so much in common. It's a story that every storyteller dreams to create."