Want to dress like a walking carpet? Learn how you can make the ultimate Wookiee costume.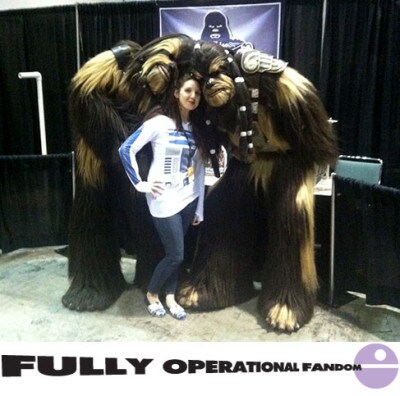 What does it take to make a Wookiee costume? Like any other screen accurate costume, the build process involves hard work, sweat (that's going to happen when you're wearing a Wookiee costume, too), and trial and error. Jason Rucci and Shad Thomas wanted to make the ins and outs of creating a quality Wookiee costume clear, and to that end, they've started The Wookiee Workshop.
I came across the group while attending MegaCon in Orlando earlier this year and was impressed by the accessories and fur they had on display -- no, that's not a sentence I get to say often. They've clearly put effort into constructing their Wookiee costumes and figuring out the process to help others. At one point, they even got some personal insight on construction from Angie Mayhew, the wife of Chewbacca, Peter Mayhew.
Jason and Shad have appeared in costume at events such as Star Wars Weekends, conventions, baseball games, and a Toys for Tots drive. I recently talked with The Wookiee Workshop founders about the group and what advice they have for those who want to make a Wookiee costume.
StarWars.com: How did each of you become interested in Star Wars?
Shad: For me, the love of Star Wars started with the original movie. I have memories of watching it in the theater, though I was very young. I went straight home and grabbed my wiffleball bat and started banging away on my older brother.
Jason: I got interested in Star Wars because of my brother. I wasn't old enough to see the original films in the theaters but he was. His love of the films an his toys were passed on to me. He was a huge fan so I naturally followed him into the fandom. I first saw the films when they came to VHS. I was hooked immediately. I still remember how shocked I was when I heard Vader was Luke's father!
StarWars.com: Tell me about how The Wookiee Workshop came about and your mission. Do you attend events and work with the local 501st and Rebel Legions?
Shad: The Wookiee Workshop is the brain child of Jason and myself. We simply weren't happy with the majority of the Wookiees that were out there. We wanted to raise the bar and ensure that the Wookiees received every bit of the accolades that they deserved. We are always attending events with both the Rebel Legion and the 501st Legion as we are members of both great organizations here in Florida.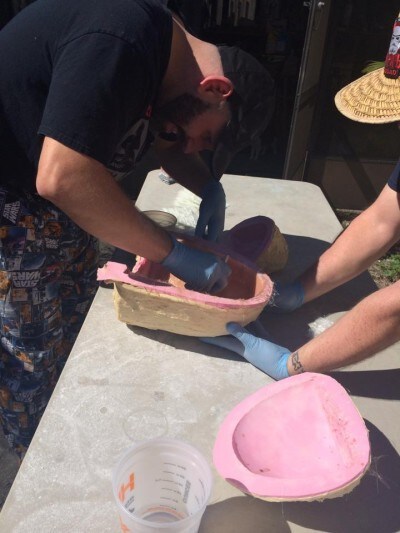 StarWars.com: From your experience, what are the primary reasons people shy away from making Wookiee costumes - cost, height challenges, or something else?
Shad: Stilts. Many people are either too scared to walk on them or physically can't.
Jason: I think it's the work involved to make a suit. Most people become intimidated when they see the time and skill sets needed to make a complete costume. Even after four years, I'm still learning new skills to make these costumes.
StarWars.com: What encouraging advice would you offer to a fan who wants to make a Wookiee costume?
Shad: It's a long process. About halfway through you will want to quit. Just remember, you'll be a rock star out there whenever you wear it! It's rather difficult to put any other costume on once you have the Wookiee experience.
Jason: Echoing Shad's comment is patience. This costume takes time to make it look right. So take your time. Rushing your work will end up with the costume not looking as good as it could. Be patient and the end results will be totally worth it.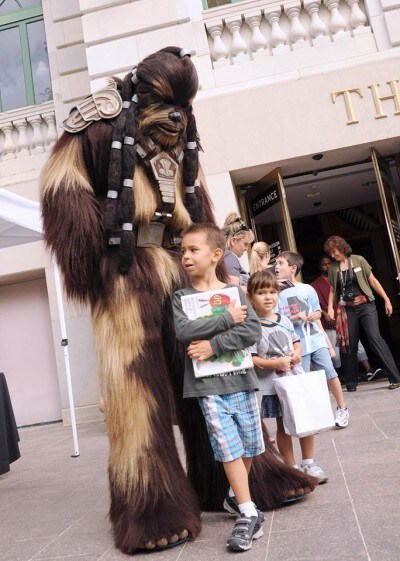 StarWars.com: Which Wookiee from the Star Wars universe is your favorite?
Shad: Merumeru. He's a tough wookiee leader. Plus he has killer accessories!
Jason: Tarfful hands down. The armor, the dreads, the constant angry look completely makes him the baddest Wookiee around.
Visit The Wookiee Workshop to view video tutorials, in progress photos, and news about appearances. If you're headed to Star Wars Weekends at Disney's Hollywood Studios this year, keep your eyes peeled for them!
Amy Ratcliffe is addicted to Star Wars, coffee, and writing. You can follow her on Twitter at @amy_geek and keep up with all things geeky at her blog.