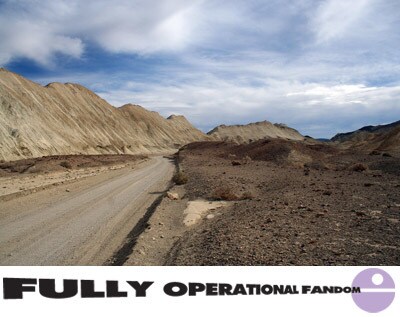 It was a chilly November morning in Death Valley National Park -- not as cold as it had been the night before when I was snuggled in a sleeping bag-blanket burrito in my tent -- but still cold enough. I'd visited the park before, but I'd returned this time with a purpose grander than sightseeing: I was going to find Tatooine. I'd only recently learned that pickup shots for A New Hope and Return of the Jedi were filmed in California.
You see, like many fans, I dream of an epic journey ranging from Tunisia to Finse to Lake Como. I want to visit the Lars homestead and pretend to see two suns on the horizon, I want to freeze in Hoth, and I want to absorb the beauty of Naboo. However, none of those locations are exactly close. To say that learning I could take a seven-hour or so road trip northeast from Los Angeles and end up in another galaxy made me happy is an understatement.
I was ecstatic.
A friend shared a fan-made PDF with me that listed locations in the national park. I printed a copy and folded and stapled it into book form. I examined and reread it so much that the black and white pamphlet looked weathered and worn before my boots even touched the sand. I didn't have a robust car so I stuck to points that could be accessed by the road, and there were plenty.
My route was planned (possibly over-planned, I admit), my camera battery was charged, and I was ready to see Tatooine.
Death Valley is a giant, sweeping place. The stark beauty of sand dunes, mountains, and rocks that look like layered sundaes of color knocks you off your feet. It's impressive. When you find out it's also a Star Wars location, it becomes most impressive. I saw the dunes and arroyos in a new way. My guidebook only called out a handful of filming spots, but I'm convinced I saw them everywhere -- as gorgeous as the desert is, it also has this nagging problem of looking the same from multiple angles.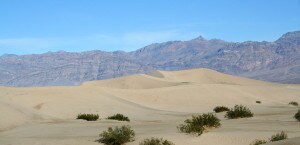 The first stop of my adventure was the Mesquite Sand Dunes. This area served as the dunes where R2-D2 and C-3PO were lost on Tatooine. It's hard to pinpoint any references here because obviously dunes change shape and size with the environment, but it didn't matter. Even though I share some of Anakin's opinions on sand, I was already having a blast.
At Dante's View, I overlooked Mos Eisley. I called it a hive of scum and villainy and took a moment at the scenic spot to take in the landscape surrounding me. Even though Obi-Wan, Luke, and the droids looked out at the valley from another location in Tunisia, this is what the film showed them seeing.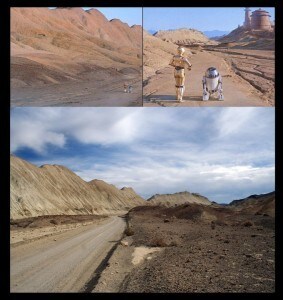 My travels included a few other spots, but my absolute favorite was walking along the road to Jabba's Palace. R2-D2 and C-3PO made their way along this path in Return of the Jedi, and I got to follow in their footsteps. I just had to drive a bit down the Twenty Mule Team Canyon Road, and the right spot practically jumped out and slapped me. I didn't need the guide with images from the movie to compare to the land.
I was on Tatooine, and it was…it is…one of my best Star Wars fan experiences ever.
I still have more exploring to do in this neck of the woods. The Great Pit of Carkoon is over in Yuma, Arizona, and rumor has it devoted fans can still dig up pieces of foam from the set. The forests of Endor are way up north though most of the locations are on private land. And I still have plenty of sites left to discover and photograph in Death Valley. I plan to go back with GPS locations while wearing my Leia buns.
Have you traveled to any Star Wars filming sites? Let me know in the comments!
Amy Ratcliffe is addicted to Star Wars, coffee, and writing. You can follow her on Twitter at @amy_geek and keep up with all things geeky at her blog.