"We will never forget it." Hear from two families that went to Celebration and loved it.
In Fully Operational Fandom, StarWars.com goes right to the heart of the Star Wars saga — the fans — for insight into their thoughts and experiences surrounding a galaxy far, far away.
Celebration Orlando is practically around the corner. We've looked back with some fans to discuss their fondest memories from the biggest and best Star Wars gathering around, and now it's time to view the past through a different lens. Star Wars crosses generations, so families with members of all ages have no problem enjoying the convention together. They make a family vacation of Celebration and do as many activities together as possible -- sometimes that means seeing panels, cosplaying together, or meeting actors and filmmakers together.
The family known as the Rogue Rebels cosplay together. I remember spotting them at Celebration Anaheim in a hotel food court just as the convention was getting started. They were the first ever Star Wars Rebels costume group I saw. Sal, Liz, Lizzy, and Axel had nearly every member of the Ghost crew covered with their cosplay, and even dressed up their teddy bear Victoria as Chopper. It was one of the cutest versions of Chopper I've ever seen.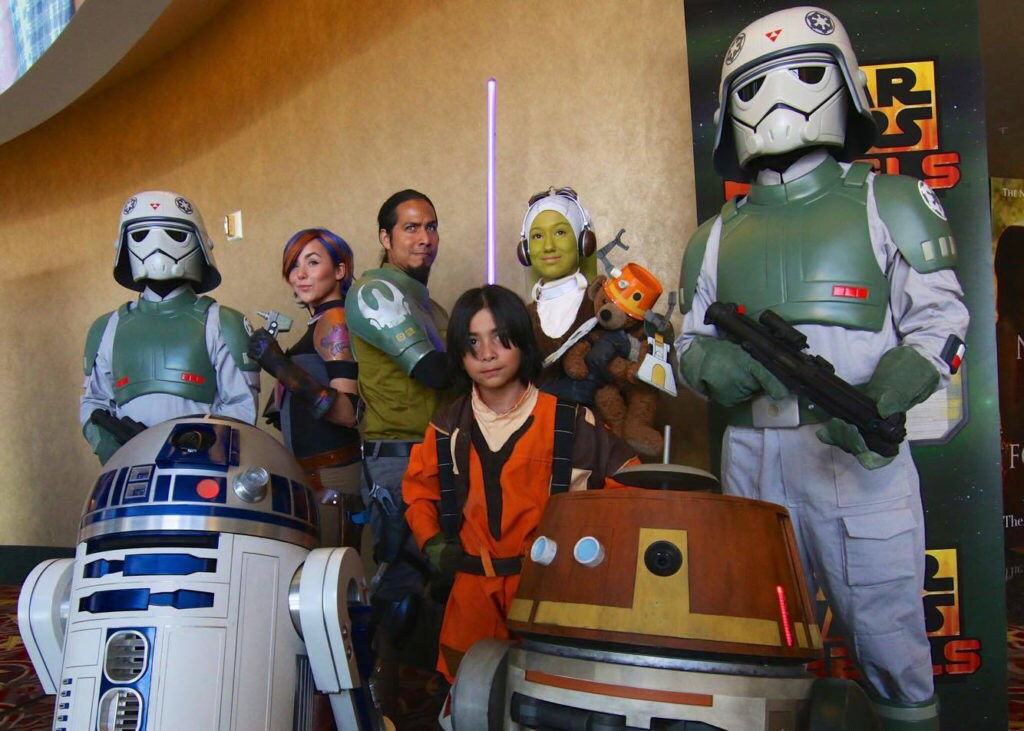 Anyway. Star Wars has always been a part of the family's life. When Sal and Liz's 10-year-old son, Axel, was born, Sal brought Return of the Jedi to the hospital. Both Axel and his older sister Lizzy -- she's 15 -- have grown up around Star Wars.
Celebration Anaheim was their first Celebration. They experienced too many great memories together to count, but Liz called out a particular highlight: "Attending the Season Two Rebels panel and the 'Siege of Lothal' screening was pretty awesome! [And so was] watching the room erupt when Captain Rex was introduced!"
The Hunt family has been to a couple of Celebration gatherings together. They started with Celebration VI in Orlando with a single day pass for everyone, but they had such an incredible time that they decided to make the trip to California for Celebration Anaheim in 2015.
Jeremy and Heather first introduced their daughters, Sophia (16) and Chaney (13), to the Star Wars universe with Star Wars: The Clone Wars. Jeremy says, "They started with Season One on DVD and quickly became hooked and wanted to soak up any Star Wars goodness we'd allow them to watch. To this day, our entire family is a Clone Wars family. We love all Star Wars media, and certainly Rebels, but Clone Wars...it's something special. It allowed us to share our fandom with our kids -- from Star Wars Reads day, to Star Wars Weekends at Disney which we always attended, to Star Wars Celebration -- we owe pretty much all of that to Clone Wars."
With more time to spend at Celebration Anaheim, they managed to make plenty of memories together. Jeremy relates a few highlights: "At Celebration Anaheim, we were surprised and thrilled to get into the main stage on day one and into The Force Awakens panel. The roar of that crowd and being there with our girls as the cast was on stage -- we'll never forget it. For Heather and I, that alone was worth the trip. A close second would be the Fangirls Going Rogue podcast panel. Our girls wanted to make sure if they missed everything else, they got to be part of that. We made it, exhausted and hungry. They were buzzing afterwards and have discussed that with us many times since as being a high point of Celebration Anaheim. Yet a third great memory was Ahsoka Lives Day. They got to meet Dave Filoni and say hi to Ashley Eckstein. They were walking on air after it."
Star Wars Celebration Orlando will take place April 13-16 at the Orange County Convention Center. Visit StarWarsCelebration.com for tickets and more info!
Amy Ratcliffe is a writer obsessed with Star Wars, Disney, and coffee. Follow her on Twitter at @amy_geek.