Amazing moments, from meeting Star Wars legends to seeing "Chewie, we're home" for the first time with thousands of other fans.
In Fully Operational Fandom, StarWars.com goes right to the heart of the Star Wars saga — the fans — for insight into their thoughts and experiences surrounding a galaxy far, far away.
If you keep a scrapbook and are going to Star Wars Celebration for the first time, plan to leave blank pages aplenty for the event. No matter what you choose to focus on during the convention -- getting autographs, going for photo ops, attending panels, exploring with friends -- you're going to make memories. I don't say that with the intent of sounding like a saccharine greeting card; I'm merely sharing the facts. Put in the effort and you'll reap experiences beyond your imagining.
As we head into Celebration Orlando, we decided to look into the past with fans. Their memories run the gamut, including standing in line, meeting Star Wars celebrities, and bonding with pals through the Force.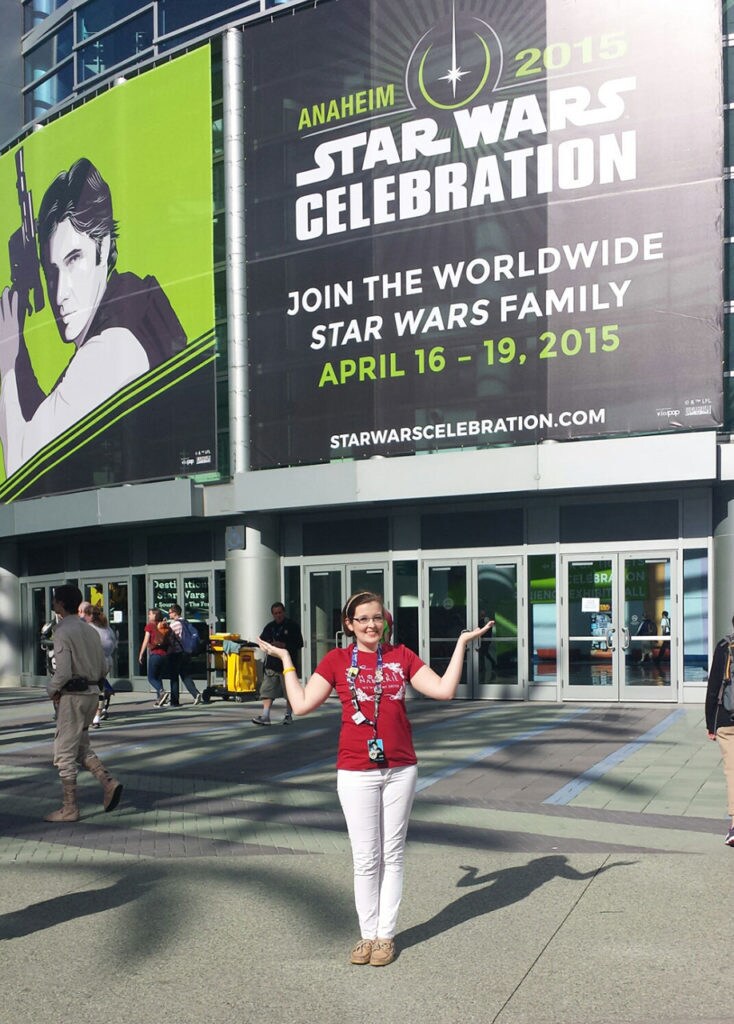 Sarah Dempster relates a memory to me from Celebration Anaheim:
"I was with friends in one of the overflow rooms for The Force Awakens panel with J.J. Abrams and Kathleen Kennedy; the same one where we first saw the second trailer for the movie. I'm a diehard Luke Skywalker fan, and I was sitting next to my friend Nanci who also loves Luke. As soon as the trailer started, and we heard, 'The Force is strong in my family,' we IMMEDIATELY started hitting each other in the arm because we were so excited. And then at the very end of the trailer, hearing the entire room explode in a deafening roar when Han appeared. It was so loud that no one even knew what he even said! We had to watch the trailer again just to hear 'Chewie, we're home.' Being surrounding by all that fan enthusiasm was unbelievably infectious and watching that trailer with hundreds of other fans is a memory I will always cherish."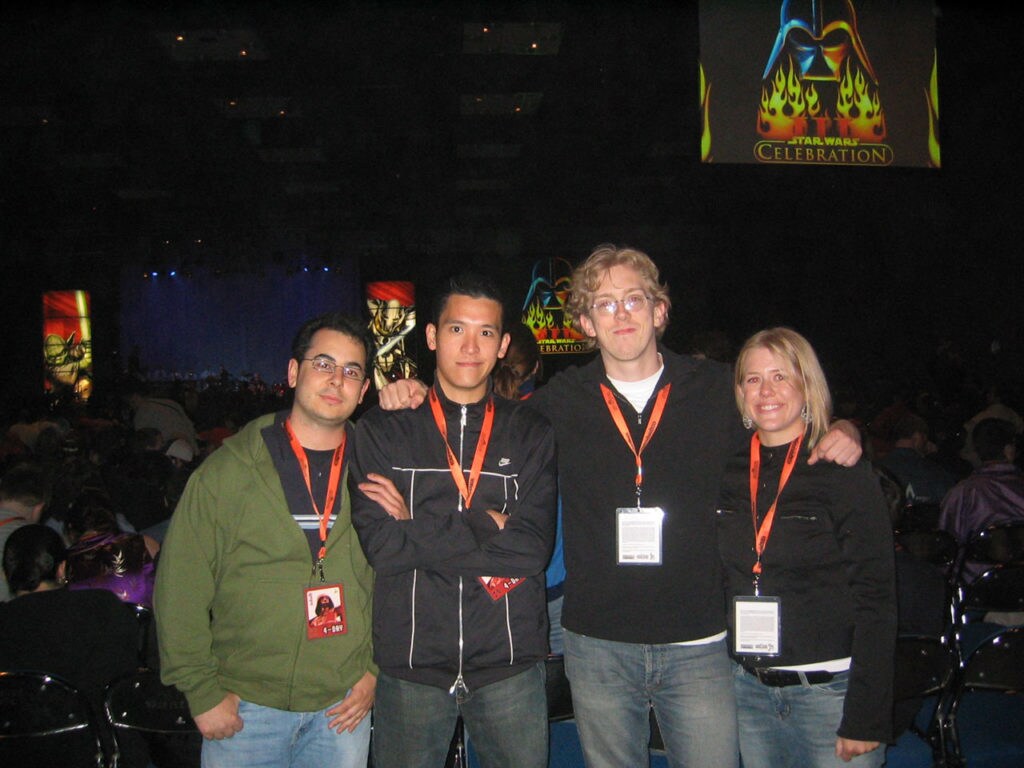 Germain Lussier pulls from Celebration in Indianapolis in 2005. His 25th birthday happened to coincide on an auspicious day of the fan gathering:
"It's pouring rain but I wanted to see George Lucas the next day and wasn't going to give up the chance. We hadn't packed for the rain, so we walked all over the area trying to find a tent or something to stand under for the evening. No luck. So we bought a tarp in Walgreens, a tarp which we sat under for eight hours on the sidewalk overnight as it poured rain. It leaked, got soaked through, and we ended up throwing it out.
In the morning, the doors open and we go inside. We're dead tired, soaking wet, but no matter. We were about to see the Maker!
All was well until, just as the lights were about to go down, two people sat down next to us. Right. Next. To. Us. We had really good seats, obviously, because we'd waited all night in the rain. But these people looked rested and dry. 'I can't believe there was no line,' they said. 'We just walked right in.'
We were crushed but at least we had a good story."
Hey, nothing solidifies friendships like getting soaked by rain in Star Wars line. It is known.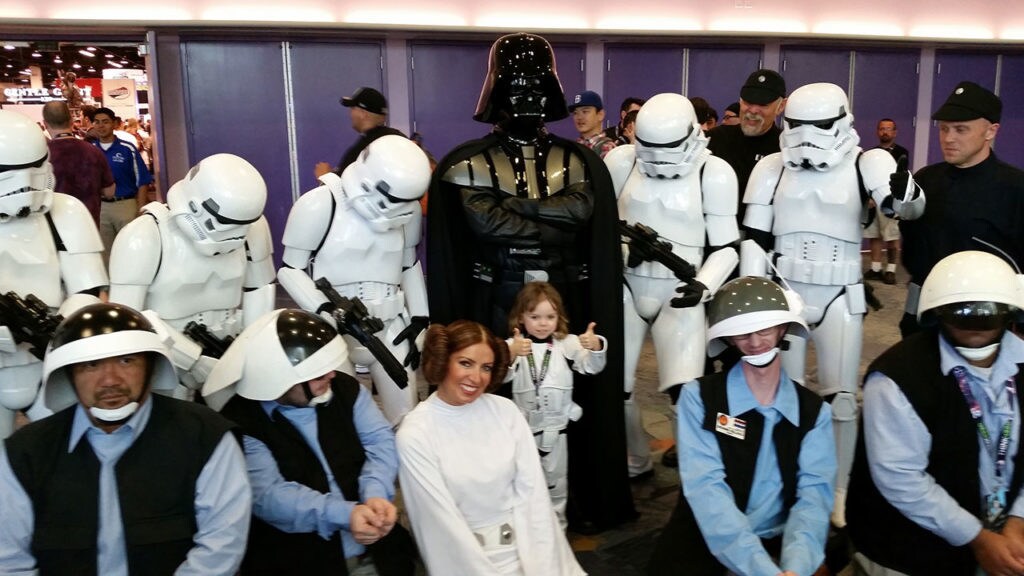 Tim Hunt's memory takes us back to Celebration Anaheim in 2015 and stars his son Oscar:
"My wife and I took our son down to Celebration Anaheim; we weren't sure how he'd react to such a large crowd in cosplay, seeing as he was not quite five, but he loved it. He had stormtrooper and Darth Vader costumes he wore most days. On the second-to-last day, a bunch of the 501st and Rebel Legion members were out front posing for pictures -- Darth Vader, four troopers, and some Imperial officers in the back row, and Princess Leia and some rebel officers in the front row. Most people would sit in front with Leia for their photos, but Oscar, in his stormtrooper costume, walked right past her, straight to Vader, looked up at him for a second, and then turned around and gave a big smile and thumbs up. I've never heard a troop of stormtroopers all go 'Aww!' at the same time."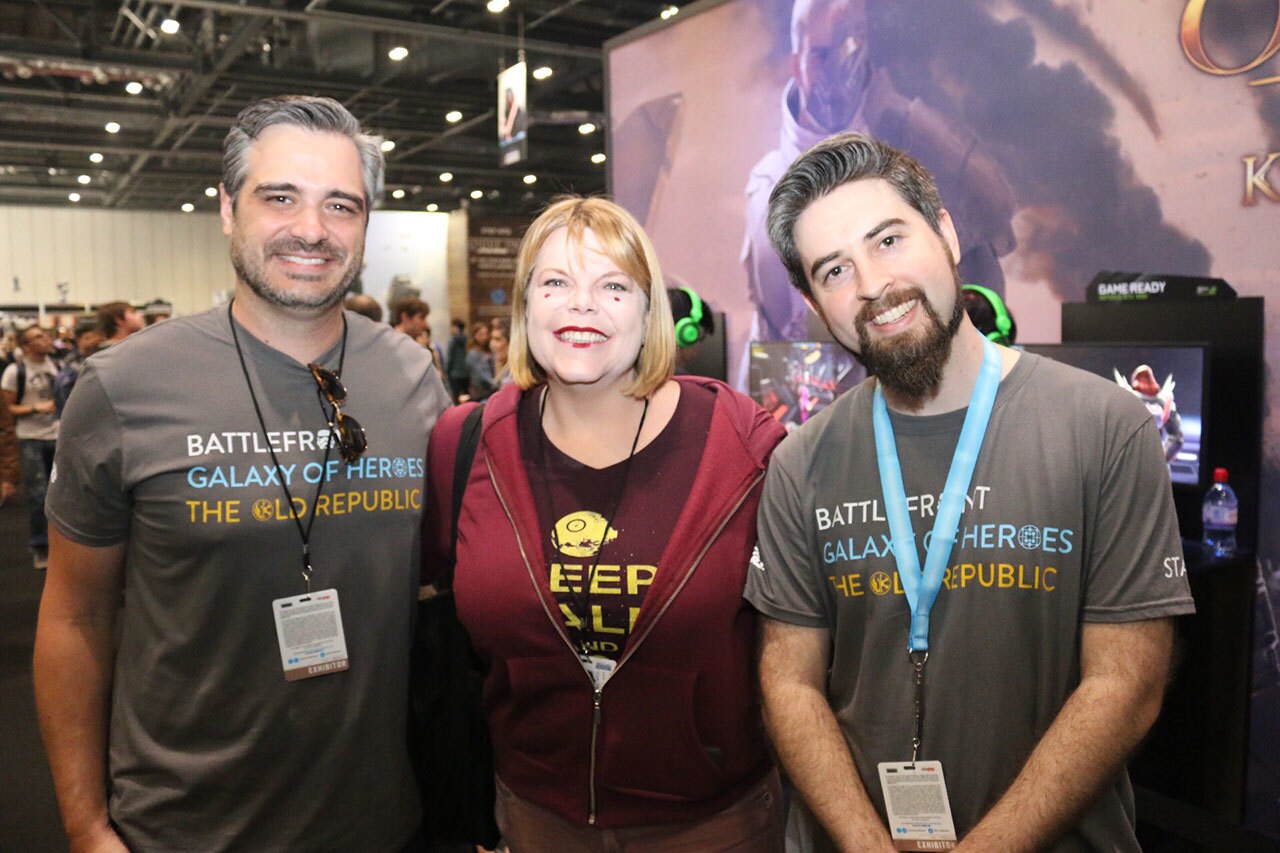 At Celebration Europe in 2016, Jessie had an epic Rogue One panel experience involving lipstick. No, really:
"At Star Wars Celebration Europe in 2016 I was a bit overwhelmed by all of the panels on offer. Basically, like everyone, I wanted to see pretty much every presenter there! For this reason, and because I figured I would never get a ticket anyway, I did not queue up for the Rogue One panel at 5:00 a.m. with my friends. Instead, I spent a little extra time in the morning doing my makeup like Queen Amidala.
That evening, when the panel was getting ready to start and they let everyone in, I was upstairs near the theatre with the live stream on my phone. I could hear the crowd inside and I thought that would add to my experience of watching the stream. They had shut the doors, and they were getting the crowd warmed up when a gentleman who worked for the venue approached me and said, 'Nice lipstick, love. Would you like to see the panel?'
Of course, I said yes and he ushered me and a few others into the massive theater where I had the most incredible experience at a con ever! I wasn't really hyped for the movie until that day but that experience converted me! The prequels saved the day (via my lipstick)!"
So, pro tip: always apply your lipstick a la Queen Amidala. Who knows where it will get you?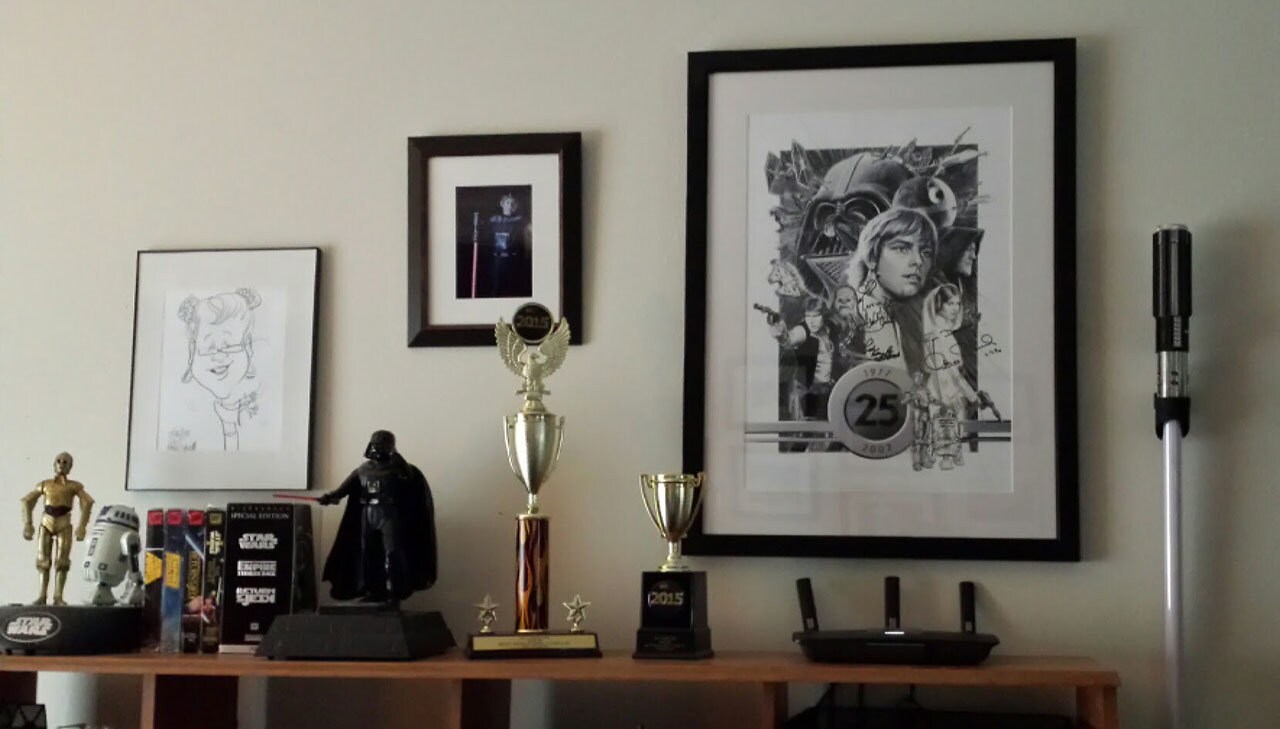 Red 5 Mom's first Celebration was in Anaheim and she tells me about her experience gathering autographs:
"I picked the Sunday of the convention to get autographs. I first got Peter Mayhew's autograph. He was so gracious and kind and wonderful to all the fans. I received Anthony Daniels' autograph, and then next was Carrie Fisher.
I was a little nervous for this encounter. What would she say or do when it was my turn? Event staff told fans, 'No personalization.' I was so star struck that when Carrie asked me who she should make it out to my answer was, 'They told me you couldn't do that.' She leaned towards me as if to tell a secret and said, 'It's okay, I won't tell if you don't tell.' I thanked her for being so generous, and before I left she glitter baptized my head. I was giddy and laughing as I walked away.
The next line was for my heartthrob since age 16, Mark Hamill. I was desperately trying not to fan girl. I was so nervous my insides were butterflies melting into knots. I suddenly felt self conscious in my Jocasta Nu cosplay. His assistants asked me for my name and put it on a sticky note attached to my print so he could personalize my autograph. Clearly the actors were not following the rules. He was kind, funny, and eager to please. I thanked him for being so generous with his time. When I turned away from his table I had to keep from crying. I tear up now just thinking about it.
My last autograph was Kenny Baker's. Such a sweet man -- he was not feeling well that day but could not disappoint the fans. I am sad to know that he and Carrie are no longer with us. That print, with those signatures and words from these special people, is my most prized possession."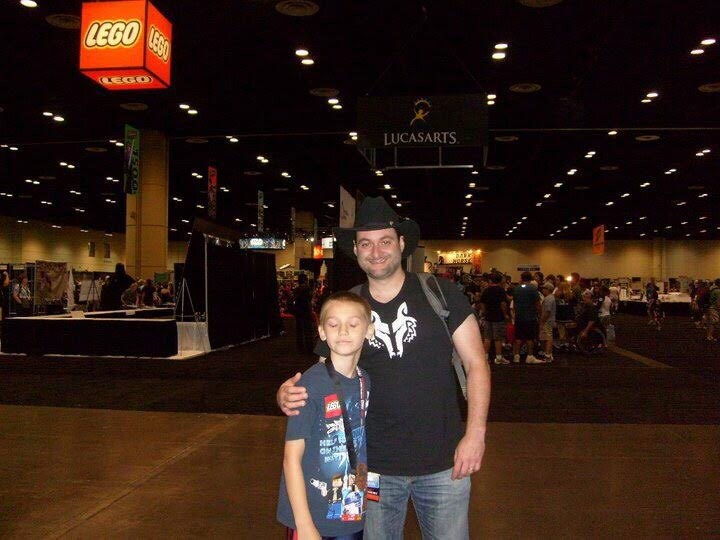 Becca Benjamin and her son ran into a familiar face at Celebration V in Orlando:
"It was the first day of Star Wars Celebration V and it was nearing closing time. My son and I were making our way through the main hall and there was barely anyone left besides the two of us. Well, there was a small group of people ahead of us, but they were moving a lot quicker than us. I remember telling my son that the man in the black cowboy hat looked a lot like Dave Filoni. Funny how those main halls carry an echo when nearly empty -- the Force works in mysterious ways. And as luck would have it, the man in the hat was indeed Dave Filoni! Oh, he certainly had himself a chuckle, but he took it all in stride and took the time to chat with my son -- with a photo to boot!
P.S. Dave, Jacob still loves the clones the best."
Now it's your turn. Share your most beloved Star Wars Celebration memories in the comments.
Star Wars Celebration Orlando will take place April 13-16 at the Orange County Convention Center. Visit StarWarsCelebration.com for tickets and more info!
Amy Ratcliffe is a writer obsessed with Star Wars, Disney, and coffee. Follow her on Twitter at @amy_geek.