Check out one fan's bedroom that has some very special modifications.
In Fully Operational Fandom, StarWars.com goes right to the heart of the Star Wars saga — the fans — for insight into their thoughts and experiences surrounding a galaxy far, far away.
Not all of us can jump into hyperspace from the comfort of our bedrooms, but Desmond Weinberger can. The five-year-old can travel between worlds whenever he wants, because he has the Millennium Falcon cockpit on his wall. His parents Erika Olson and Dustin Weinberger added the hunk of junk and other Star Wars touches to Desmond's room because he's been getting into Star Wars more and more since they introduced him to the galaxy in 2015 with LEGO Star Wars: Droid Tales.
Since then, he's played with his uncle's '80s-era Star Wars action figures, visited Star Wars Launch Bay at Disneyland, watched Forces of Destiny, and viewed A New Hope. His favorite part so far? "When Luke blows up the Death Star because there's lots of fire." However, he also likes Emperor Palpatine "because he has electricity coming out of his fingers."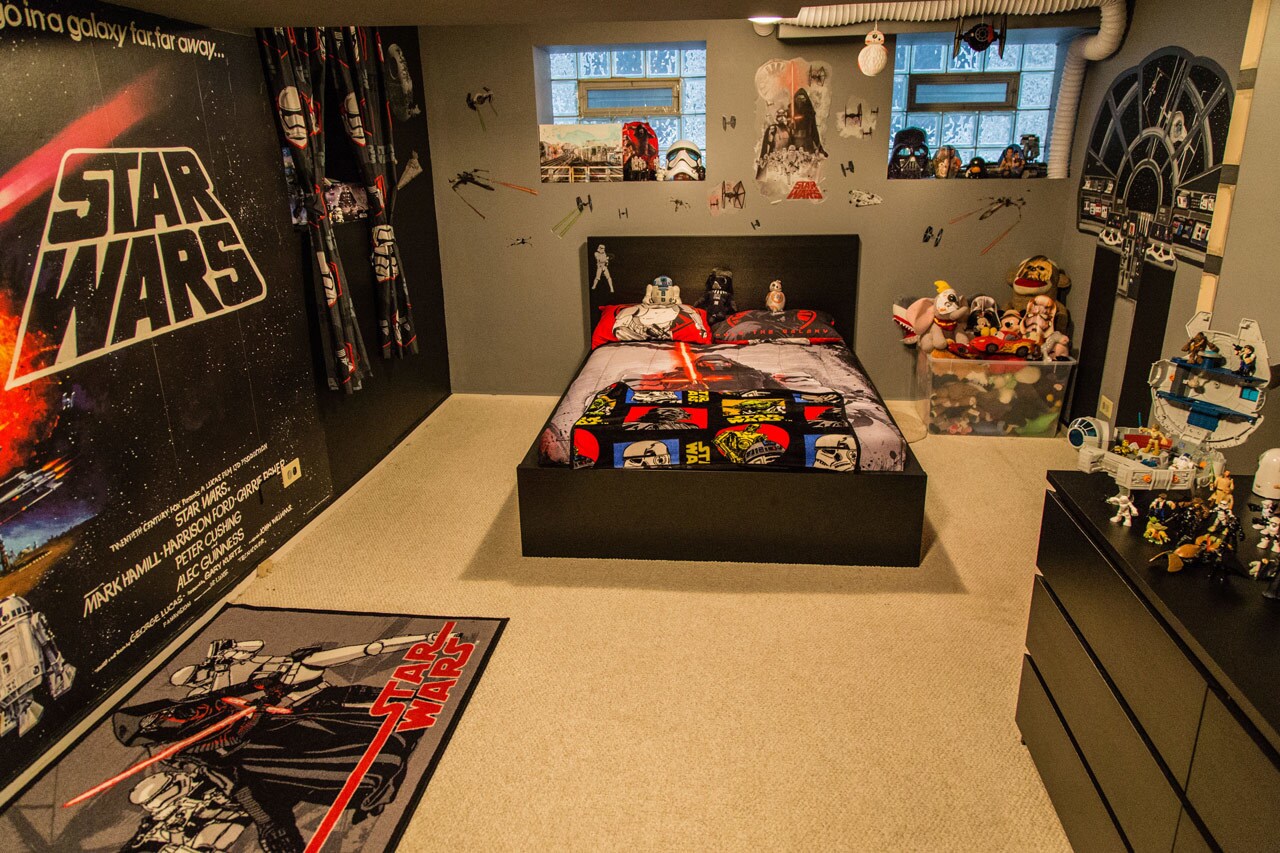 Given all that, Desmond's interest in the fictional universe has been growing. When it came time to give Desmond's room a makeover, Dustin said he was inspired by his childhood room. "I grew up in Montana and used to dream of living in a big city, so when I was little I had a floor-to-ceiling mural of the Manhattan skyline in my bedroom," he says. "That's where the Millennium Falcon cockpit idea originated from -- we knew that to a kid it would be cool if you felt like you were being transported somewhere magical in your bedroom. We wanted whatever we did to feel immersive."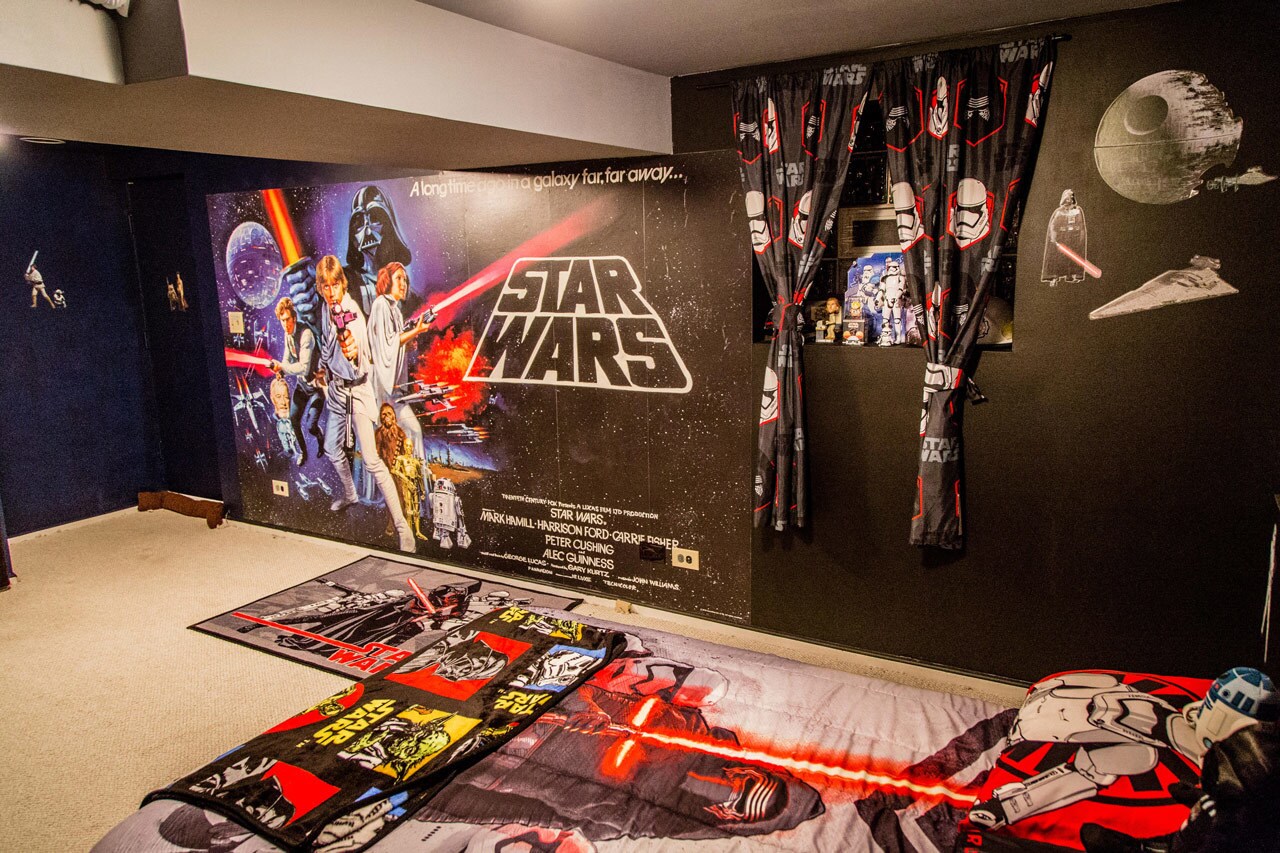 To set the tone for the room, Erika and Dustin first installed an Episode IV poster wallpaper mural they purchased from Target. When they were ready to put Han Solo's famous ship on the wall, they began the project with ideal inspiration. Erika explains, "Dustin used an image of the cockpit he found in the Star Wars Millennium Falcon: Owner's Workshop Manual for the outline of the mural, and then came up with the look of the the cockpit controls and the X-wing and TIE fighter battle on his own. He also referenced the movies and some online images to get an overall sense for the inside of the ship."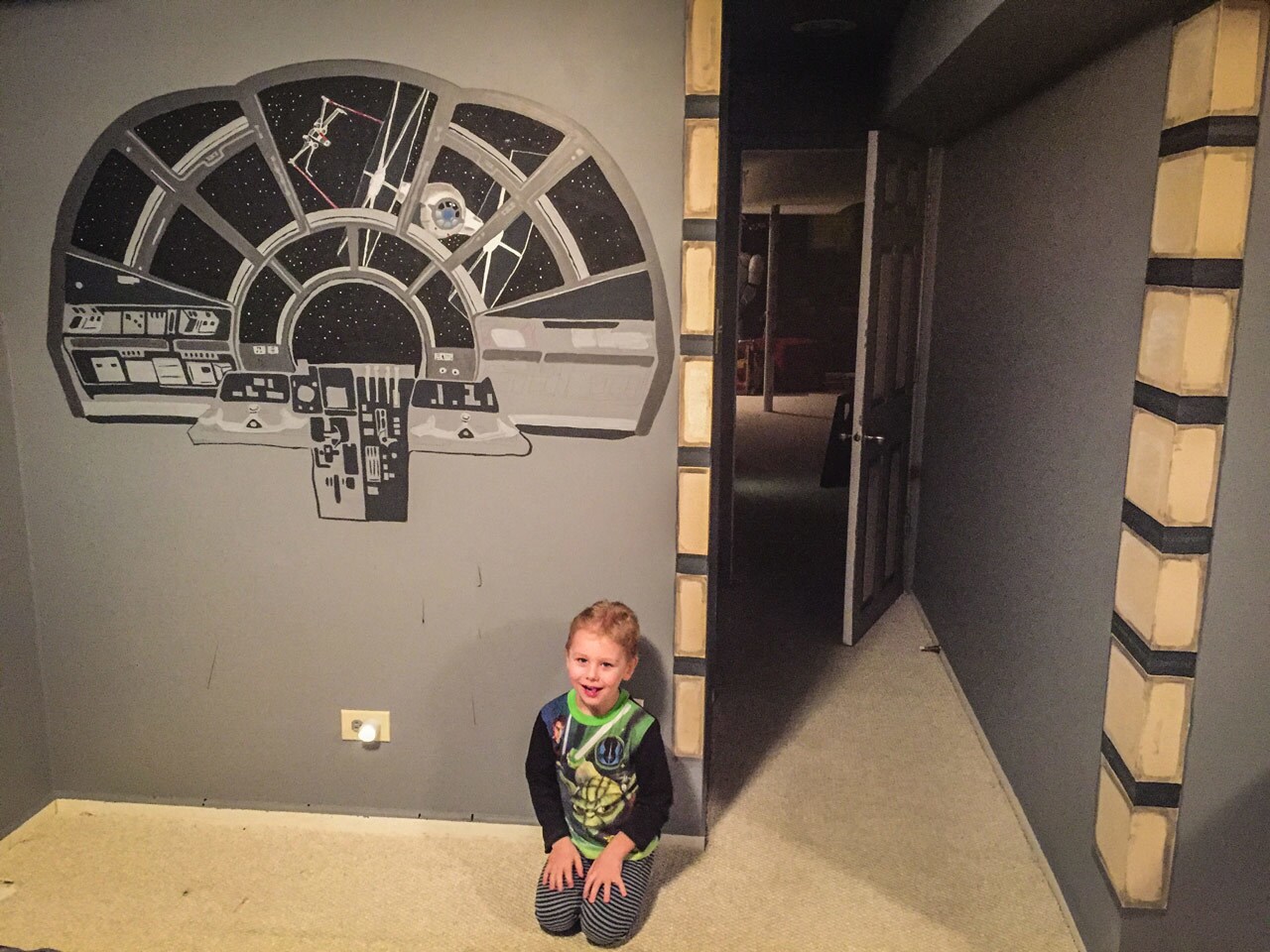 Dustin spent 20 hours spread over multiple days painting the Millennium Falcon cockpit (partially to make sure the paint smell would dissipate before Desmond's bedtime) and building it up through layers. First, they needed a gray wall. "For the cockpit design, I first painted the wall gray. Then I used a small portable projector that hooked up to my phone to project the outline of the Millennium Falcon's windows and controls." Dustin details. "I used a soft pencil to sketch the outline. Once I had the outline, I was able to draw in the controls and also a scene of an X-wing fighter chasing a TIE fighter."
With the sketch ready, Dustin started filling in the details using acrylic paint in silver, black, red, blue, and white, as well as paint pens. He admitted it had been a long time since he painted anything, but he focused and completed every last control and panel.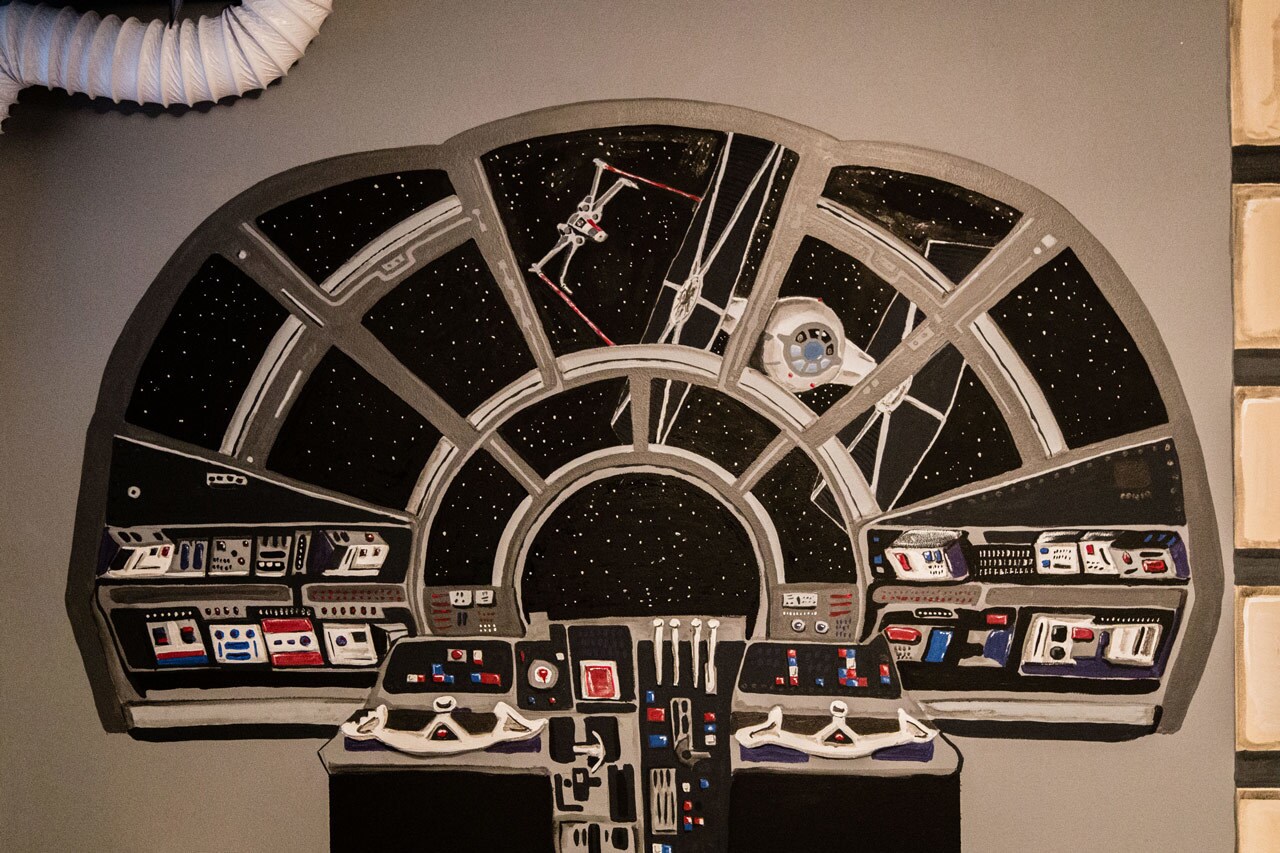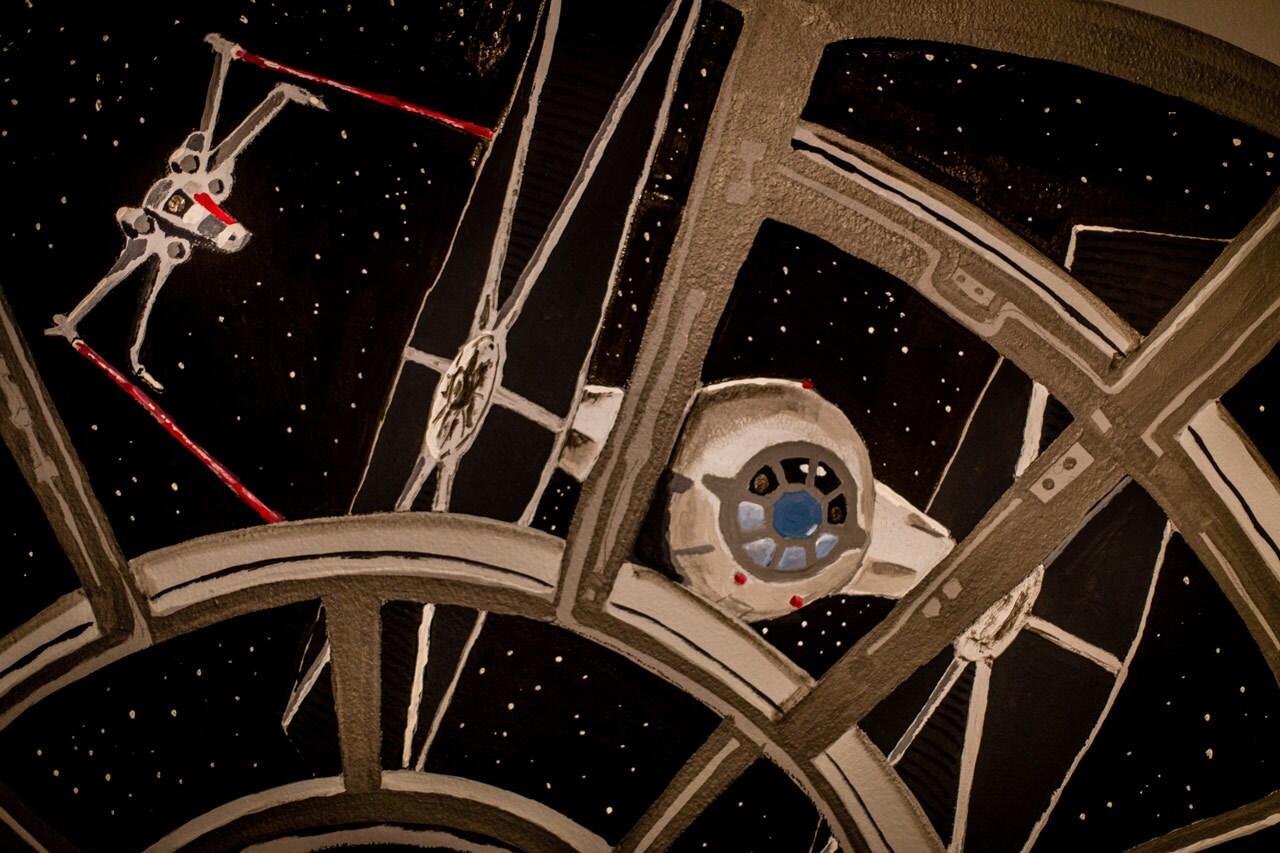 Dustin even went the extra mile to add embellishments to really sell the look and feel of the famous spaceship's cockpit, and it involved dryer hoses. He says, "To put the finishing touches on the room, I noticed that there was a lot of piping in the walls of the Millennium Falcon; it reminded me of the dryer hoses that connect to a standard clothes dryer. So, I went to our local hardware store to find an off-white dryer hose. I guess that the new material for dryer hoses is metallic, because that is all that I could find. But after a quick search online I found the tubing I was looking for. I used screw hooks to attach the hose to the ceiling and walls for support."
Han would really appreciate that sort of improvisation.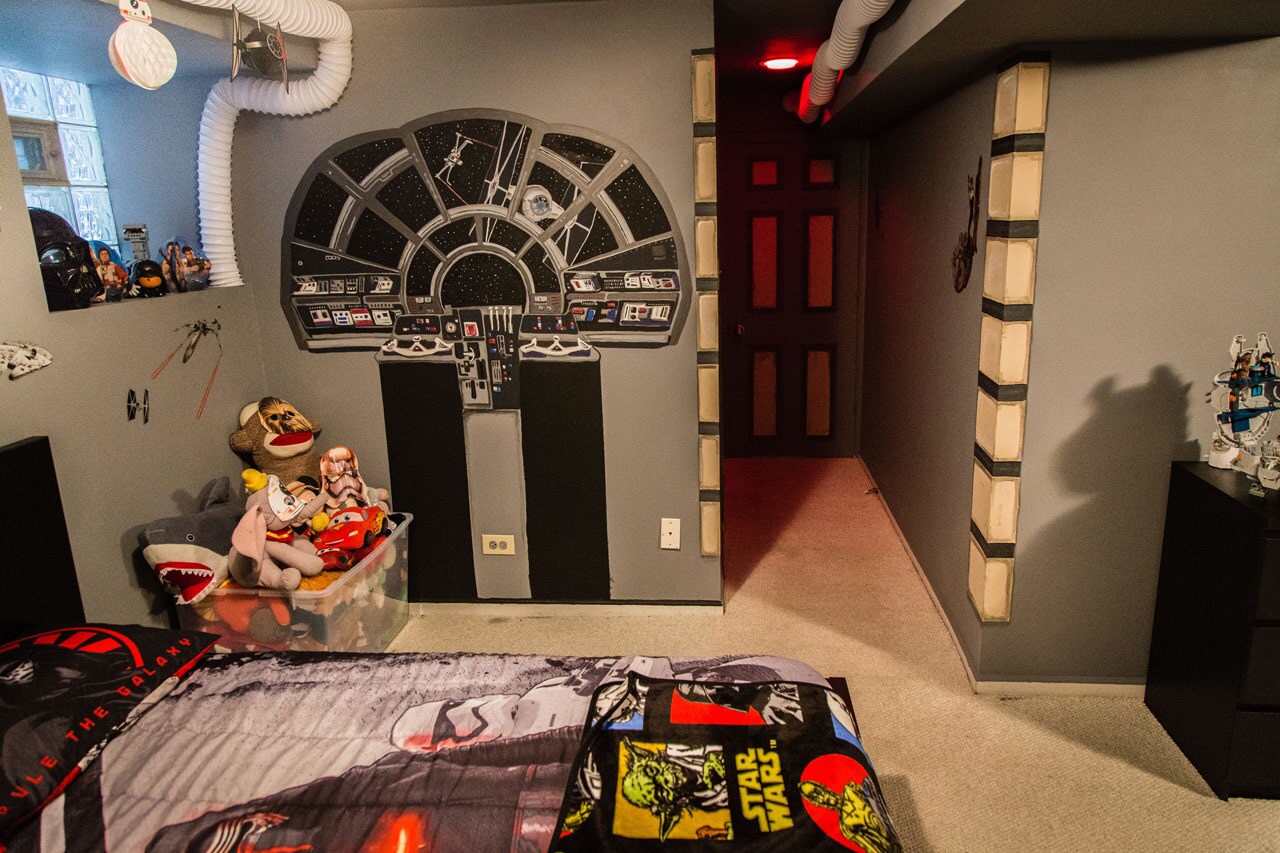 Erika and Dustin learned a few helpful tips  from their Millennium Falcon transformation that might be useful to you if you're planning to add some galactic paint to your child's room (or your room, no judgment). They suggest painting early in the day and leaving windows open and fans on to help with fumes. Also, prepare for spills and put down drop cloth. They didn't do that and Desmond's room has random splotches of gray paint on the carpet (but, like Erika says, that's probably what the real Millennium Falcon looks like). And finally, to add that extra spaceship oomph, swap out a normal light bulb in the room for a blue or red one.
We love Desmond's decorations and hope he regularly takes the Millennium Falcon on all kinds of adventures.
Amy Ratcliffe is a writer obsessed with Star Wars, Disney, and coffee. Follow her on Twitter at @amy_geek.