Disney's Hollywood Studios' special Star Wars event had it all: fireworks, Star Wars stars, and much more.
April 14, 2017. It will be a day long-remembered for Star Wars and Disney theme park fans -- for this was the day that Disney's Hollywood Studios at Walt Disney World Resort debuted an all new event, Star Wars: Galactic Nights.
As guests walked down Hollywood Boulevard (the main entrance to the theme park), they were treated to an actual red carpet, complete with Hollywood Studios cast members handing out lanyards just for the event. The Stars in Cars motorcade kicked off the evening, featuring Anthony Daniels, Peter Mayhew, Warwick Davis, Ray Park, Daniel Logan, Alan Tudyk, Vanessa Marshall, and more. The stars joined the hosts of The Star Wars Show, Andi Gutierrez and Anthony Carboni, on the Galactic Stage, as each actor helped build the excitement for the evening. From that point on, attendants had their run of the theme park, and its many attractions.
Plus, there were incredible Star Wars opportunities at every turn. Literally. Every turn.
The back of the Galactic Nights lanyard contained spots for eight different stickers. In order to find stickers to add to each spot, fans had to search the park for photo opportunities that also contained the items to place on the lanyard. This included getting a pic with K-2SO, sitting on the Emperor's throne, standing in the Death Star trash compactor, and riding on an Imperial speeder bike as you race through Endor, among others. Once completed, the image featured the Galactic Nights logo found on much of the exclusive merchandise, and also contained a secret message, which was revealed during Galactic Nights fireworks.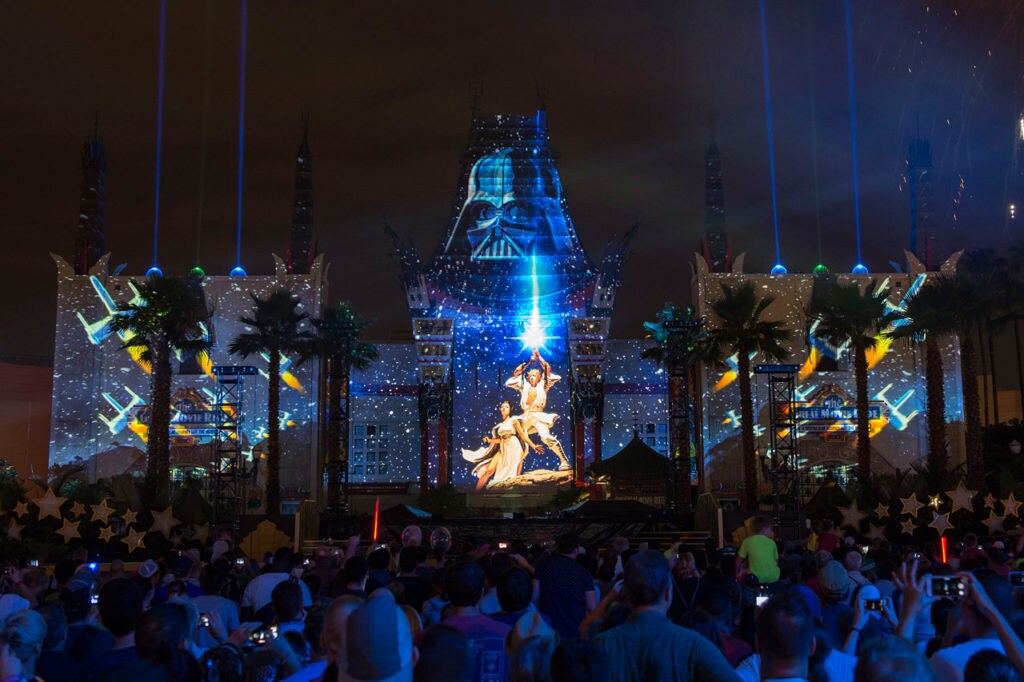 In addition to Star Wars music cascading throughout Hollywood Studios, many of the park's traditional experiences featured exciting additions. Rock 'n' Roller Coaster featured John Williams' "The Battle of Yavin" music, as riders went from zero to 57 miles per hour in 2.8 seconds! At Jedi Training: Trials of the Temple, the Seventh Sister made her regular appearance, but this time without her mask. Rey made her Disney Parks debut (as a live character), and in addition to Captain Phasma's March of the First Order, Darth Vader and a bevy of stormtroopers made their own Imperial trek through the theme park.
Vanessa Marshall (Hera from Star Wars Rebels) hosted a 30-minute talk on Rogue One at the site of the Indiana Jones Epic Stunt Spectacular, featuring interviews with John Knoll and Alan Tudyk, who provided a number of laughs. Andi and Anthony were also there warming up the crowd, and having audience members provide their best Star Wars character impressions.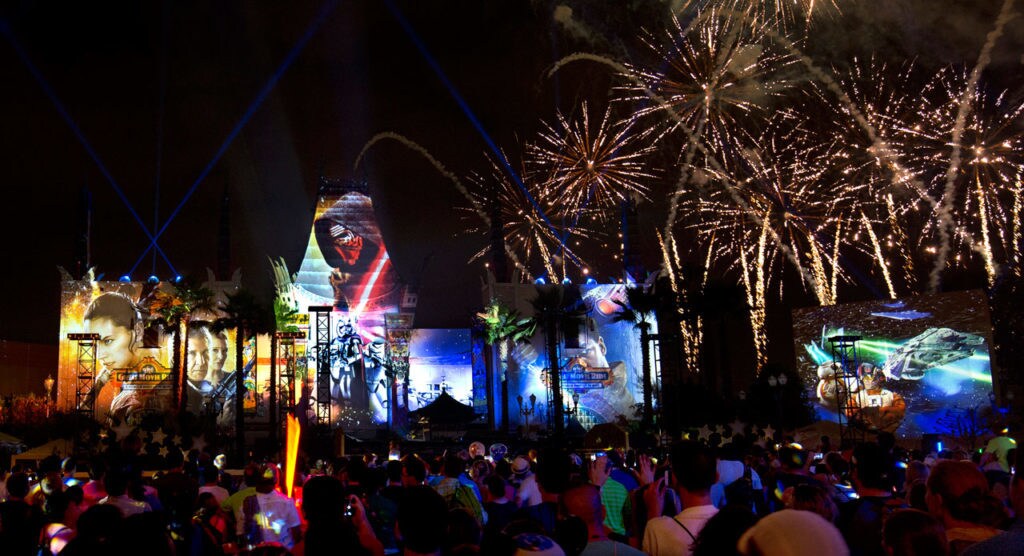 The night was capped off with the show stopping Star Wars: A Galactic Spectacular, a fireworks show complete with lasers, projector screens, and the saga's most iconic music, and as fans left the theme park, they were handed a Galactic Nights poster to commemorate the event. When you also include an all-new meet and greet with BB-8, red and/or green lightsaber churros, and the chance to explore Hollywood Studios with some of your closest Star Wars friends, you have another way to experience the magic of Star Wars you won't soon forget.
But don't just take our word for it. StarWars.com caught up with a few attendees to get their perspective on the evening.
Amanda Jean (seen in the photo atop this article) loved one aspect of Galactic Nights above all others:
"I never thought churros could get any better, then Galactic Nights adds sprinkles and makes them into lightsabers. BEST NIGHT EVER!"
Dennis Keithly was impressed with the overall attention to detail and organization:
"Being able to experience this event with friends from around the country was a plus...Many of the events, such as the Galactic Chat and the parade of stormtroopers occurred more than once, and therefore, I could take in those events without sacrificing something else I wanted to do in its place...I expected music and merchandise, but Disney took it to another level.
Jeff McGee enjoyed the atmosphere that Galactic Nights provided:
"The fireworks show, coordinated with scenes from the films, was remarkable and beautiful. The red carpet arrival of Star Wars celebrities was a fun experience that made it feel like a real event. The small crowd size was a change, making it possible to see a larger portion of the park than you ordinarily might, and the Star Wars-centric decor and characters made it feel almost like a preview of Star Wars Land."
For Tony Truitt, it brings up memories of what the saga means to so many:
"I saw it [Star Wars] for my bachelor party in 1977 when it came out. And four of our group are here, out of the 10 of us, to go to Celebration and to come see Galactic Nights. I'm torn between wanting to laugh all the time and cry all the time. It makes you tear up. It's important to people, just like it was to me."
Falcon Propps, as a long-time theme park enthusiast, appreciated the extra details:
"I've been a pass holder for probably ten years, so I'm here quite a bit. I love that they've added Star Wars exclusives. For instance, the Aerosmith Rock 'n' Roller Coaster ride was really awesome, because as you go in, you already feel the Force, and the ride is basically blasting Star Wars music from the movie."
Milan Bendik loved all the options available:
"Yeah, it's awesome. There are all kinds of surprises. There were guests there that they didn't announce, churros that were lightsabers; everything here is awesome. [I] would recommend anyone to come here if they ever do this again. Definitely going to come back for sure!"
Dan Zehr is a high school English teacher with an MS in Teaching and Learning, and runs Coffee With Kenobi, a Star Wars podcast that analyzes the saga through critical thinking, analysis, interviews, and discussion. He is also the rebel teacher in the Target Rogue One commercial, and is an avid comic book consumer and longtime reader of the medium.