See some of the greatest fan-made costumes in the galaxy, including a 51,000-crystal bedazzled stormtrooper and many more.
Most Impressive Fans is a feature highlighting the amazing creativity of Star Wars devotees, from cosplay to props. If there's a fearless and inventive fan out there, we'll highlight them here.
Star Wars Celebration Orlando brought out the most famous faces from 40 years of the franchise, but fans were also starstruck by some of the amazing cosplayers who roamed the convention center. Here are just a few of the most impressive players:
First up, the first-place winners of the official Star Wars Celebration Championships of Cosplay!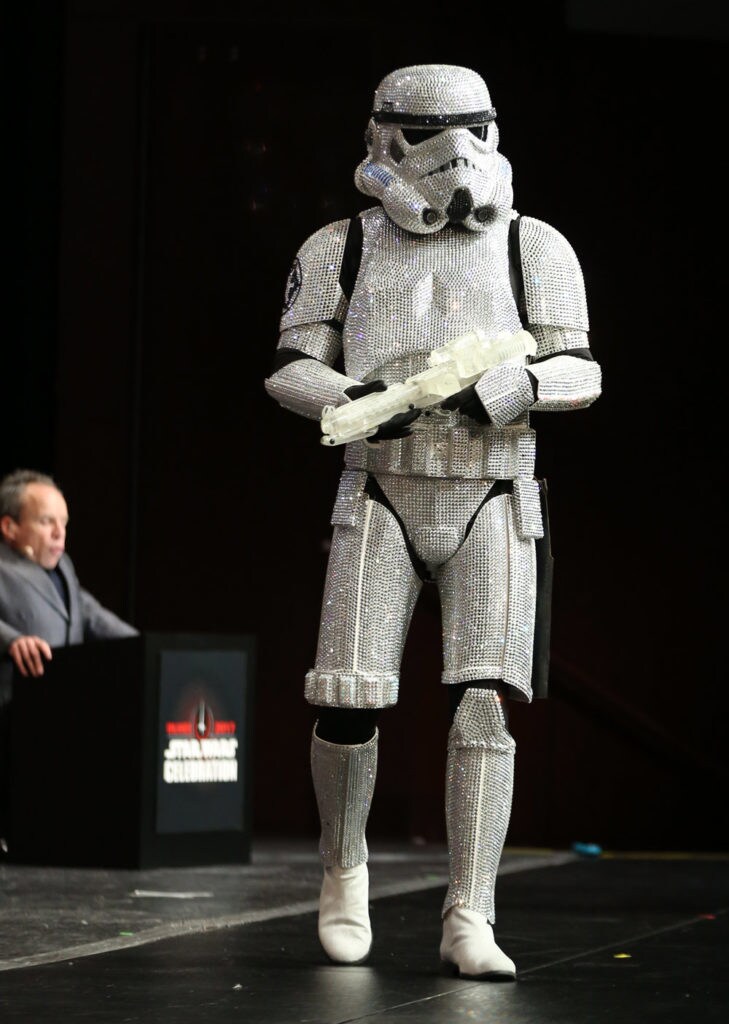 Most Elaborate and Best Overall -- Crystal Trooper
Played by Brad Hartsock, 51, Peoria, Illinois
Brad married his wife, Charlotte, wearing his stormtrooper gear, but years of trooping left it worn out and a little lackluster. So when he bought a replacement kit, Charlotte gave the gear a blinged-out overhaul. Seven a half months, 51,000 crystals, and 43 bottles of superglue later, the Crystal Trooper arrived, like an ominous, walking disco ball. The fans and the judges onstage loved the ensemble on Saturday, and his fellow troopers have been supportive of the decidedly screen-inaccurate armor since its debut. "They seemed to think it was something pretty snappy."
Best Likeness -- Rey
Played by Samantha Kelly, 21, Perryville, Maryland
As a member of the Rebel Legion, Samantha has some experience in cosplay, but when she saw stills from The Force Awakens, she knew she had to build herself a Rey costume. Almost like winning the genetic lottery, the casting choice of Daisy Ridley made it a no-brainer. "I'm lucky," said Samantha, who was hoarse and could barely speak from cheering. "I kind of look like her and then when I saw the movie I was like, 'This is perfect.' I feel so blessed."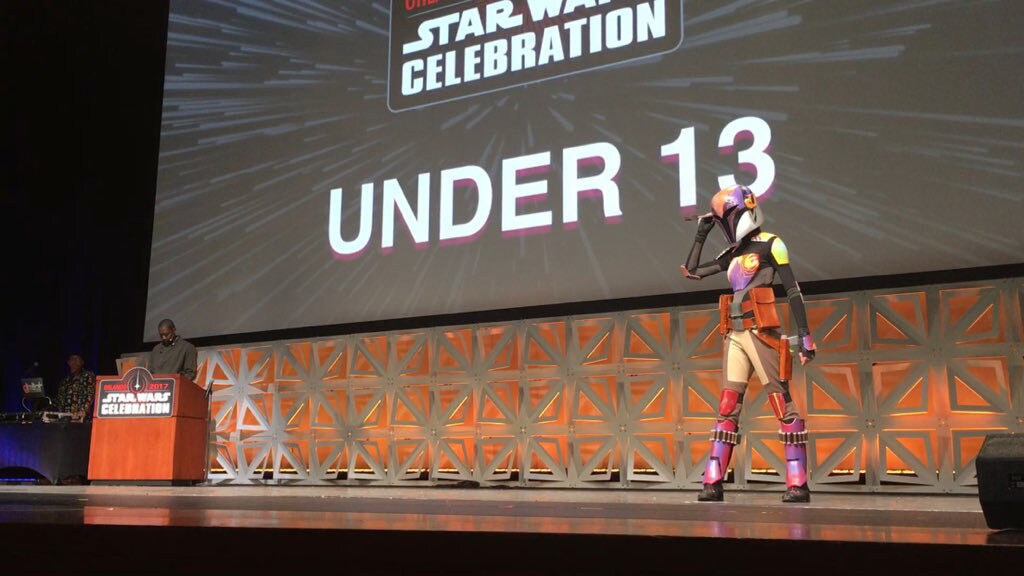 Best 13 and Under -- Sabine Wren
Played by Natalie Robinson, 13, Satellite Beach, Florida
Natalie got up at 3:30 a.m. Saturday to snag a seat at the Star Wars Rebels panel, and was still standing that afternoon. But on-stage, beneath her breastplate her heart was hammering, she said.
Natalie and her father, Joseph (pictured above), started the project late last year, working together to create her prize-winning ensemble. Since she wasn't quite able to fit into child-sized armor, Joseph used a heat gun to cut down a too-large set of adult armor plates to size, then Natalie gave her gear the artistic Sabine touch.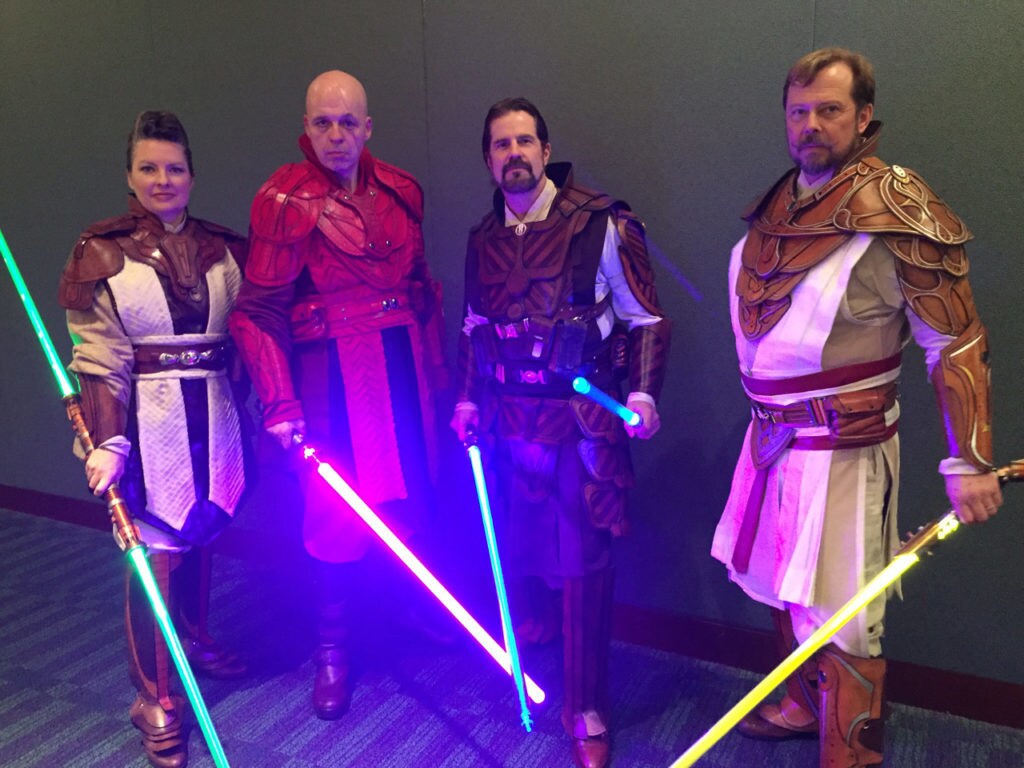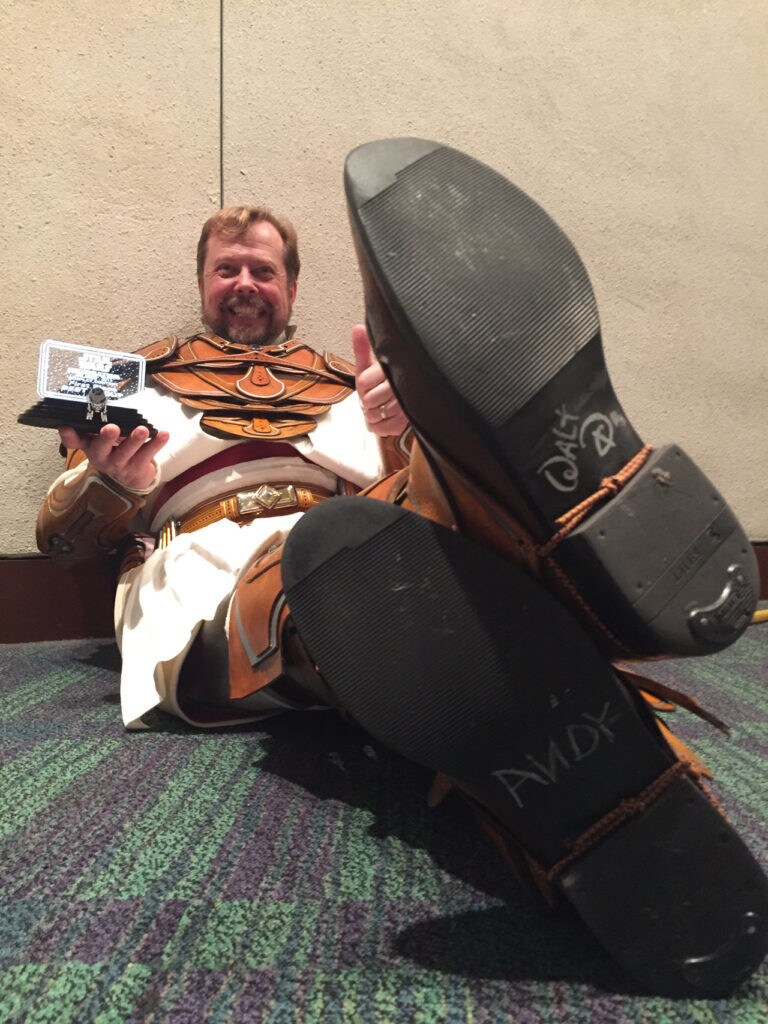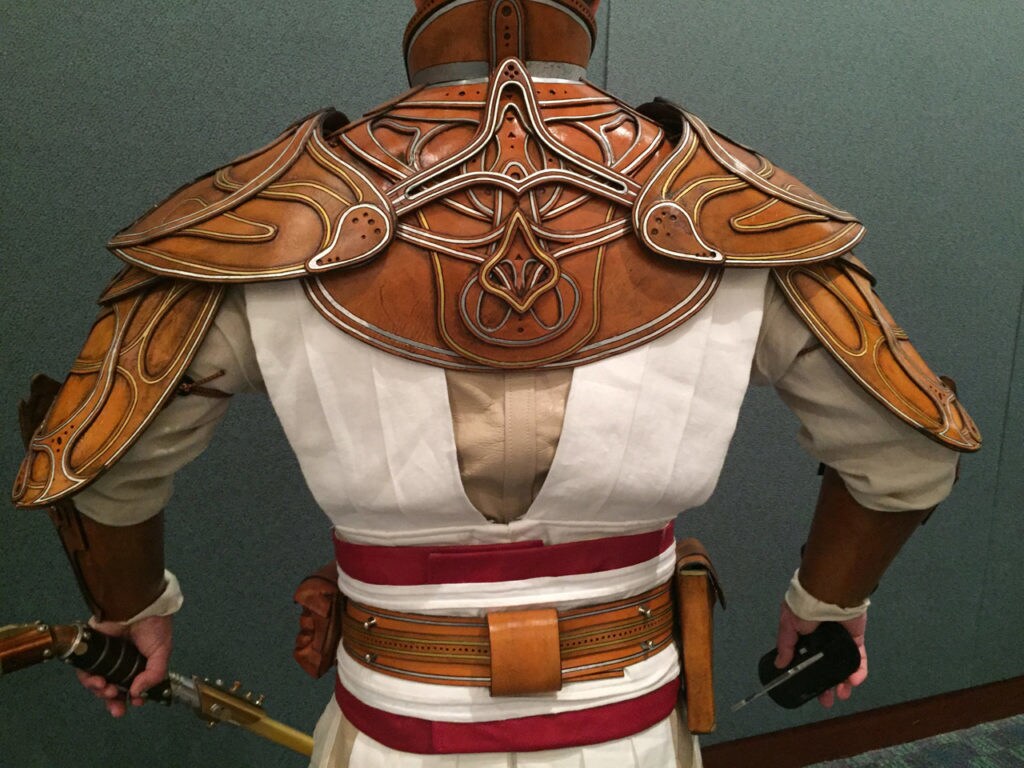 Best Group -- Knights of the Old Republic
Played by Anna Sawyer, 43, Minneapolis, Minnesota; A. Tom Rehn, 54, Peoria, Illinois; Jim Slagle, 55, Tampa, Florida; and David Seeley, 54, Colorado Springs, Colorado
Tom and Anna, self-proclaimed cosplay spouses, work together to craft the intricate (and surprisingly comfortable) leather-tooled and finely stitched armor that turns pixels into real-world Jedi Legends. A professional merchant and maker of galactic gear, Jim's special red leather ensemble took over Tom's shop as he spent 60-80 hours just for the leather pieces, while Anna put in additional hours on the beautiful textile work. All together, the formidable Force users won out over three other group costume entries.
Cosplay Greats from the Show Floor!
These fans had some stiff competition on stage and around Orlando, where the 501st Legion stomped through the corridors looking for rebel scum, droids roamed (and rolled) wild, and even obscure characters were brought to life.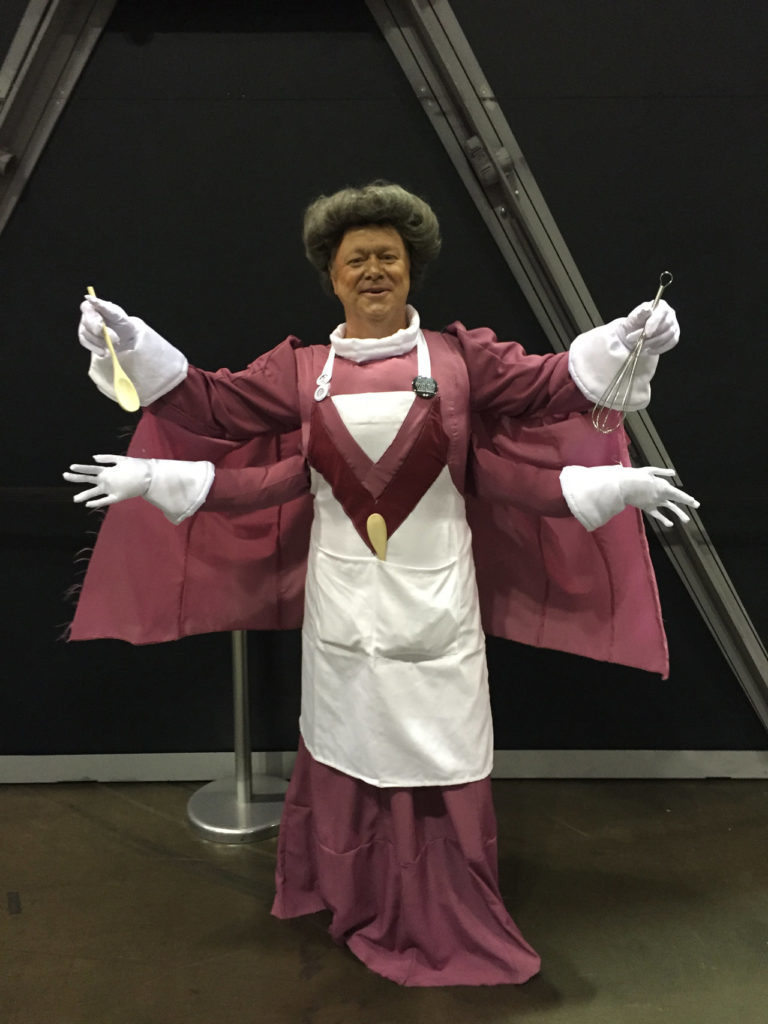 Chef Gormaanda
Played by Fraser Bowie, 46, Orlando, Florida
Celebration first-timer Fraser credits his daughter Mackenzie, 15, with inspiring the idea of dressing up. His creation, a $15 thrifty cosplay, was so popular on the exhibition floor that he made appearances in at least 100 fan photos over the weekend, he estimates, with at least one fan politely demanding that he chant "Whip, stir, whip stir," for an authentic photo op. "I am surprised by how many people know it," Fraser admitted. If you're having trouble placing his character, originally played by Harvey Korman, it's time to rewatch The Star Wars Holiday Special.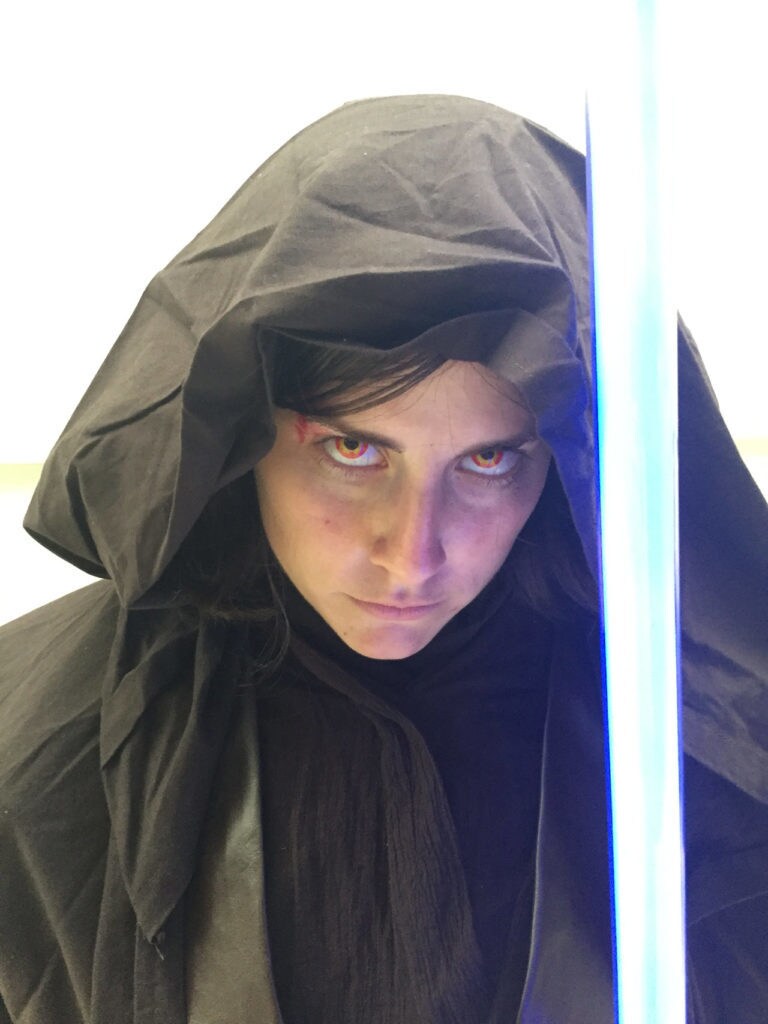 Anakin Skywalker
Played by Ashleigh Crowe, 27, Orlando
Prescription contacts really made Ashleigh's Revenge of the Sith Anakin costume pop, especially as she roamed the seating area by the Galaxy Stage on Thursday, giving other fans the patented "Anakin Death Stare." The costume was one year in the making, with her boots delivered just the night before as she waited in line to see the 40th Anniversary panel and the actor who originally embodied the role in person.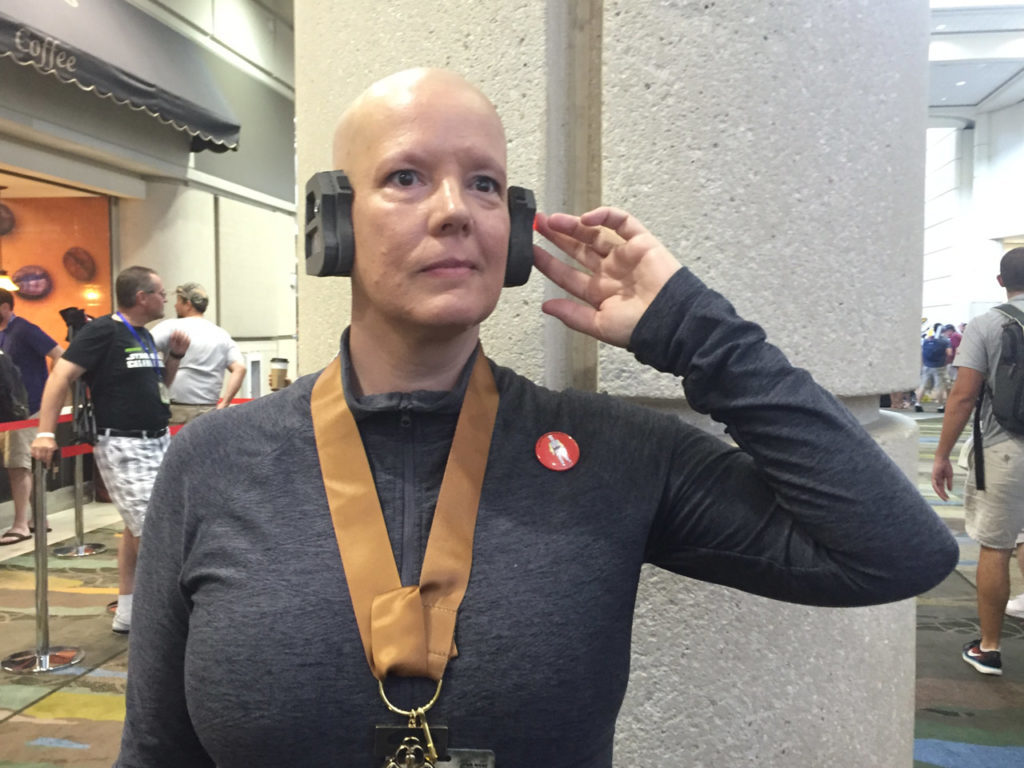 Lady Lobot
Played by Megan Fisher, 47, Cranston, Rhode Island
When Megan was diagnosed with ovarian cancer, she was already in the midst of preparing to attend Celebration, either as a fan or through her employer, Hasbro, where she helps to create the 6-inch Black Series action figures. So she decided, "I'm going to embrace the baldness." Her husband, Greg, spent about two days building her some faux cyborg headgear from anti-fatigue mats, dissected flashlights, bendable radiator covers and reflective tape, which stayed in place with the help of spirit gum. The happiest part of this story — Saturday was the one-month anniversary of doctors telling Megan that her cancer was in remission.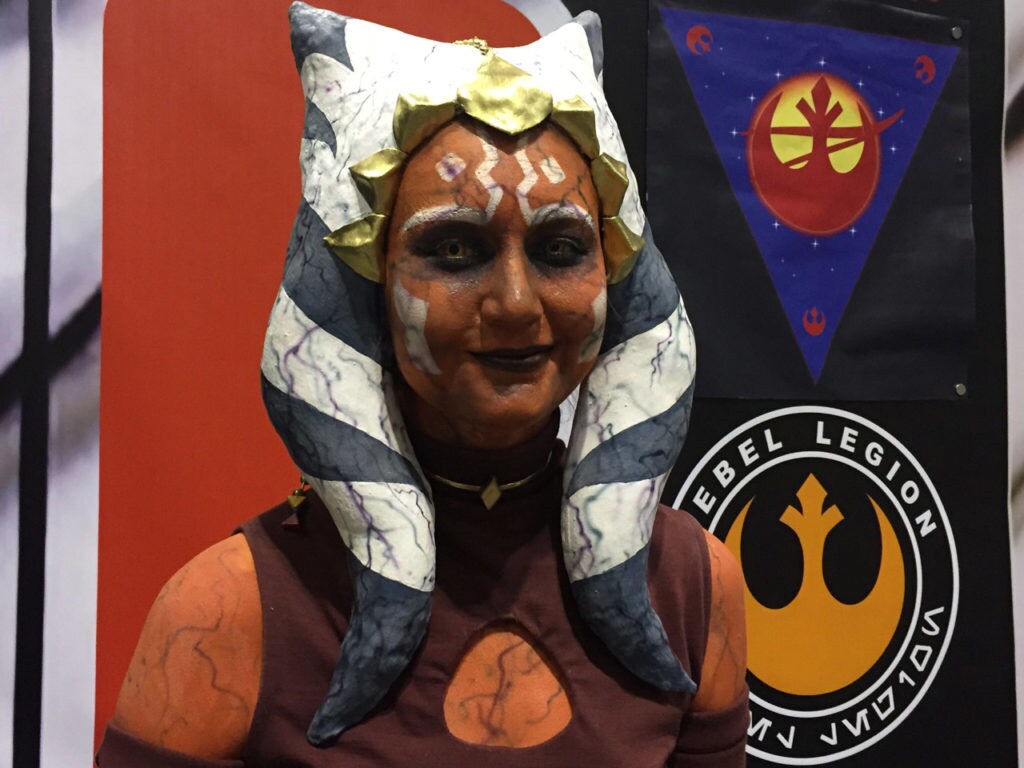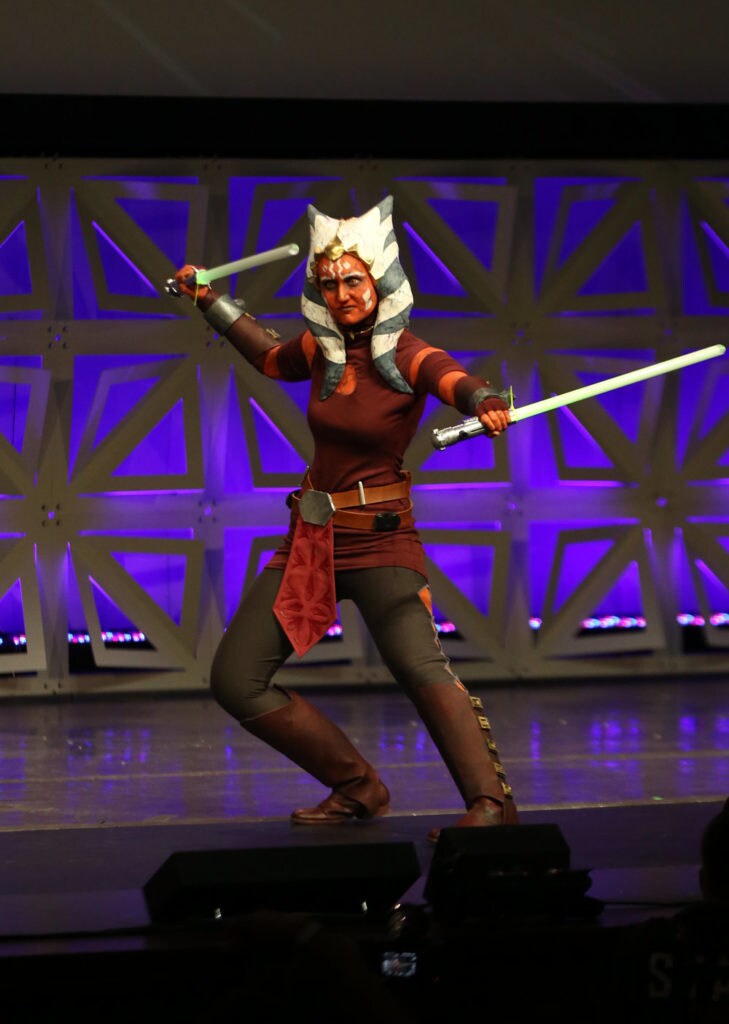 Mortis Ahsoka
Played by McKenna Fellows, 23, Raleigh, North Carolina
McKenna donned a standard Ahsoka ensemble for a photo op with Hayden Christensen, but later roamed the convention floor as a much spookier version from the Mortis arc of The Clone Wars. To cut down on the four hours of preparation, she kept the sealed, sweat- and water-proof body paint on for days. The cosplay was so popular, when she stopped to speak to StarWars.com Sunday, a line formed to wait for photos.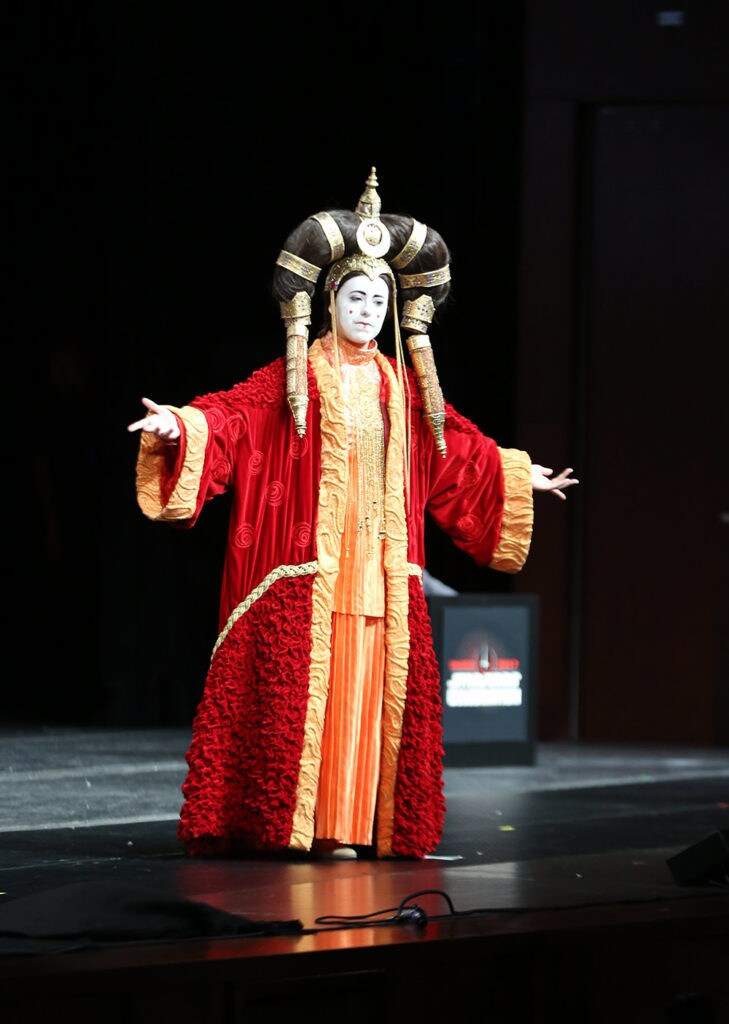 Queen Amidala
Played by Amanda Haas, 28, Louisville, Kentucky
Amanda, better known online as Jedi Manda, spent nine months on her Senate gown, a handmade labor of love. "The only thing that's bought is the shoes," she said. The intricate stitching was machine sewn, after poring over reference materials, an eBay-purchased doll of the character, and rewatching the brief scene in The Phantom Menace in which the original costume appeared. Fun fact -- for the headpiece, she sacrificed four wigs to cover a skeleton of chicken wire.
If we didn't get a chance to chat, it wasn't that we weren't impressed. There simply wasn't enough time over four short days to catch up with all the amazing cosplayers on the show floor and parading through panels!
Kristin Baver is a writer and all-around sci-fi nerd who always has just one more question in an inexhaustible list of curiosities. Sometimes she blurts out "It's a trap!" even when it's not. Follow her on Twitter @KristinBaver.