StarWars.com talks to toy designer Steve Bono about perfecting the screen-accurate details on the new action figure and swoop bike set.
On film, Enfy Nest and her swoop bike are an unwelcome sight disrupting an otherwise perfectly good scheme, zooming into frame with ferocious speed. Tobias Beckett may be displeased to see the masked marauder in Solo: A Star Wars Story, but we welcome the addition of Enfys and her bike to the ranks of Hasbro's beautifully-crafted 6-inch Black Series.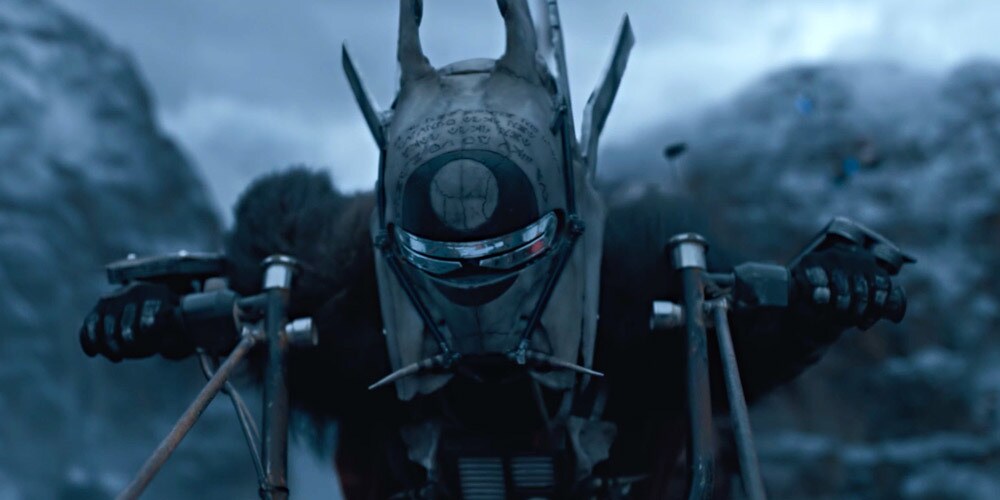 Enfys is a formidable force, and her action figure captures everything from the brutality of her tribal-inspired garb to the fine fabric accents of her cape and fur stole. But in adding to the burgeoning line of Star Wars-inspired vehicle sets, her swoop bike -- little more than an engine with a seat -- presented challenges to the design team bringing the mysterious character to toy shelves, says Steve Bono, senior design manager for Hasbro.
Swooping in
Measuring at over 20 inches long, about twice the size of Rey's speeder or Luke's landspeeder, no other vehicle in the line has had quite the same presence or required as much careful engineering to ensure it could balance and tip side to side in action, Bono says. "It's all about accuracy and detail, so we tried to stay as true to scale as possible…This one was unique for us because it's actually much longer than any of the other vehicles that we've done at this scale. The challenge there is it has to fit in the package."
Early toy prototypes -- relying on concept art and scale models for design as well as images from the life-size prop masters building the screen-used bike -- broke into more than 20 different parts. That proved to be too much work to assemble, so designers worked out a way for the toy to pack away in six individual pieces.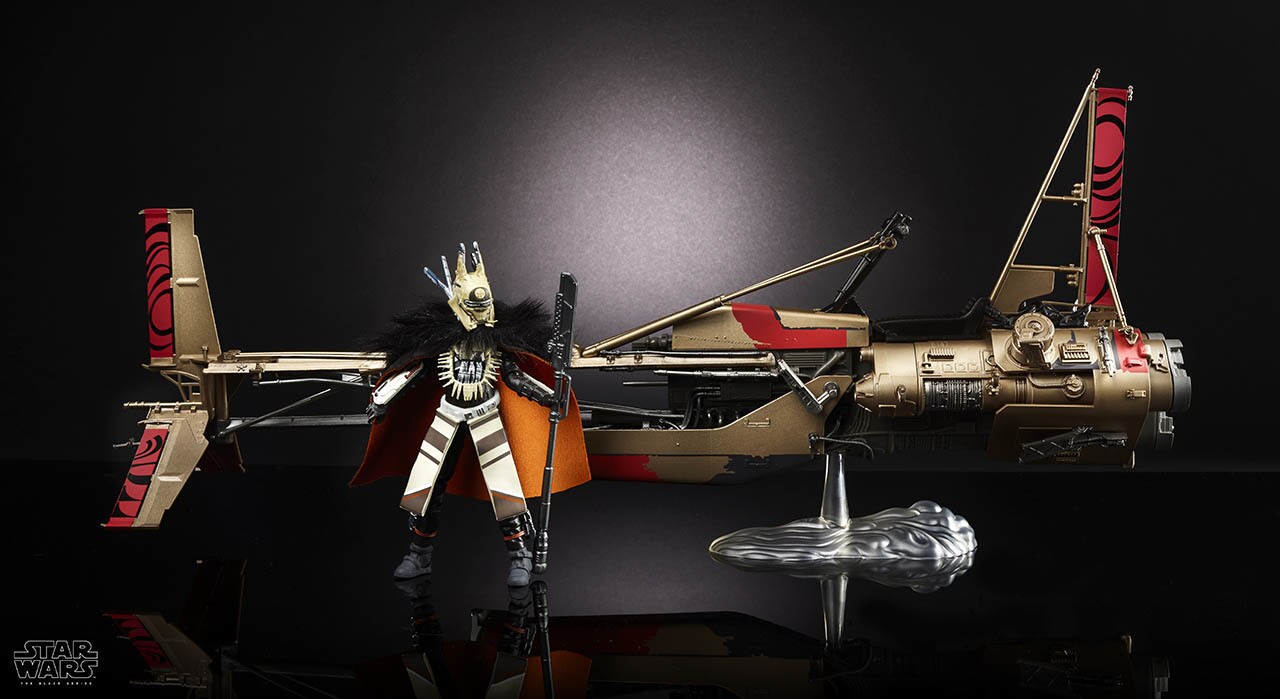 Then Chris Cacciola, associate project engineer, had to work out the center of gravity on the collectible bike to figure out where to incorporate a small support base that also allowed it to be moved into dynamic poses inspired by the film version's swooping action.
Enfys in action
Since the action figure production schedule is typically six months to a full year ahead of a film's debut, the team designing Enfys still knew very little about the character when they began sculpting. That included the big reveal of the face beneath the mask, so this figure, while highly articulated and immaculately detailed, doesn't include a removable helmet, Bono says.
To perfect the other details of her ensemble, Hasbro sent a designer to the set to sketch out her finished costume, which differed from the concept art they had started on. "We plan for that evolution of design," Bono says. Sometimes toy designers use actual fabric swatches from costumes for comparison or arrive on set armed with Pantone color books to perfectly match every shade.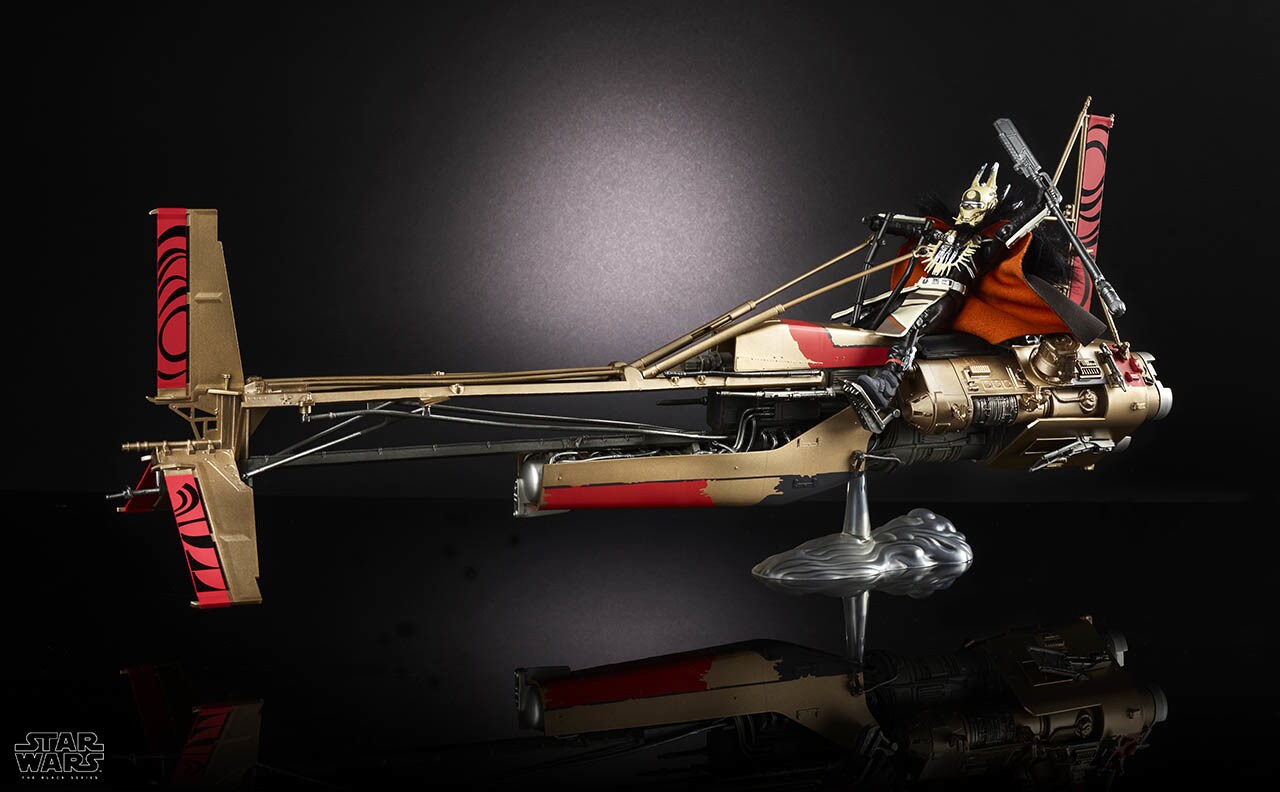 The cape posed a problem. Some figures in the line come complete with molded plastic cloaks and capes, like a version of Lando from The Empire Strikes Back that more precisely captures the detailed lining. But a figure like Enfys Nest, which has to balance on the bike, had to have a cape that would move. "If it's a hard plastic, it's not going to fit in a cockpit or in this case on the bike, so we went with fabric there," Bono says. "And then we had to go through a couple rounds of finding the right pile plush fur. The first one we got was too short and wasn't shiny enough. And the next one was longer but it was still too dull."
The third was just right. "When you have plastic action figures and you can add fur and fabric, real chain, and things like that, it adds a real nice, rich texture to the figure and makes it pop and look just really alive," Bono says. "Often it'll come down to 'Can we find fabric that matches the texture of the fabric that's on the costume?'"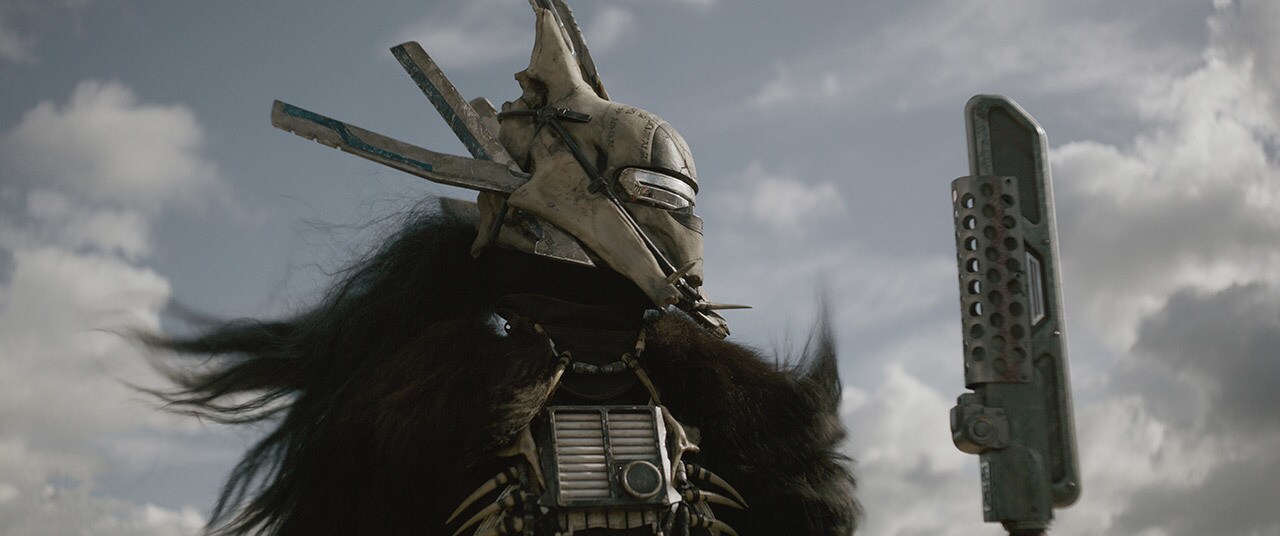 Tribal tribute
Sculptors captured the screen-accurate details of her skull-like helmet, and the intricate tooth-like necklace, switches, and other minute parts and pieces that make up the eclectic costume. "All those pieces are individually hand sculpted and we try to break those out into different parts so you get that layering [effect]," Bono says.
The details on the figure and the bike, combined with the larger size and multiple points of articulation, make the line unique. "I think it really sets the standard for excellence and accuracy and innovation as far as really good articulation and the way we brought familiar characters to life in new ways," Bono says, noting that recent strides in paint application have also made the figures look even more like their real-life counterparts.
And he hopes that as the fifth set in the Black Series line that includes vehicles and creatures, the toys will continue to enrich collecting and expand play. "It's not just figures," Bono says. By adding in the vehicles and other accessories, "it's the whole world of Star Wars" coming into homes in this galaxy.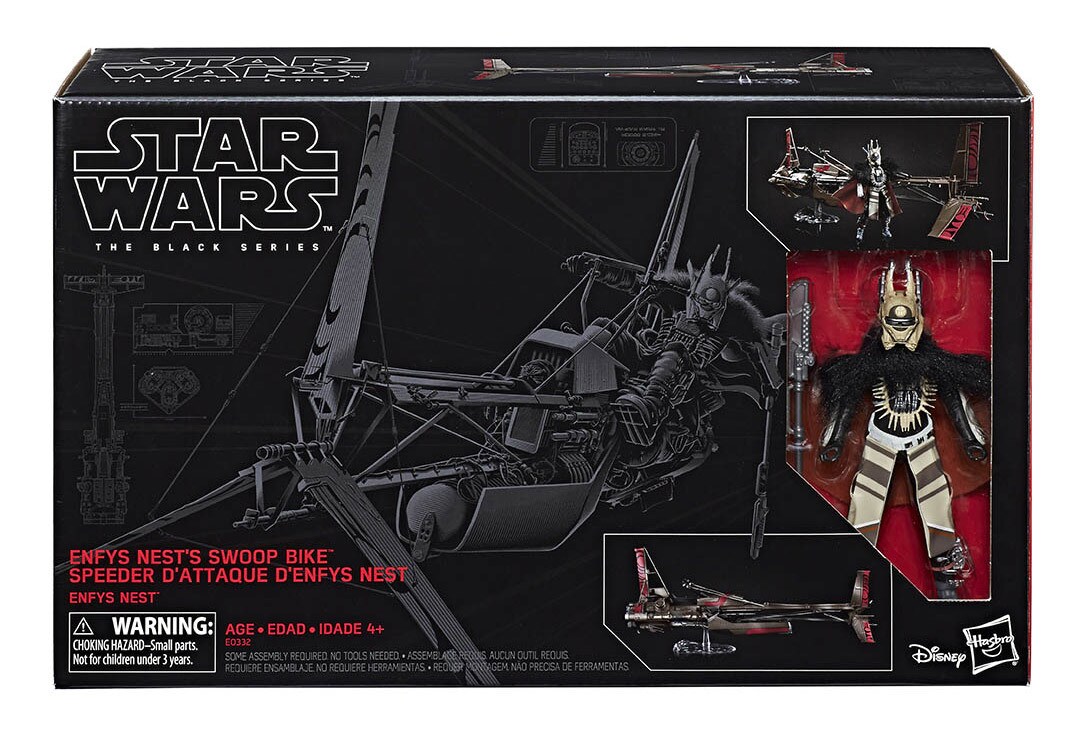 Join the Cloud-Riders with your own Hasbro Black Series Enfys Nest and Swoop Bike set.
Solo: A Star Wars Story is available on Digital and Movies Anywhere, and on 4K Ultra HD, Blu-ray, DVD, and On-Demand.
Associate Editor Kristin Baver is a writer and all-around sci-fi nerd who always has just one more question in an inexhaustible list of curiosities. Sometimes she blurts out "It's a trap!" even when it's not. Do you know a fan who's most impressive? Hop on Twitter and tell @KristinBaver all about them!