A pair of new handbags are designed so you can bring the charming Child along for your everyday adventures.
IG-11's surprise reinvention as gentle caregiver had us all wishing we could borrow his bag -- complete with the Child -- and hit the road on a speeder bike looking for adventure. Designer Danielle DiFerdinando of Danielle Nicole handbags is bringing that sentiment into our galaxy with a capsule collection of new handbags featuring the breakout star of The Mandalorian.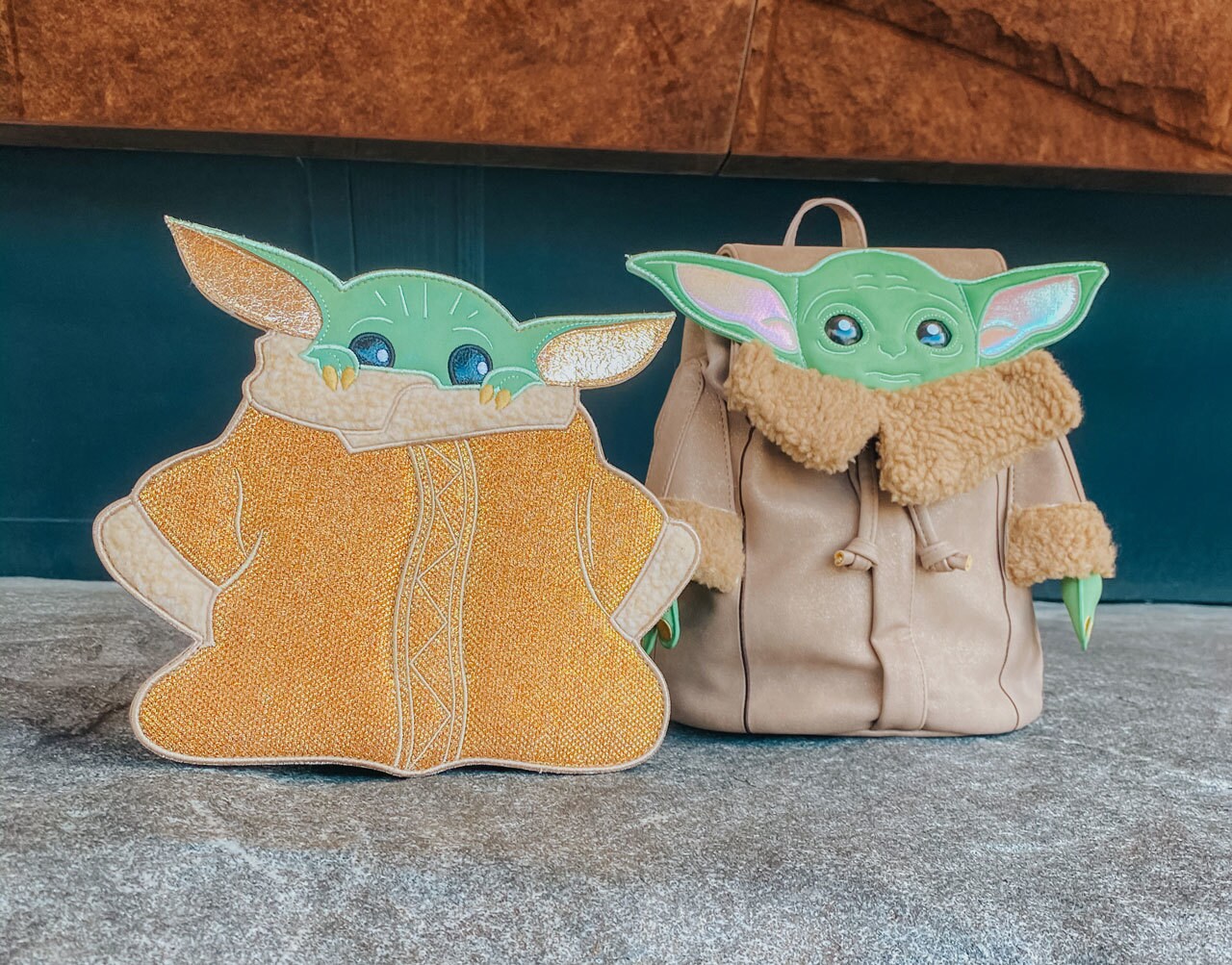 DiFerdinando's designs merge the fantasy of Star Wars storytelling with the personality of the people she expects to take her bags on their own journeys when the line launches later this week. "I first discovered Star Wars at Star Tours at Disney World in Orlando when I was little girl with my family," DiFerdinando notes. "I remember going on the ride with my three sisters and our parents and it felt like I was in another galaxy. It was a fantasy escape. It was so fun and it felt so real!" She has found herself thinking back to that entry point often while translating the Child from the screen into accessories for everyday wear. "Whenever you wear the bag, you have that emotional connection of what you experienced when watching that series," she says.
Already a fan of the wise Master Yoda, when DiFerdinando first saw the mysterious Child, with similarly green-hued skin and big pointed ears, she knew the character was special. "I immediately fell in love with The Child because he was so adorable. Then later you learn just how special this little guy is and why it is important to protect him. He's definitely a character you cannot underestimate. Small but mighty."
DiFerdinando and her team were meticulous about matching the colors and textures of the character to make the designs feel like they stepped out of the screen. For the latest addition, the Child plush backpack, DiFerdinando paid special attention to the shade of green for the character's tiny face and the well-worn brown and tan of its oversized jacket. "This bag took rounds and rounds of sampling to get it right," she says. The final version includes 3D molded details, with special care taken to recreate the Child's small hands and fingers, and added touches like a soft shimmer suede with glitter and shearling trim collar.
Starting this Thursday, you can preorder the backpack and a crossbody bag in the new collection. "The show is a bit darker and deeper than some other Disney shows, so I was especially drawn to the scenes that show The Child truly being a child, such as chasing and eating frogs," she says. For DiFerdinando, the character is symbolic. "Protecting the child and maintaining his innocence is similar to maintaining your own childlike wonder." For the bag featuring the hiding Child, with clawed hands gripping the collar of the oversized jacket to peer out inquisitively, DiFerdinando drew on that whimsical aspect of the series, adding special touches of her own. "I incorporated those little details like the frog zipper charm and other elements as subtle callbacks to The Mandalorian."
DiFerdinando can't wait to see where fans take their new bags. "I'm so excited to see people wear their bags on their next adventures," she says. And she hopes to incorporate the classic characters that first made her fall in love with Star Wars into a future collection.
Shop the Danielle Nicole x Star Wars collection this week, beginning September 10 at 11 a.m. EST at Danielle-Nicole.com.
Associate Editor Kristin Baver is a writer, host of This Week! In Star Wars and The Star Wars Show Book Club, and all-around sci-fi nerd who always has just one more question in an inexhaustible list of curiosities. Sometimes she blurts out "It's a trap!" even when it's not. Do you know a fan who's most impressive? Hop on Twitter and tell @KristinBaver all about them.
Site tags: #StarWarsBlog