The Star Wars stars become Disney Legends in an emotional ceremony.
Two of Star Wars' greatest icons are now official Disney Legends.
Carrie Fisher and Mark Hamill, Princess Leia Organa and Luke Skywalker in the Star Wars saga, were both named Disney Legends in a ceremony at D23 Expo today. This year marks the 30th anniversary of the Disney Legends Awards, given to those who've made a significant impact on the Disney legacy.
Fisher and Hamill were honored alongside Marvel masterminds Stan Lee and Jack Kirby, Oprah Winfrey, Whoopi Goldberg, and others.
"Carrie has been an iconic part of the Star Wars franchise from the very beginning, and she will always hold very special place in our hearts and in the hearts of fans around the world," said Disney chairman and CEO Bob Iger, who hosted the event. "We all miss her talent, her wit, and her friendship."
Iger noted that this December will see the release of Fisher's final film: Star Wars: The Last Jedi. "As always, she brought her trademark strength, heart, and humor to the role. It is truly, truly a legendary performance," he said. "We are incredibly proud to call her a Disney Legend."
Fisher's daughter, Billie Lourd, was unable to attend but sent a letter for Iger to read. It told of how much she and her mother loved Disney and Disneyland, routinely visiting the park together. "Becoming part of the Disney family was truly an amazing moment for her. She secretly always wanted to be a Disney princess, so getting to be a Disney princess and a Disney Legend would have been her ultimate dream."
Iger then presented Hamill his award -- first noting how they both got their starts in soap operas ("I think neither of us imagined that we'd wind up where we are today, but Mark, I think we did okay.") -- and discussed the great impact of Luke Skywalker and the anticipation for his return to the role. "Having seen his entire performance in The Last Jedi, I can tell you, it's worth the wait."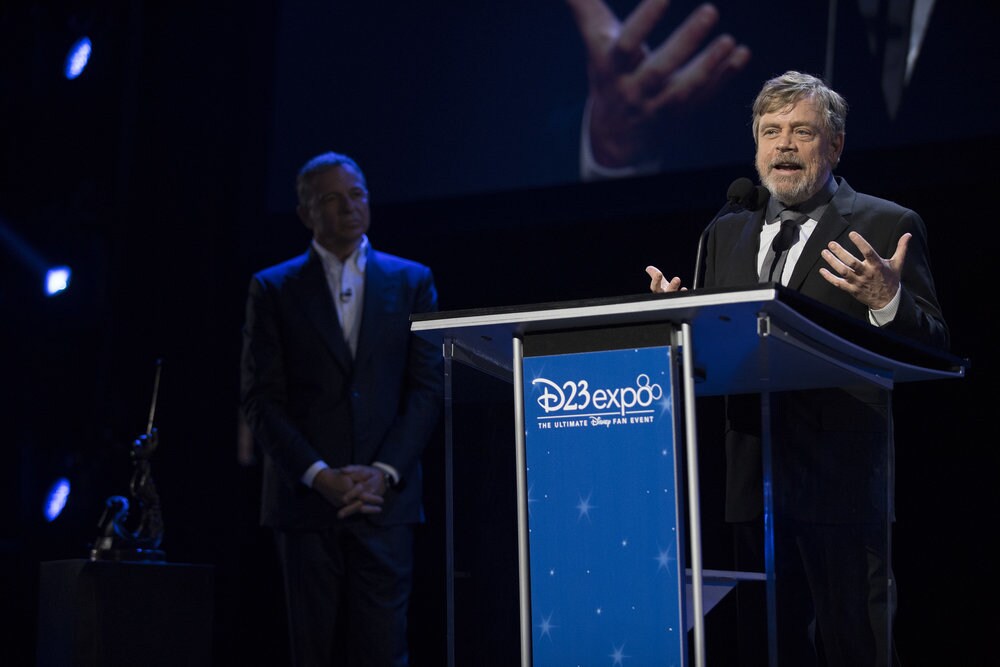 Hamill took the stage, delivering a funny and emotional speech. "As an avid collector of rare Disney memorabilia, it would be hard to top this one," he said jokingly. "Honestly, I tried to think of what I could say to express my gratitude, and it's impossible. I thought of that quote by baseball great Lou Gehrig. 'Today, I consider myself the luckiest man on the face of the earth.' It's true." Hamill thanked George Lucas, the talents behind the camera and in front of the camera for Star Wars, and acknowledged John Williams' music, as well as the fans. But he also acknowledged the impact that Disney, in turn, had on his life.
"I've been a Disney fan as long as I can remember," he said, recalling his love of old Disney comic strips, as well as behind-the-scenes specials. "Disney provided me a tutorial of how I could make my dreams come true by lifting the curtain."
Finally, Hamill remembered Carrie Fisher. "I would love to give my deepest respects for the super-cool space sis I had in Carrie Frances Fisher," he said, going on to discuss their playful relationship and how much they enjoyed reuniting for The Force Awakens. Hamill fought back tears with his closing remarks, saying, "Thank you all so much. I'm so humbled and so grateful. I love you all."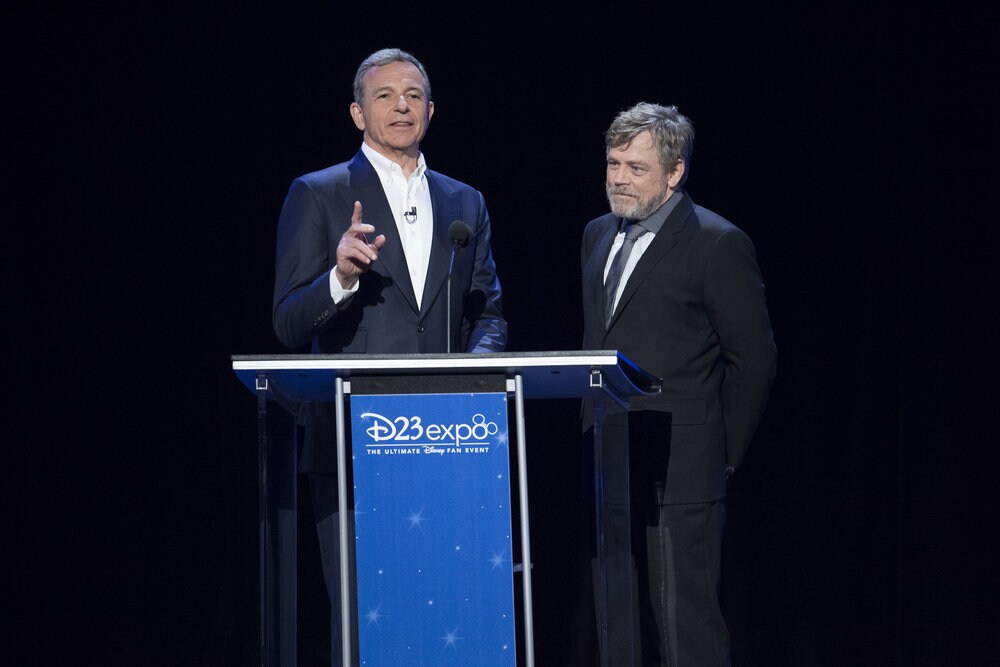 But there was still more to be said. Iger noted that while they're not allowed to discuss any The Last Jedi secrets, he would give one. "This is Mark's best performance as Luke Skywalker to date, and you will see that I am right."
Dan Brooks is Lucasfilm's senior content writer and editor of the StarWars.com blog. He loves Star Wars, ELO, and the New York Rangers, Jets, and Yankees. Follow him on Twitter @dan_brooks where he rants about all these things.