StarWars.com looks at the best moments from last week's comics, previews Darth Vader #22, and discusses the art of the adaptation!
Comic Book Galaxy explores Marvel's Star Wars comic book releases and provides a discussion point on the culture and climate of the Star Wars comic book universe.
For comic book fans, Wednesday is one thing and one thing only: New Comic Book Day! And StarWars.com is set to mark the hallowed occasion with Comic Book Galaxy, a weekly column celebrating all the goings-on in Marvel's Star Wars comics. In Comic Book Galaxy, StarWars.com will look at "The Week That Was" in Star Wars comics, feature a preview of this week's releases in "Top of the Stack," and provide some food for thought on the Star Wars comic book universe in "Word Balloon." In this first installment, StarWars.com checks out issue one of Marvel's Star Wars: The Force Awakens adaptation, previews Darth Vader #22, and asks what makes a comic book adaptation so meaningful. Let's dive in!
The Week That Was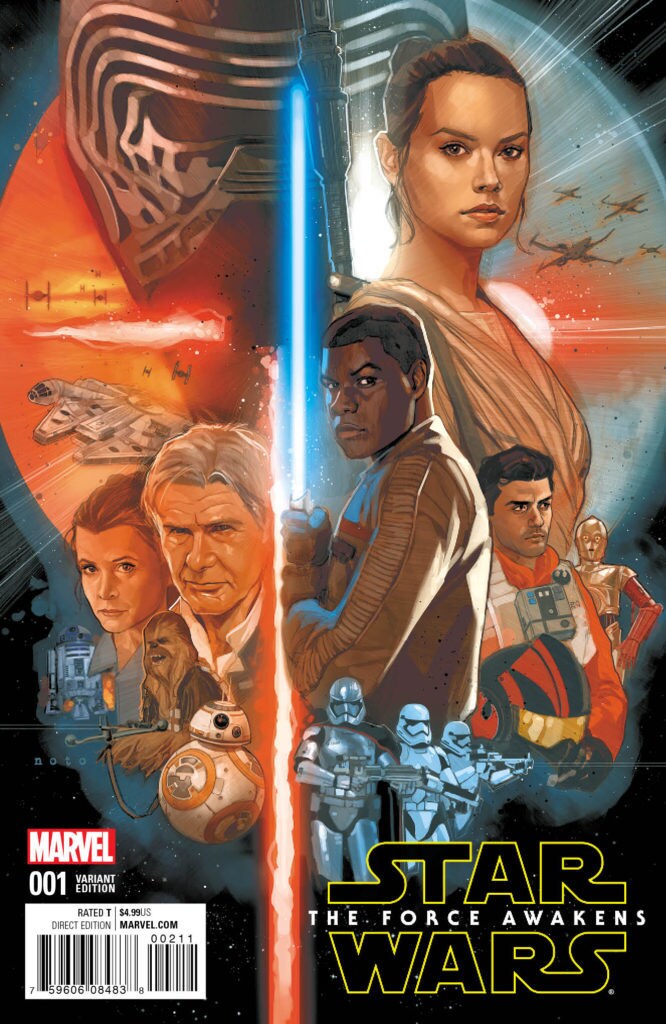 Highlights from Star Wars: The Force Awakens #1:

In a similar vein to Star Wars #1, the book features an immediate splash page with the familiar "A long time ago …", on page one, and then explodes into a two-page spread with the classic Star Wars font and logo! It's an epic start to the long awaited adaption of The Force Awakens.
The tone of the first issue really captures the frenetic pacing of the first 20 minutes of the movie, and the character likeness of the new big three of Rey, Finn, and Poe is very cool. Rey, in particular, stands out, especially in the panel when she states to Finn, "Luke Skywalker? I thought he was just a myth …". It's an uncanny resemblance with Daisy Ridley.
Toward the end of the first issue, we see a bit of a shift in the sequence where Finn keeps insisting he needs to hold Rey's hand, and she ends up helping him up as they race towards the Falcon; the view is from Rey's perspective, and shows the poise, compassion, and vulnerability that make Rey such an instant fan favorite.
Top of the Stack: What's Out This Week