Making the retro jacket involved exploring Lucasfilm history, some detective work, and bringing a '70s design into today.
As every Star Wars fan knows, Hoth is cold. The ice planet from Star Wars: The Empire Strikes Back is a frozen tundra, home to yeti-like wampas, and so frigid that tauntauns just keel over. Tatooine, it is not.
On location in Norway during production in 1979, the Hoth scenes were filmed in the remote town of Finse, often buried in snow, and surrounded by glaciers and avalanche-prone mountains. So, Hoth was actually real-world cold. If you look at behind-the-scenes photos from Empire's Hoth sequences, you'll notice that everyone is bundled up. To protect them from the harsh elements and blizzard conditions, cast and crew members were issued custom gear, including goggles, caps, and snow pants.
But one item in particular stands out: that jacket.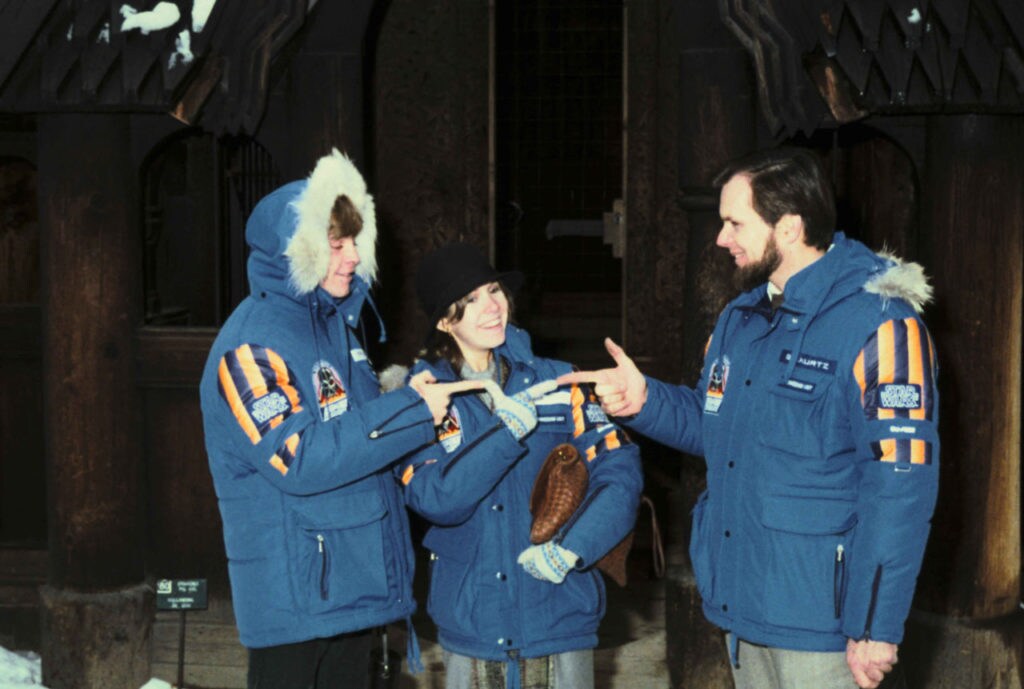 It's a bold blue parka with popping stripes on the upper sleeves, a custom nameplate above the left pocket, and other Star Wars-themed details, including a patch on the left arm and, finally, the coup de grâce: a hauntingly cool "Vader in flames" on the front chest. The Empire parka was crew gear (custom-made, branded apparel for those working on a film) before there was crew gear, and Harrison Ford, Mark Hamill, Carrie Fisher, and director Irvin Kershner all wore it. As such, it's become a holy grail among collectors. They're incredibly hard to find, as only a few dozen were made and even fewer are known to exist today.
If you ever liked the jacket's style or wished you could have something like it, you're in luck.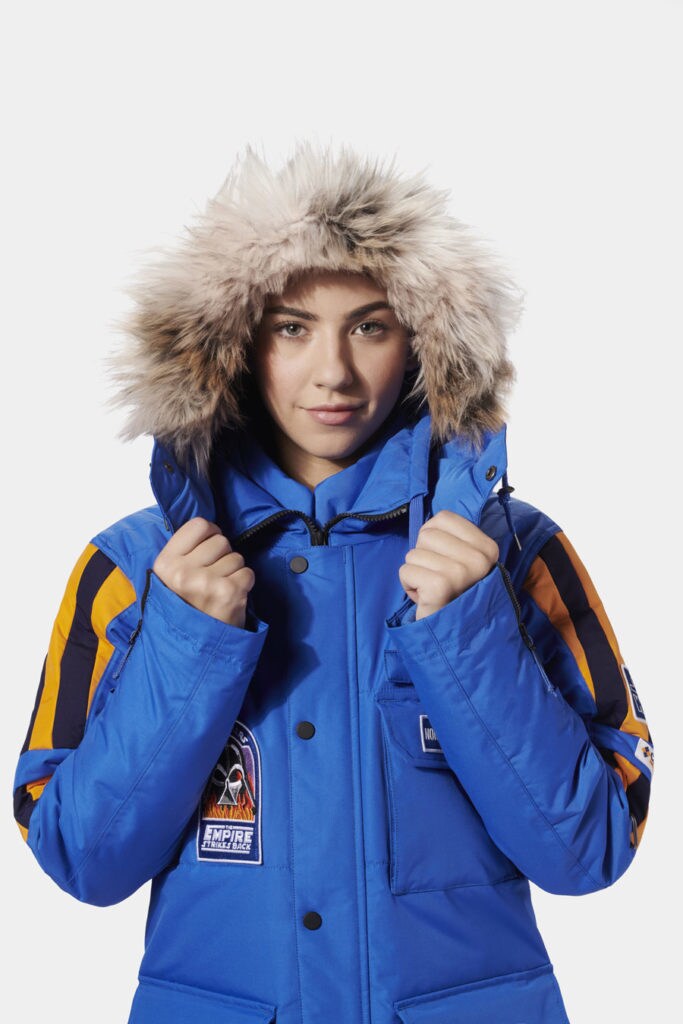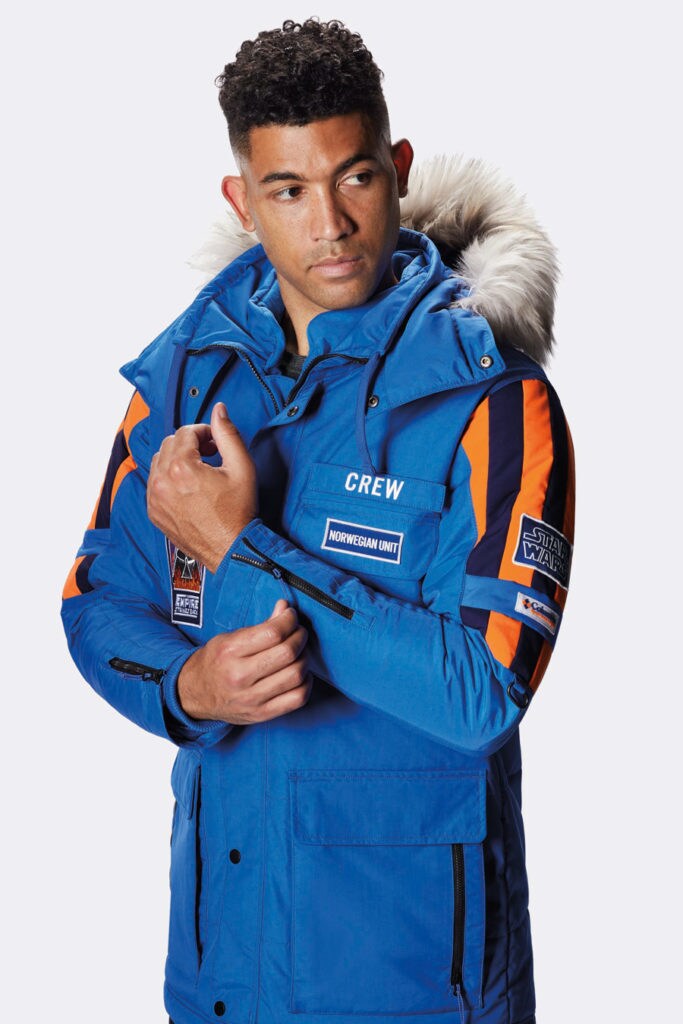 Revealed today, Lucasfilm and Columbia have teamed up to create the Star Wars: Empire Crew Parka, a limited-edition jacket inspired by the famous on-set winter outerwear, available for $500 starting December 7. The coat blends modern tech into the parka's classic look, features a super-cool Vader patch in the style of the original, and includes a few surprises.
'Something we haven't done before'
In the past, Lucasfilm and Columbia have collaborated on movie-themed jackets, including recent releases inspired by Rogue One and The Empire Strikes Back. Those items, however, were character based. This year, they wanted to do something different.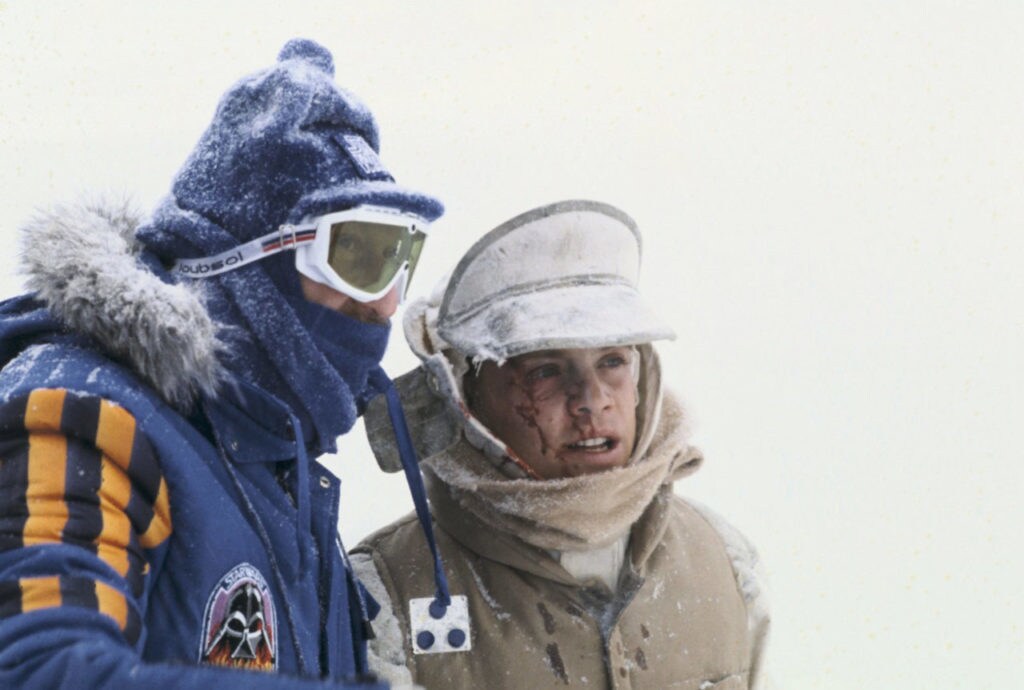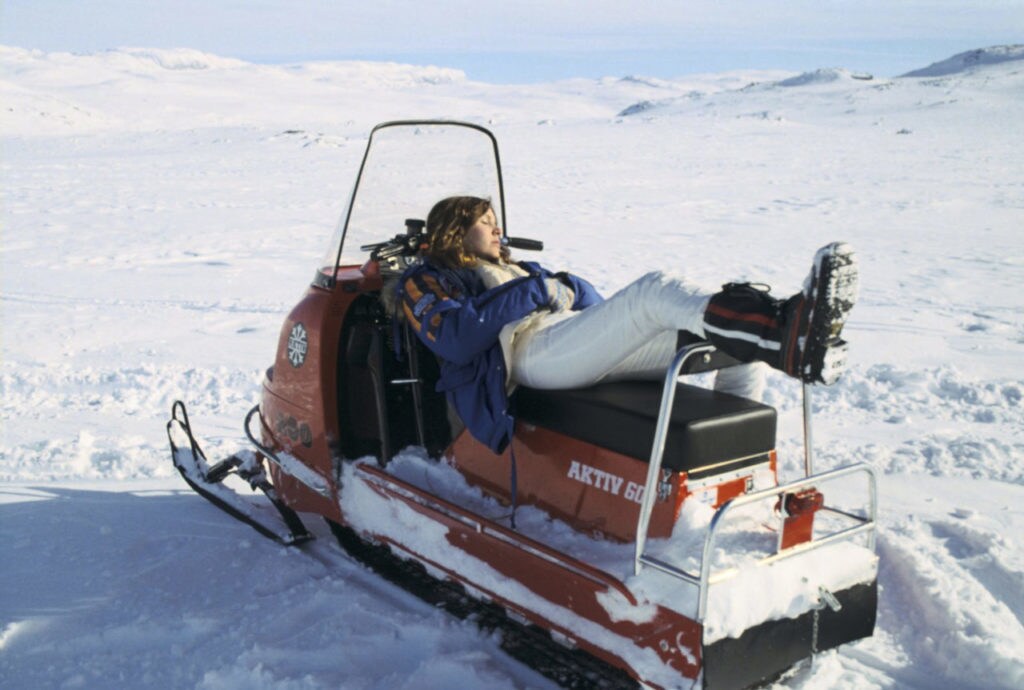 "One of the things we thought about was, 'What are our fans excited about?'" says Lacey Prince, senior manager, product design & development, softlines, at Lucasfilm. "They're excited about things that are nostalgic. They're excited about the original series. So we just started doing some research. Was there anything cool and special in Episodes IV, V, and VI that we haven't explored before? Oddly enough, we came across some of the crew photos. There's some really great imagery of Mark and Carrie together, and that just really got us thinking. Like, 'What if we tried to do something that wasn't necessarily inspired by what the characters were wearing in the film, but by what the crew had?' And that could be something we haven't done before."
With that, Prince's team and the designers at Columbia were off. They loved the colors of the jacket and the fact that they were different than what fans might otherwise associate with Empire ("It's associated with the production, and that's kind of cool," Prince says), and were excited that developing their own version would shine a light on a bit of Lucasfilm history. Then the real work had to begin.
"It was a puzzle to figure out if we could do it," Prince says. "That was a big part of this, the investigative work behind the scenes. You know, finding a photo, but then finding who owns rights to that photo? Who owns the jacket? Does the company still exist? Are there trademark issues? Those are all things we had to explore and clear from a legal perspective before we could proceed."
Those questions were answered, often from some surprising sources. Lucasfilm and Columbia located Harald Lystad, general manager of 20th Century Fox in Norway during the making of Empire, who actually placed the order for the crew jackets during production. (He also suggested Finse as the stand-in for Hoth to producer Gary Kurtz, scouting the exact glacier location with him by helicopter.) "It's really cold up there. It's minus 10 to 20 degrees Fahrenheit," Lystad says. "So I got in touch with a Norwegian supplier of ski gear, and we decided what to make." According to Lystad, the gear served another purpose: It made crew easily identifiable, and thus more difficult for press or fans to sneak onto the set. But perhaps most importantly, it did the job of keeping everyone warm. "I remember picking up Harrison Ford at the airport," he says. "He came out in jeans, a T-shirt, and a small jacket. It was about minus 20 degrees, and he was very happy getting the bag with all this gear."
As it turns out, the company that made the jackets no longer exists. More photos were discovered. And Lucasfilm and Columbia found they had clearance to create their own version of the parka. Only one thing remained: getting their hands on an original.
Behind the seams
"We had to look and see, well, who actually owns one of these jackets," Prince says. "We want to look at it, we want to see it inside out, look at all the details." Through some internal resources, they found someone: Gus Lopez, one of the world's biggest Star Wars collectors, who actually owns two.
"I remember as a kid going, 'I would totally want one of those jackets someday,'" Lopez tells StarWars.com. "One of the areas I specialize in is cast-and-crew items and, for me, it's the top cast-and-crew piece ever for Star Wars." Lopez acquired his first Empire parka about 12 years ago after putting word out in the collector community, and purchased a second jacket, framed, five years ago. When he was contacted by Lucasfilm for this project, he didn't hesitate.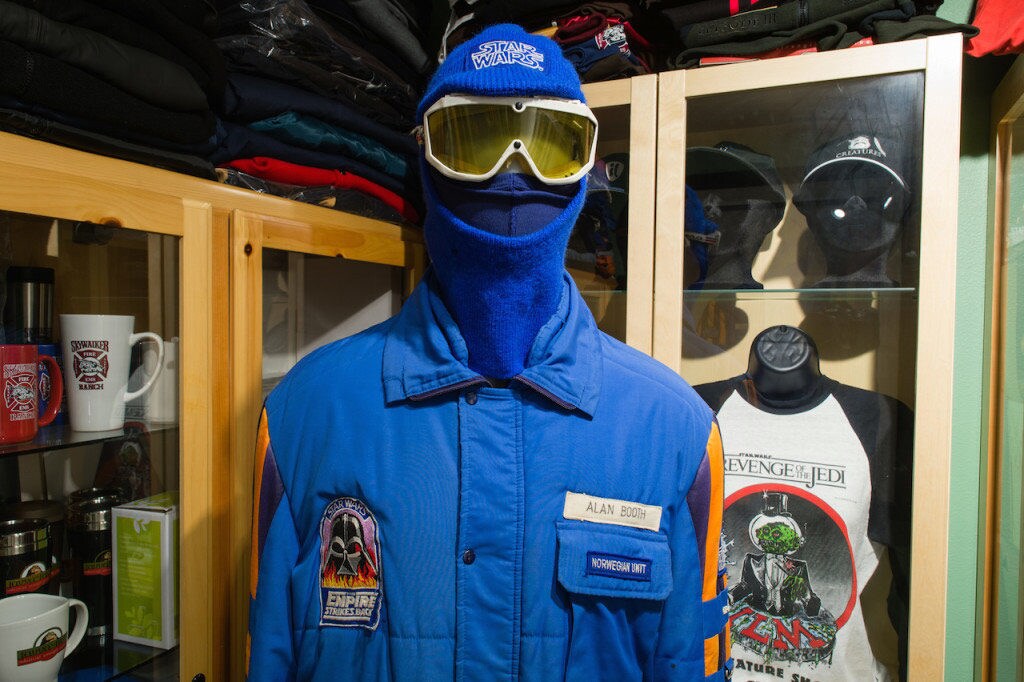 "I loved the idea," Lopez says. "I think Columbia's done a great job with the stuff they did for Rogue One and The Empire Strikes Back. This is certainly a different turn. They were looking for good reference material, so I shipped the jacket. I'm happy to help out."
Once Lucasfilm had the jacket in hand, Columbia's team came to San Francisco so they could examine it together. They brought pantone swatches and fabrications to match it as close as possible, looked at the embroidery, linings, name badging, everything. "I loved seeing the color and the details up close," Leigh Roundy, Columbia designer, says. "It's really important for me to get those things correct, especially since the color is so iconic on this piece."
Hoth designs for today
In creating what would become the Star Wars: Empire Crew Parka, Columbia and Lucasfilm didn't want to make a simple reproduction, or something that was stuck in the past. "It was important to us to make something that felt authentic but not necessarily a direct replica, that had that Columbia appeal," Prince says. "We wanted to make a true, functional piece of outerwear." The goal was to design something that was definitely identifiable as the Empire crew jacket, but modernized, incorporating all the advances that the fashion industry has seen in the intervening years.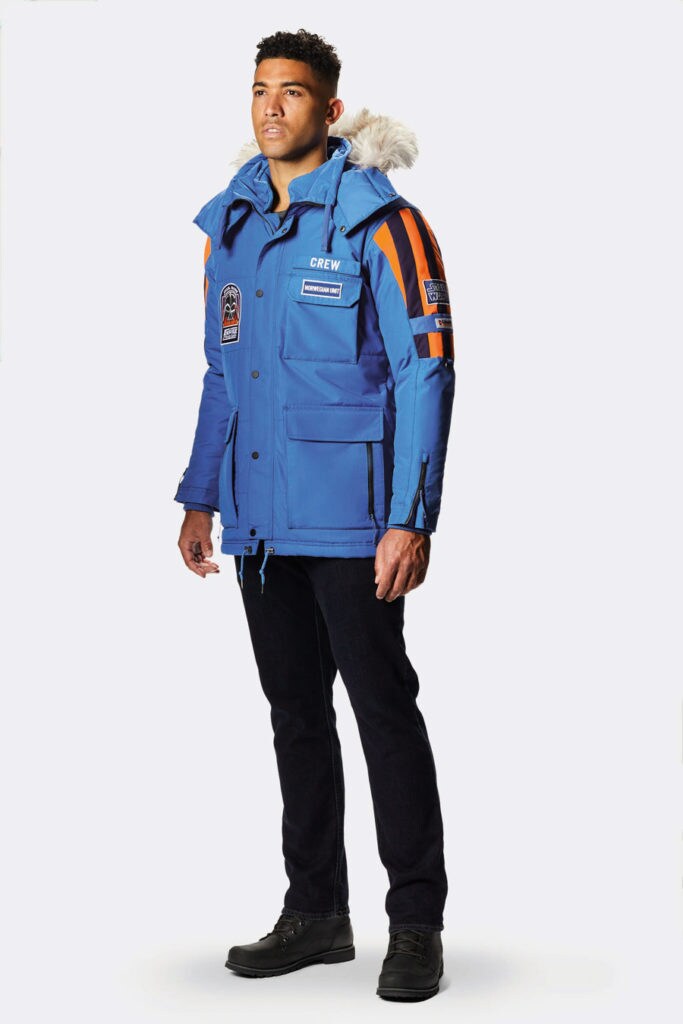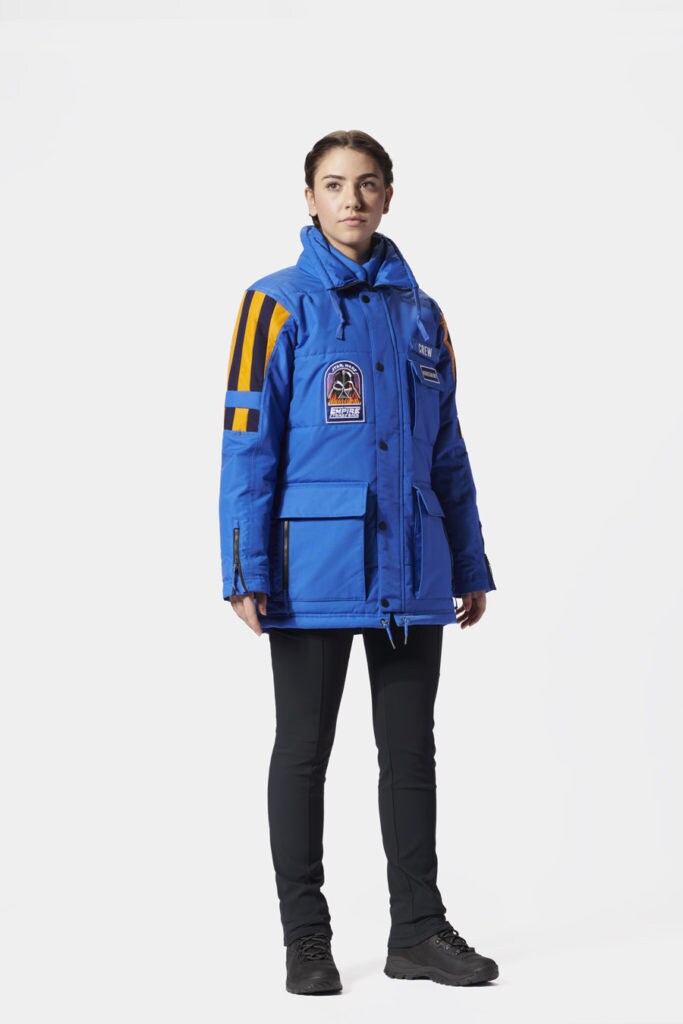 "It was a fun challenge to maintain the overall feel and heart of the original design, but bring it into 2018 with Columbia's technologies and fabrications," Roundy says. She worked to maintain the look of the exterior and its fabrics, keeping the original's now-retro sensibility, but bringing the warmth-factor to today's standards. "You open up the jacket, and that's where all the incredible technology comes into play," Roundy says. "And you go, 'Oh!' That's where the newness and the modernity are coming in." Indeed, Columbia's parka is waterproof, breathable, and features a seam-sealed outer layer, along with the company's patented inner Omni-Heat thermal-reflective lining and insulation. It features a removable, adjustable hood with removable faux-fur trim, two-way collar, ribbed comfort cuffs, wrist zips, and multifunctional pockets. Then, there's the patches.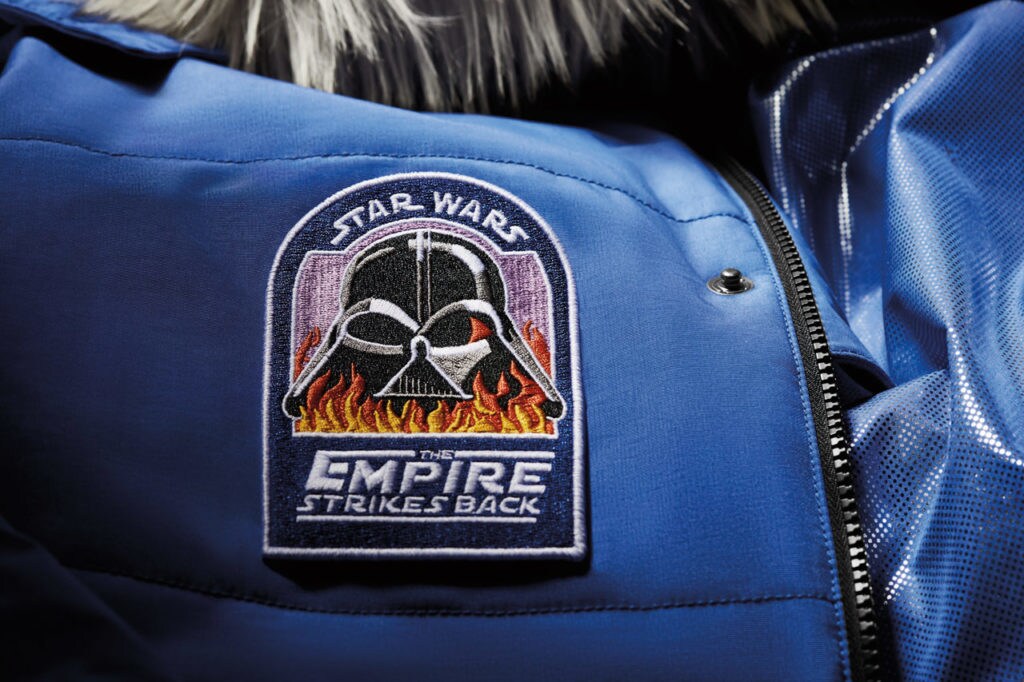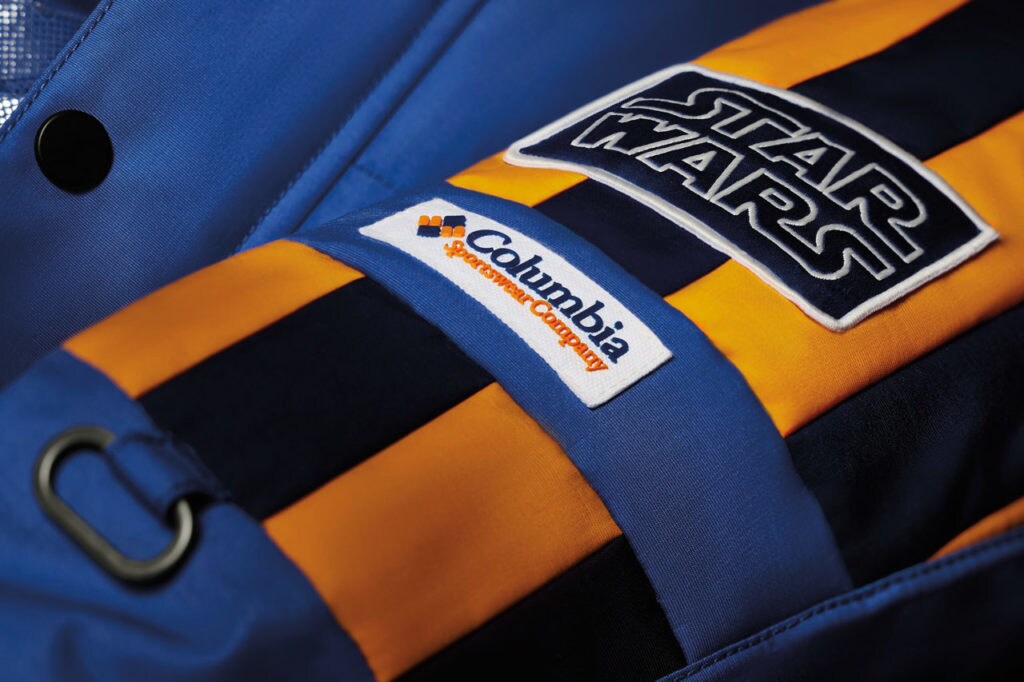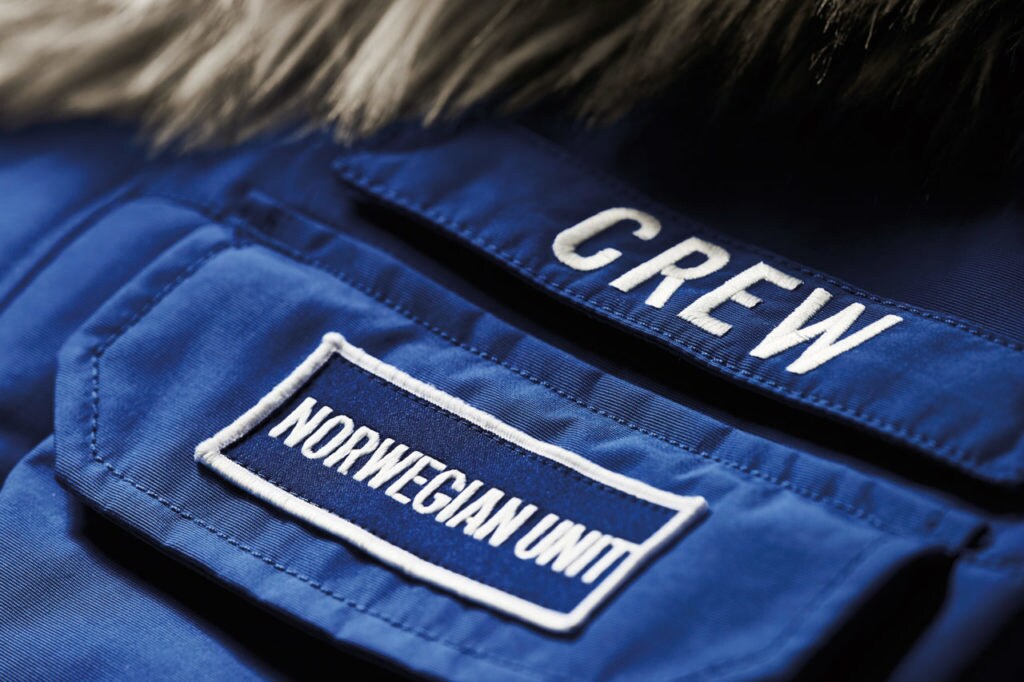 The Star Wars: Empire Crew Parka wouldn't be complete without the patches seen on the original jacket, including the Star Wars patch on the left arm, and especially the Vader emblem on the upper right chest. "We sent out art to the factory to follow, and originally, with that Darth Vader patch on the front, we were going to modernize it with a new weave structure," Roundy says. "But ultimately, we as a team in collaboration with Lucasfilm, decided that making these more retro to pay homage to the original was really the right call. And I think it was, because they turned out awesome." Columbia didn't stop there when it came to patch authenticity; thanks to a Velcro patch on the upper left chest, fans can customize their parkas with their own names -- just like the crew.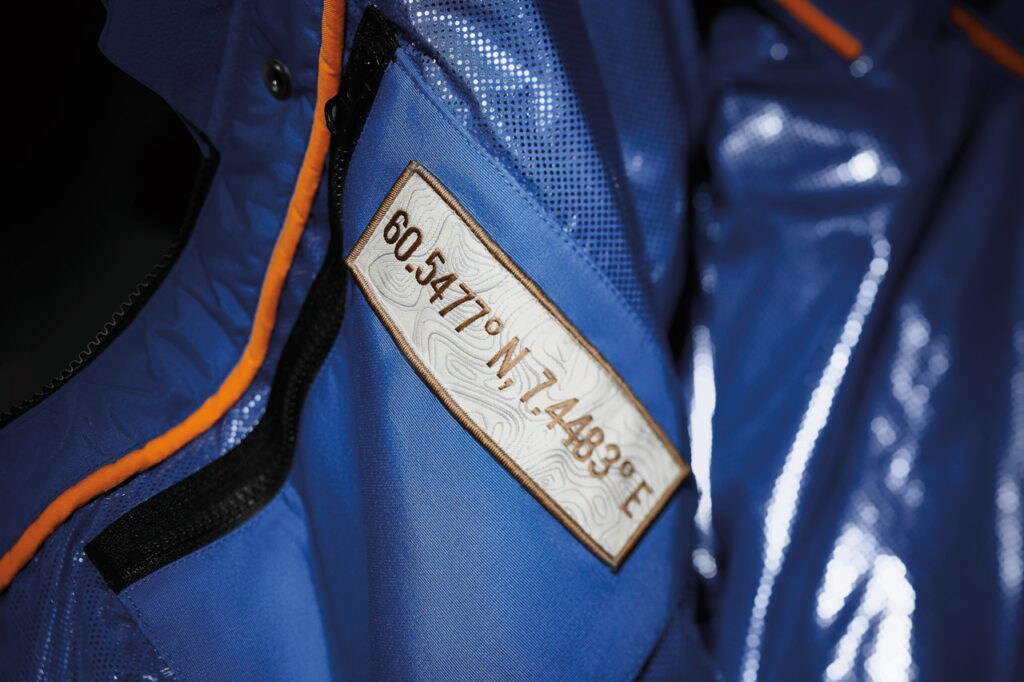 And there's one more patch-related surprise: Each parka includes an inner patch with the coordinates of the Hardangerjøkulen Glacier -- the exact shooting location of the Hoth scenes. "I always love being able to put in little Easter eggs for fans," Roundy says. "We thought this would be a great detail to add into the garment, and just tip our hat to all of the hard work that the crew had done on this film."
A winter coat for our galaxy
The finished jacket is an effortlessly cool piece of fashion that is both of yesterday and today, and a tribute to those who made one of the world's favorite movies.
"I hope that fans will be just as excited about this as we are," Prince says. "I mean, this is a really cool way to bring an authentic piece that resonates with Lucasfilm history."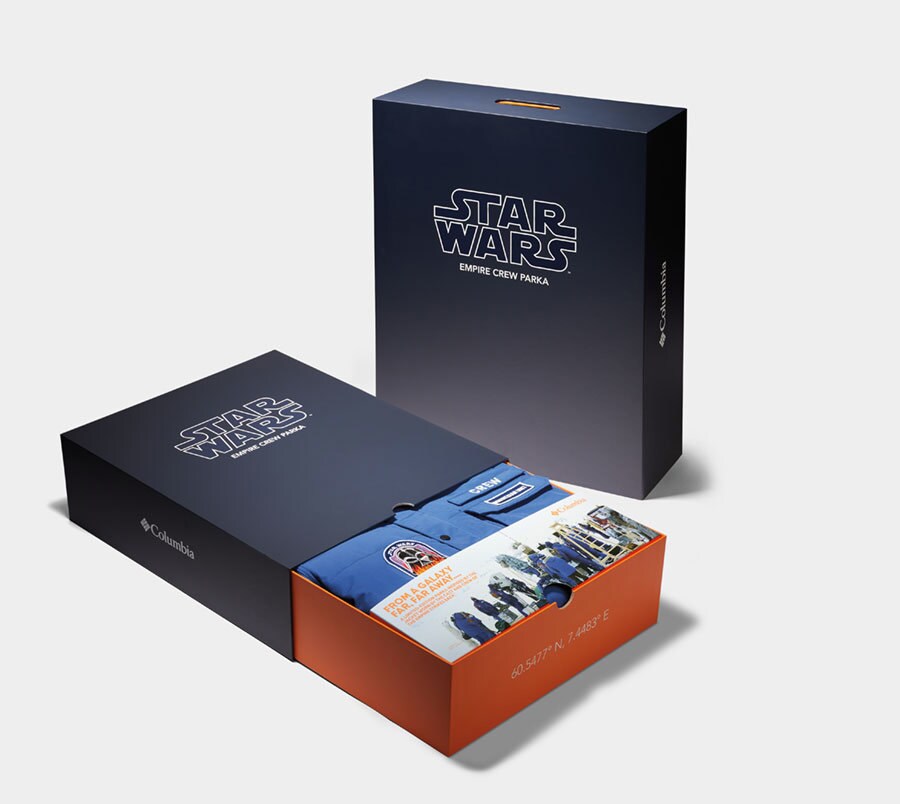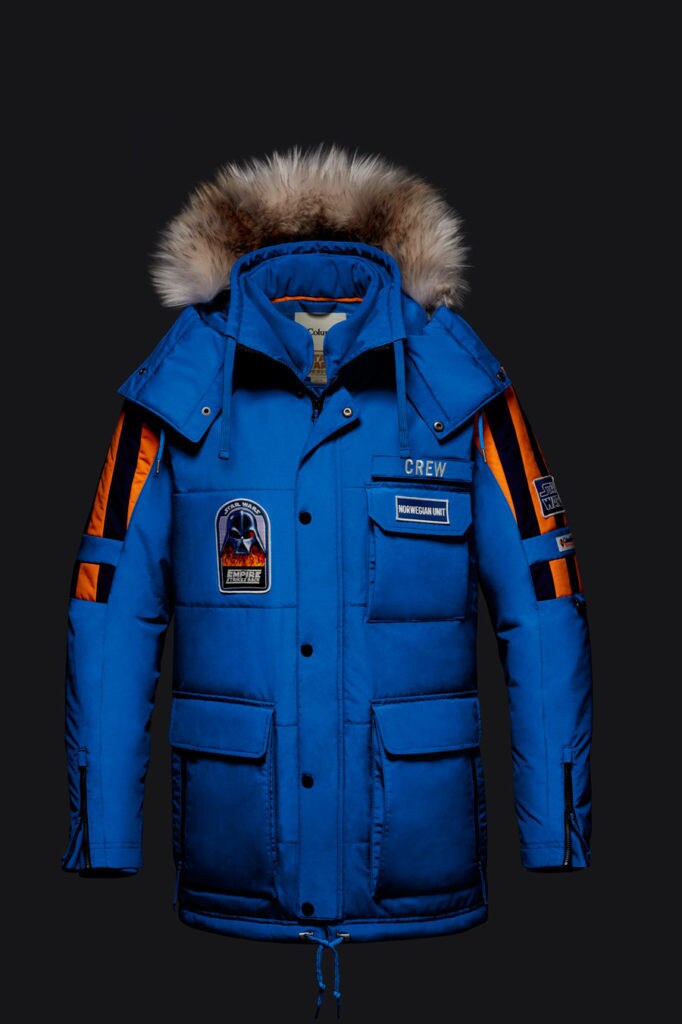 "I'm really proud of it," Roundy says, "and I'm really proud of all the amazing work that the team has put into it to create such an amazing product. I hope that the fans will appreciate the thought and detail that went into this jacket, and enjoy how we've modernized it."
The Star Wars: Empire Crew Parka will be available beginning December 7, 2018, at Columbia.com/StarWars and in-store at select Columbia-branded retail locations in the U.S., Canada, Europe, China, Hong Kong, Japan and, Korea.
Mark Hamill has signed 30 Star Wars: Empire Crew Parkas for a good cause. These signed jackets will sell for MSRP of $1,980 -- a nod to the film's release year -- with all proceeds going to college access programs and scholarships. These coveted signed jackets will be sold only at Columbia-branded retail locations in New York, NY; Buena Vista, FL; Downtown Portland Flagship, OR; and Seattle, WA.