StarWars.com talks with Brandon Giraldez of Beeline Creative about the combined strength of Star Wars and tiki.
At first glance, the Star Wars universe and tiki culture may seem like oceans or even galaxies apart. Fans of both can toast a fruity drink to Brandon Giraldez, who had the certain point of view that links the two.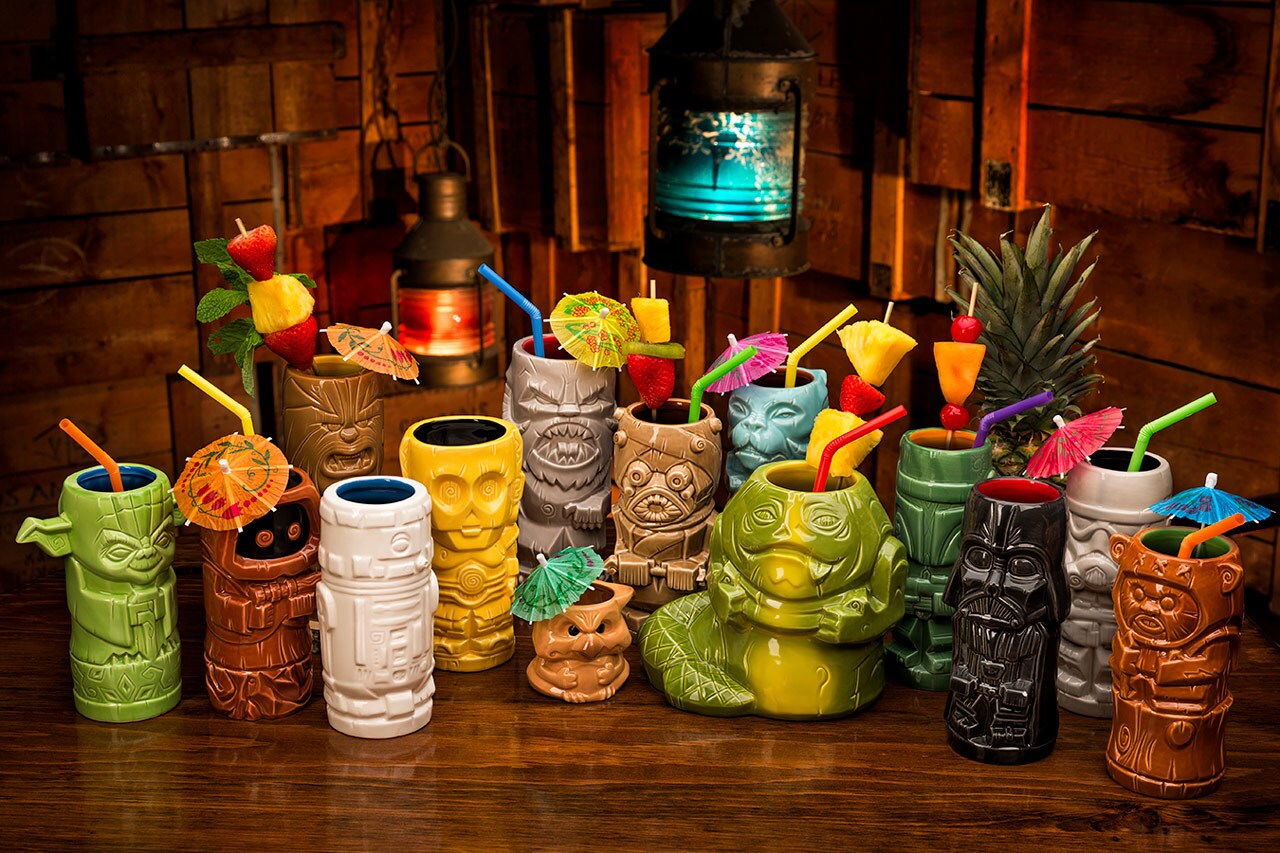 Giraldez and his small team of right brainers at Beeline Creative in Marina Del Rey, California, create Star Wars Geeki Tikis, a series of ceramic mugs sporting sculpts of original trilogy characters. The designers give Darth Vader, C3-PO, and others a kind of tiki idol interpretation, shaking and stirring these icons in tropical style. It's easy to imagine an alien wrapping its scaly mitts around one while sipping blue milk in a cantina far, far away or tipping one back on the shores of Scarif.
"There are a million people out there making coffee mugs, figural mugs, bust mugs and all of that kind of stuff," Giraldez tells StarWars.com. "And we wanted to stand out. We want people to say, 'Wow! This is something I haven't seen before.'"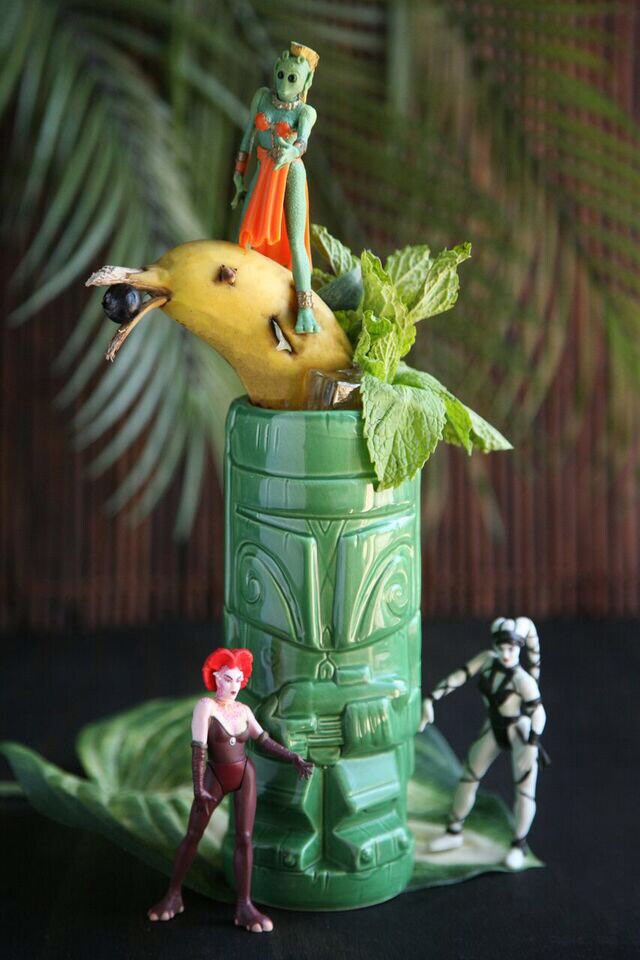 Having already created a line of Star Wars steins, Giraldez chose to explore uncharted drinkware territory. A company brainstorming session led to the topic of tiki mugs. These large ceramic drinking vessels emulate the Polynesian pop decor often seen in Hawaii and other islands. This type of cocktail kitsch became popular in the 1960s and typically hold exotic libations.
The idea found Beeline pouring a healthy dose of Star Wars into the tiki mug concept. Working with retail partner ThinkGeek, Beeline pitched the idea to Lucasfilm, who eventually gave the green light. On May 4, 2016, Star Wars Geeki Tikis took flight.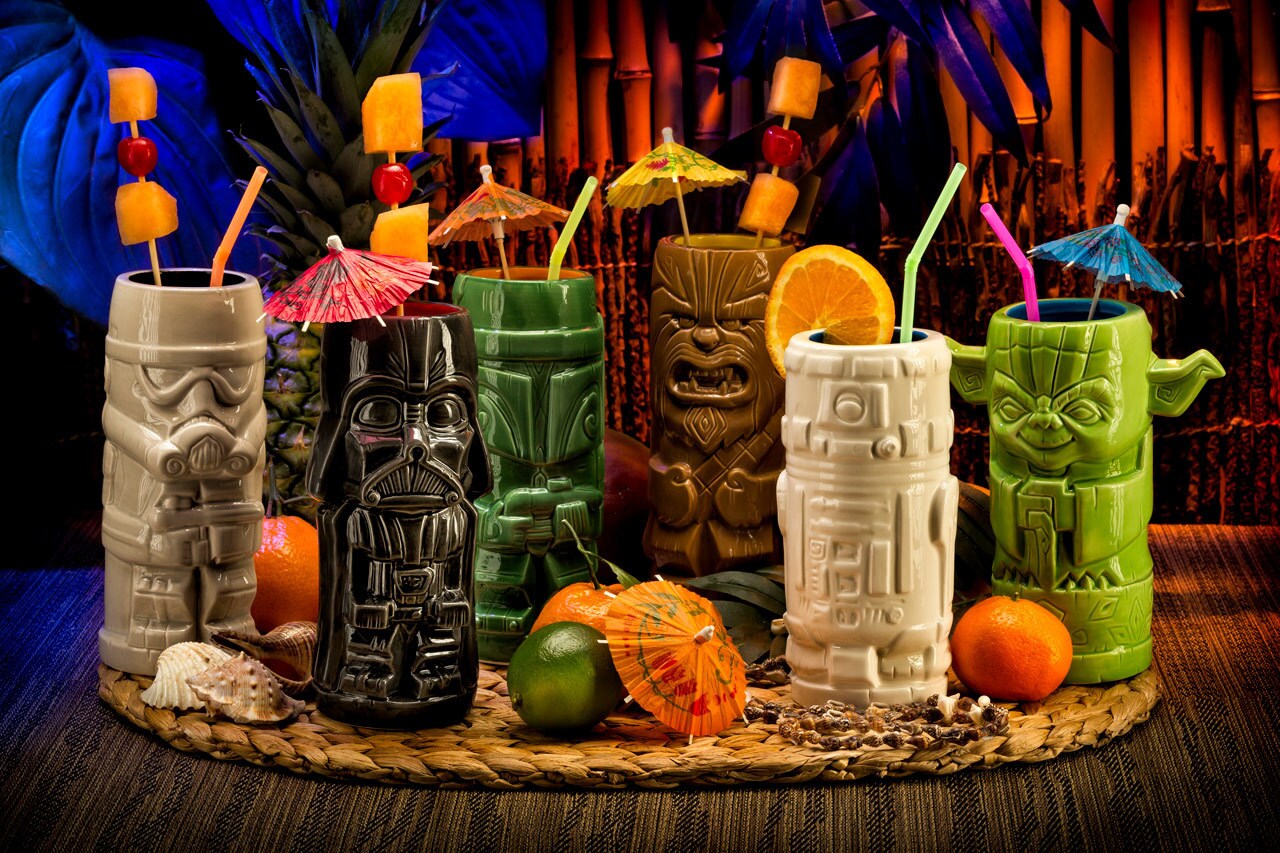 For series one, the Beeline team chose the six characters they thought would best translate into tiki drinkware: R2-D2, Boba Fett, Chewbacca, Yoda, Vader, and a Stormtrooper. Playfully practical yet unique, each mug echoes the respective character.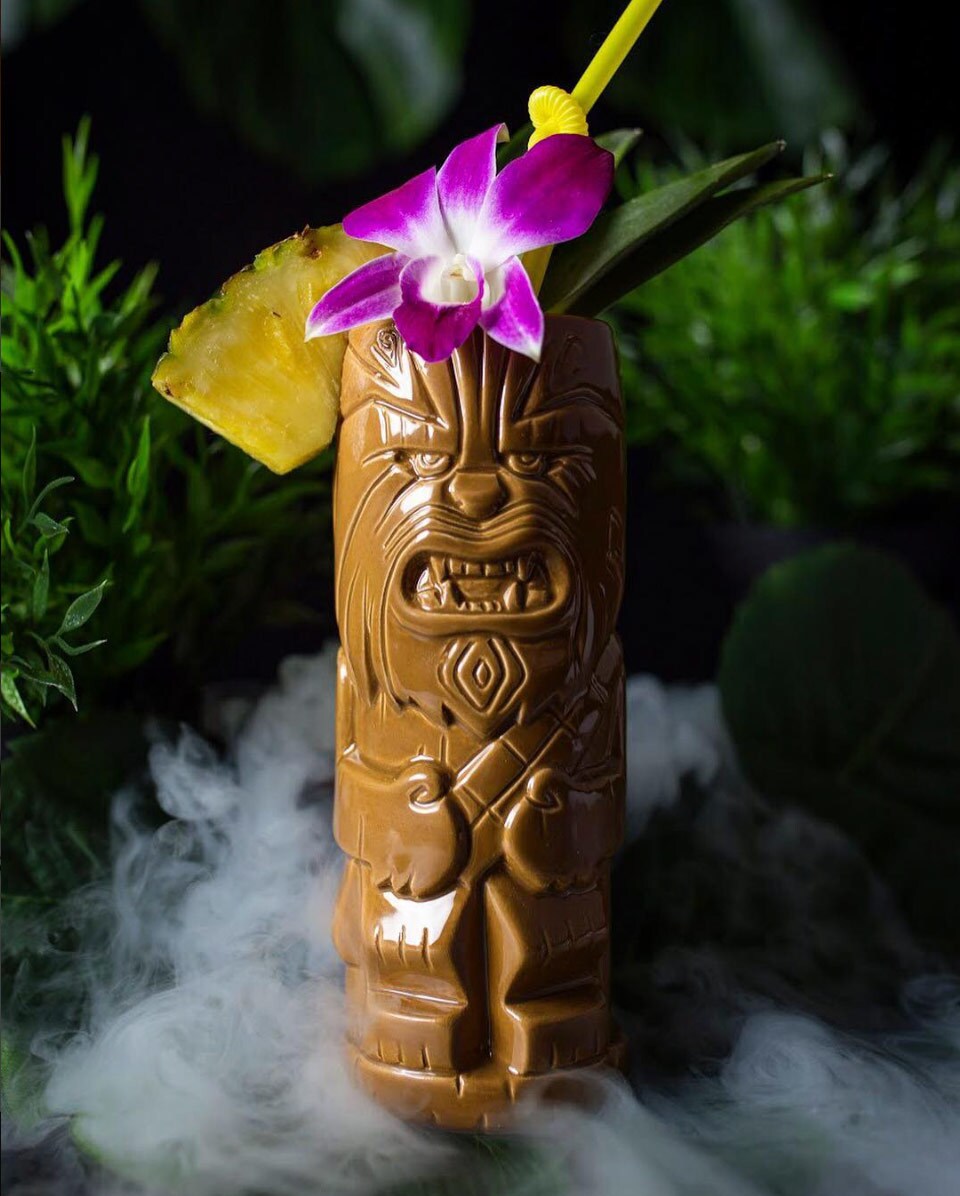 In typical Wookiee fashion, Chewie has a fierce growl -- not unlike certain tiki gods -- and stands taller than the rest. The accents on Boba Fett's helmet twist and curve as if carved by an islander. The diminutive Yoda gets extra height with an attached floral base. The grin across the Jedi Master's face looks mischievous, his pointy ceramic ears jut off of the mug in opposite directions.
"We had fun designing them," says Giraldez, "because each mug has a slightly different relief, different size or whatever it might be. That adds to the uniqueness of it."
The Geeki Tikis creation process rivals the Jedi trials. It can take months, Giraldez says. The adventure begins with a concept drawing. Giraldez and his team create some rough thumbnail sketches, zeroing in on a design that has the right combination of Star Wars and tiki without losing the essence of the original character.
"Once we get something we like," says Giraldez, "we'll tighten up those concepts. We make a nice rendering of it and add some color. We then submit it to Lucasfilm. They'll either approve it or come back with some comments."
The next step finds the Beeline crew transforming the design into control art. This means they illustrate every aspect of the proposed mug: front, sides, and back. They include all of the specs, including height and circumference. They send this control art to their factory where sculptors hand sculpt the proposed mug.
Once Beeline approves the actual sculpt on their end, they send it to Lucasfilm for approval. After that's taken care of, Lucasfilm signs off on the color.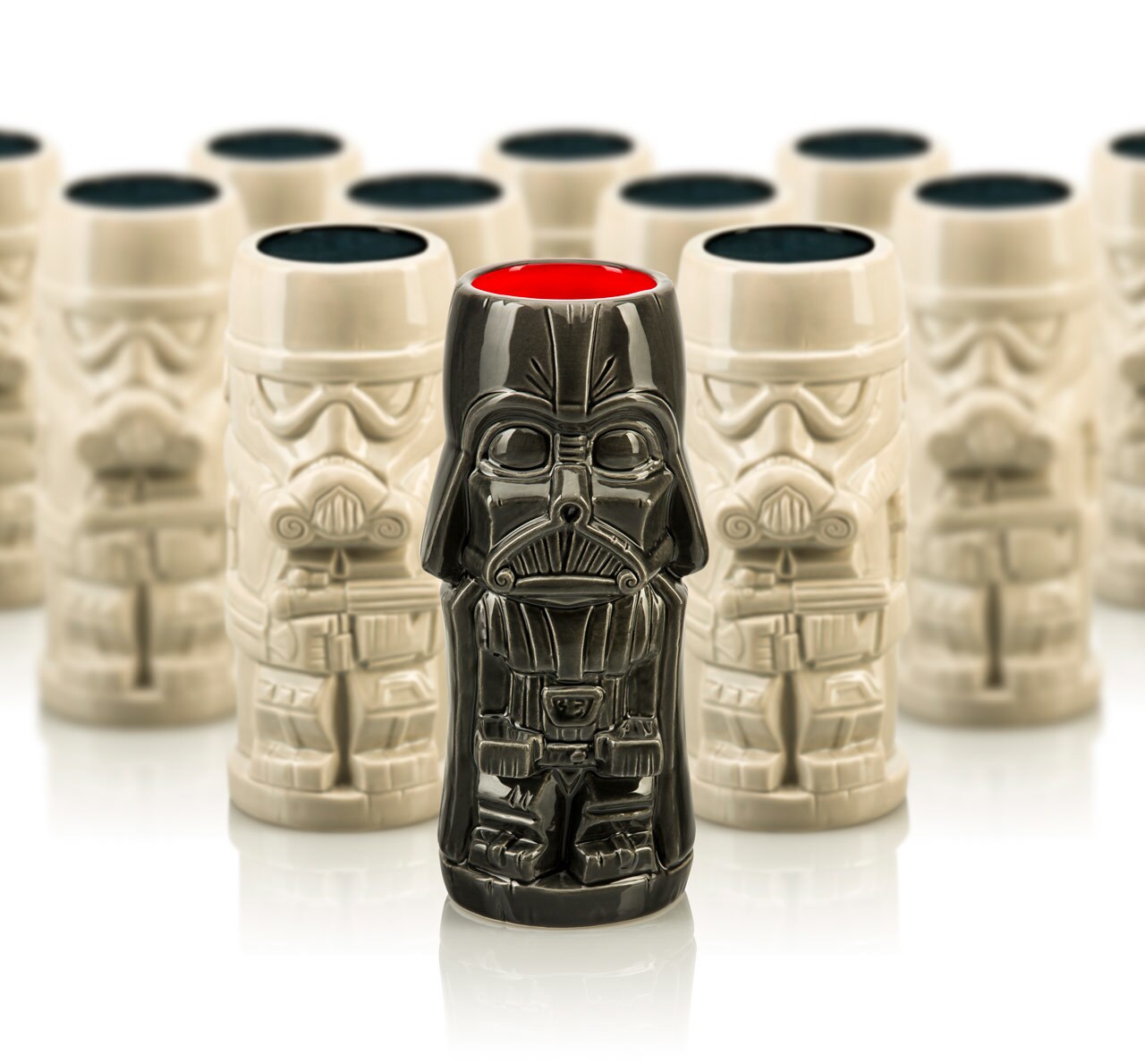 "It's kind of back and forth until we get what we think is the right color for each character," Giraldez says. "And then we send a (painted) preproduction sample to Lucasfilm for approval. If they approve it, we move forward with production."
Producing series one proved to be a near-instant success with fans snatching them up faster than a souped-up Tatooine podracer. After the original run sold out, the mugs would end up on after-market auction sites.
"The idea behind it was to come up with something that could really be collectible," Giraldez says. "I know not everyone is drinking out of these mugs. I would say probably half of the people who buy them are putting them on a shelf or displaying them in their office, home bar or what have you."
Beeline eventually caught up with fan demand and more series one mugs were released. At Star Wars Celebration 2017 in Orlando, Florida, hardcore fans a got chance to get their hands on the first two pieces from series two: a Jabba the Hutt tiki bowl and a Salacious Crumb tiki shot glass.
"We offered a small run of the product each day at Celebration," Giraldez says, "and we sold out in minutes. So the response there was really exciting."

The rest of series two dives deeper into supporting characters and fan favorites. C3-PO, a Tusken Raider, a Tauntaun, a Wampa, a Jawa, and Wicket the Ewok join the collection, the latter two given a boost in stature with attached bases.
Public reaction continues to surprise and thrill Giraldez and the rest of the Beeline staff. Daniel Logan, who played young Boba Fett in the prequels, paid Giraldez a compliment on Instagram. And tiki bars throughout the country buy the mugs and sell drinks in them to customers on tentpole dates such as May the 4th or Force Friday.
According to Giraldez, the future of Star Wars Geeki Tikis looks as bright as a pair of twin suns. With the near limitless amount of characters in the Star Wars universe, the possibilities remain practically endless. The future may find Beeline doing limited releases and exclusives of secondary and background characters.
"There are so many characters that you can do that are unique," says Giraldez. "There are creatures and bounty hunters; there's just so much to work with. So that's why it's the perfect license. It's one you can continue to do, as long as you've got the following for it."
The success of Star Wars Geeki Tikis inspired Beeline to venture into other pop culture worlds, including Marvel and other beloved licenses. More Star Wars mugs, of course, are on the horizon. Although he can't quite reveal what's in the works, he hints that Beeline might be seeking inspiration from a certain wretched hive of scum and villainy.
"Everything we've done so far has been pretty well received," Giraldez says. "It's exciting that fans of two genres --Star Wars and tiki -- have liked it. I dig it. At the end of the day, I just try to make something that I like. And I'm hoping that other people like it too."
Jon Waterhouse is an award-winning journalist, radio show host, and performer whose byline has appeared in a variety of print and online publications including 
Esquire
, 
BlackBook
, the 
Atlanta Journal-Constitution
, and on MTV.com. He helms the geek travel blog NerdsOnHoliday.com.