The talents behind Stance's Star Wars sock empire discuss the new "Warped" collection and more.
With its first line of Star Wars socks in 2015, Stance changed the way many fans thought about fashion inspired by the galaxy far, far away. The company's offerings featured original designs that focused heavily on characters, expertly walking a line between style, reverence, and playfulness. With Stance, socks didn't have to be an afterthought; they could be an active part of planning your outfit and celebrating Star Wars.
In other words, we didn't know we needed Ewok socks until Stance came along.
"It's been almost eight years [since Stance launched] and when we started, the sock category was pre-packs of black, gray, and white tube socks," Joe Jorgensen, Stance's VP of design, says. "That's how we all bought socks. Maybe the only exception to that would've been dress socks. That's where we really saw the opportunity. To take a category that was overlooked and really elevate the entire category...Star Wars being part of that category has kind of brought this awareness that this is something you don't need to overlook."
Stance launched its 2018 holiday collection last week, and it marks an exciting departure for the company's take on Star Wars: while the line includes a variety of offerings, it's led by a pop- and cartoon-oriented series of socks -- dubbed "Warped" -- that features the saga's icons.
"Lucasfilm was very happy with the styles we'd created in the past," Alan Garcia, director of art at Stance, says. "I think because of that, we'd gained some trust from them to try something new."
"It was quite a challenge," Gary Musgrave, designer of the "Warped" collection, tells StarWars.com. "We've got to try and capture a likeness to the characters we're portraying, and we can't do anything that's not true to the Star Wars universe. I wanted to keep the fidelity of the characters, while at the same time, extracting them in a way that would be fun and playful."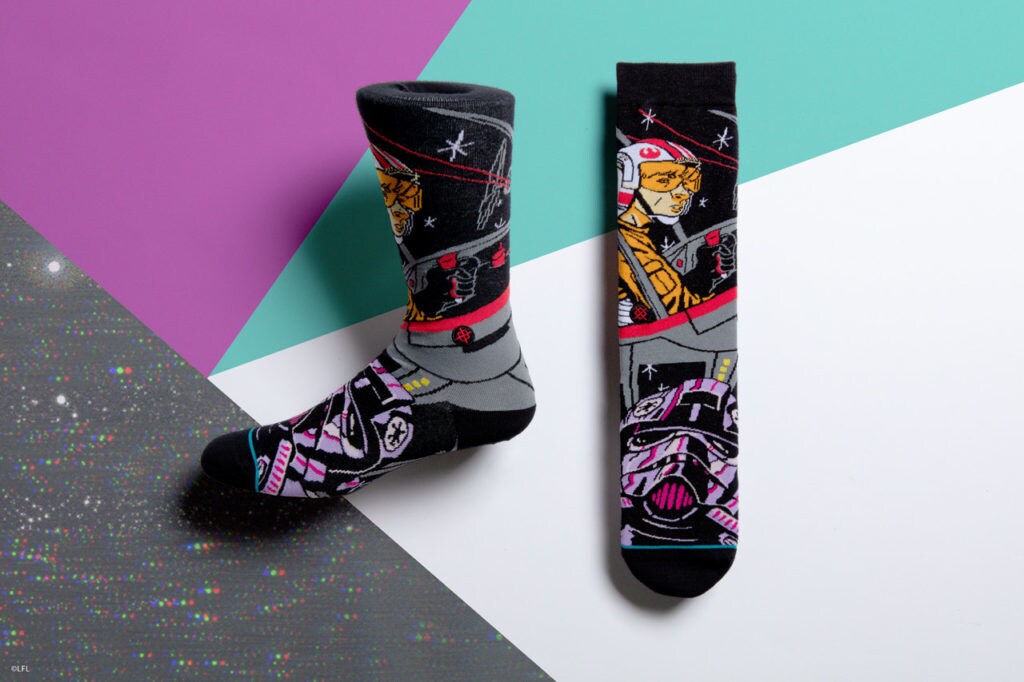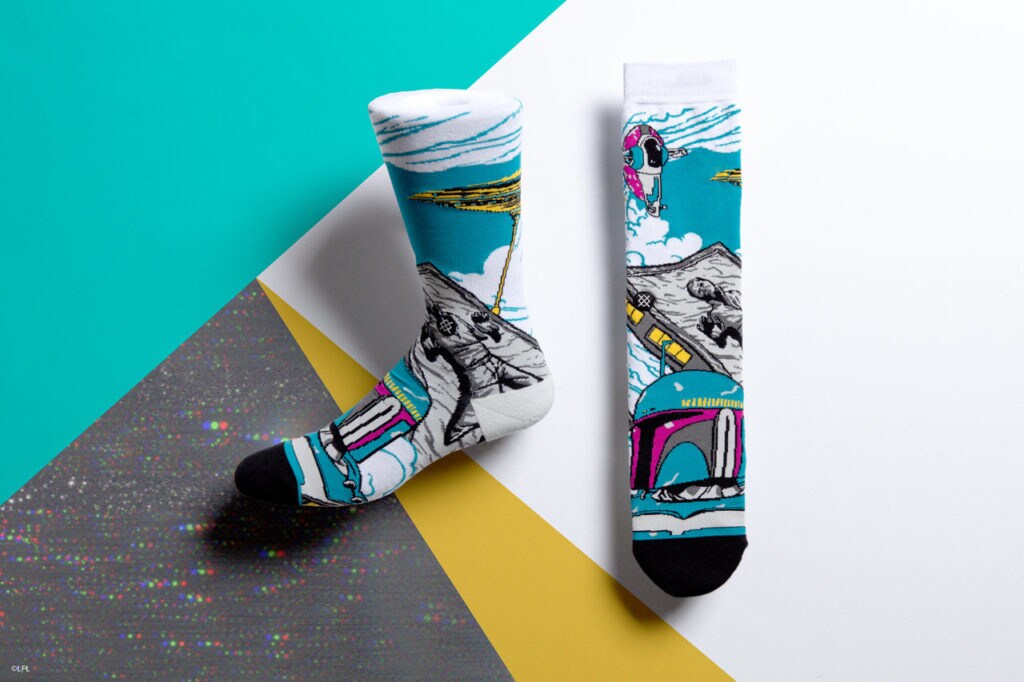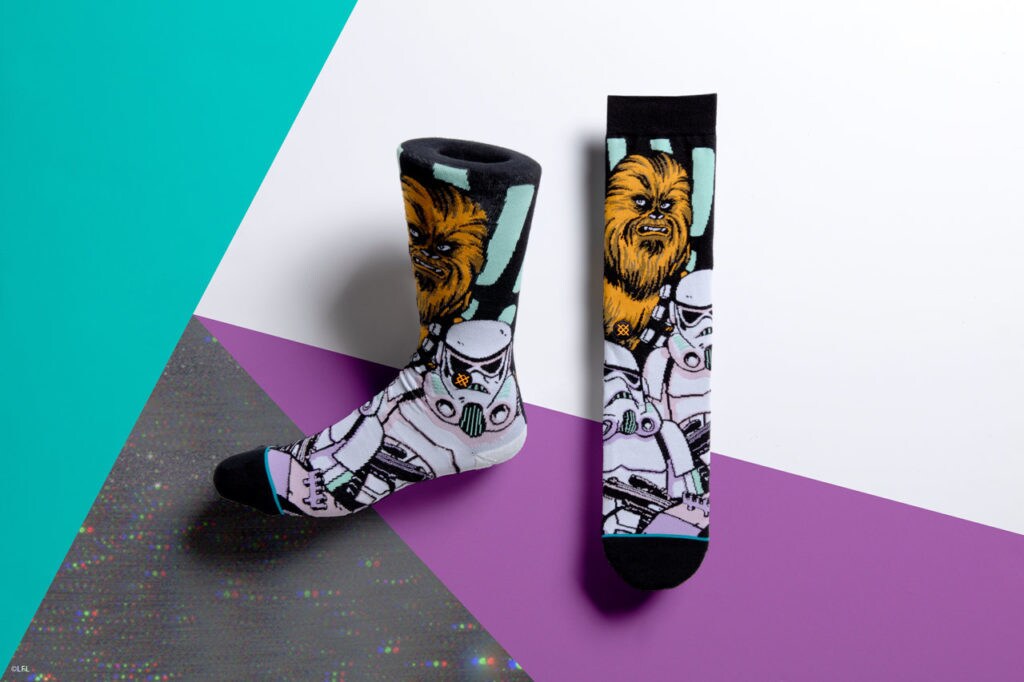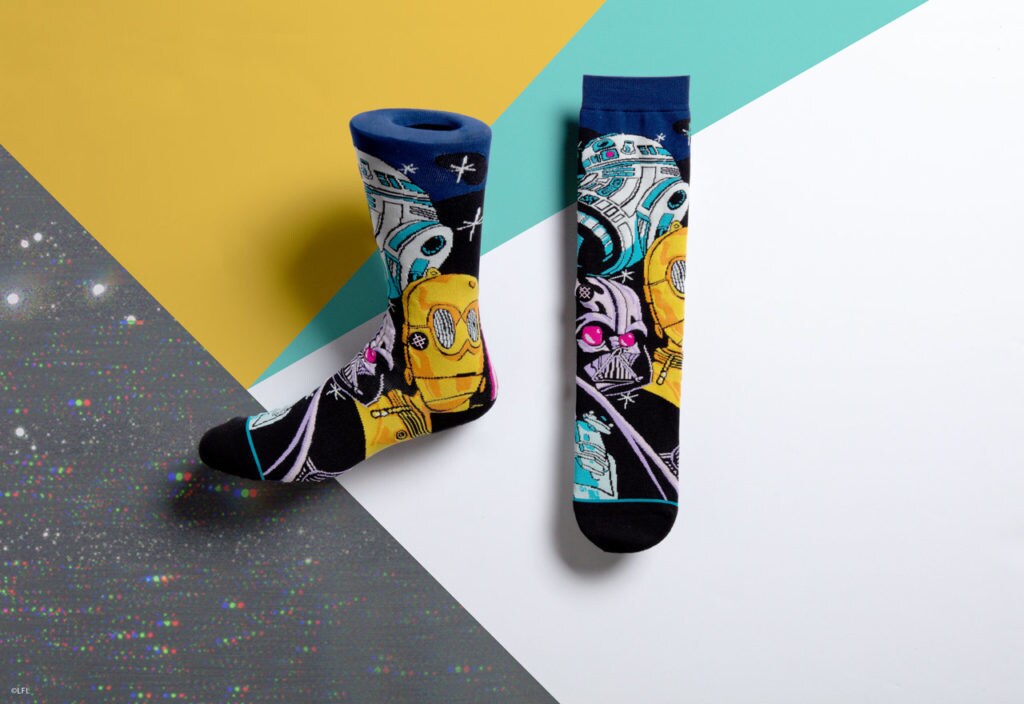 The images wrap around the sock, stretch and warp ("I always thought of it as a funhouse mirror," Musgrave says of the "Warped" aesthetic), and explode with color. They're heightened, to be sure, but respectful. Most importantly, they maintain Stance's tenets of style and fun, but in a fresh expression. Chewbacca is joined by stormtroopers (more on them in a minute), who have an almost light-pink shading to their armor, while the aqua markings on their helmets are repurposed as detention-hall lights; another pair focuses on Boba Fett, his armor distilled to sea blue, dark pink, and yellow, with Han's carbonite slab, the Slave I, and Cloud City floating behind him; a celebration of the Star Wars: A New Hope attack on the Death Star finds Luke in his X-wing cockpit, reds and oranges making him pop from the purple-hued TIE fighter pilot below; finally, one set gathers R2-D2, C-3PO, and Darth Vader together, for a wide range of color and stylized characters that look like they stepped out of the coolest 2D Star Wars cartoon that never was. Stance credits Celina Chu, Lucasfilm's softlines design manager, with narrowing down the character selection and pairings, resulting in a line that focuses on icons but also tells stories of the saga. Fun fact: Chu made sure that the stormtroopers on the Chewie socks -- who are actually Han and Luke in disguise -- sport helmets that match those worn by Mark Hamill and Harrison Ford in A New Hope, which had shorter front vents than normal trooper armor. How's that for authenticity?
So while the Sith Lord and two bickering droids might seem like an odd group, there's a reason. "Vader and the droids was the very first scene," Musgrave says simply.