Ahsoka's post-Jedi life begins.
Star Wars: The Clone Wars is back for its final season on Disney+! In Clone Wars Declassified, StarWars.com looks at each episode's biggest moments and surprises. Fall in, soldier.
Last we saw Ahsoka Tano in Star Wars: The Clone Wars, she was literally walking away from the Jedi Order. It was a defining moment for the series -- but what happened next? In "Gone with a Trace" (available to stream now on Disney+), the series picks up with Ahsoka and finds her alone, traveling Coruscant on a rickety speeder bike. Fate would bring the former Padawan into the orbit of Trace and Rafa, two sisters scraping to get by in the rough-and-tumble lower levels of Coruscant. "Gone with a Trace" proves to be an episode in which Ahsoka learns much about the realities facing the galaxy -- and now herself. Here are five highlights.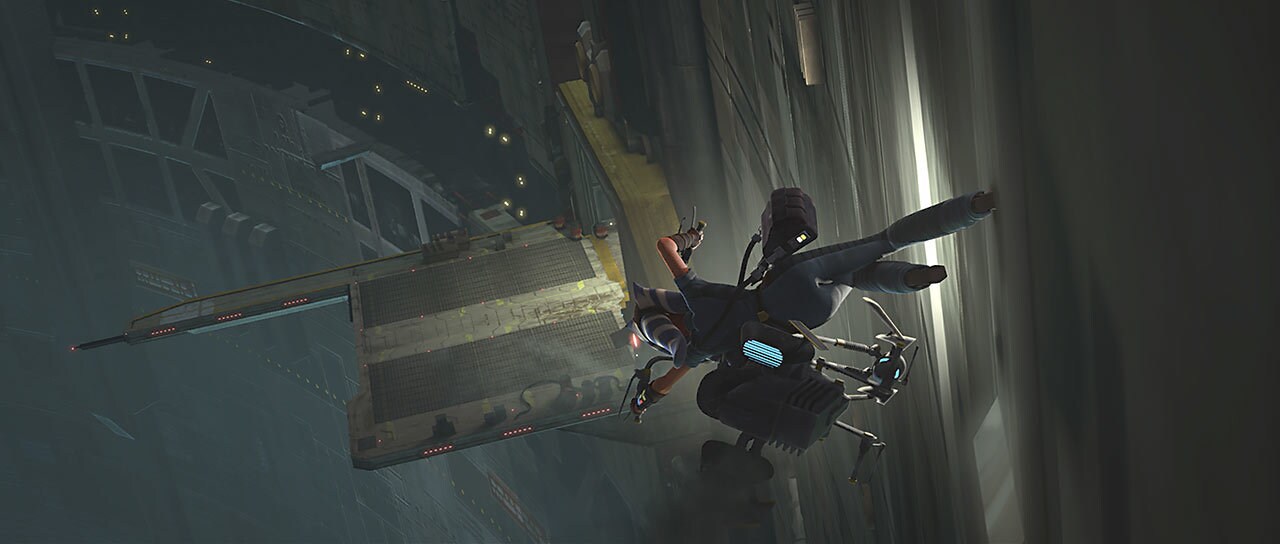 1. That landing!
It's great to see Ahsoka again, soaring over the cityscape of Coruscant -- but there's no time to be sentimental, as her speeder bike quickly begins to fail. Ahsoka has to "fall with style," to paraphrase a certain movie franchise, and it's fantastic. She puts her Jedi training to use -- dangling from the handle bars, flipping the bike over, and even running downward along walls -- in order to bring her speeder in for a crash landing on Level 1313 of Coruscant. Not the best way to start the next chapter in her life, but a thrilling sequence for us.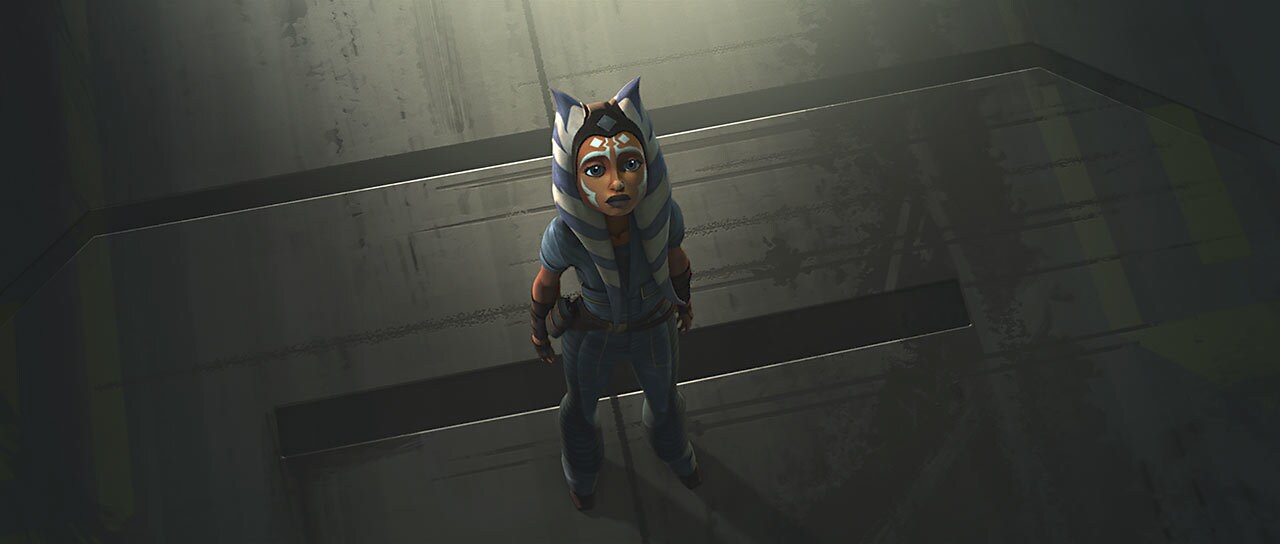 2. A moment alone.
Upon crash landing, Ahsoka meets Trace -- a mechanic struggling to get by alongside her older sister, Rafa. Though Trace is willing to help Ahsoka (for a price), the former Padawan is clearly struggling with recent events in her life. Ahsoka takes a moment at the hangar platform, gazing upward, her face full of emotion. It tells us all we need to know about the weight of her decision to leave the Jedi, and her uncertainty about where she's headed.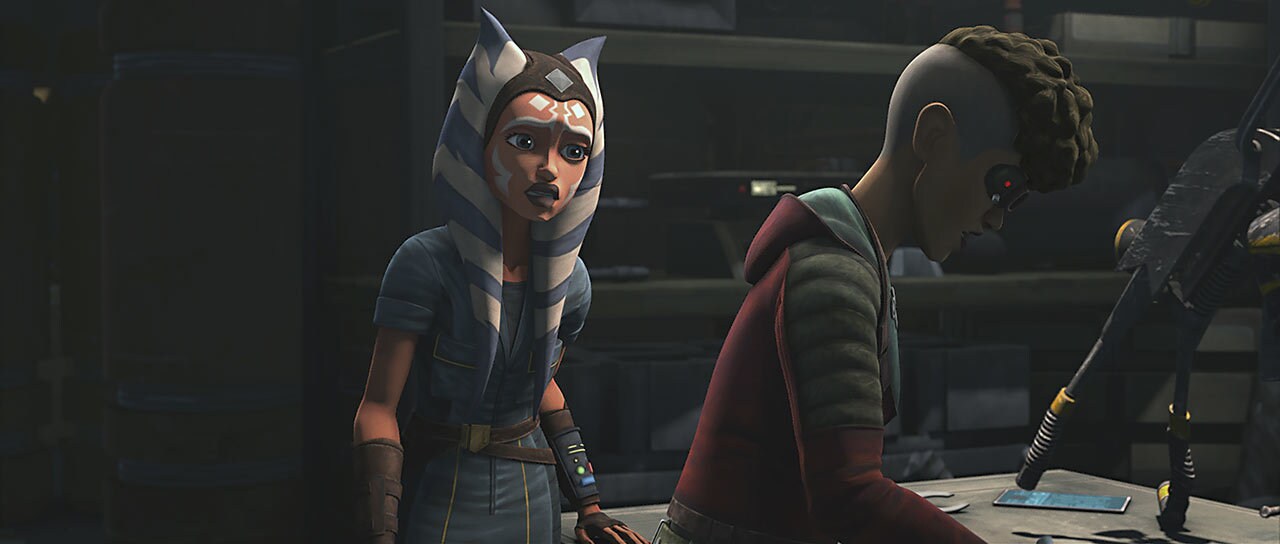 3. "They've forgotten all about us."
As we soon learn, even though Trace and Rafa grew up on Coruscant, they're from a completely different world than Ahsoka. Life is hard in the lower levels. For Trace, the Jedi aren't heroes -- they've failed to live up to their legend, and have little impact on the lives of the less-fortunate. This is eye-opening for Ahsoka, who must learn to accept this point of view.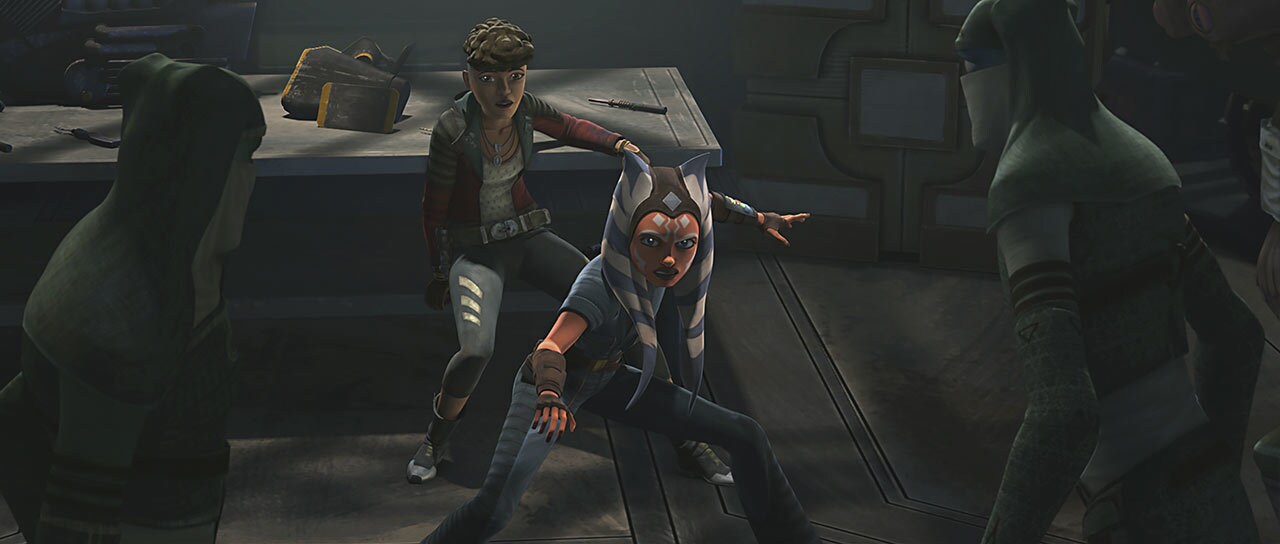 4. Back in action.
Rafa, more streetwise and more entrenched in the underworld than Trace, owes money to a gangster named Pintu. When he shows up at the sisters' shop (with Rafa nowhere to be seen), Trace tries to scare off his goons. She quickly finds herself overwhelmed, however, and finally invites her new friend (who she does not know trained as a Jedi) to help. Though Ahsoka doesn't call upon the Force, her combat skills still inspire, as she stops a punch with her hand, whirls, and delivers kicks with ease. Where did she learn to fight like that? "My older brother taught me," she says. He'd be proud.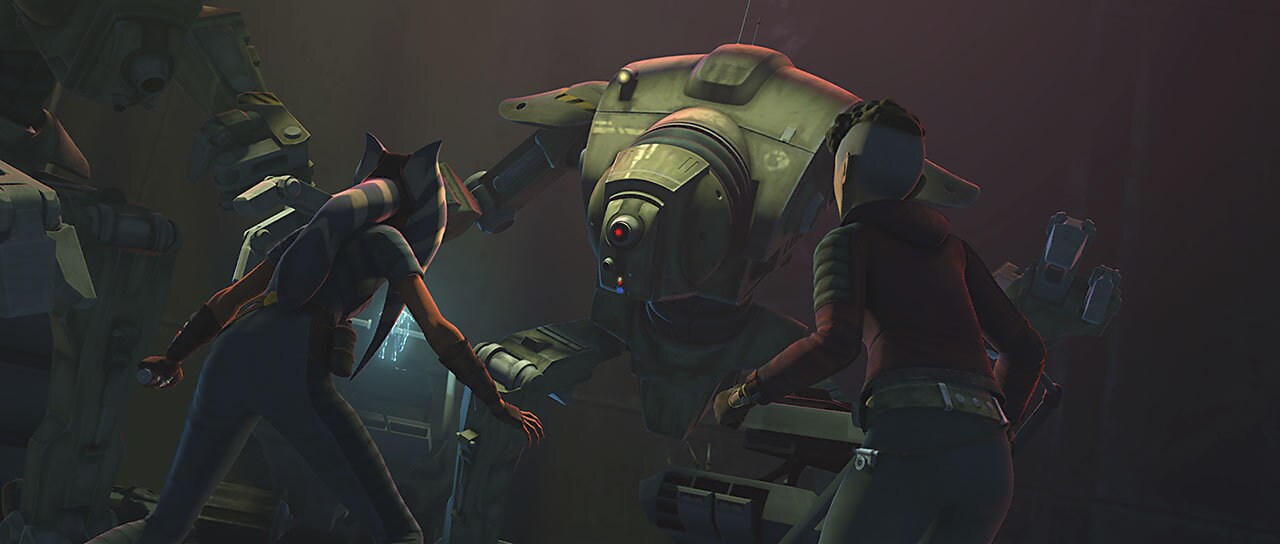 5. Chasing the loadlifter.
When a shady client's hulking loadlifter escapes Rafa's shop and wreaks havoc in the streets, it's up to Trace and Ahsoka to stop it. And it ain't easy. Once they locate the droid, it drags their speeder up a wall before Trace finally climbs onto its back and hits the off switch. Then things get worse, as the droid falls -- with Trace still on top of it. Ahsoka races to catch them, eventually pulling the droid and her friend up to safety with their speeder's tow cable…and a sly assist from the Force. Restraining bolts exist for a reason, people!