Get a complete rundown of new content coming to the game!
It's time to bust some clankers.
Two new clone trooper "Appearances" arrive in Star Wars Battlefront II today: the 41st Elite Corps and the 327th Star Corps, which both debuted in Star Wars: Revenge of the Sith and were featured in Star Wars: The Clone Wars. The 41st Elite Corps, sporting cool camouflage armor, were first seen battling alongside Wookiees on Kashyyyk, under the command of Jedi Master Yoda. The 327th Star Corps, known for their dynamic yellow markings, fought under Jedi General Aayla Secura. Their addition to Battlefront II is great news for the clone faithful.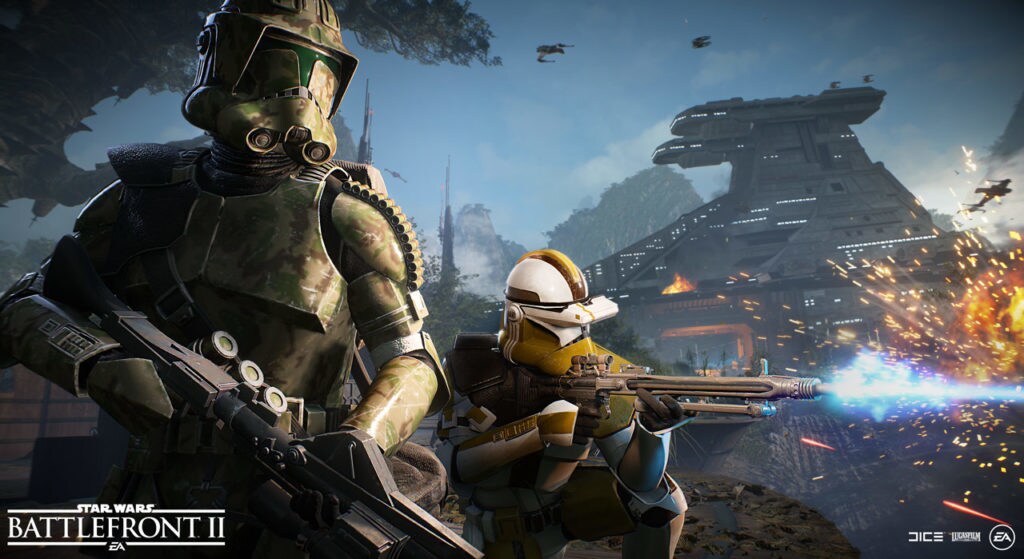 The new clone troopers are available for the Galactic Republic's Assault, Heavy, and Specialist classes, and can be unlocked under the Collection tab in the Main Menu, priced at 20,000 credits or 500 Crystals. A bundle for all three classes is available for 40,000 credits.
These clones aren't the only thing new to the game today, however; they're actually leading the charge of some additional new updates:

The Naboo Palace Hangar map comes to Blast and Custom Arcade; it was previously only available in Heroes vs. Villains and Hero Showdown.
The fan-favorite Ewok Hunt mode -- in which you play as an Imperial soldier trying to survive an Ewok attack in the Endor night, or stalk and take out stormtroopers as an Ewok -- is now a permanent part of Battlefront II! Look for it under the Operations menu, and be sure to check out StarWars.com's Ewok and stormtrooper tips for the mode. They might just save your skin. Or fur.
All Emotes and Victory Poses are now available to unlock through Crystals or credits. They can be found under the Collection tab in the Main Menu when highlighting specific heroes or troopers. They're not essential for playing or developing skill, but definitely help when it comes to celebrating or showing some personality.
In addition, EA also released its latest
Roadmap for Battlefront II today
, revealing and discussing what's to come in the months ahead:
September will see the release of an improved Squad System, which will allow players to spawn on squad members. It will be available first in Galactic Assault, Blast, and Strike modes, making it easier for players to stick together. Also coming in September...more clones! The 91st Mobile Reconnaissance Corps and 104th Wolfpack Battalion will be playable.
October welcomes General Grievous, the first of several new characters announced at EA Play, to Battlefront II. Jedi scum will be no match.
November continues the game's celebration of all things Clone Wars, with Obi-Wan Kenobi and the Geonosis map (the site of the first Clone Wars battle in Star Wars: Attack of the Clones) arriving in Battlefront II's Galactic Assault. Iconic Clone Wars vehicles, including the STAP, the BARC speeder, and the AT-TE, also come to the game in November, along with the 212th Attack Battalion clone troopers -- Republic soldiers that fought alongside Obi-Wan.
Finally, this winter will see tons more new content set for Battlefront II: Count Dooku will be playable; the Coruscant Guard, an elite division of clone troopers, will be available as trooper Appearances for the Galactic Republic; a new mode -- essentially a non-linear sandbox experience -- in which two teams battle for capture points and to ultimately bring down capital ships, debuts; and for the first time, Anakin Skywalker will be playable as a hero, and with him the 501st Legion clone trooper Appearance. General Grievous, Obi-Wan Kenobi, Count Dooku, and Anakin Skywalker will all get additional Appearances as well.
While there's a lot to look forward to, we're still excited for today's additions. And as fans of clones (and who isn't?), we did a little recon and chatted with Christian Johannesén, game designer at EA/DICE, to find out how 
Battlefront II 
created its 41
st
Elite Corps and the 327
th
Star Corps character models -- without a Kaminoan clone factory.
StarWars.com: Where do you begin when designing clone trooper armor? And what was the overall process for crafting the designs?
Christian Johannesén: We start by looking at the different Republic battalions that fought in the Clone Wars, seen both in the motion pictures as well as Star Wars: The Clone Wars and comic books, and then agree on the sets we want to prioritize for our troopers. From there our character team works on proposals for how the three trooper classes can look individually, and when they're part of the battalions. Once they've been added to the game, they're reviewed together with the team at Lucasfilm, tweaked if needed, and made ready to be deployed.
StarWars.com: What set of challenges does helmet and armor design present that you don't find when adapting human faces and basic bodies?
Christian Johannesén: The main challenge is making sure the three trooper classes are kitted with equipment that make them as distinguishable as possible from one another, regardless of whether they're shinies or equipped with a legion appearance. For example, the Heavy is kitted with equipment that conveys a sense of weight and bulk, such as the pouch hanging at his side and the visor on the helmet. There should be little doubt it's a Heavy even before they whip out the Rotary Cannon and start turning battle droids into clanker scrap.
StarWars.com: Clone trooper armor has become iconic over the years, as it's a visual touchstone for the prequels and Star Wars: The Clone Wars. As a designer, what do you think makes clone trooper armor, in all its variations, such a successful design?
Christian Johannesén: I always felt it was in the clones that were brought up to be soldiers at a time of war, and how they expressed individuality. One of my favorite examples are Waxer and Boil from Star Wars: The Clone Wars, where Waxer painted his helmet with a decal of Numa -- the young Twi'lek the two troopers rescued during the battle of Ryloth. There's history to it, and it gets even stronger when you would later see the very same Twi'lek in Star Wars Rebels, fighting for freedom against the Empire, while wearing a piece of clone armor on her left arm with Boil's name brandished on it. I love that you can find both identity and history of hope and bravery in the armor, that transcend even the dark times after Order 66.
StarWars.com. All Star Wars, all the time.