Hear from Warwick Davis and others who worked on the fan-favorite, fuzzball-filled TV special.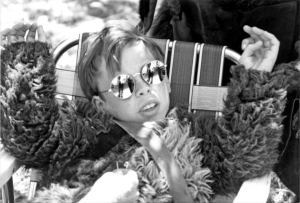 On November 25, 1984, after the blistering box office success of
Return of the Jedi
, the diminutive furry heroes of that film made their own live action return as the stars of their very own ABC Sunday Night Movie. Running a lean 96 minutes long,
The Ewok Adventure
hit the airwaves to fantastic viewing figures (65 million viewers, the second highest for an ABC movie that year) and nominations for two Emmys (for Outstanding Children's Programming and Outstanding Special Visual Effects, with the film winning the latter).  A simple tale of a family split apart and shipwrecked on the magical moon of Endor, the film was inspired largely by Amanda Lucas, George's daughter, who had a deep affection for the Ewoks.
Starring Warwick Davis, Aubree Miller and Eric Walker, the film -- using old-school techniques, even for 1984 -- was made on a thrifty budget of $3 million and shot largely around Marin County and in the mighty Redwood forests of California between June and August of '84. Scheduled to accommodate the young casts school work, Lucasfilm even gave Davis and Walker a camera with the instructions to shoot a behind the scenes documentary , very much in the vein of Warwick's Return of the Ewok mockumentary, made during the production of Jedi 2 years before. The film was released theatrically here in the UK and Europe, where it's better known as Caravan of Courage.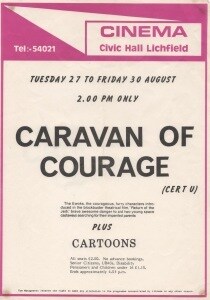 In the Star Wars Insider 2015 Special Edition (released on November 11, 2014) I took the opportunity to chat with Warwick, Eric and Aubree (who hadn't done an interview for almost a decade) and asked them about their memories of the shoot. Chatting with Eric revealed a surprising fact about the movie.
"George Lucas came on board [to direct] one week of pick-up shots. I actually have the first day reshoot call sheet that lists him as the director, for which I understand a production assistant got into trouble, as it was taken off the second day's call sheet. So the actual comeback into directing by George Lucas was not on Episode I but on Caravan of Courage.
George Lucas is much more technically oriented and everything runs at a much faster pace. John Korty is more of what we call an actor's director. He gives an actor more room to work and helps us get to an emotion in a scene by making suggestions since he knows a bit about acting. John Korty was the right choice for the job since there was a lot of emotion going on in the Ewok movies. But I did love working with George Lucas as well and it was nice to see the master at work. He really knew what he wanted but conveyed it differently.
He was not there everyday. But he did come to the set more than once to see how things were going on. One of the pictures I have that was taken with us together was when he visited the set on the day when we were filming the magic pond scene on Skywalker Ranch. I would have to say he visited the set about once a week to check on things. It was obvious when he was on set or about to arrive because suddenly the whole crew started to work much faster."


Aubree Miller was just four years old when the film was made, and so her memories of the production are through a very different lens. But speaking with her recently, she fondly remembered her emotions as soon as Wicket hit the set.
"If my memory serves me right I'm pretty sure once that costume went on Warwick, in my eyes he was an Ewok. As far as Warwick as a person, he and Eric were in their teens and doing their own thing. I was just a young child. I do remember all of us getting together off set with our families and hanging out."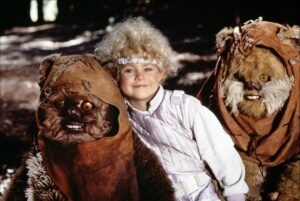 As well as the 2015 Special Edition of Insider, James Burns and I also had the opportunity to catch up with Warwick on the 19th episode of RADIO 1138, which celebrated the 30th anniversary of Caravan of Courage and his participation in The Force Awakens. Just like Eric and Aubree, Warwick had great memories of his time on the production and explained just why he thinks the Ewoks were so massively popular.
"Everyone loves the underdog, don't they? To look at an Ewok, you'd assume...you shouldn't judge a book by its cover. To look at, they were little and cute and furry, but they were big in spirit and courage and got on with the job in hand, and people liked that. It's a combination of things. They're quite mystical, there's a little bit of magic in Caravan of Courage. They're in touch with that earthy stuff.
I also like the idea of the way that they started to use a bit of the technology of the Rebels and the Imperials. They were au fait with spaceships, and I think that's a quite interesting mix, their primitive nature and the advanced technologies being utilized."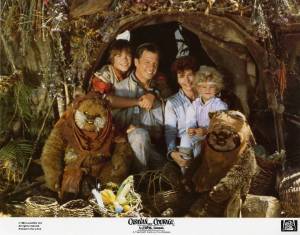 For more from Warwick, Aubree, and Eric make sure you grab the Star Wars Insider 2015 Special Edition, and listen to our full chat with Warwick on 19th episode of RADIO 1138.
Mark is a long-time contributor to Star Wars Insider, the co-owner of Jedi News, a regular contributor to the UK's biggest free newspaper The Metro and co-host of RebelForce Radio's UK-centric RADIO 1138 podcast. When he's not talking or writing about Star Wars, he can usually be found sleeping, where he'll most likely be dreaming about Star Wars.