Serve these delicious treats to your tribe this holiday season.
It's the holiday season and even on the forest moon of Endor there's a reason to celebrate. The lush trees, warm fires, all give off cozy holiday vibes, perfect for indulging in fragrant gingerbread treats shaped like the moon's famous inhabitants.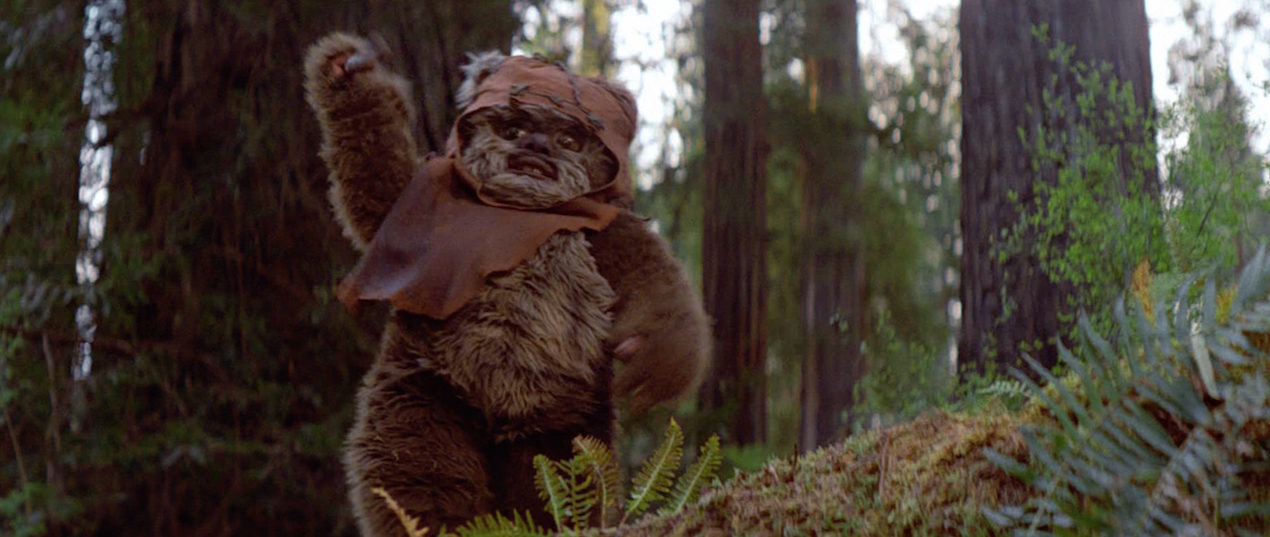 These cookies are full of aromatic spices, sure to put you in a festive spirit. Each gingerbread Ewok dons Wicket's iconic hood, and carries an edible, crunchy pretzel spear. Adorably feisty, these delicious snacks are great for sharing with family, friends, and rebel allies, this celebratory season.

Gingerbread Ewoks
For the cookie dough:
3 cups all-purpose flour
1 teaspoon ground ginger
1/2 teaspoon cinnamon
1/2 teaspoon nutmeg
1/2 teaspoon baking powder
1/4 teaspoon cloves
1/4 teaspoon salt
1 cup (2 sticks) unsalted butter, softened
1 cup brown sugar
1 egg
3 tablespoons molasses
1-1/2 teaspoons vanilla
For the decorating:
Orange fondant
Black icing
Chocolate dipped pretzel sticks
Step 1: In a medium bowl whisk together the flour, ginger, cinnamon, nutmeg, baking powder, cloves, and salt. Set aside.
Step 2: In the bowl of an electric mixer cream the butter and brown sugar until combined.
Step 3: Stir in the egg, molasses, and vanilla, until just combined.
Step 4: Slowly add in the dry ingredients just until the dough comes together.
Step 5: Split the dough into two and wrap in plastic wrap. Chill in the refrigerator until you are ready to use.
Step 6: Preheat the oven to 350 degrees. Prep baking sheets with parchment paper.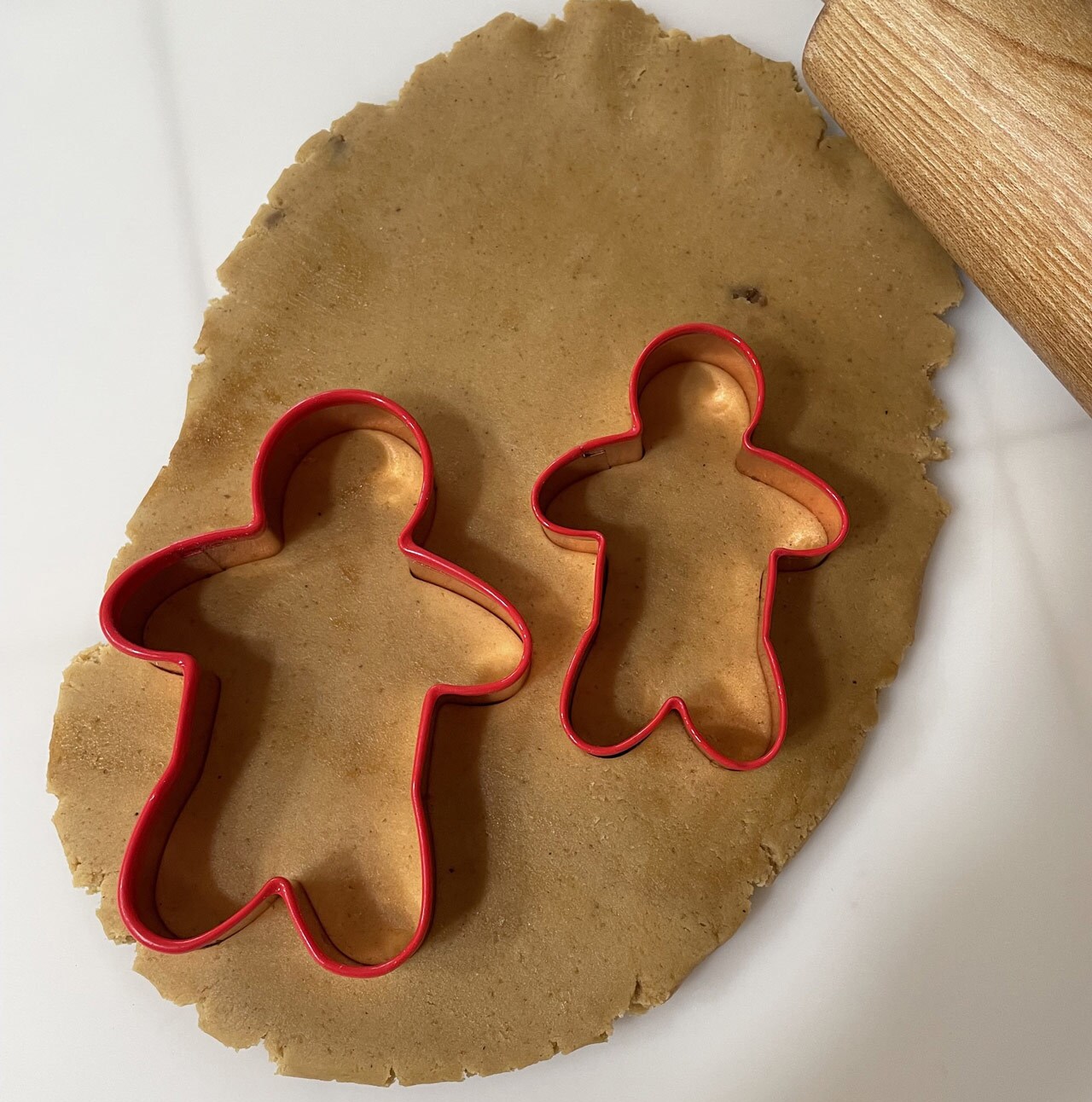 Step 7: Roll out the dough to about 1/4-inch thick. Use the cutter to cut out the shapes.

Step 8: Take 1/2 teaspoon of dough to make small ears. Place onto the top of the heads.
Step 9: Use the back of a knife to create fur marks on the body of the cookie.
Step 10: Wrap one of the hands around a piping tip. Transfer the dough onto the prepped baking sheets. 
Step 11: Bake for 10 minutes, let cool on a wire rack. Gently pull out the piping tip.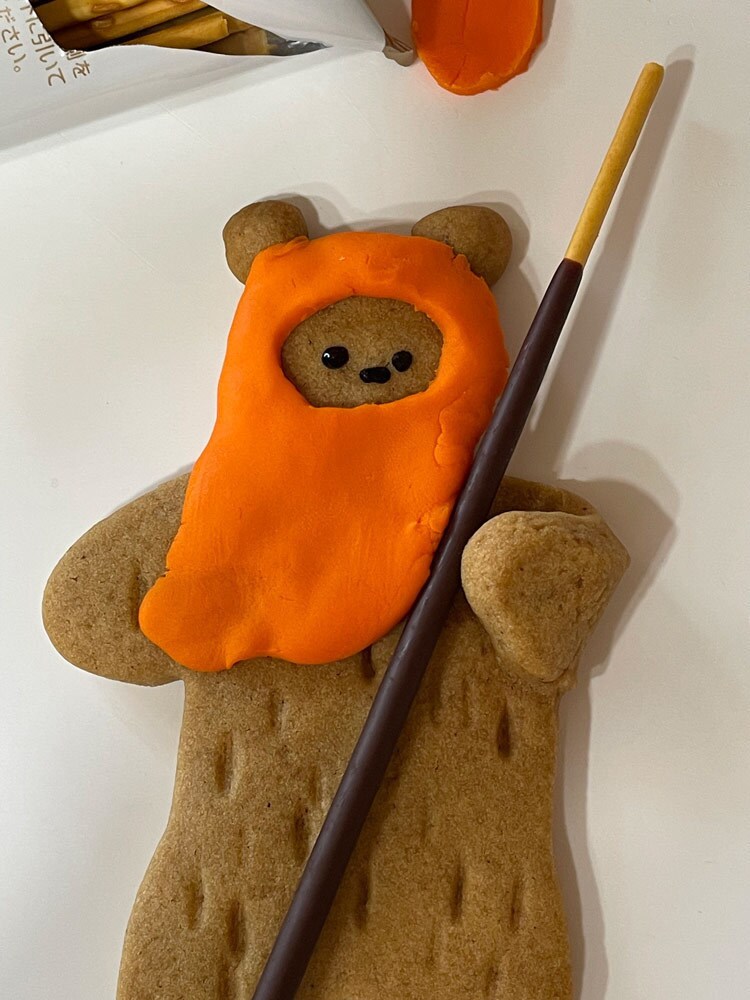 Step 12: Roll out a tablespoon of fondant to form the hood, and place on the cookie.

Step 13: Use icing to create the eyes and nose.
Step 14: Slide a pretzel stick into the curved hand. Once the icing is dry, the cookies are ready to serve.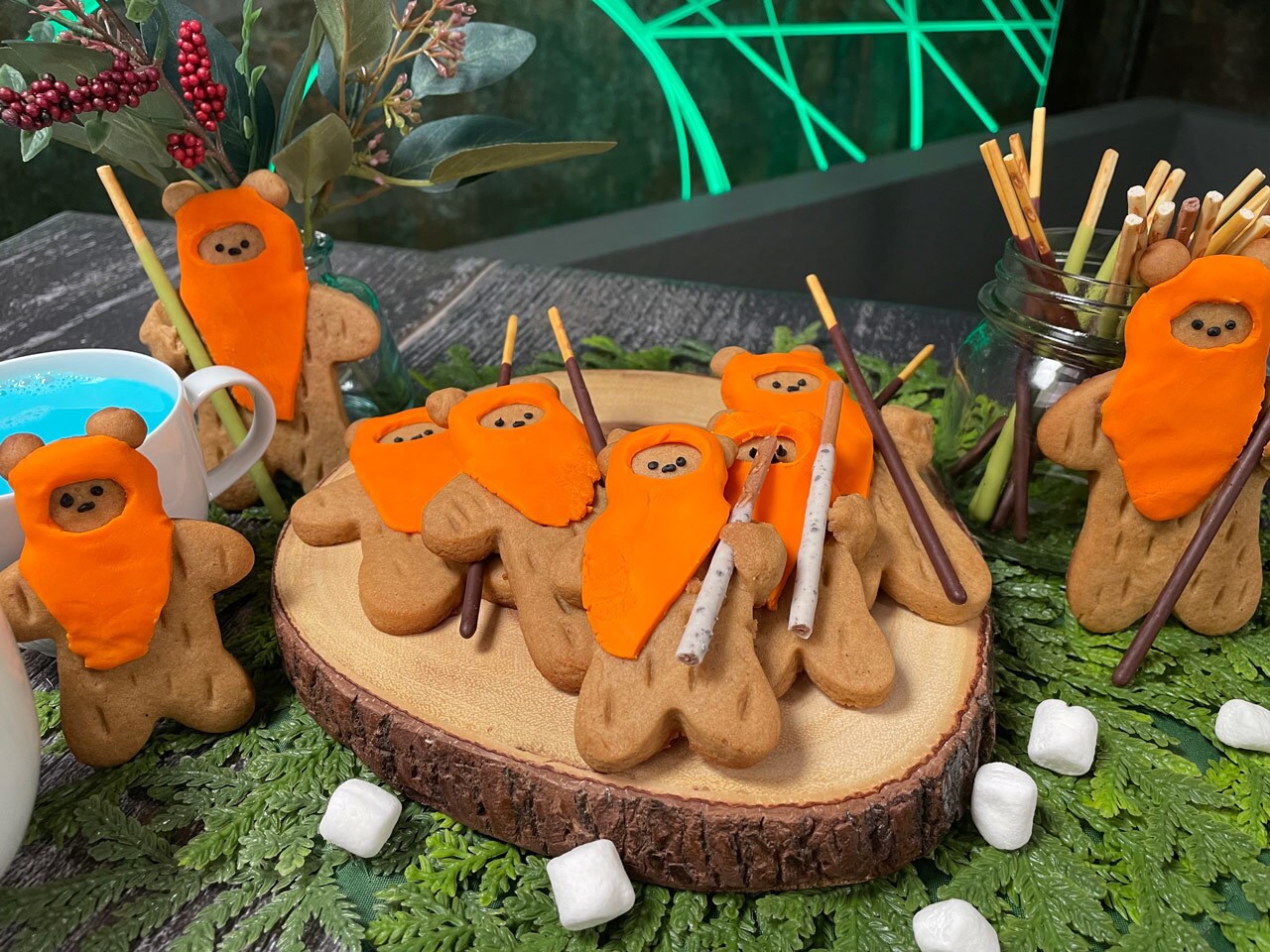 Yub nub, yum yum!