The comics team discusses reimagining a classic moment for Kotobukiya's Star Wars Artist Series.
Ewoks will soon be even cuter -- thanks to artist duo Gurihiru.
Gurihiru -- consisting of illustrator and inker Chifuyu Sasaki and colorist Naoko Kawano – has brought its colorful and lively Disney-meets-anime style to Kotobukiya's popular ARTFX Star Wars Artist Series line, creating a new statue starring the galaxy's most adorable and furriest beings. The result is "Battle of Endor -- Little Rebels," a fun reimagining of the climactic clash at the end of Star Wars: Return of the Jedi, depicting Ewoks in battle against an AT-ST. The piece, revealed exclusively on StarWars.com and available for pre-order now, takes inspiration from the team's first trip to the galaxy far, far away.
"Previously, we worked on the Star Wars Japanese-English Dictionary and did a similar piece based on the AT-ST scene," Kawano tells StarWars.com. "We both loved it, and I think we had that in the back of our head." 
Gurihiru has gained a following thanks to acclaimed comics work, including Marvel's Power Pack and Fantastic Four. But for "Little Rebels," the duo was determined to take advantage of the form.
"I wanted to do something you cannot easily express in an illustration," Sasaki says. "To make sure the statue can be appreciated from all angles, we came up with the diorama-style for this project. With Ewoks, I think the most iconic scene is where they fight against the AT-STs. So I did a sketch based on that scene, and revised that together." 
Though it's obviously based on the Battle of Endor, Sasaki and Kawano took care to include nods to Ewok history. "During the research, I found out about Kneesaa, who appeared in the animated series [Ewoks], with white fur and pink costume. I really wanted to include her," Sasaki says. But the greatest success of "Little Rebels" is that it looks like a Gurihiru piece come to life, with the duo's expressive style intact, and a sense of action and humor, as Ewoks aim bows and arrows, blow horns, and jump as they swarm the AT-ST.
"I love how the stylized Ewoks are done," Sasaki says. "I think we captured their tailless bottoms and short legs in such a cute way."  
"I really like Kneesaa, who hides behind [the AT-ST head], and Widdle, who's peeking from behind the rock," adds Kawano. "They're a bit harder to spot, but once you look at it from other angles, you can appreciate the cute surprises."
Both are excited for fans to see "Little Rebels" in person, and for the opportunity to return to Star Wars.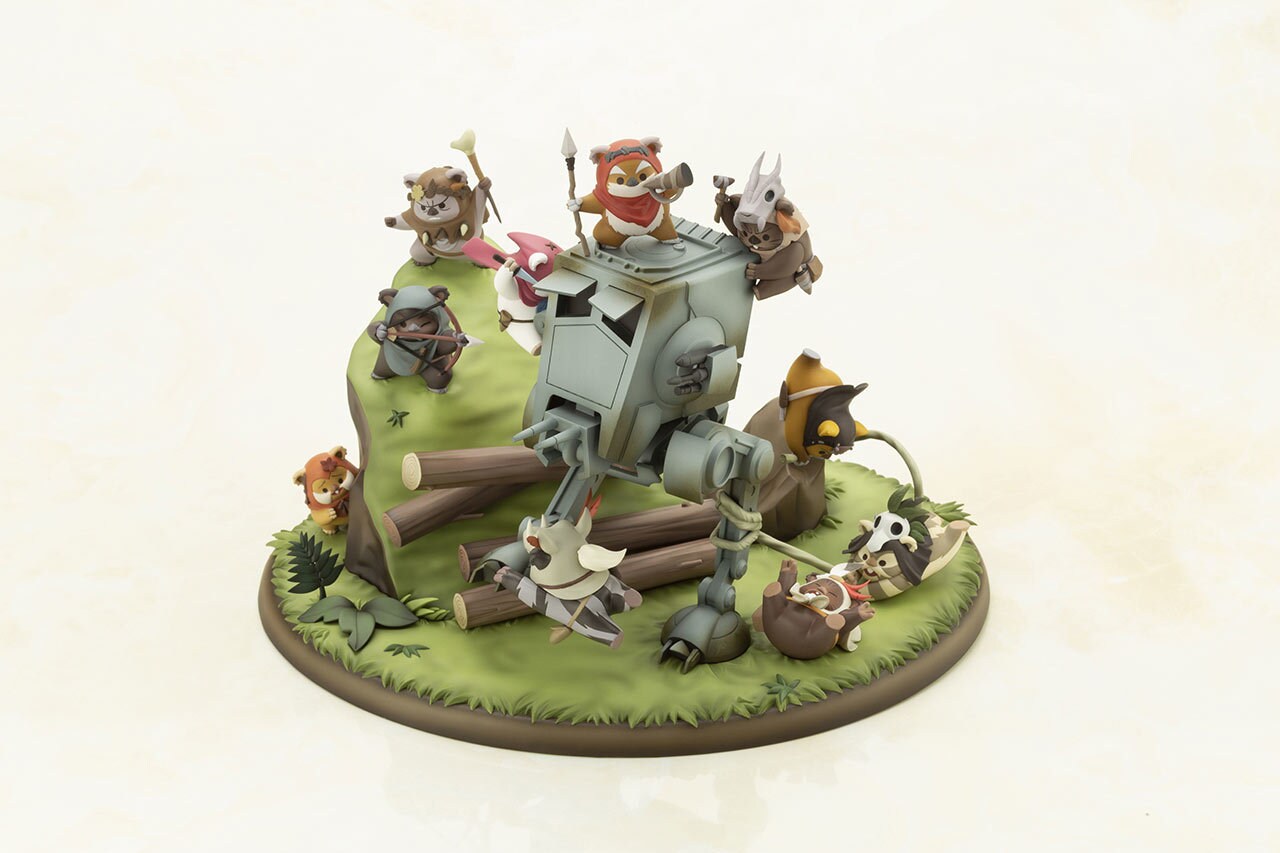 "Our previous works with Star Wars were all in two-dimensional format, so I was very happy to have a chance to work with the 3D format," says Kawano. 
"It is such an honor to have our art featured in such a way," says Sasaki.
"Battle of Endor - Little Rebels" is available for pre-order now.