The galaxy's most helpful protocol droid is now a tasty breakfast treat.
Some mornings, you need to treat yourself. Maybe not to an oil bath...but to scones! These lemony C-3PO-inspired scones are fluent in an essential form of communication: flavor. But every droid needs a counterpart, and every scone needs a hot beverage to accompany it. The R2-D2 Coffee Press from Think Geek (pictured below) can act as both -- and it makes up a hefty amount of morning fuel. Thank the maker!
C-3Pscones
(makes 6 large scones)
Ingredients:
2 cups all-purpose flour
1/2 cup sugar
1 teaspoon baking powder
pinch of salt
1/2 cup (1 stick) butter, softened
1 egg
1/2 cup buttermilk
1 tablespoon lemon juice
Zest of half a lemon
Icing ingredients:
½ cup powdered sugar
1-2 teaspoons lemon juice, as needed
Yellow food gel dye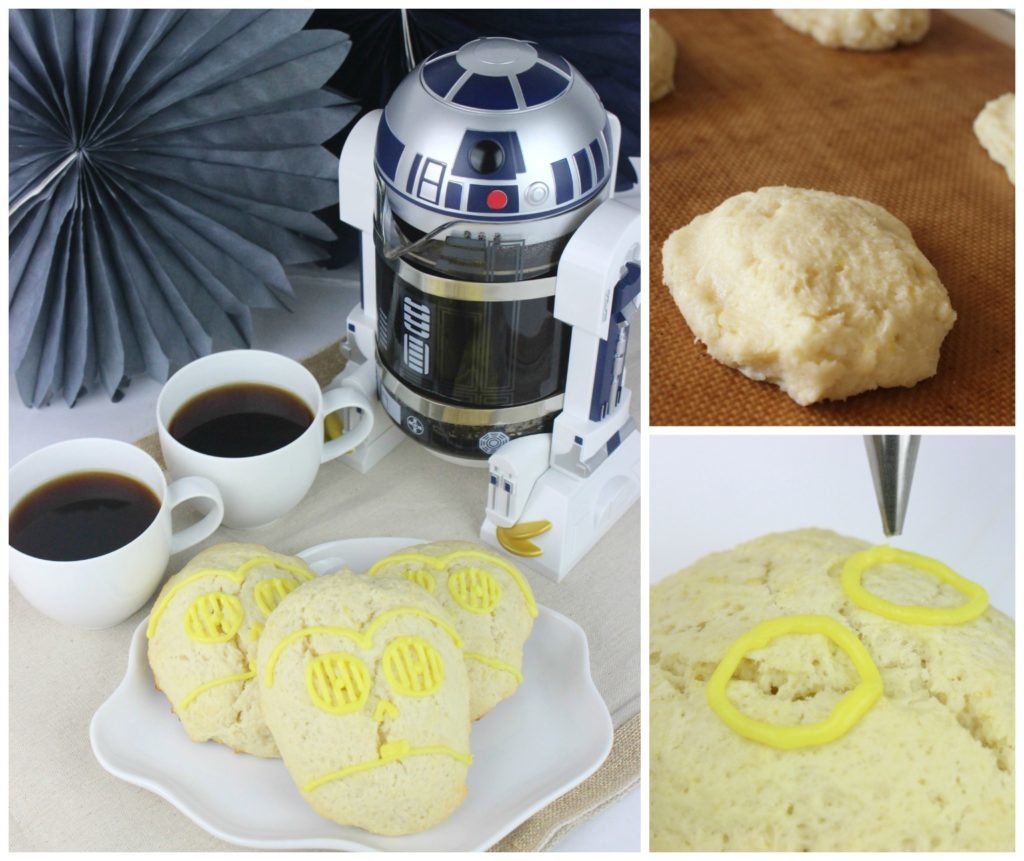 Preheat the oven to 400 degrees. Prep a baking sheet with a silpat or parchment.
In a large bowl, combine flour, sugar, and baking powder. Using a pastry cutter, cut in the butter until the mixture is crumbly.
Add the egg, milk and lemon juice until combined, then mix in the zest.
This mixture is sticky, flour your hands then form balls of the dough and pat into 3-inch flat ovals. Place on the prepped sheets and bake for 15 minutes depending on your oven, and let cool on a wire rack.
In a small bowl mix together the powdered sugar, lemon juice and yellow food gel dye. Add more lemon juice if needed to get a piping consistency. Pour the icing into a piping bag and with a #4 tip pipe C-3PO's facial details onto the scones. Once the icing is dry the scones are ready to serve.
The odds of enjoying this breakfast are approximately 3,720 to 1!

Jenn Fujikawa is a lifestyle and food writer. Follow her on twitter at @justjenn and check her Instagram @justjennrecipes and blog www.justjennrecipes.com for even more Star Wars food photos.