The actor, who first played the high-flying, Darksaber-wielding hero in Star Wars: The Clone Wars and Star Wars Rebels, makes a triumphant return on The Mandalorian.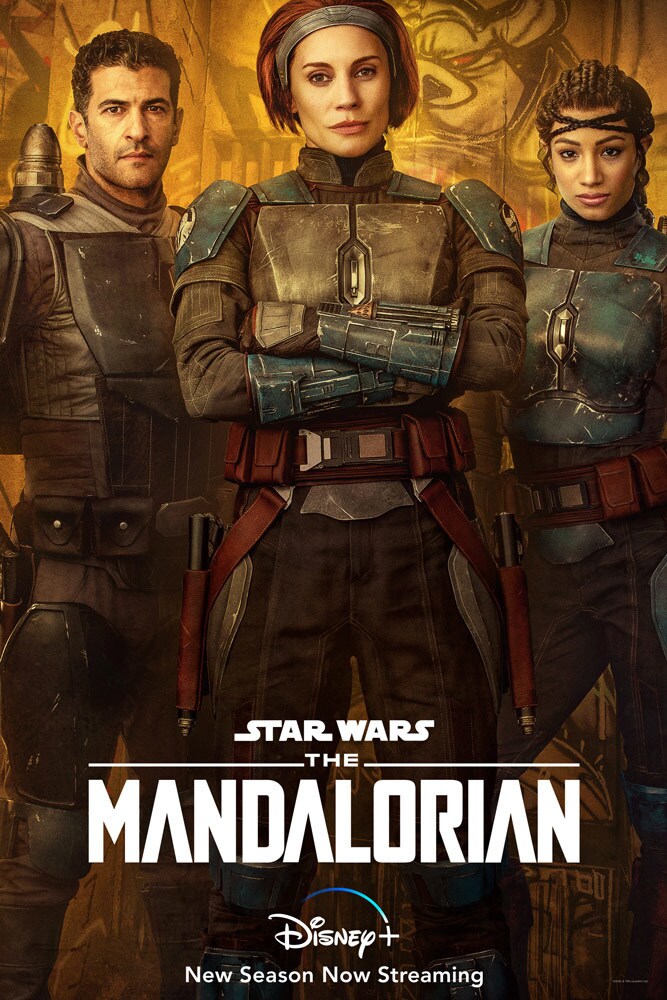 It started out as something of a joke. Backstage at Star Wars Celebration Chicago in April of 2019, Katee Sackhoff and Dave Filoni were discussing his next project, The Mandalorian, the same weekend fans got their first look at the live-action series.
"I remember saying to Dave Filoni, 'You know, not for nothing, but I think [Bo-Katan is] not dead,'" Sackhoff recently tells StarWars.com. Outwardly, she assured her friend and longtime collaborator that she wasn't going to pressure him to bring her character into the series, which takes place in-galaxy about five years after the fall of the Empire and nearly 10 years after we last saw Bo-Katan Kryze raising the Darksaber aloft in the animated Star Wars Rebels. But inside? "I remember just thinking, 'Come on, man!'"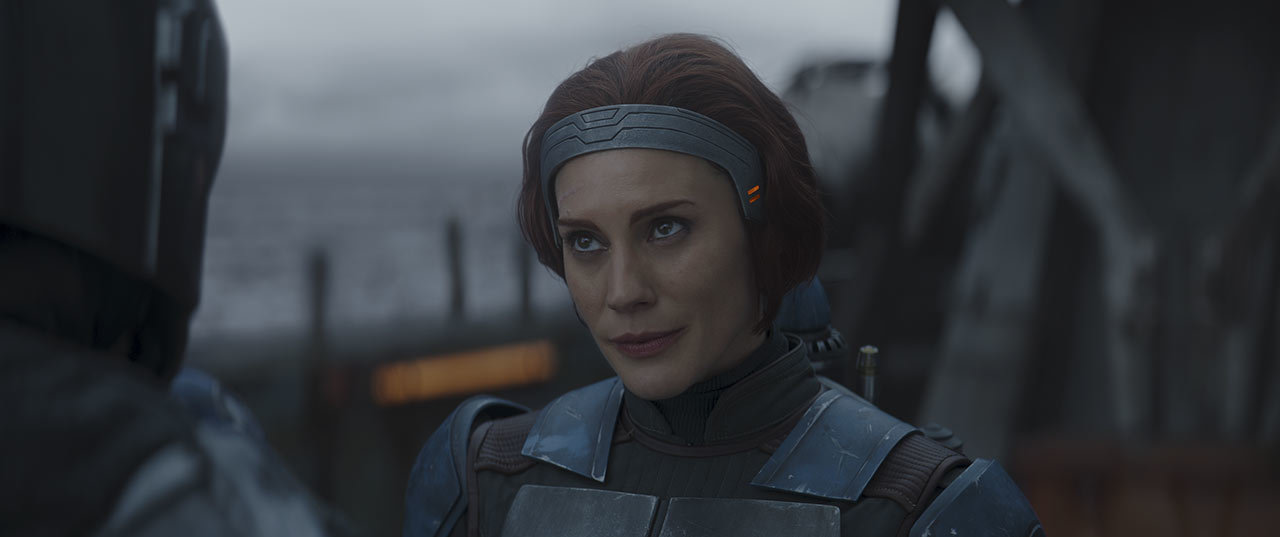 On Friday, the world learned that Sackhoff was right: Bo-Katan lives! And the character made her live-action debut in The Mandalorian as a surprise reveal in "Chapter 11: The Heiress" with Sackhoff stepping into the stoic leader's armor to fully embody the role.
For over 20 years, Sackhoff has made a career out of bringing strong, complex characters to the screen. As Kara "Starbuck" Thrace on Battlestar Galactica, Sackhoff channeled Sarah Connor from the Terminator franchise then added her own mix of strength and vulnerability in the breakout role. In the galaxy far, far away, Sackhoff made her debut in 2012 voicing Bo-Katan in an episode of Star Wars: The Clone Wars, the beginning of an arc that would take the warrior and sister of the Duchess Satine on a journey from the renegade Death Watch gang to her rightful place as reluctant ruler of Mandalore.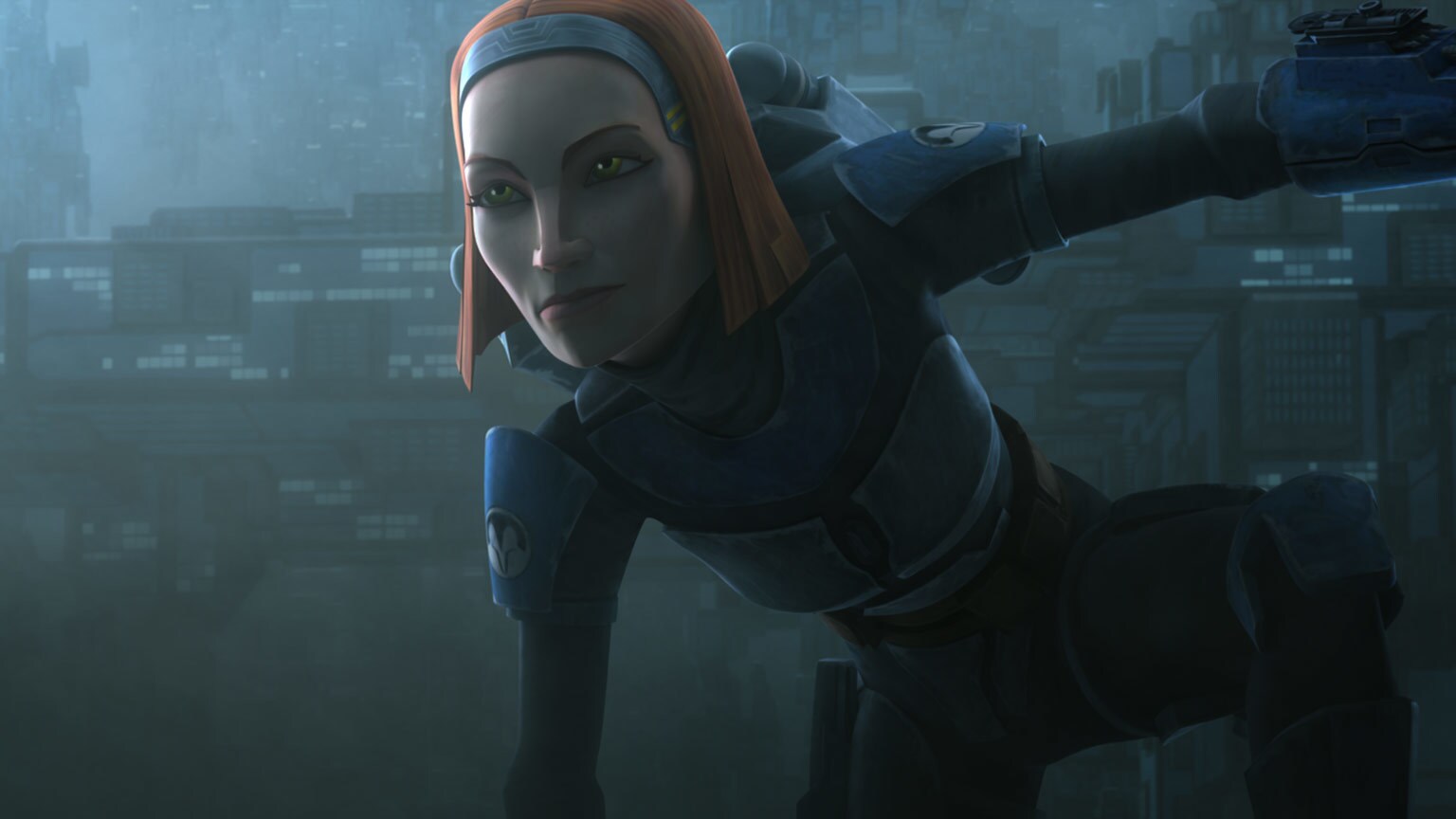 But even that intimate knowledge of the character didn't make it easy to bring her to life for The Mandalorian, Sackhoff says. "I think the main thing is I truly thought that having voiced her for over a decade would help me. And it actually sort of hurt a little bit in the beginning," she admits, exuding humility as she discusses her craft. "While it gave me a tremendous understanding of who she was as a person, it didn't help me to figure out her physicality. It didn't help me to figure out the way her face moved or the way she walked. I had seen the way she moved, but it was in animation. And so to translate that in a way that didn't look cartoonish was actually harder than I thought it would be."
For one thing, Sackhoff has a very expressive face, which had long been hidden away in the safety of the recording booth. During those voice acting sessions, "I'm a crazy person," she says with a laugh. "I'm moving and I'm jumping around and my face is doing all these weird things." Bo-Katan in person is pretty much the polar opposite. "There is a stoicism to Bo-Katan that is very purposeful and intentional. When she moves, she means to do it. It's thought out. So I really had to find a way of living her and having her move [in a way] that felt calculated, which did not allow for 'Crazy Katee' to come into play at all."
Sackhoff describes her time on set as if she were the titular character from Who Framed Roger Rabbit exploring the real world for the first time. "My first day felt a little untethered," she admits. "I did feel a little like Roger Rabbit in this alternate world where I was human but I wasn't…. Because I had seen her on screen and some of the things that she did on screen as animated Bo didn't work for live-action Bo. And it was finding that right balance because I want fans to instantaneously feel familiar with her but I also wanted to make sure that she was bigger and better than they could have imagined."
Thankfully, the episode's director, Bryce Dallas Howard returning after helming an episode in Season 1, helped Sackhoff along with a gentle sense of humor. "Bryce Dallas Howard was so funny. She kept saying 'More real boy, Katee! More real boy!'" as if her transformation from animation to live action were akin to Pinocchio finding his footing after his own magical transition.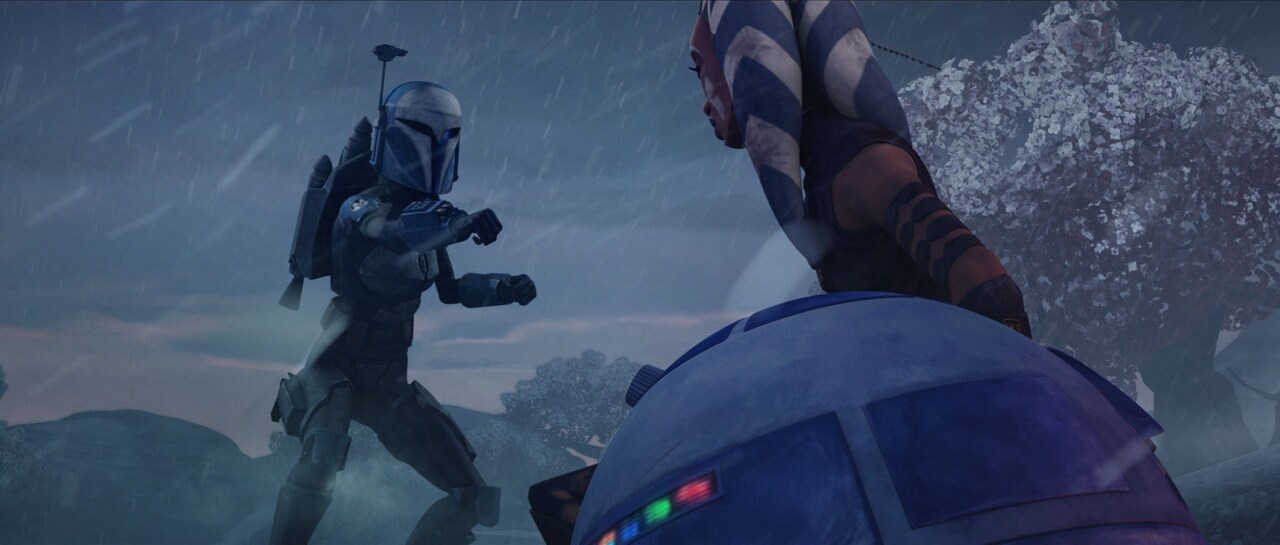 Long live Bo-Katan
Nearly a decade ago, when Bo-Katan made her first appearance as the leader of the Nite Owls in the Clone Wars fourth season episode "A Friend in Need," Sackhoff says much of the inspiration for the character came from Filoni himself. "Dave really knew what he wanted Bo to be and he helped form her with my voice from the very beginning," Sackhoff says. "And my job -- at that point, in the beginning of her -- was just to listen to him and to take his feedback and his direction and make sure I was doing what he wanted me to do and how he thought she would sound."
In her career, Bo-Katan is the role Sackhoff has returned to most often, playing the character now at three different points in her life. "As the years went on, I put a little bit more of my own spin on her, of course," she says. Her voice deepened by the time she appeared in Star Wars Rebels, the years and the stress of battle creasing her animated face.
For the actor, the character has resonated over the years for her flaws and struggles with identity. "You've seen her grow up and grow as an individual and as a leader," Sackhoff says. "A lot of people forget. In the beginning of Clone Wars" -- which is not required viewing for The Mandalorian but certainly deepens the backstory of Lady Kryze and the Mandalorian culture -- "she was not a very good person when we first met her."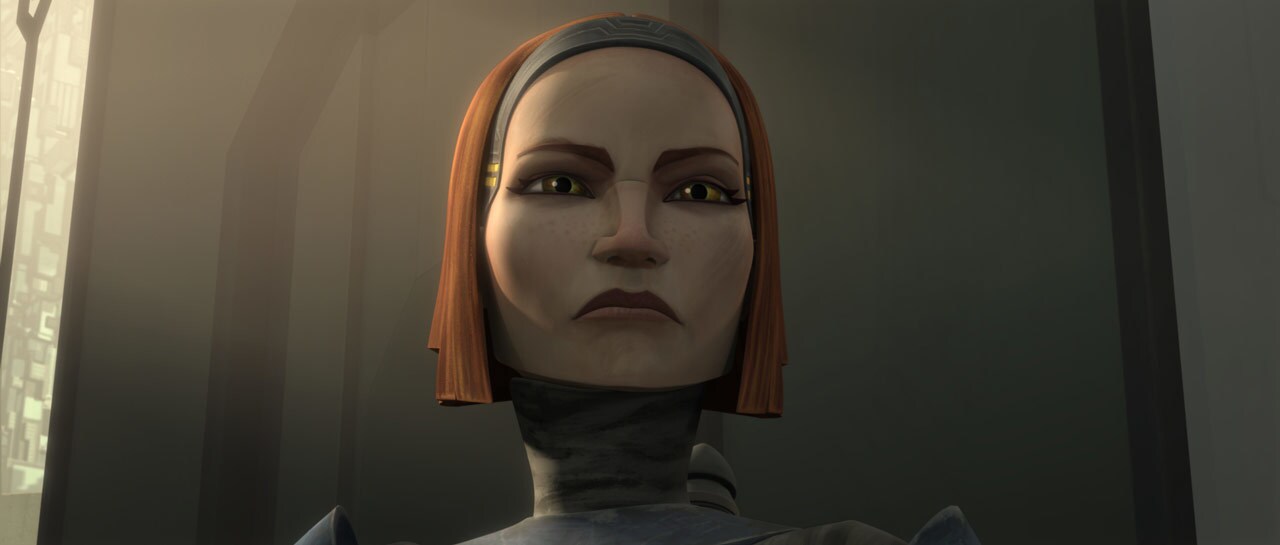 Describing her character as a "headstrong rebel" and a warrior at her core, "she has never known how to lead," Sackhoff says. "She's always reserved that for her sister, for the diplomats and the politicians. She was the warrior. And I think that we've seen her from our first introduction to her and where we're finding her now is this person who's struggled with that and then ultimately leaned into it and realized that -- pun intended! -- this is the way. She is the rightful leader and she does know how to lead. She understands the way the Mandalorians think, their history, and their beliefs and who they are as a people. And that -- we've seen her grow into that. And she still has faults."
Behind the scenes, Sackhoff does not hesitate to call out her character's sense of self-importance. "We've talked a lot about how she has a tremendous ego on her. And a lot of leaders do. Sometimes to be a good leader, you have to know that you know what is right for your people. And that does come with ego."
Beyond that transformation, Sackhoff sees the character as a beacon of hope. "For a person who started out on the wrong side of this fight and to see her grow and broaden her mind and be open to change is such a metaphor for life and forgiveness," Sackhoff says. "And how people can change. Because she did."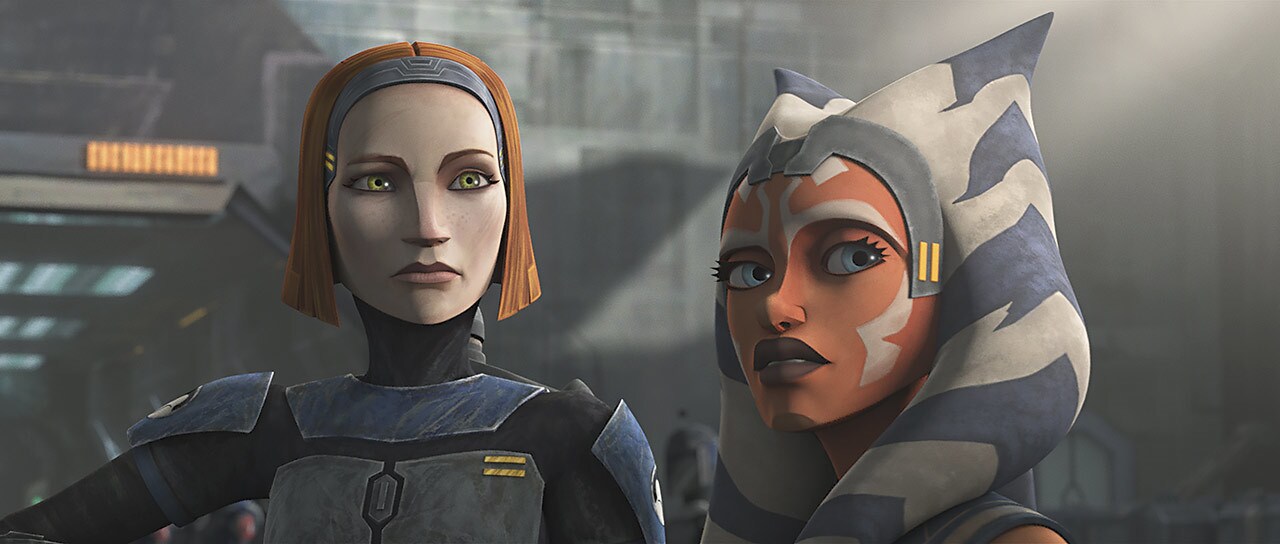 Like something from a dream
Sackhoff had the opportunity to revisit the character during the Siege of Mandalore arc in the final season of The Clone Wars, which debuted earlier this year. During their lunch breaks on the set of The Mandalorian, Filoni would pull out his iPad and share the near-complete episodes with Sackhoff while explaining some of the character-building details about where Lady Kryze has been in-universe since the rise and fall of the Empire. "It's a very interesting set of circumstances and I will not spoil that…nor am I allowed to," she laughs.
It was in the wardrobe department of the Los Angeles-based production that Sackhoff got her first glimpse of herself in full costume last year. It brought her to tears.
"And I had tears in my eyes this morning when I saw the first picture of her that somebody had tweeted," Sackhoff told StarWars.com Friday afternoon. "I lost my mind. She is such a perfect representation of who she was in Clone Wars and Rebels."
As a fan herself, there are days Sackhoff still can't believe she's a part of the Star Wars galaxy. "I must say, from the perspective of a little girl who used to pretend that she was every character in Star Wars, you know…my mind is blown."
It's a phrase Sackhoff uses frequently to describe her awe and affection for the storytelling and the fandom.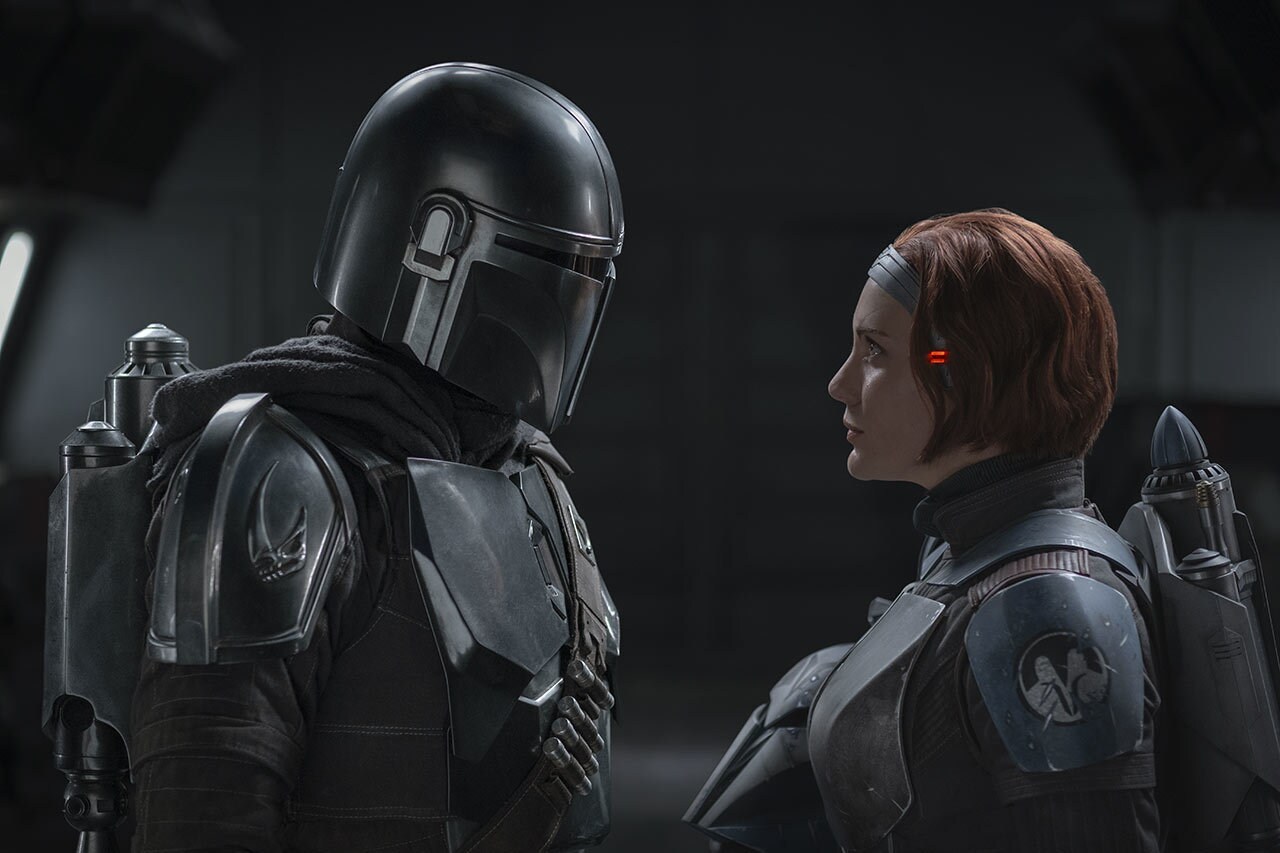 When we spoke, her episode had made its streaming debut but Sackhoff had yet to sit down and watch it for herself. "I want to live in this fantasy just a little bit longer," she says, "because my expectations are so high not only for myself but for Bo in this world. And I just don't want to dive in yet. I'm a little terrified, actually," she admits. "I will. Tonight! But I will make sure that I have a glass of wine with me," she adds with a laugh.
Sackhoff doesn't always watch her work in its finished form, having seen it in playback and from the recording booth. "I've never seen Battlestar Galactica in its entirety in the finished product," she says. "Once I watch it one time I sort of put it to bed and I move forward with the character or I put the character to bed, as well. And so it's strange for me to watch myself." When it comes to Star Wars, it's different. "I will absolutely watch this. As a fan of the series and the world, I have to watch this. I have to. I have to take my own insecurities out of it and just watch the darn thing."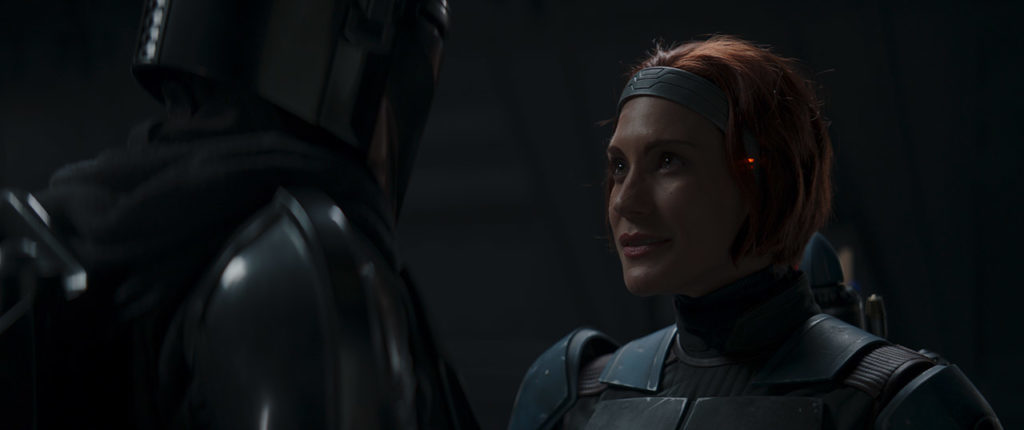 It's a tired phrase, but for Sackhoff, becoming Bo-Katan in live action is literally a dream come true. "I really do continue to pinch myself….I keep saying 'surreal' because I have no other word for it. It truly is. Especially having lived her for so long." Sackhoff has long explored her characters through her unconscious mind. "That is how I do a lot of my backstory work. I know that I've found a character when I start to dream as them. And I have dreamt as Bo-Katan for many, many, many years. I've seen myself as her for many years. And to finally have that moment where I've got it on and I was staring at myself in the mirror, it truly was a dream."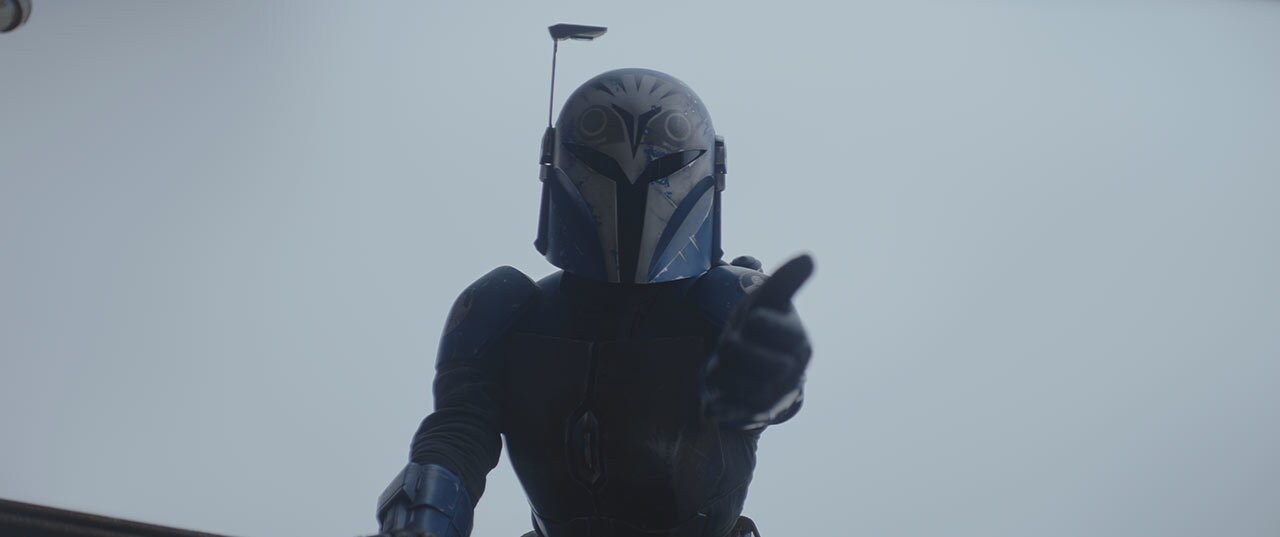 "Freaking out"
Even before seeing the episode for herself, the social media frenzy began, with Sackhoff and the fans trying to strike the balance between sharing their excitement and not spoiling anything for those who had yet to watch from home. On Thursday she tweeted out a cheeky non sequitur asking, "Is it Friday yet?"
"I don't want to give spoilers out," she says. "I want people to have that visceral reaction to seeing something for the first time. And so I know that is very important. But I also know that the fan base wants to know that you take it seriously and are as excited, as well. So there is a happy medium….The fact that she is a fan favorite does still blow my mind."
By the next morning, the excitement had erupted. "Even today…I don't want to do anything because I don't want to spoil it for the people who are going to watch it Sunday. But at the same point I don't want people to think. I'm not freaking out. Because I am freaking out."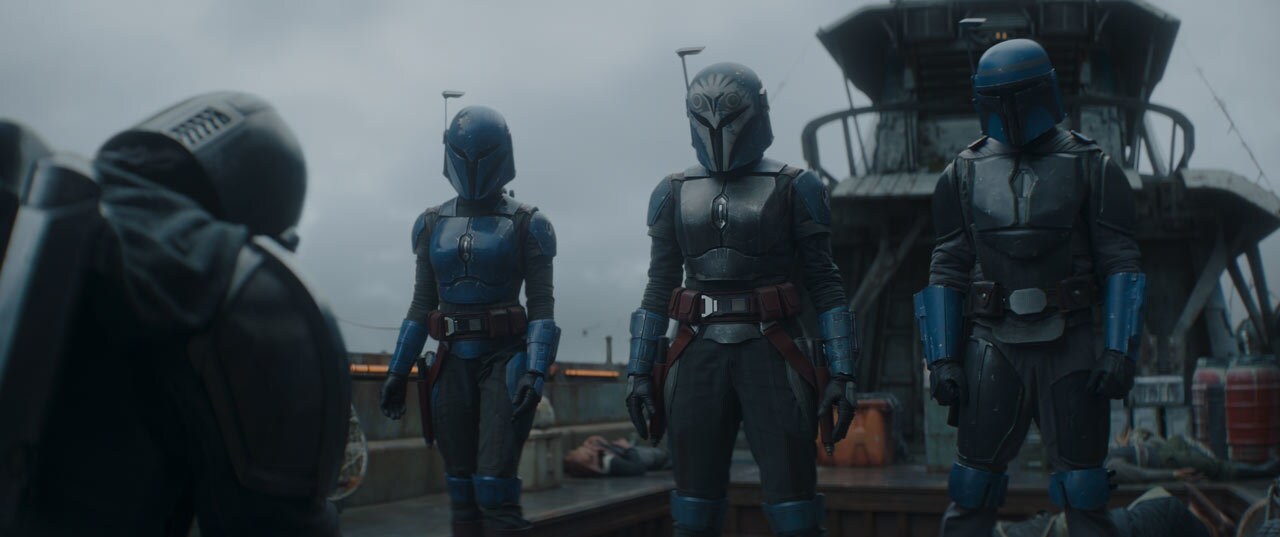 When the titular Mando first makes her acquaintance, he accuses Bo of stealing her armor and fraudulently posing as a Mandalorian warrior, having been raised in an offshoot sect that decreed the sacred Mandalorian helmets could never be removed in front of another living thing. Bo all but scoffs at his accusation, a character who clearly sees no need to defend the years of battle and bloodshed against a Child of the Watch.
In Sackhoff's expert depiction, this version of Bo-Katan is calm, controlled, and focused on her purpose, reining in her expressive face for just the right amount of disapproval without fully rolling her eyes. "I wanted her to feel regal and that sometimes requires stoicism," Sackhoff says. "We see this person now in a position where she is truly ready to lead her people." The actor's passion for the character's story comes across clearly in her earnest description. "But she's only ready to lead her people because she's been through what she's been through. If people didn't forgive this woman she would not be where she is right now because she made a lot of mistakes. And I can identify with that. I can identify with someone who is a reluctant leader, who was thrown into a life that they didn't necessarily think that they were going to have and who decides to step up. I think we can all identify with that."
To bring her to life, Sackhoff had to find the right mix of her own humanity and Bo-Katan's fierce exterior. "That was the hardest thing: getting out of my own way and letting go of my own insecurities. And then using my insecurities because I think Bo-Katan is also, or has been at times in her past, insecure. It's why she hasn't tried to lead up until now."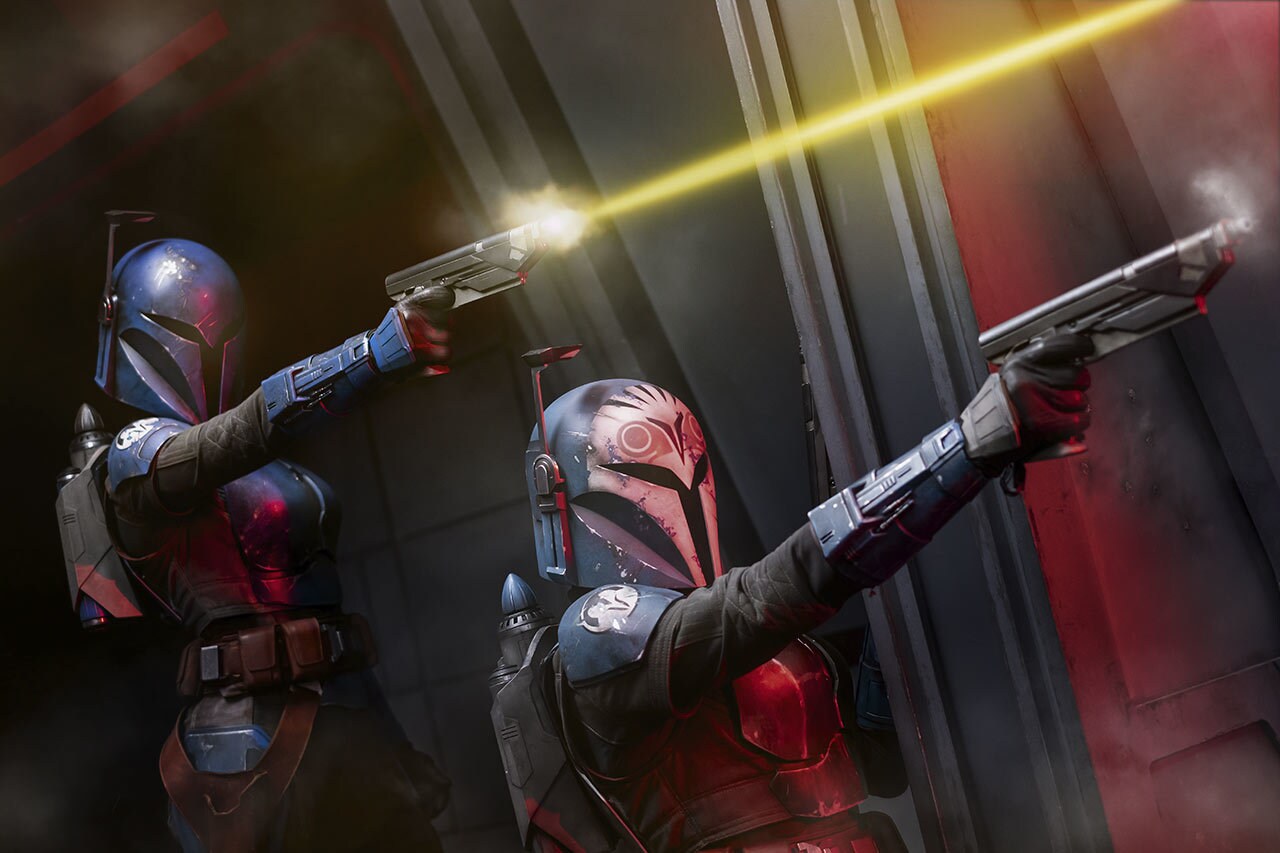 The next generation
Sackhoff hopes her portrayal will inspire the next generation of fans in the same way she came to adore action movies and their stars as a child. "I grew up idolizing characters played by Bruce Willis because there were not a lot of strong, physically-fit women that were represented in many different forms of media. As a tomboy, I didn't really feel represented so I idolized male action stars."
She has her dad to thank for her taste in movies, a mix of classic action flicks, space opera, and sci-fi. "My father raised me on science fiction," she says. "I very clearly remember watching Star Wars and Return of the Jedi when I was a kid. Empire Strikes Back is still one of my favorite movies. Leia was so cool because she fought and she had a gun. She was feisty and funny and she was such a well-rounded female character in my mind as a little kid. She was one of those first characters that I saw that didn't make me want to be the boys in the movie and I remember that being really special.
"And then we got Sigourney Weaver, Linda Hamilton, and Lucy Lawless. These women that embodied everything that I felt in my soul as a little kid. And so I've always really been drawn to this world. I do love to play the strong female characters because it's sort of what I used to make believe as a little kid. I used to pretend that I was these women, and so I love to continue to pretend that I am these women."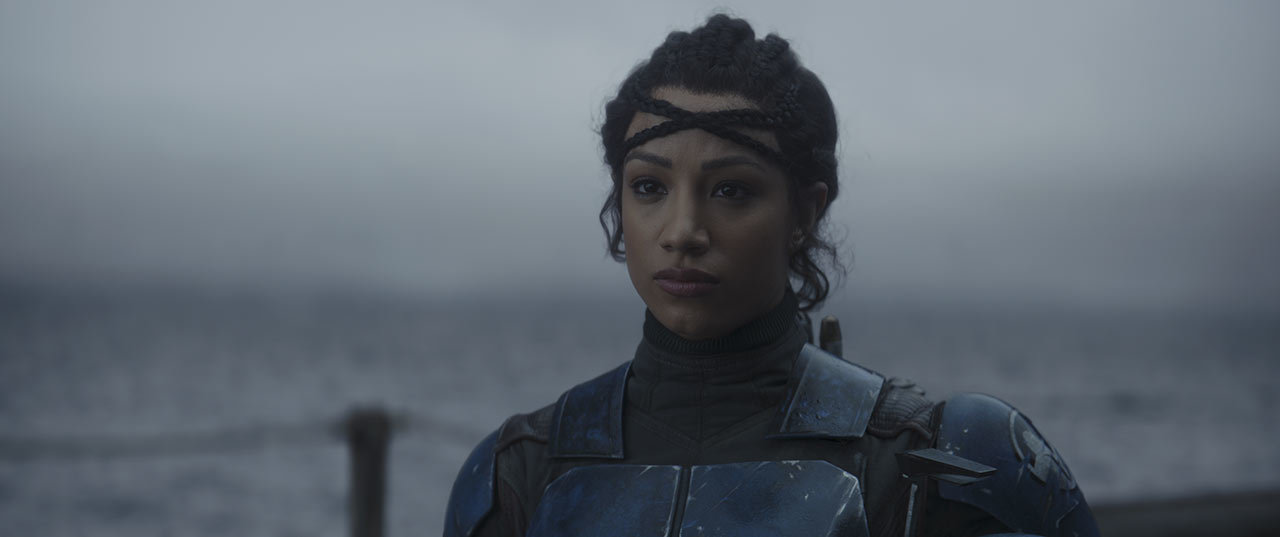 The tradition continues on- and off-screen for Sackhoff, who in this episode was surrounded by not only Howard but series newcomer Mercedes Varnado, playing fellow Mandalorian Koska Reeves. "What I find so empowering about being around strong women is that the strongest women are also the most humble," Sackhoff says. "And I find that with Mercedes and also with Bryce; they're just so kind and so great to be around."
Sackhoff met Howard several years ago but up until now never got the chance to work together. "When I found out that she was directing this episode, I couldn't have been more excited. I've been a fan of her for a very long time as a performer, but then also as a director. And seeing the voice that she is developing for herself in this industry as a director and as a teacher is really important," Sackhoff says. "One of the great things about Bryce is that she knows that she doesn't know everything. So not only is she there leading you and teaching you, but she's learning at the same time. And that's what makes a great leader. She's such a great director and she's such an actor's director."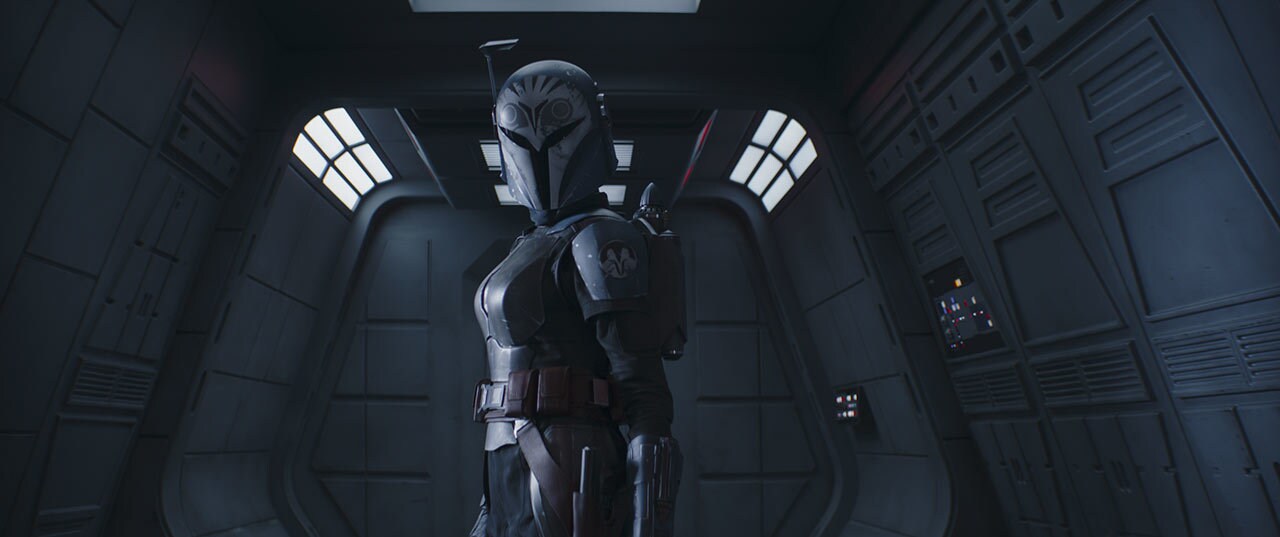 Now, with Bo-Katan inspiring an even wider audience, Sackhoff hopes to see a legion of young fans dressing up like the leader of Mandalore. "I hope that every little girl dresses up like her for next Halloween because she's so badass," she says. And maybe Sackhoff will even join in the cosplay. She's had her own Bo-Katan helmet ever since she was inducted into the 501st Legion nearly a decade ago, she says, a gift that she keeps in a place of honor next to her Starbuck helmet.