How do you make a summer night at the ballpark even more fun? Add some fireworks... and an Imperial or two.
How often can you attend an event where lightsabers wave through the air among churros, corn dogs, and giant yellow foam fingers? If you're an Oakland A's fan, just once a year, at their annual Star Wars Fireworks Night at the ballpark.
As a baseball fan and, of course, lover of all things Star Wars, I geared up in my green and gold and took to the park last Saturday to see how Oakland does Star Wars fandom.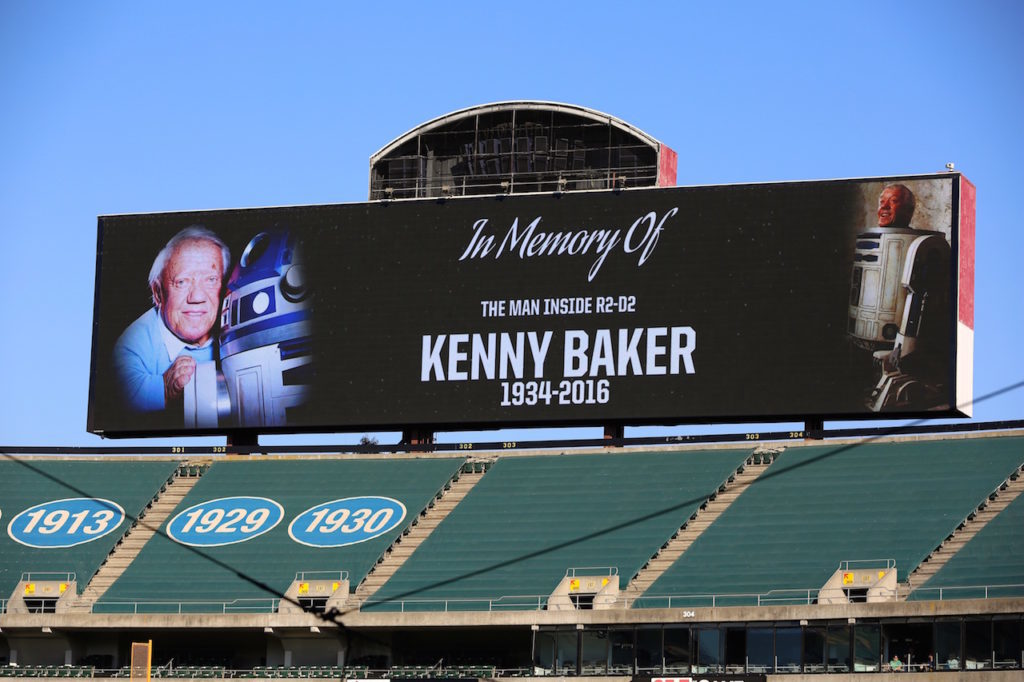 Saturday morning sadly began with the news of Kenny Baker's passing, but the day was turned into a form of tribute to the beloved actor inside the astromech. As the announcer praised Baker's work in the saga, a passionate fan yelled, "Kenny, we love you!" only making me more proud of the passion you see throughout the Star Wars community from conventions to ballparks.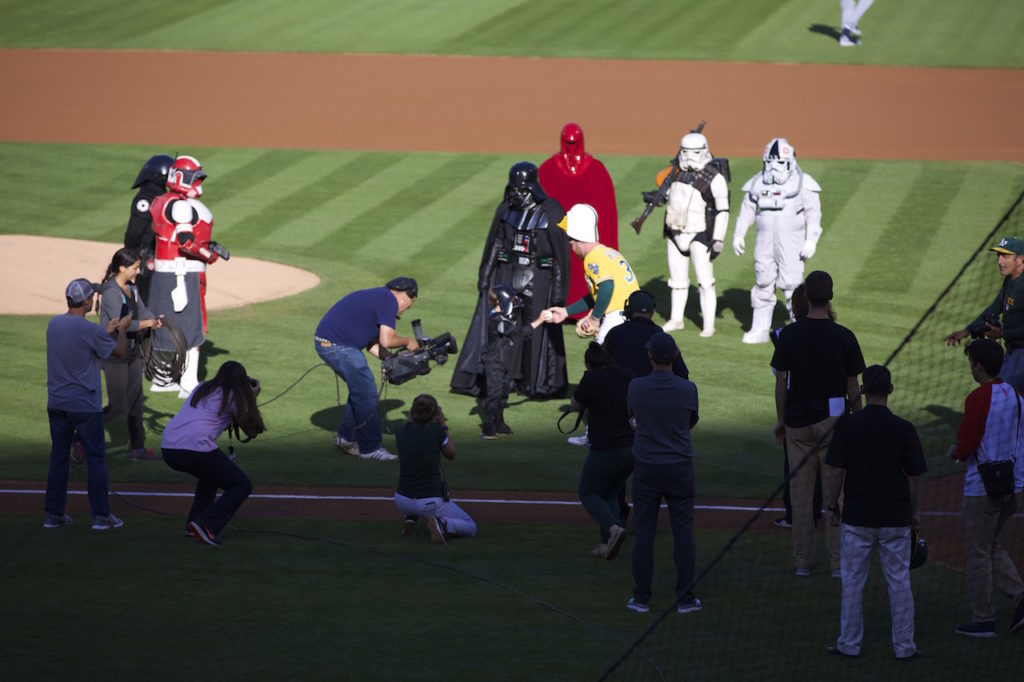 Fans were instructed prior to the game to dress in Star Wars costumes for the chance to throw out the first pitch, and little JP Wenzel adorably did just that. The mini Vader walked proudly onto the field escorted by a stormtrooper, Imperial Royal Guard, AT-AT pilot, and, of course, his full-sized counterpart. He gave it his best shot at launching the ball toward home plate, undoubtedly with a little help from the Force.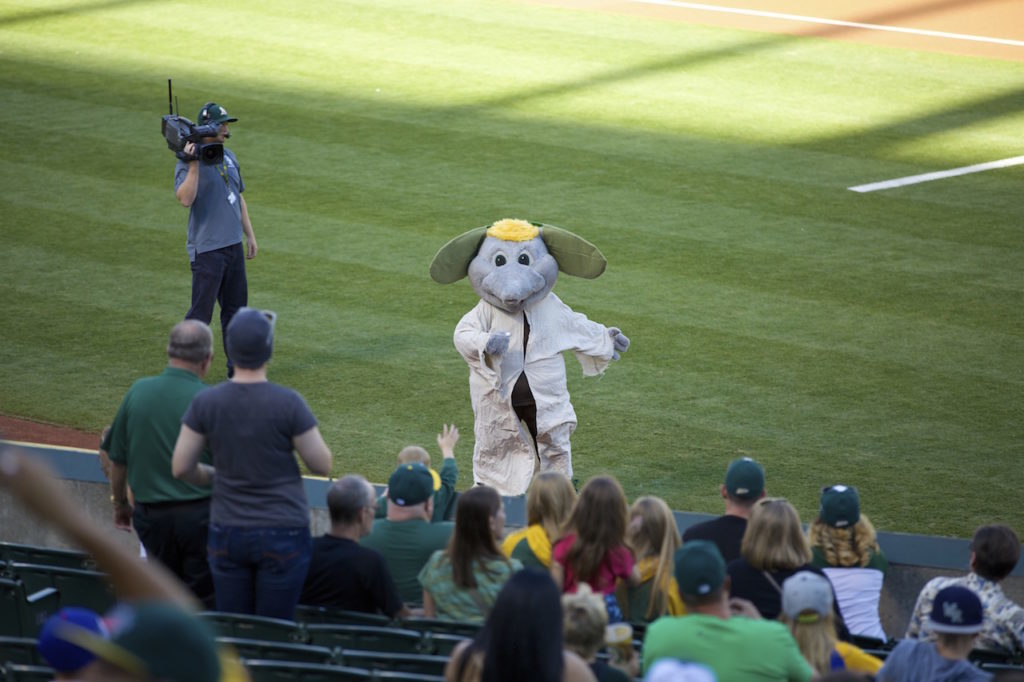 The fans weren't the only ones getting in the Star Wars spirit. The team's gleeful elephant mascot, Stomper, wore his best Jedi robe and Yoda ears for the occasion while in-game host Kara Tsuboi came as Rey -- tunic, triple buns, and all. Stomper cruised onto the field in his Chevron-blazoned car to the tune of "Weird Al" Yankovic's "Yoda." Stepping out of his ride, he danced, amped up the crowd, and taunted the nearby stormtroopers getting a disapproving finger wave in return.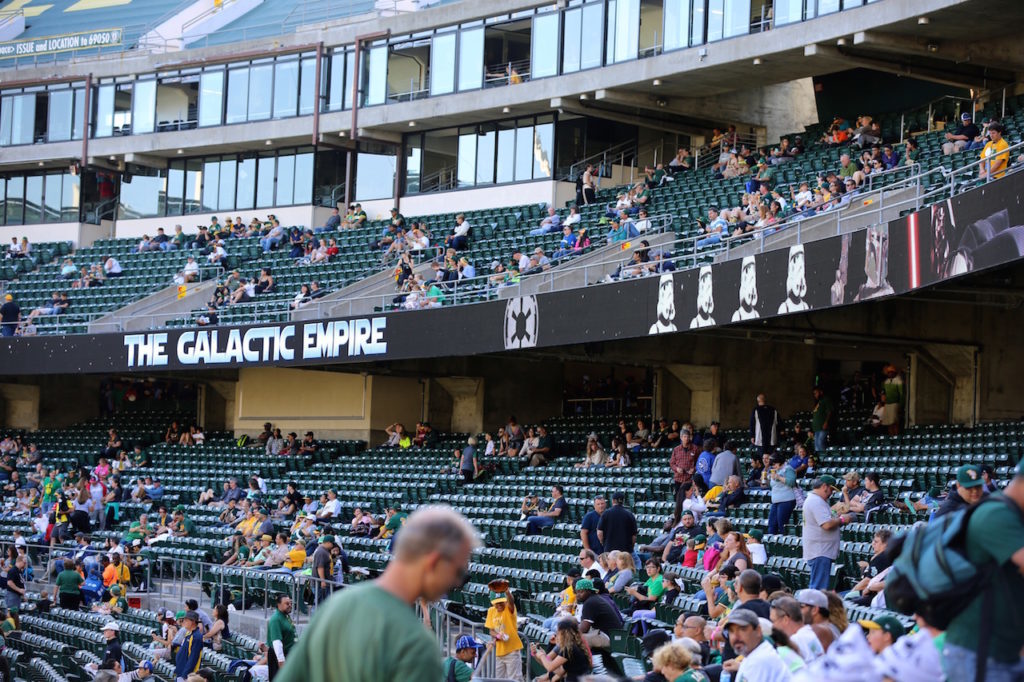 The added Star Wars flair throughout the game was what I enjoyed the most. The opposing team's pictures doctored up as troopers and the Wookiees used to pump up the crowd to "make some noise," were a great touch. It was impossible for a good Star Wars fan not to picture the clan on Kashyyyk throwing their arms up and howling raucously in Revenge of the Sith. The montages between innings featured clips with added Oakland A's easter eggs, like the Death Star exploding into the team's logo or Nien Nunb giggling on the Falcon while sporting an A's cap.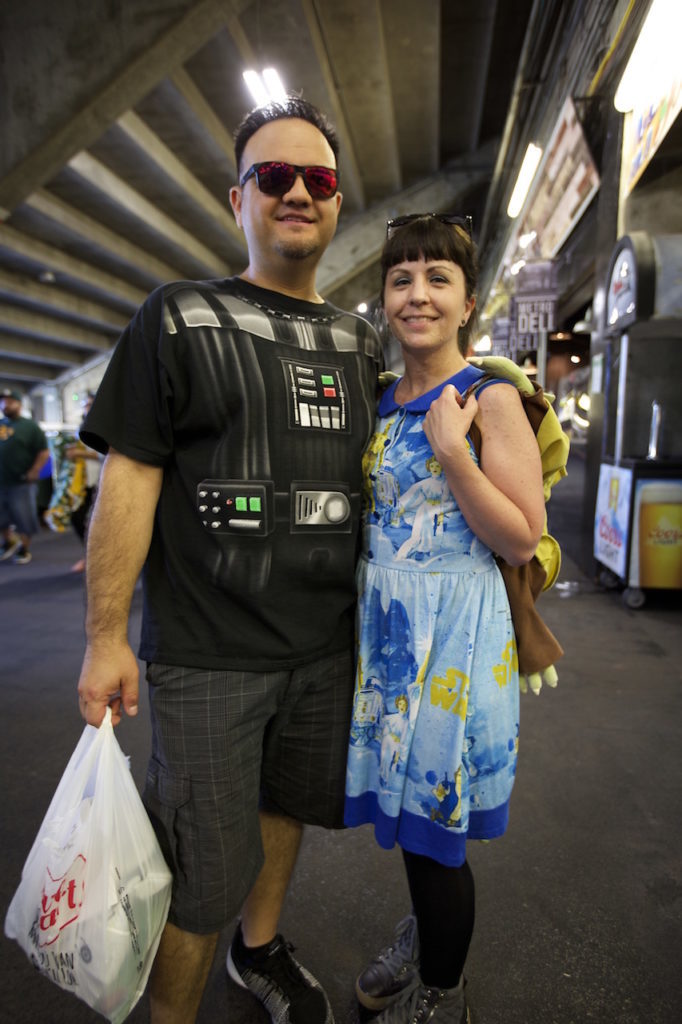 I made sure to get to the park early to prowl for truly dedicated fans, and I found just the ones I was looking for. Since the new trailer for Rogue One was released just two days prior, I was eager to hear some thoughts and favorite moments.
The first couple that caught my eye was a pair sporting some sweet Star Wars gear, including a fantastic vintage dress from Her Universe. Jennifer and Juan Mercado were enjoying their very first Star Wars Fireworks Night at the ballpark and, like most fans, were super excited for said fireworks. Juan was also pumped to talk Rogue One for one major reason. "This guy!" He said while pointing to his dark side-centric shirt.
Jennifer was more hyped for our new heroine, Jyn Erso. "More strong female characters!" she exclaimed.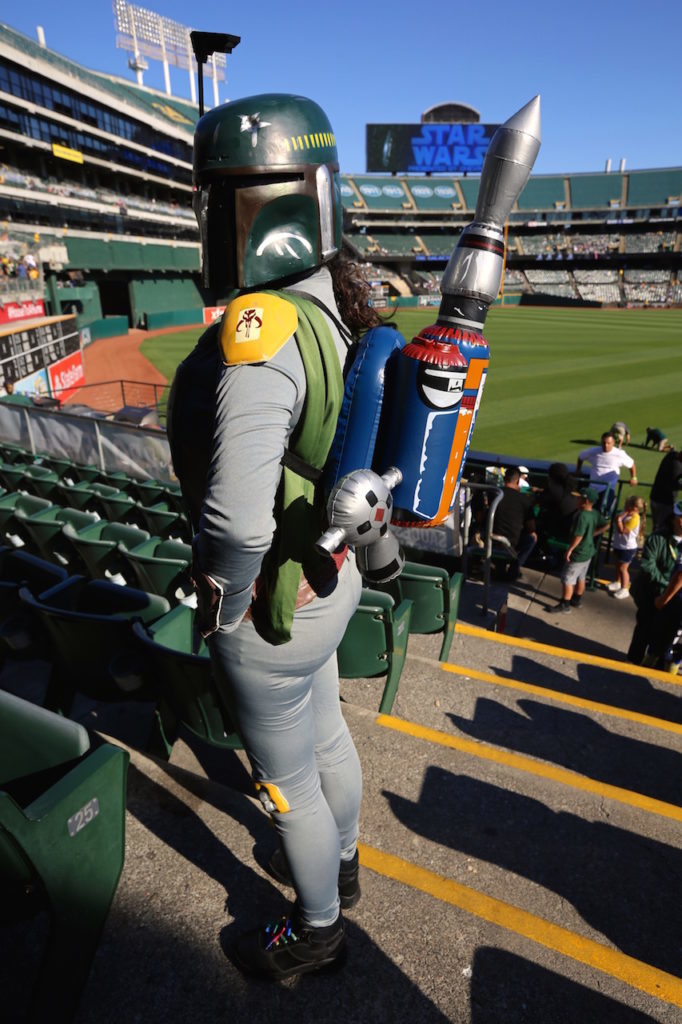 Lilia Baker from San Francisco took a similar stance on the trailer. Strolling the stands of the ballpark quite similarly to Boba Fett pacing the halls of Cloud City, Lilia mentioned how she loves that the main character in the newest film will again be a female. While I marveled at her inflatable jetpack, she explained her favorite part of Star Wars Night at the ballpark.
"I love seeing all the other people that also dress up and, you know, when we have our helmets on, and have a non-verbal (bond). It's like I'm not alone, there are other people that look silly, too!"
...And by silly, I'm sure she of course meant AWESOME.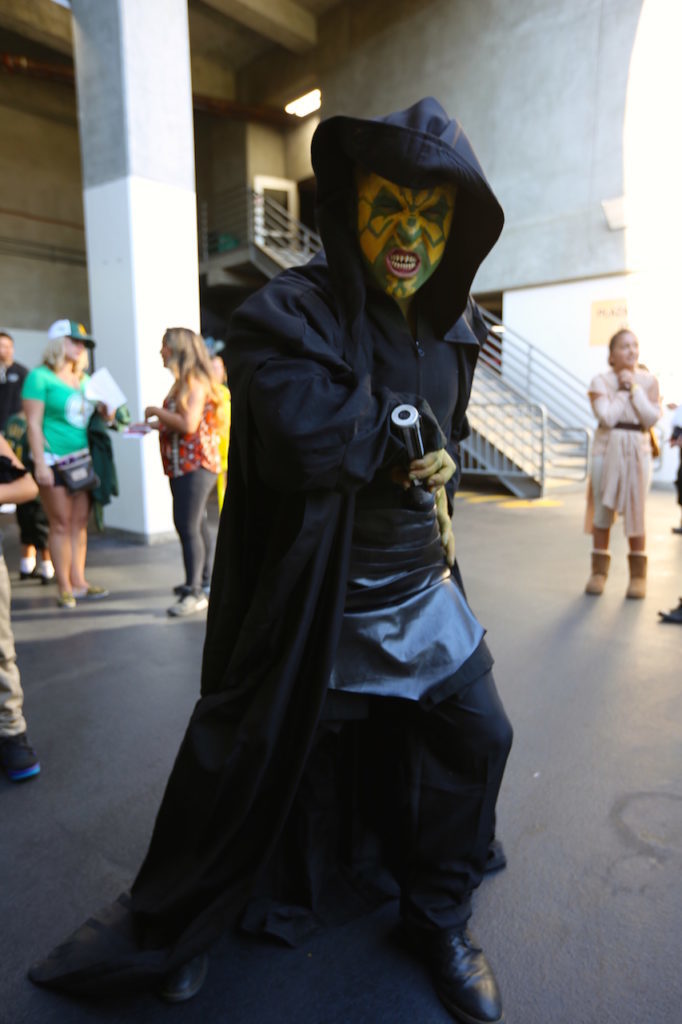 Speaking of awesome, I couldn't contain my excitement when I stumbled upon Jesse White from Vacaville, decked out in an A's-inspired Maul cosplay. While we talked fandom, he casually grinned, revealing the most terrifying teeth (maybe only rivaled by the Grand Inquisitor) I've ever seen. Jesse has been to six Star Wars nights at the ballpark, showing me that just like Maul, he's a guy truly dedicated to his cause.
When I asked him his favorite scene from The Force Awakens, he kept up the evil persona and demanded we only talk about Maul. As you wish!
Why is Darth Maul Jesse's favorite character?
"He's the MAN," he stated proudly.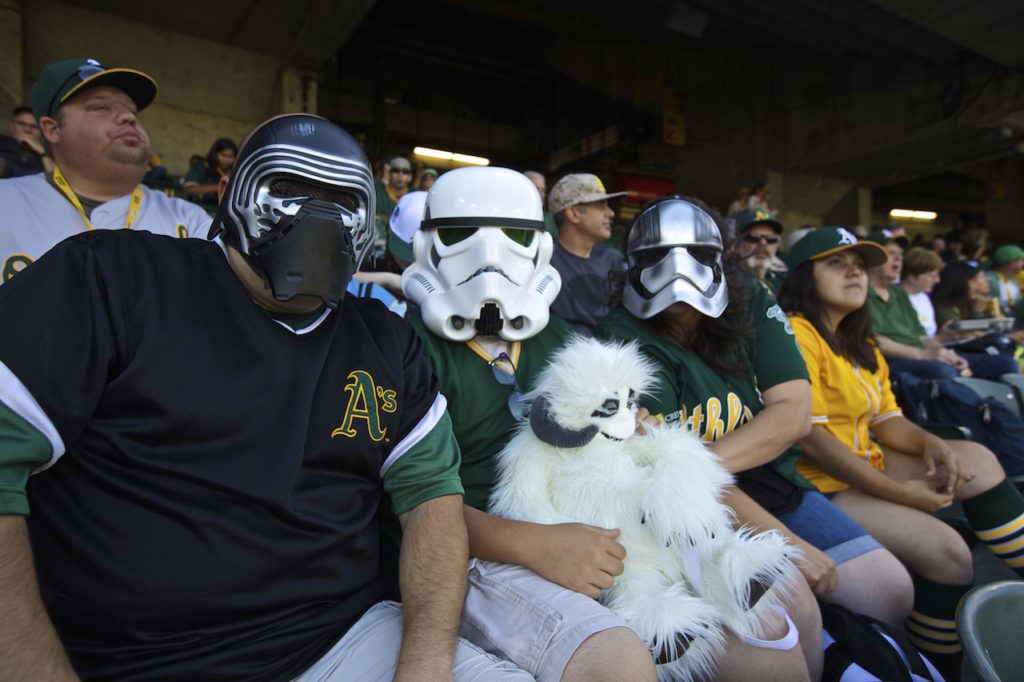 Keeping up with the dark side trend, Thomas Carrillo with his son Thomas Jr. and wife Michelle came from Modesto to represent the Empire. Trading their A's caps for Kylo Ren, stormtrooper, and Captain Phasma masks, respectively, they talked about how excited they were to finally hear how the Rebels managed to steal the Death Star plans.
As for their favorite characters, don't let the masks fool you.
"So I presume your favorite character is Kylo?" I asked Thomas.
"Nah, I like Yoda," he responded.
Thomas Jr. prefers the creatures, proudly showing off his wampa backpack. Michelle doesn't discriminate. She likes all characters, from Jedi to bounty hunters.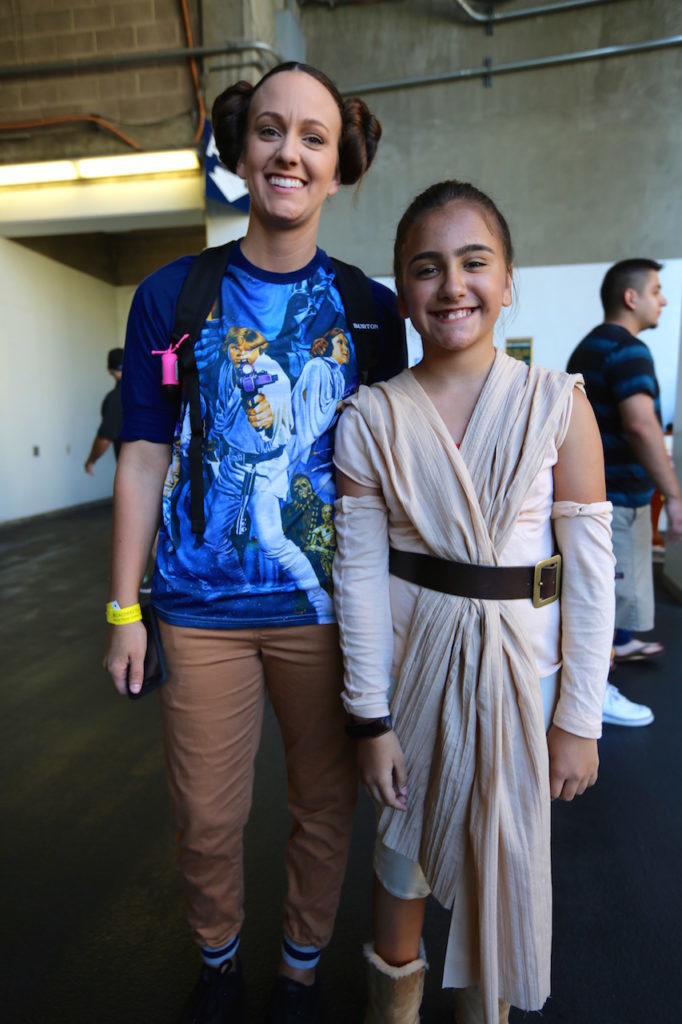 Family bonding was definitely a recurring theme of the night. My favorite pair had to be Marissa Navarro and her younger sister Mia, who trekked from Manteca, California, to celebrate their fandom.
"My little sister is a die-hard Star Wars fan, and I go to all the comic cons with her and I just wear buns," Marissa explained.
The two bond over their love of Star Wars, but prefer different eras. While Mia rocks the Rey get-up like a pro, Marissa is more of a fan of the classics. Though she presents herself like royalty, to quote Maz Kanata, she "likes that Wookiee." Her favorite character is Chewbacca.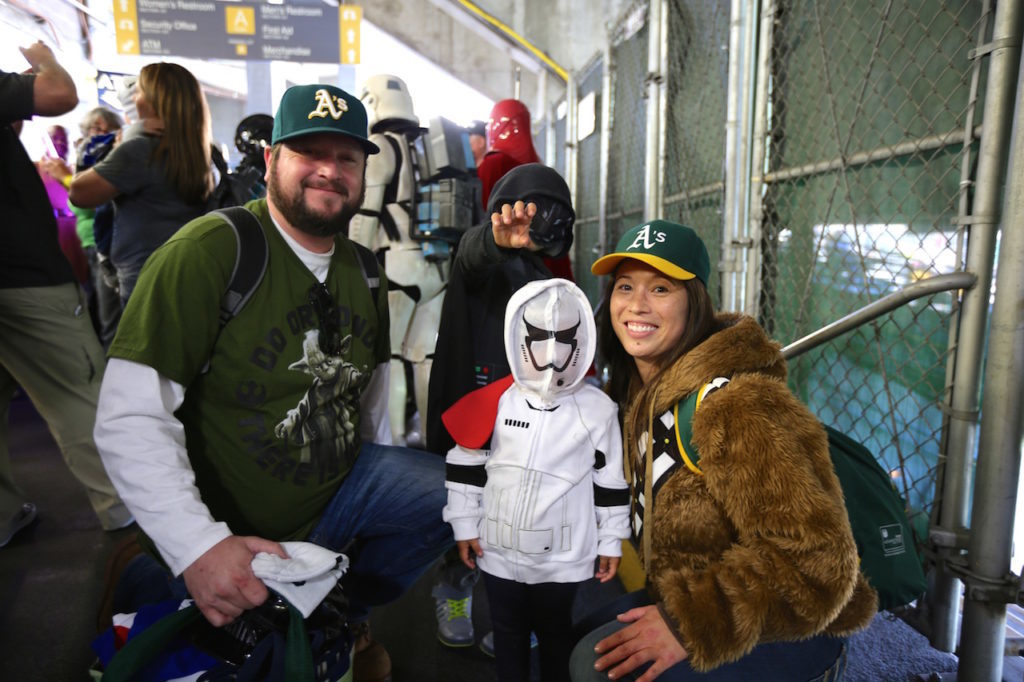 The award for the most dedicated family goes to Lisa Valencia and her clan of Jedi and Imperials. Her younglings are Star Wars pros: they've been to four Star Wars nights at the O.co Coliseum -- and her younger son is only five years old!
"He practically grew up going to these!" Lisa said proudly.
They're all excited to see which characters survive the next trilogy of Star Wars films. I have a hunch that like Maz and Marissa, Lisa's pulling for a certain Wookiee.