Penciller Ario Anindito reveals never-before-seen art -- including concept sketches, page layouts, and more -- along with his own insights.
While Luke Skywalker initially bristled at the idea of joining Obi-Wan Kenobi on an adventure, artist Ario Anindito didn't hesitate. The penciller of the first issue of Marvel's new Star Wars: Obi-Wan miniseries, which kicks off today in celebration of May the 4th, Anindito replied with an instant yes when asked to join the project. "Obi-Wan is one of my favorite Jedi," he tells StarWars.com, "so when [Marvel editor] Mark Paniccia offered me the chance to do this, I got on board very quickly!" 
The series finds Obi-Wan in his later years on Tatooine, as the legendary Jedi Master hides from the Empire and watches over Luke Skywalker from afar. In each issue, Obi-Wan chronicles earlier adventures in his journals, offering a look at the Star Wars icon throughout his life. To mark the Star Wars Day release of Obi-Wan #1, StarWars.com caught up with Anindito, who opened up his sketchbook and shared his early explorations and penciled pages for a look at the making of the issue, while providing commentary for his process.
Spoiler warning: This article features art and story details from Obi-Wan #1.
"For the cover, I wanted to show Obi in all his old hermit glory -- part scavenger, part explorer. He collects stuff that he sees fit, and he brought all the stuff he needs for his adventure. It's like Howl's Moving Castle, but the Jedi version. I want people to know that he's no ordinary old man just by looking at him. He has plenty of tricks up his sleeve, that's for sure!"
"This book is beautifully written by Chris Cantwell, and in it you'll see two parts: one with old Ben in the 'present' time, and then the second part where we see flashbacks from Obi's younger days, as told by the old Ben from the pages of his journal.
"I wanted to give a different treatment to those two parts, so I made the first part in pencil, not inked, and looking more rough. There's some grit in it, as you can see old Obi is worn out. You can tell that he's been through a lot in his younger years. I also added more realism to the style, so we can see more of a likeness to the real actor, Sir Alec Guinness. It's such a great feeling to be able to draw him in the pages, and I got to draw his iconic hut, as well! The overall tone in the first pages is also very yellow and dusty, in contrast with the second part."
"In the second part is the 'story from the journal,' so I changed the style. There's less realism, and it's a bit more cartoony. I inked the pages and made the line art more clean. The script asked me to draw the shady part of Coruscant, so I added a lot of brush strokes to create shadows and dim lights in mysterious corners. I wanted to inject a claustrophobic and insecure feeling for the readers when we get to this part of the city."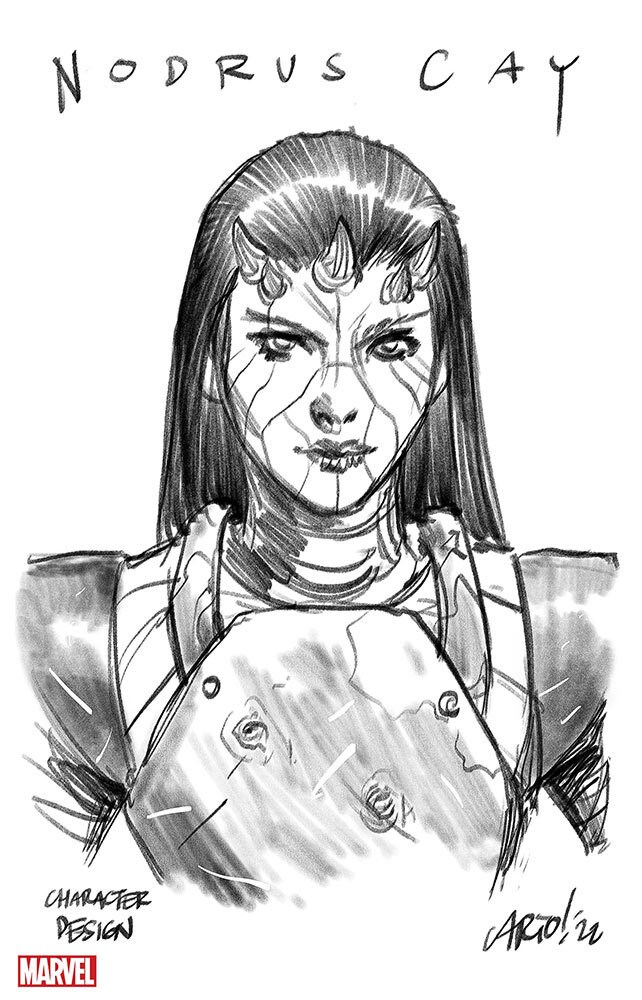 "With Nodrus Cay, all I had from the script was that she's a female Zabrak, and that her armor is a bit better looking than her goons'. I wanted her to look smart and cunning. That was the main goal. She's not a dumb villain. I imagine her as a combination of a female wolf and a serpent, lurking in the shadow and observing. That's why I made her entrance coming out stealthily from the shadows, smiling devilishly. 
"In order to make her distinctive, I gave her long black hair and a pair of 'devil horns,' so that she looks evil, but in style. Still graceful but dark. She's someone you can't trust. Sneaky and deadly."
"As for Gehren, Chris described her as having cropped, short hair, and she wears this necklace that she holds on dearly. What I wanted to convey about her is that she's more mature than her age. She's very determined and she's willing to go the extra mile to get what she wants to reach her goal and fulfill her mission. She's way more brave and mature than kid Obi, and that's what I put in her expressions, and it set her apart from kid Obi. There is no doubt in her. She knows what she wants to do. She's hard as a rock, but deep inside she deeply cares about Obi, and those she loved dearly. She's also way more rebellious than kid Obi, and that makes it even more fun for me to draw the chemistry between those two younglings."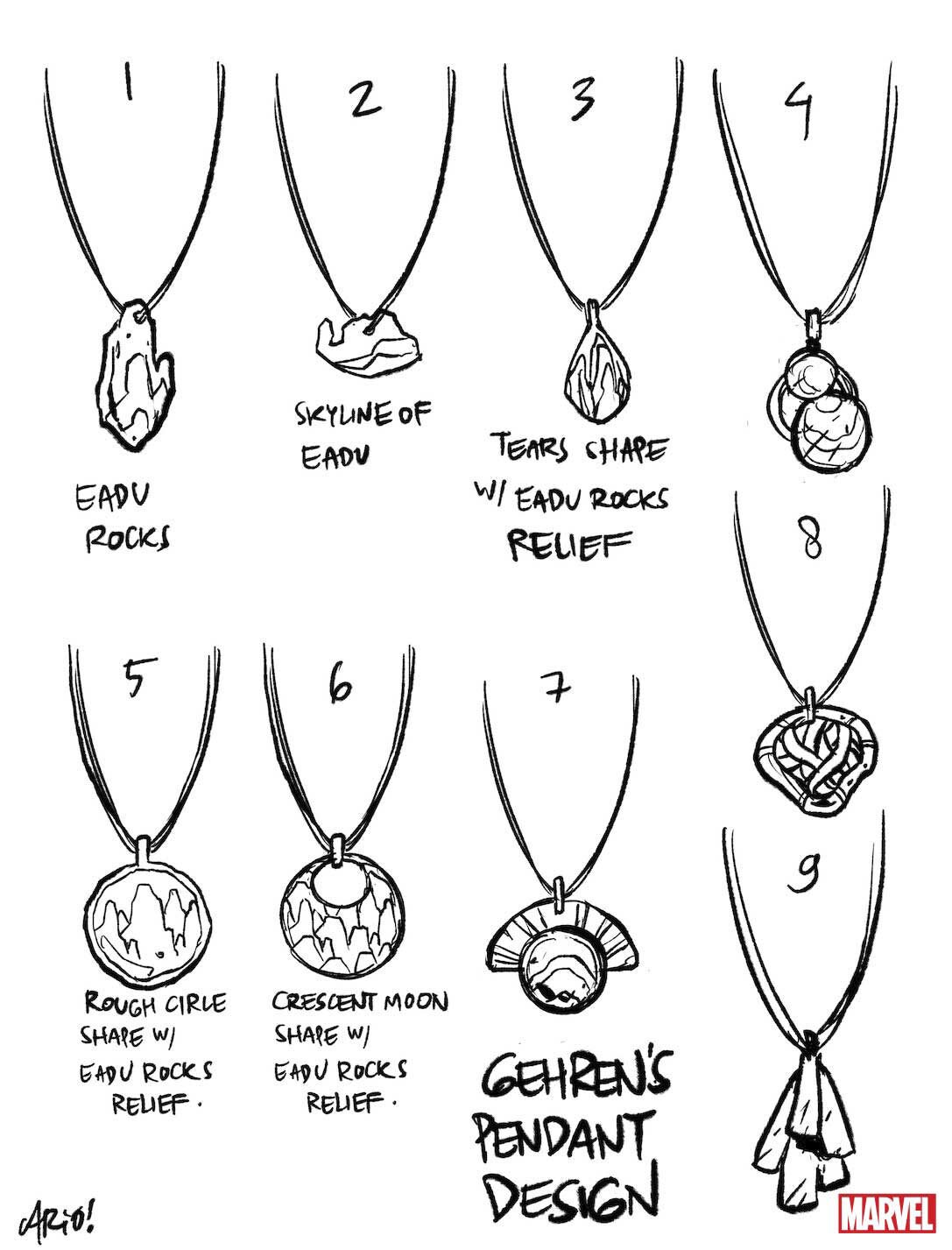 "For the pendant, there was no specific description about it other than it's made from rare and valuable Eadun silver. I did come up with several designs, but basically in all of them, I put something that has an iconic Eadu shape to it, like the rock reliefs that you can see in Rogue One. It was given to Gehren from someone that she loves deeply, so I imagine that the shape must have something that reminds her of her home, or the person that she longs for. 
"In the end, we decided to choose the teardrop model, because it has Eadu rock reliefs and the shape of tears symbolized her feelings of longing. How she's sad, and holds onto the pendant dearly because it reminds her of those she longs for. The Eadu rock reliefs, her whole backstory, and how she fights for her beloved to fulfil her purpose is, I think, what made it Star Wars-y."
"For young Obi, or kid Obi, what I had in mind from the script is that he's a good kid, well behaved, very caring to those he's close with. And at the same time he's also fragile, but he's very determined to be brave and overcome his fragility. He's not a rebel, but he's willing to break the boundaries and rules for his loved ones. That's what I wanted to capture in his expressions and emotions in the panels.
"All in all, I'm very happy and grateful to be given the chance to explore Obi-Wan in his own miniseries. His 'lost years' are always fascinating for many of us Star Wars fans, and I think his adventure in this book is one important piece of the puzzle that shaped him to become what he is."
Join the Star Wars Day conversation on social media with #MayThe4thBeWithYou and #StarWarsDay!