StarWars.com speaks with adidas designer Till Jagla about a new range featuring Force-powered Stan Smith shoes and more.
For fans of the Force and sneaker fashion, nothing compares to the combined strength of Star Wars and adidas.
Adidas, one of the world's most iconic brands and longtime collaborators with Lucasfilm, have just launched a new line celebrating 40 years of Star Wars: The Empire Strikes Back. With offerings ranging from white-and-lightsaber-blue Luke Skywalker Stan Smith sneakers to shimmering all-gold C-3PO high tops, the series is a beautifully-designed expression of fandom -- with more to come. StarWars.com caught up with adidas designer Till Jagla to talk about the line and merging "the best of both worlds."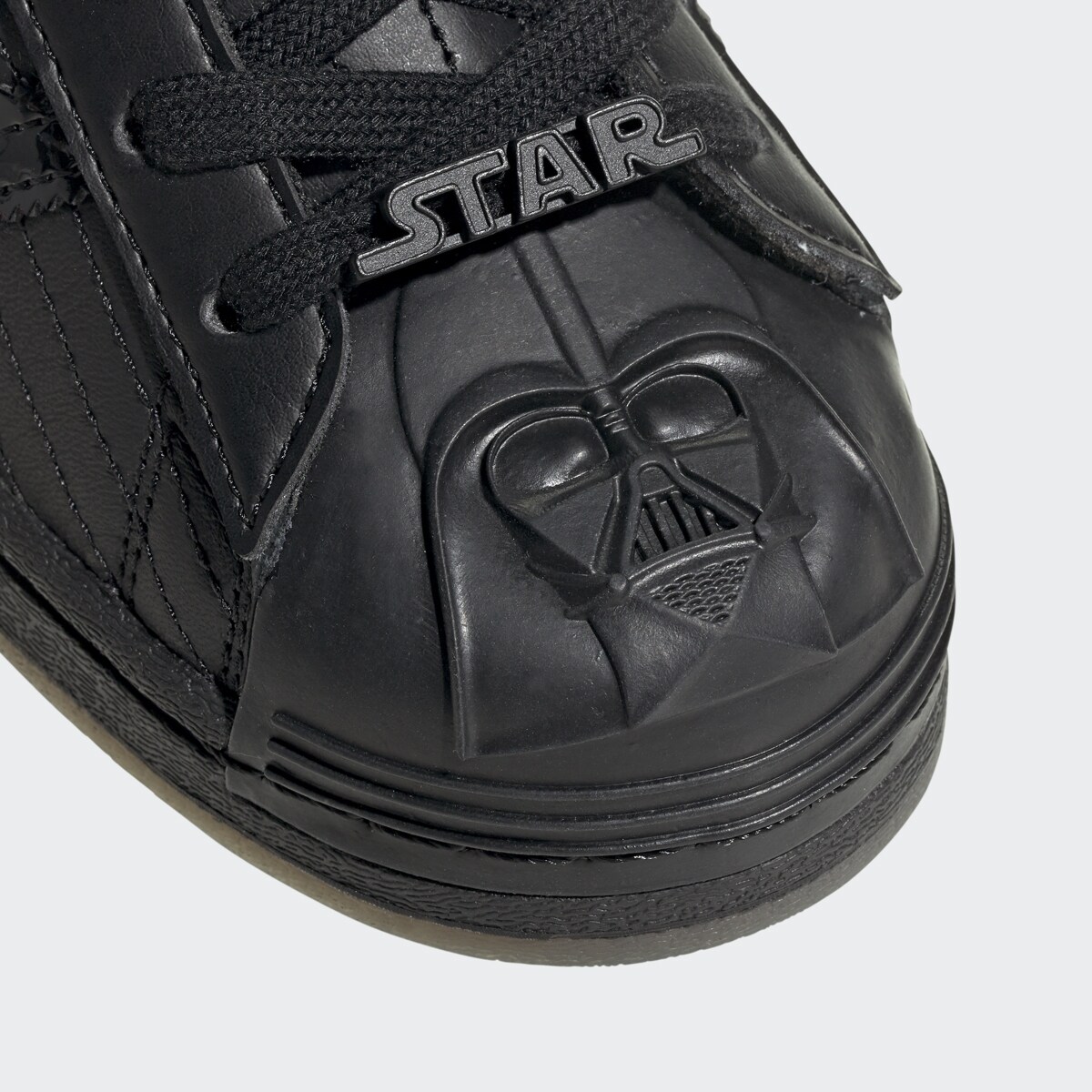 StarWars.com: When it comes to incorporating a license into fashion, the design can go in several directions: subtle, over-the-top, retro, modern, etc. For adidas's Star Wars sneakers, how did you dial in on an approach that would be right for both brands?
Till Jagla: For this particular collaboration we wanted to create something very authentic and exciting for the true Star Wars fans. This is why we opted for a very conceptual approach to product. We wanted the key characters of Star Wars history being reflected the best. This includes the right choice of the adidas model, the key design direction, suitable details, and ultimately the packaging. We were inspired by the rich history of Star Wars and tried to come up with products that feel real. 
StarWars.com: These sneakers -- Luke Skywalker, C-3PO, Darth Vader, and Stormtrooper -- seem to strike a balance between being clearly Star Wars-themed, going so far as to incorporate characters' faces, and also something really fashionable that a non-fan might appreciate. How challenging was it to get there?
Till Jagla: I would say it's fairly easy when you work on something that carries so much equity. The mentioned characters have a clear identity and they are known across the globe and loved by pretty much all generations. If we now merge the best of both worlds, Lucasfilm and adidas, we get something very iconic out of it. By using extraordinary materials that reflect the iconic characters, such as golden leather or molded shell toes, the shoes get a fashionable twist right away. For me personally, it's cool to wear something that is very iconic, but fashionable at the same time. 
StarWars.com: The form of each sneaker seems to offer different opportunities for design, like how the detailing on the Stormtrooper sneaker seems to dip and rise with the shoe's curves.
Till Jagla: Absolutely. The creation process always starts with the selection of the most suitable silhouette.
StarWars.com: My favorite might be the C-3PO sneaker -- it's the loudest and really embraces Threepio's iconic gold color. Was that style something you wanted to do from the get-go?
Till Jagla: C-3PO is also the most favorite character for many people on our team. Back in 2010, we did a C-3PO sneaker as part of the Collectors Pack, and the shoe turned out so good. Hence, we definitely wanted to have him part of the new series again. The concept sneaker tries to embody C-3PO as good as possible. The shoe features a metallic golden upper, and two iconic quotes. Further, the sneaker comes with golden Lace Jewels that pay tribute to Star Wars, but also to his small friend, R2-D2.
StarWars.com: What do you want fans to know about the future of adidas and Star Wars collaborations?
Till Jagla: I want to highlight that this collaboration is a very special project for us. We were inspired by the Collectors Series from 2010 and wanted to continue the journey for the fans, but also the sneaker collectors. Also, it was important for us to create something very special for the 40th anniversary of The Empire Strikes Back. We know how important this anniversary is for Lucasfilm and the fans. The way Lucasfilm revolutionized the industry always impressed us; it was about time to pay homage to the Star Wars legacy.
Check out adidas x Star Wars sneakers at adidas.com.
Dan Brooks is Lucasfilm's senior content strategist of online, the editor of StarWars.com, and a writer. He loves Star Wars, ELO, and the New York Rangers, Jets, and Yankees. Follow him on Twitter @dan_brooks where he rants about all these things.
Site tags: #StarWarsBlog