StarWars.com talks with the toy makers about creating Forcelink technology, reimagining playsets, and much more.
The name's Finn and he's in charge now! The former FN-2187, hiding in plain sight in Imperial fatigues, and a freshly equipped Captain Phasma face off in a new set of 3.75" action figures.
Hasbro revealed the pair from Star Wars: The Last Jedi during New York Comic Con Thursday along with two other reveals in the line: a battle-ready Maz Kanata and a new Abednedo Resistance pilot by the name of C'Ai Threnalli.
StarWars.com caught up with Steve Evans, Hasbro's design director, to talk about how the classic line of action figures is keeping kids entertained using new Forcelink technology.
The idea for Forcelink came from a deceptively simple observation: For generations, young fans playing out Star Wars scenarios with their action figures have provided their own sound effects and voices.
"When they pick up a ship or a figure they -- pew, pew, pew, pew -- they make the sound effects," says Evans. "I think every kid on the whole planet does that....There are some things that never change, like kids love projectiles, kids love weapons and little pieces. It's just a matter of kind of innovating around the fundamental play truths that kids are into."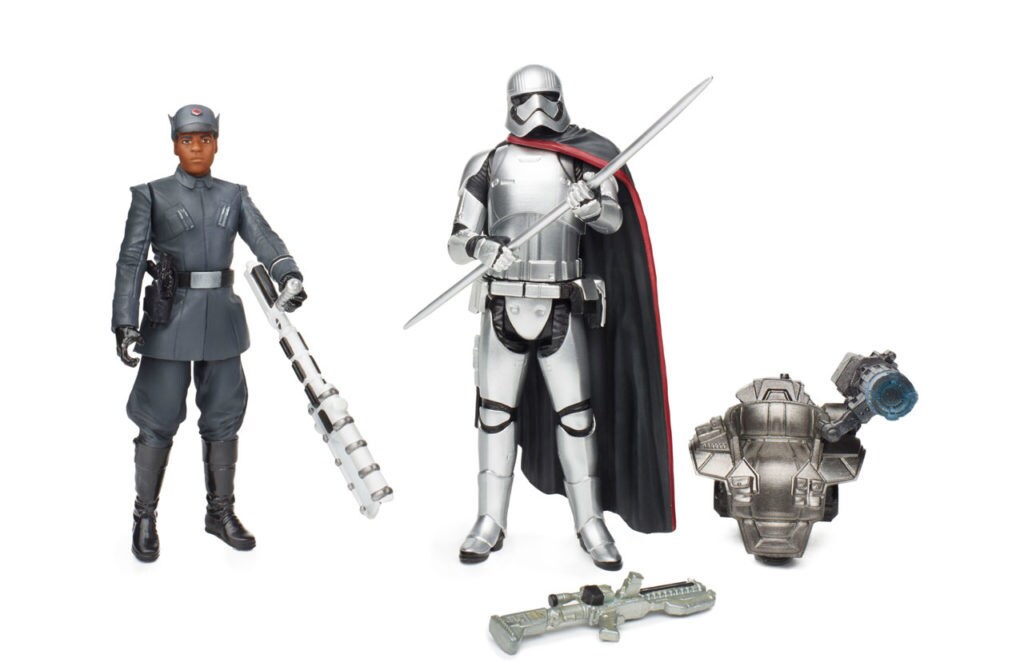 So Hasbro came up with a way to imbed RFID chips into the torsos of the latest line and, coupled with a special censor worn on the wrist, brought more authentic movie magic into the mix. "What if how kids played created sound effects?" Evans thought. "Wouldn't it be really cool if we could kind of compliment that and augment that with real sounds from the movies?"
When the censor band comes into contact with a new figure, it emits one of up to seven phrases from the character, with over 300 sound clips to choose from so far, Evans says.
A special accelerometer also reads movements, giving the toys an interactive flair.
Swing Rey in Jedi training around and the band emits lightsaber sounds. "If I keep doing it she'll start talking and getting cross," Evans says.
Evans says the interaction is meant to stimulate storytelling play, prompting kids to continue creating their own adventures at home by using the bonus material -- like Rey insisting on being released -- to inform hatching their own escape plan for the scrappy scavenger. Grab Finn to help and mime blaster fire and the corresponding pew-pew-pew sound bite plays. "If you're firing and lunging, it creates lots of different story scenarios."
Beyond the technology, the toymaker is always striving to take what Evans calls "the heart and soul of Star Wars toys for 40 odd years" and refine sculpts and other details without veering too far from the classic look and feel.
"The idea of this is it's much more kid focused," Evans says, compared to the higher-priced and highly detailed 6-inch Black Series and other more articulated figures. "Storytelling is what it's all about. It's about characters that get into ships to travel to worlds to fight for a reason."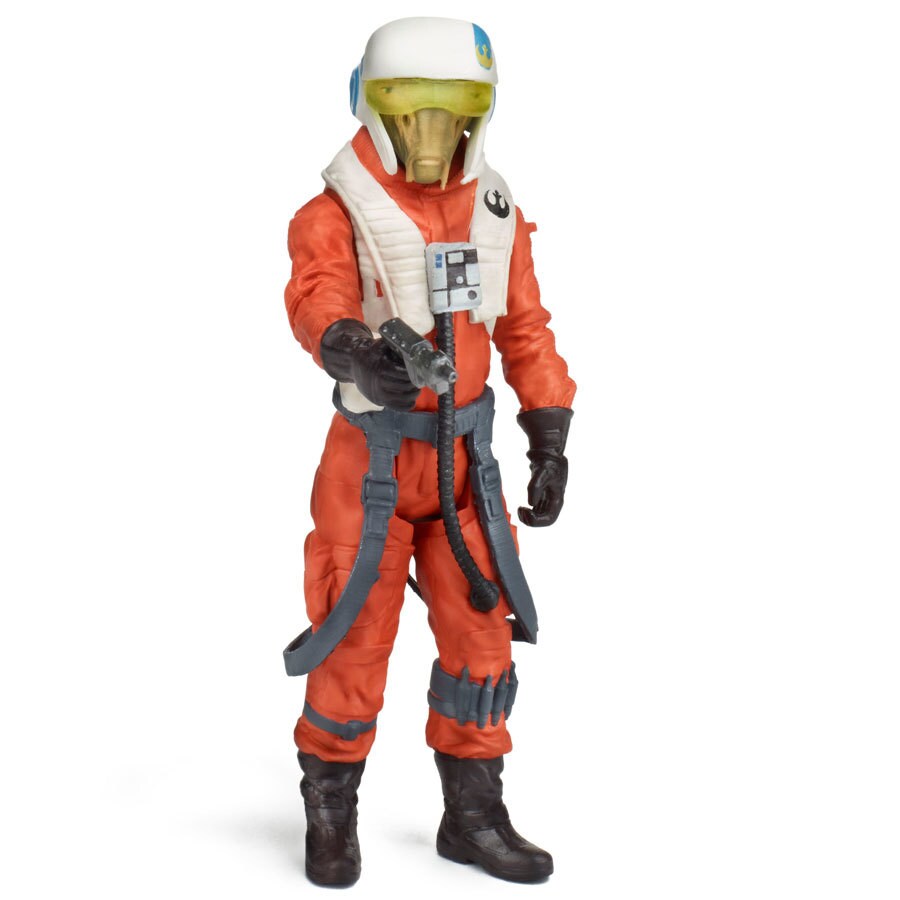 C'Ai Threnalli comes with a removable helmet, a change even from X-wing pilots cast in the line two years ago like the Evans- and fan-favorite Ello Asty, whose helmet was molded as part of the head.
And this year will see the return of play sets with a large BB-8 that folds out to reveal backdrops and scenes from the saga. The line hasn't ventured into play set territory since Revenge of the Sith, when a more static Mustafar volcano play set was on the market.
The resurrection of the format speaks more to the hopes of parents everywhere who don't want to be stepping on a sea of plastic weapons when playtime is done.
"When they tidy their room, they can pack it all away," Evans says. The thinking was, "What if this could fold up into a BB-8 that could then be like a room buddy? And still operate, still have lights and sounds when it's closed up, but then the head flips back -- now it's a play set."
But even with new characters flooding shelves in anticipation of the new film in December, Evans says Hasbro will always keep refining beloved original characters for the line and finding new ways to bring the classic figures into the modern age.
Kristin Baver is a writer and all-around sci-fi nerd who always has just one more question in an inexhaustible list of curiosities. Sometimes she blurts out "It's a trap!" even when it's not. Do you know a fan who's most impressive? Hop on Twitter and tell @KristinBaver all about them!