Authors Tricia Barr, Adam Bray, and Cole Horton discuss the making of their exhaustive new guide.
One of the great things about the Star Wars galaxy is how incredibly rich it is with details that make it feel truly like a galaxy far, far away. From the different life forms that you might encounter in a shady cantina to the little items that make a ship or home really look lived in, to the variety of different influences and styles on everything from boots to blasters, Star Wars brings an immensely detailed world. The latest illustrated guide from DK, Star Wars: The Visual Encyclopedia, arrives April 4 and captures the objects and ideas of the Star Wars universe, and organizes them in a 200-page pictorial reference book. Planets, food, writing, droids, clothing, lifeforms, and lightsabers: If you've seen it depicted in Star Wars, it's probably covered in this book somewhere -- and now you'll know what it's called, and how it fits into the galaxy.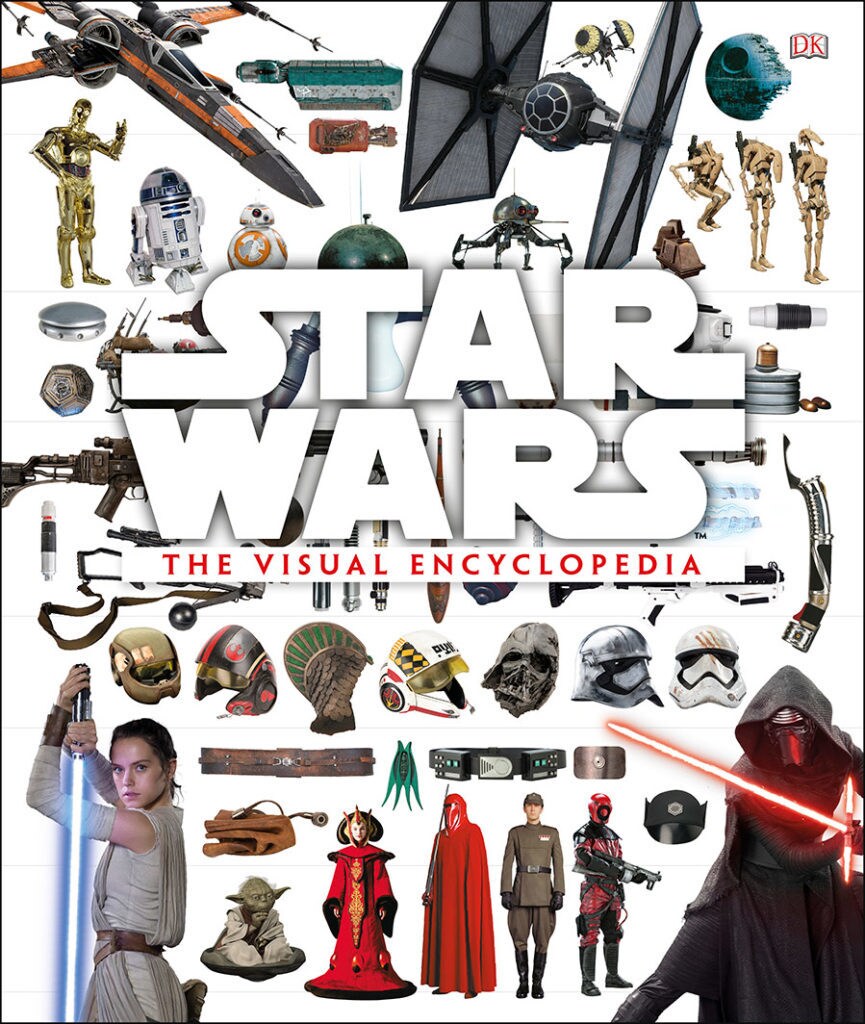 For an encyclopedia that is so all-encompassing, DK recruited a team of folks whose brains are full of Star Wars: Tricia Barr, Adam Bray, and Cole Horton, all veteran writers of Star Wars guidebooks. Having worked on titles like Ultimate Star Wars and Star Wars: Absolutely Everything You Need to Know, these three are like the Sith Lords of Star Wars knowledge. And now, via e-mail to StarWars.com, they've decided to lift back the veil of secrecy with some behind-the-scenes insights on how Star Wars: The Visual Encyclopedia might just put the Jedi Archives to shame.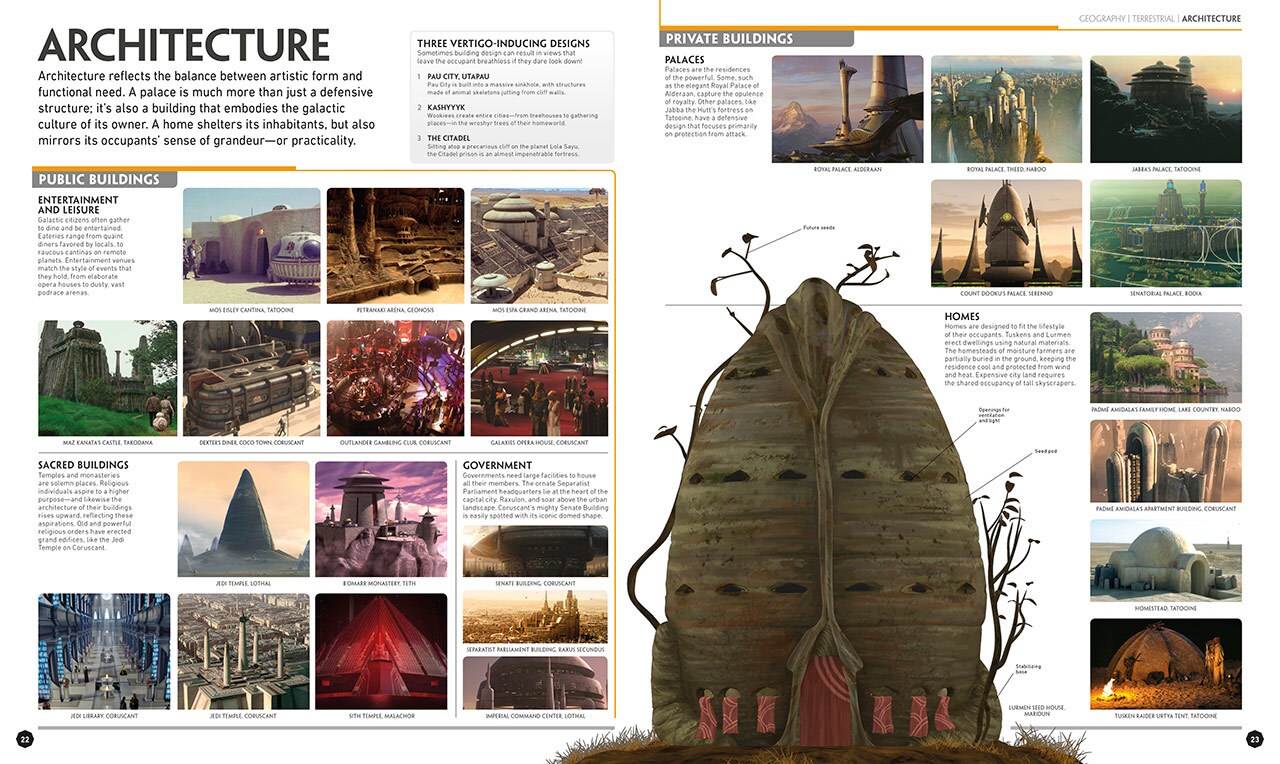 1. It's unlike anything on your planet. The Visual Encyclopedia is different from earlier illustrated guides because it explores Star Wars knowledge in a new way. "I think it stands out," Horton says, "because of the breadth and depth of the topics covered. It presents whole topics that have never really been explored before, such as food, fashion, clothing, art, and more. I never thought I'd write about Star Wars food, but it turned out to be one of my most memorable and thoroughly researched topics. In other cases, the book presents images and information that has never been seen in one place before, such as whole pages on blasters from across the saga in addition to other Star Wars weapons."
Rather than being organized in alphabetical order, like a dictionary, the encyclopedia is divided into sections based on subject matter, from superweapons to sea creatures to architecture to starfighters. Barr explains, "Flipping through it, you can't help but notice the extent of world-building in Star Wars. It starts with the big picture: the galaxy with its vast array of planets. Then the book presents the locales and the natural inhabitants, including sentient beings. It is the interaction of all these sentient life forms that create history and culture, which are the next two sections. The fun really begins when the book dives into science and technology."
2. Naming stuff is hard. A guide that is organized by topic, like The Visual Encyclopedia, has a huge advantage -- finding a particular character, creature, or object without having to know what it's called. You can just flip to the relevant topic, like gas giants or heroes of the Rebel Alliance or luggage or any of the 2,500 different people, places, and items found in the book and spot it there -- and then you'll know what it's called. Maybe Lt. Childsen could have used a book like this to be able to identify the Wookiee that two stormtroopers brought to his Death Star detention area. But what do you do when you're the one writing the encyclopedia? "Tracking down existing names for things is a meticulous process," says Bray. "So most of my time on the book is actually spent looking through other books and online resources, trying to see if every item has been named already. Once in a while there is something really problematic -- like a background character that has appeared in multiple scenes wearing different outfits, and so may be misnamed in some sources -- which takes a lot of time to narrow down."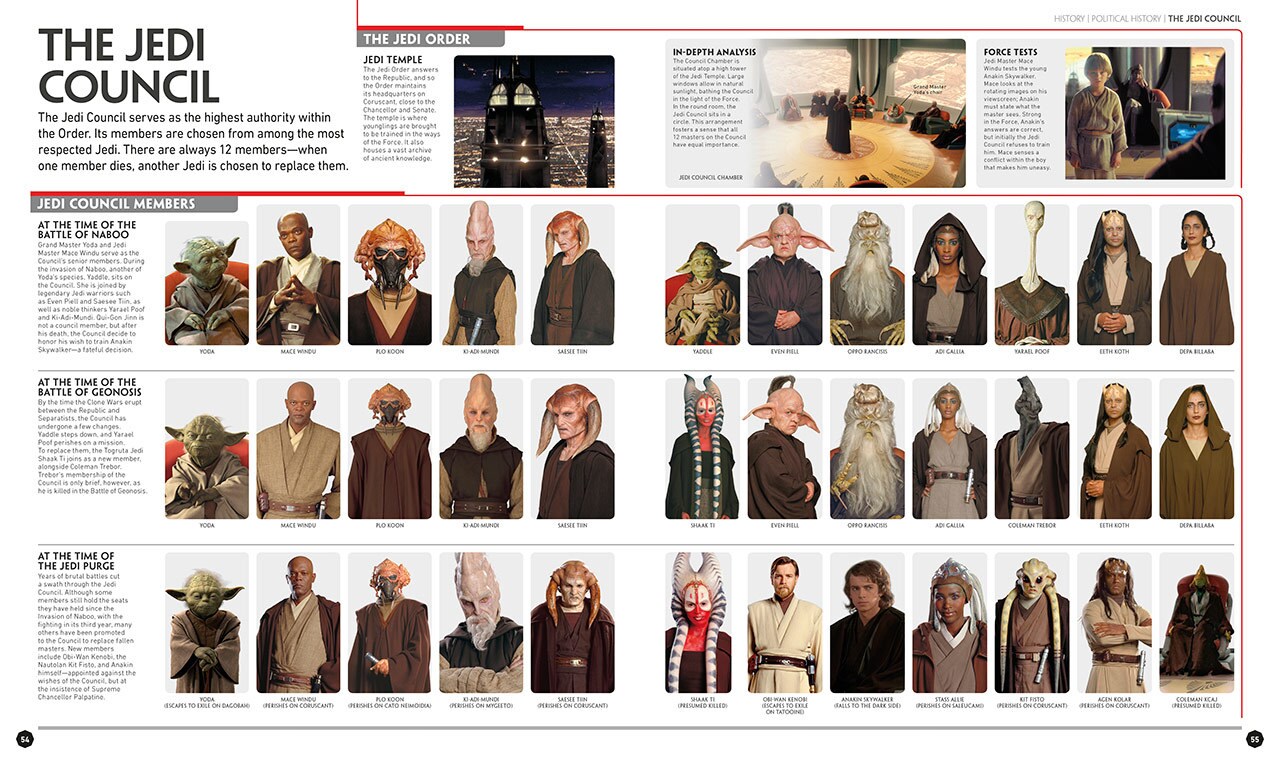 3. Spreads don't make themselves, you know! So how does an encyclopedia come together? It's not as easy as Han Solo saying, "This one goes there, that one goes there." Horton divulges the process: "The book is a collaboration by many people, so as an author I play just a small role in making the book a reality. For me, the process was like other books I've worked on, beginning with a synopsis that serves as an outline for the entire book. When DK reaches out to the authors, they already have a good idea of the topics they can cover. They even have some example spreads mocked up, which I find is really helpful for me to get a sense for the tone and style, since each book is always a little different in that regard. Each of the authors then writes for a series of "spreads," or two-page sections. Often, the editors and designers will have pulled a collection of images for each subject. From there, we begin researching and writing. There is usually some back and forth with the editors: We ask questions, make recommendations for how to group subjects, or ask about additional images. We then submit text for the editing process. The editors work with the designers to marry the text and final images and then it's off for approvals and eventually to the reader's hands."
"The authors get a lot of the face time for these types of books," Barr says. "But they wouldn't happen without the incredible team at DK Publishing. Project Editor Ruth Amos kept us all on track, pushed us when she thought a spread could be better, and was very receptive to feedback. Our initial meeting with the DK team gave the authors a chance to weigh in on the topics to be covered. From there we received spreads with images and text boxes. Then the authors would get into the grind of researching, fact-checking, and giving life to the ideas presented by those images. Everyone should check out the last page; only then does it become apparent how many people came together, from designers to editors, to make the book."
"What I loved most about the process for this book," continues Horton, "was that it kicked off during Star Wars Celebration Europe. Tricia, Adam, and I got to meet face-to-face with the team at DK in London. It's rare that we get to see each other in person, so it was the perfect time to start this project. At that meeting, we all called out the topics we wanted to write the most!"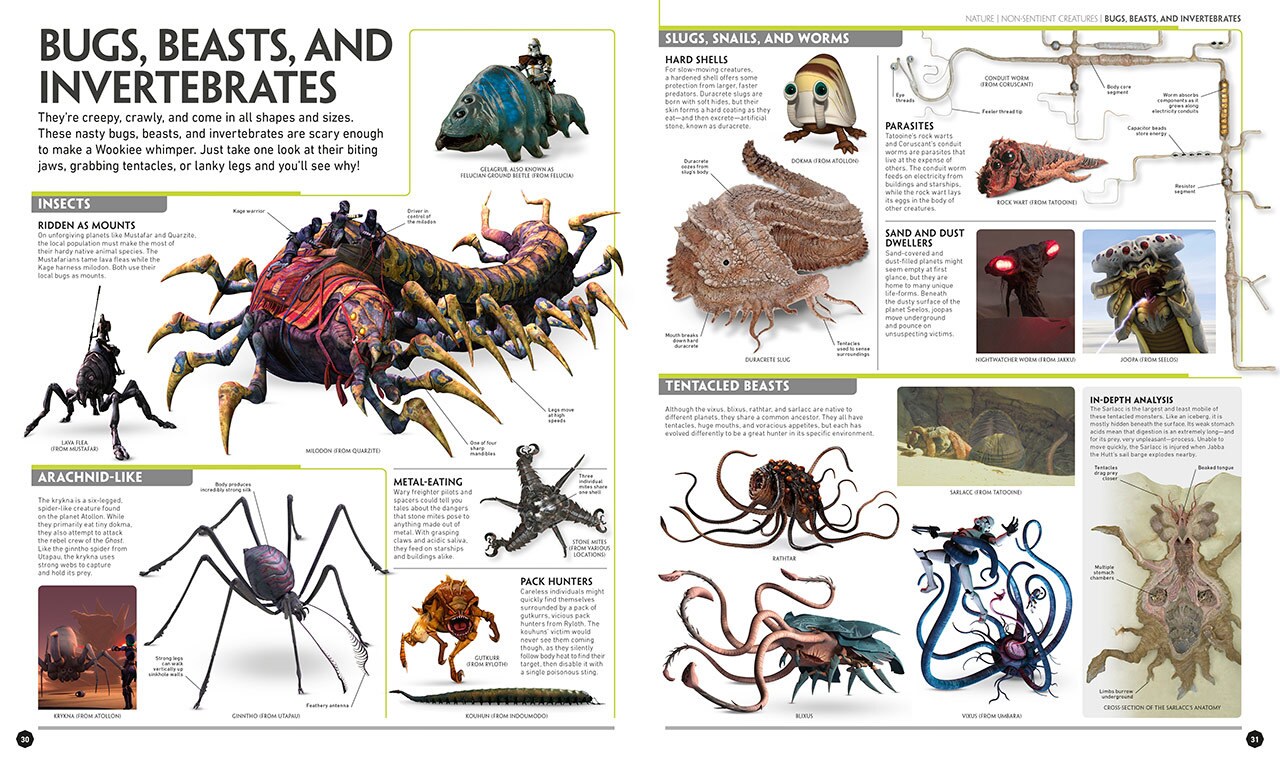 4. These are a few of my favorite things. So what topics do our authors like the most? Bray likes to commune with nature, saying, "I have a background in biology, having worked with primates, wolves, and raptors in the past, so I enjoy writing the sections about wildlife, ecosystems, and landscapes. I love Terryl Whitlatch's creature work so I try to reference her creations as much as I can to seed them back into contemporary canon. Since this book covers a lot of new territory, I had the opportunity to create some new information, too. Who doesn't love doing that?! I really enjoyed writing about the plants and naming most of them -- since this is nearly a blank slate. The key to inventing new Star Wars information is to come up with things that sound natural and don't stick out like a sore thumb. I like to reference things that are already in Star Wars tradition -- especially something obscure or meaningful to hardcore fans. Everyone loves an Easter egg, so I hide those in the text where I can. As a writer you never know how much of these things will survive the editing process or Story Group approval, so you can't be precious about these things. But I'm happy that most of my plants survived the pruning process!"
"Astromech droids are always a favorite of mine," chimes Horton. "For this book, we get to take a very close look at various parts of an astromech. In cases where a name had not been established -- or had been inconsistently named in the past -- I tried to use the part names commonly known to the R2 Builders Club. Members of that club will find many of the part labels on that spread very familiar."
"I adored working on the Royal Outfits for Naboo and Alderaan," Barr shares. "I spent a lot of time pouring through the pages of Dressing A Galaxy: The Costumes of Star Wars by Trisha Biggar. I worked with Natalie Edwards from DK on these pages, finding specific details on Queen Amidala's beautiful dresses that could be highlighted. I even turned to pictures from my two visits to the Star Wars and the Power of Costume Exhibit (Seattle and New York City) to uncover information."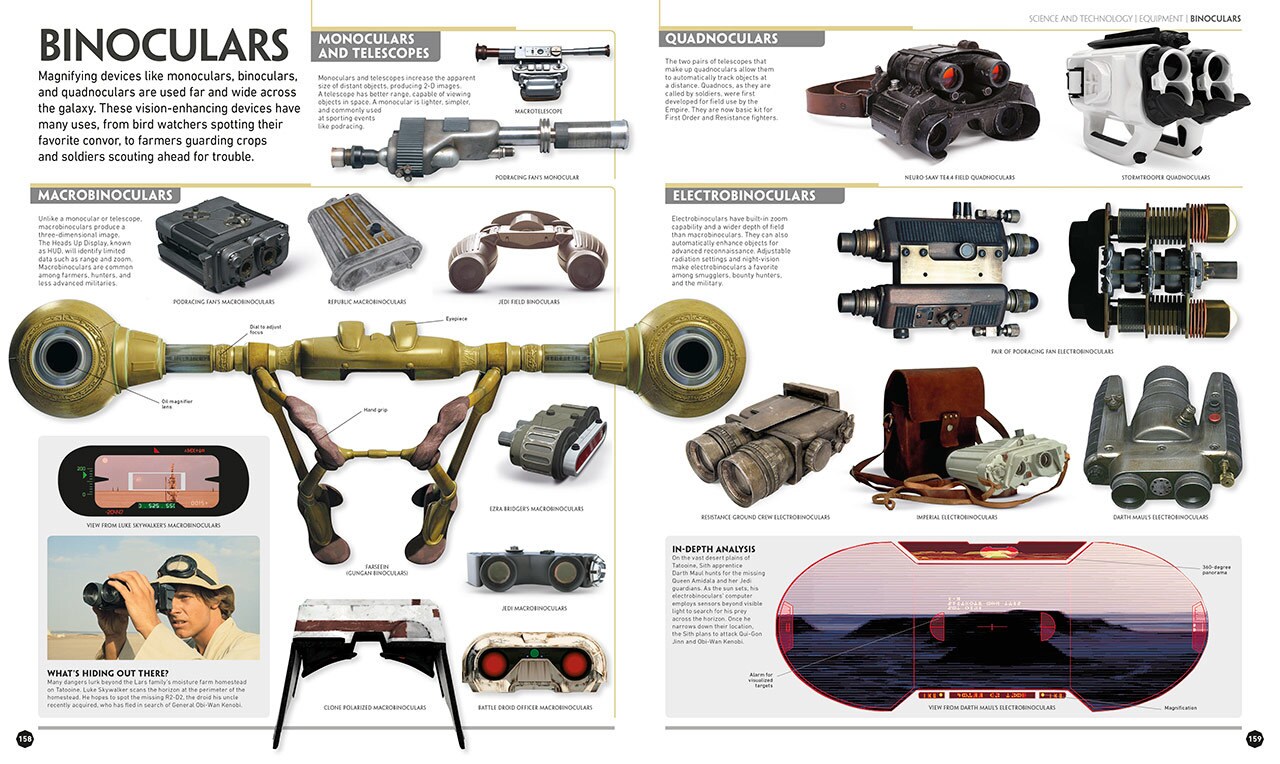 5. Grouping subjects together was a balancing act similar to Anakin on a Mustafar beam. Writing references like The Visual Encyclopedia means combining existing information and filling in where there are gaps. Unlike Jedi Jocasta Nu's assertion that, "If an item does not appear in our records, it does not exist," writing an encyclopedia requires a different skill set to face different challenges. "Creating entirely new information can be difficult on a tight deadline," Bray states. "Inspiration often needs deliberation. It was especially tricky figuring out how items in any group were actually related though -- since this book is a taxonomy of things. Items that look similar don't necessarily have the same function. I found it especially difficult to categorize the sentient beings. At first we tried breaking them down into reptiles, mammals, and other real-world categories. And while they may have been classified that way in Star Wars individually already, I quickly found that when you start grouping them together, the fundamental differences between any two species are often much greater than anything they actually share in common. In this case we grouped them by habitats instead. So some old Legends categorizations and details break down in a way that is difficult to write about in any sort of "scientific" way. Another issue was that technology and creatures get reused a lot in Star Wars animation, and placed in new contexts. So once you start digging you find something isn't as unique to a person, place or event as you assumed. This all makes grouping items and writing about them as a whole all very complicated!"
Reflecting on the goals of the book, Barr adds, "I feel these books are resources to tie existing things together, but it shouldn't create things that could tie the hands of a storyteller in the future. So I am mindful of that as I write. Even if we are not creating new things, spreads like musical instruments or clothing accessories are likely going to expand a reader's knowledge and understanding of the storytelling universe."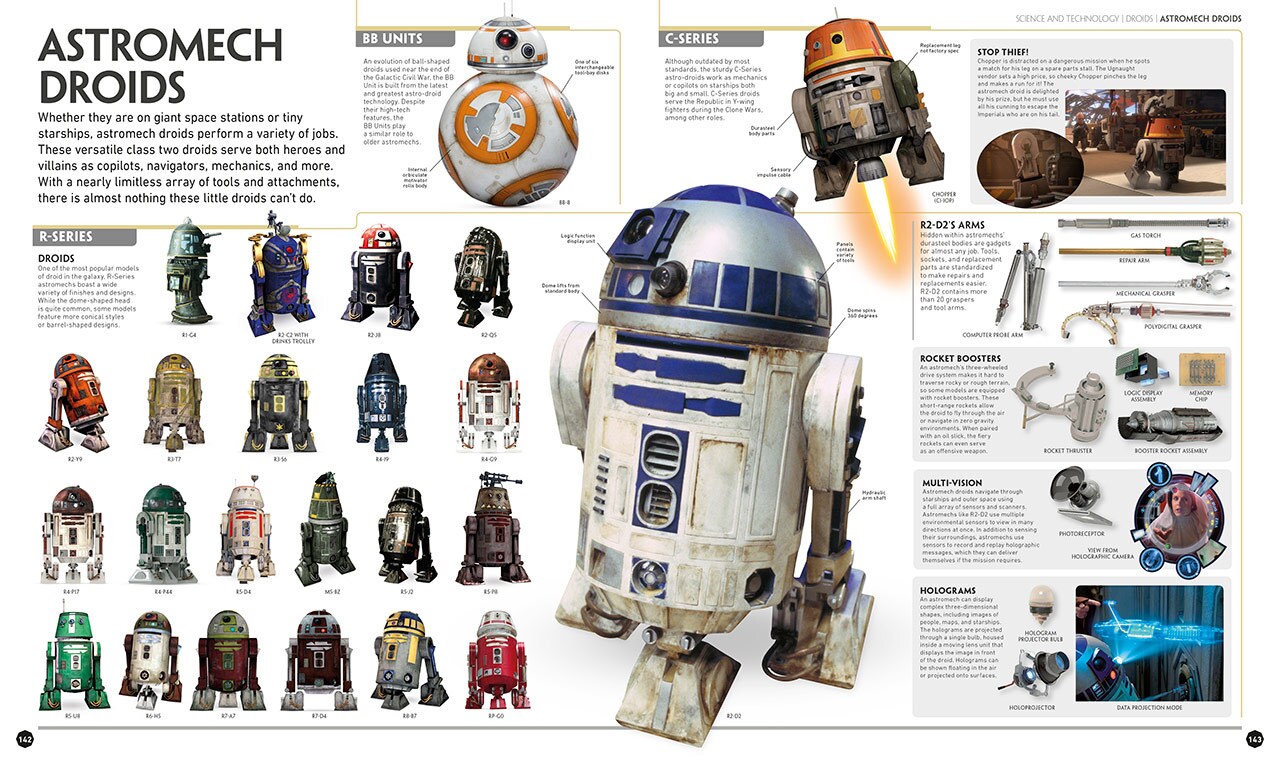 6. You'll go from one end of the galaxy to the other. The Visual Encyclopedia covers material from all the films, including Rogue One, as well as from the animated series. Whether a spread showcases the changing Jedi Council membership through the waning days of the Republic or the evolution of C-3PO's look, there's a lot of sources to pull from. Making sure that the whole breadth of Star Wars was covered led to some fun opportunities to bind the galaxy together. "I helped work on the timeline, which was a challenge, but one I welcomed," Barr explains. "The challenge for that part was to find important storytelling beats across the story we know as Star Wars and make sure to include many different characters, but make them flow together. Not only did it have to flow but the events needed snappy titles and succinct summaries that make sense.
With a variety of Star Wars visual guides in his background, Bray enthuses, "I always like to write about [Star Wars] Rebels. Mixing movies and animated Star Wars in a single book like this is a relatively new thing. Ultimate Star Wars is the first book like that which I am aware of. So that is fun to tie things all together from all over Star Wars and see how they relate."
Horton cast his nets for source material even wider. "One of my biggest goals was to include meaningful references to all types of Star Wars stories." Horton exclaims. "In the case of the food spread, I named various fruits, herbs, and vegetables after food that had been mentioned in recent novels. That meant scouring every novel released for the past few years looking for references to edibles. In my research, I discovered that Chuck Wendig makes the most food references, so his Aftermath series was particularly helpful. There are others too, but I won't spoil the surprise!"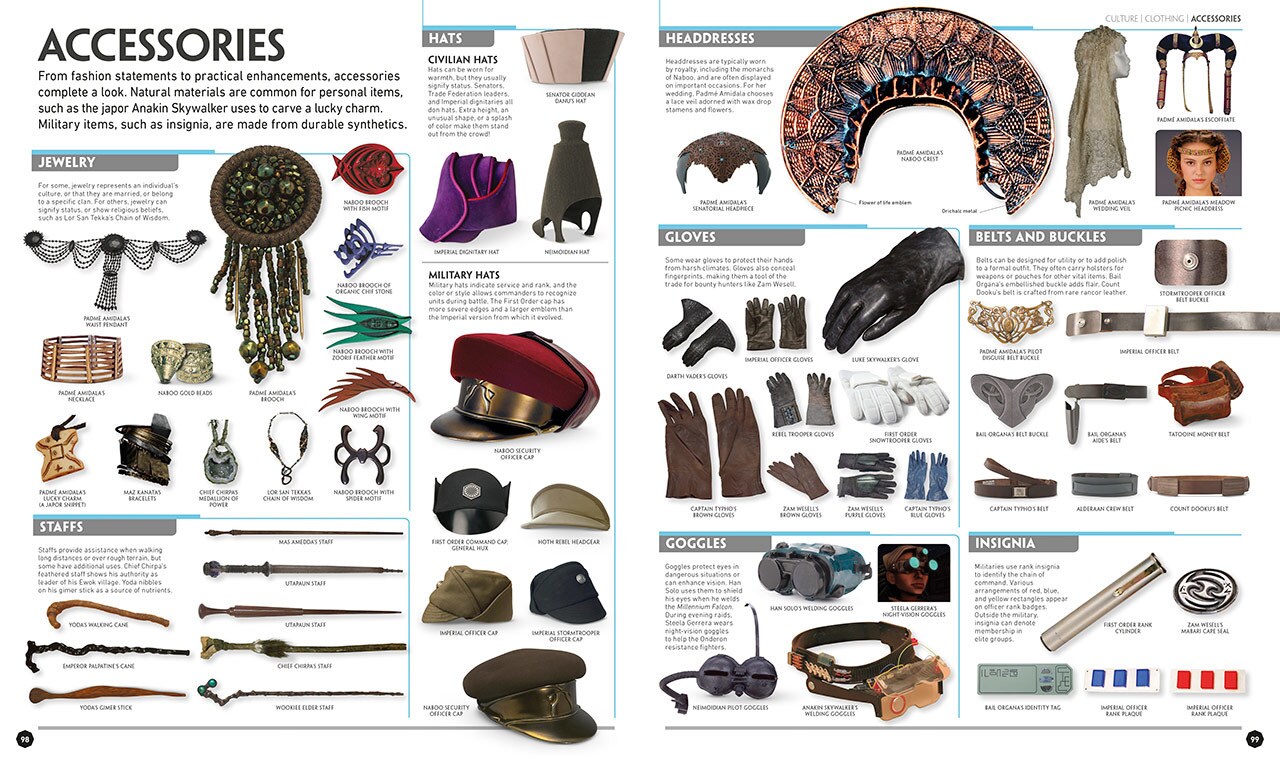 7. "You want this, don't you?" As Dennis Muren, ILM legend, writes in the foreword, "This book is a celebration of those details that exist in the service of storytelling. In this title you'll see firsthand the thousands of objects that are inspired by our world , but are uniquely Star Wars. They're not a copy of reality as we know it, but reminiscent of it, thoughtfully selected and designed to fulfill a specific purpose and evoke a certain feeling."
This book is likely a must-have for anyone who wants to know more about the stuff in Star Wars. Barr says of it, "Star Wars: The Visual Encyclopedia is the book I wish I had back in my fan-fiction writing days. It has so much detail when you are looking for a specific type of weapon or thinking about what the Naboo handmaidens might be wearing. The breadth of the information is amazing, and I feel like this will be a go-to resource for all types of fans, from cosplayers to collectors."
Star Wars: The Visual Encyclopedia comes out in hardcover on April 4, 2017. DK is sponsoring a special giveaway for folks who pre-order the book. The first 250 fans who submit proof of purchase before April 4 will receive an exclusive print. Get the full information on how to enter here. Also, come meet the authors and get your copy of The Visual Encyclopedia signed! DK is bringing Tricia Barr, Adam Bray, and Cole Horton to Star Wars Celebration Orlando (Booth #2625) as well as hosting a book tour around the United States in April and May. Get more details on all DK's Celebration panels and signings and the US book tour at DK.com.
James Floyd is a writer, photographer, and organizer of puzzle adventures. He's a bit tall for a Jawa. His current project is Wear Star Wars Every Day, a fundraising effort for a refugee aid organization. You can follow him on Twitter at @jamesjawa or check out his articles on Club Jade and Big Shiny Robot.