Funko and Lucasfilm led a masterclass in Pop! design -- including the new Sith Trooper figure.
The minds behind Funko's hugely popular -- and downright adorable -- Star Wars Pop! vinyl figures gathered at San Diego Comic-Con today, taking fans behind the scenes of the line's unique designs. In a discussion moderated by ILMxLAB's Justin Bolger, Funko's Sean Wilkinson (senior creative director), Ben Butcher (SVP of creative), Reis O'Brien (design manager), Amanda Brock (senior sculptor), and Lucasfilm's Brian Merten (senior manager of product development) shared insights and stories, including a peek at the making of the new Sith trooper Pop!. Here are six things we learned.
1. The Pop! line truly changed Funko. The company launched in 1998, making bobbleheads, and slowly began to try new figure forms. Funko eventually created the Pop! vinyl form, and launched the series eight years ago. They haven't looked back. "Lo and behold, people loved this," said Sean Wilkinson. "It changed our fanbase, the interest level, and the excitement around Funko. Star Wars was one of the first [brands] to join into this." The sophistication of Pop!s have evolved over the years, from basic, somewhat uniform figures to more dynamically posed designs with incredible detail. "It's just been exciting to watch it grow to this level and his this kind of fanbase," he said.
Lucasfilm's Brian Merten weighed in on why he thinks Star Was Pop!s have been so successful. "It's different, it's exciting," he said. "It's not something that was expected out of Star Wars."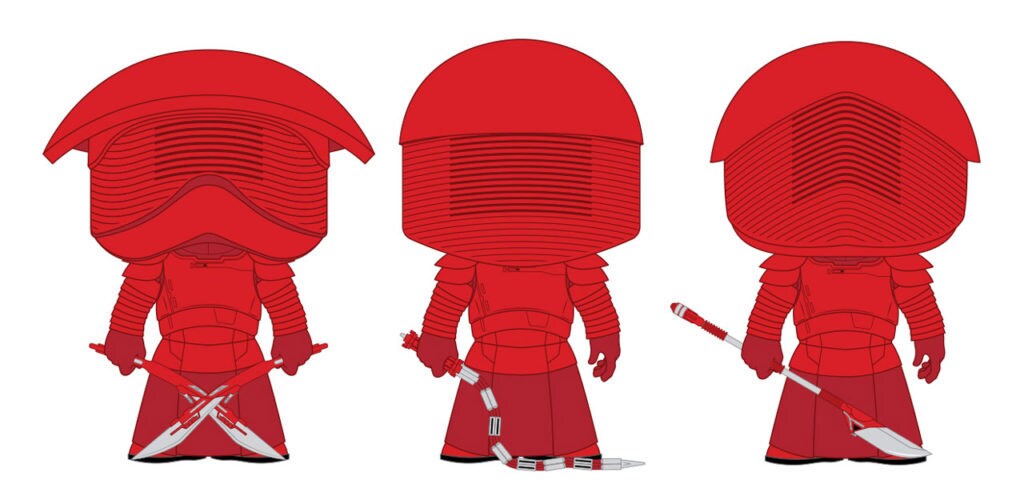 2. There are certain design elements that can make or break a Pop!. Reis O'Brien and his team will begin with sketches, mapping out the figure. "You gotta make sure you get the head shape right, and the body-to-head ratio," O'Brien said. From there, a figure goes into the sculpting stage, where detail, nuance, and attitude are added.
"They're sculpted in Z-Brush," Amanda Brock confirmed, noting the digital software Funko employs. One benefit of digital sculpting is that any singular asset -- say, a blaster -- can be moved between figures and tweaked when needed. "We can share things across the board," Brock said.
3. While Pop!s are stylized, the figures must still be authentic to both brands. Merten discussed some core necessities in translating Star Wars into Pop! style. "What we're really looking for is an accurate portrayal, or the ability to actually capture the Star Wars character. Because it's such a different form, it has its own rules," he said. "So sometimes it's a challenge to get character into that sculpt."
4. When Funko is designing Pop!s for upcoming films, much is still kept secret. The designers receive certain assets specific to the characters they're making -- just enough to create an accurate figure. "We know exactly what we need to know in order to make the collectible, and not much more than that," O'Brien said. This is where Funko's relationship with Lucasfilm comes more into play, as Merten can advise on poses and other factors to bring the figures closer to capturing new characters' personalities.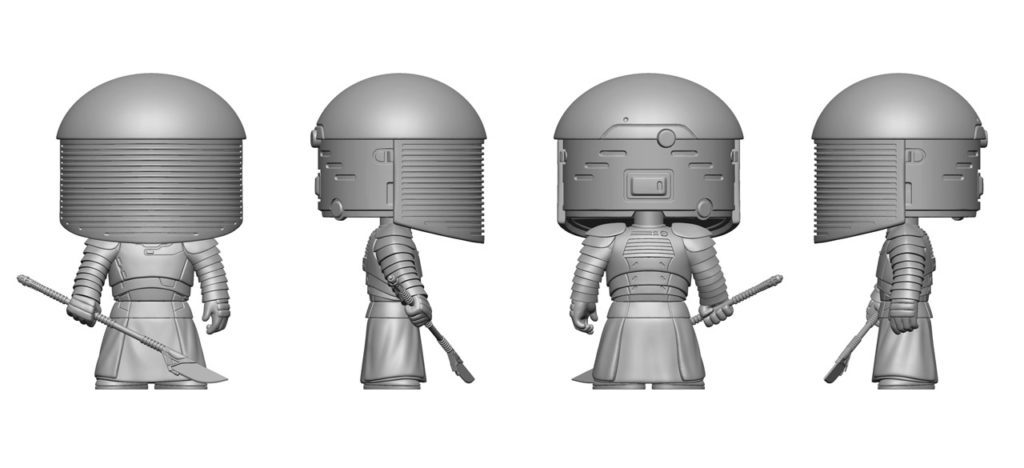 5. The designers will often be their own models. "We'll look at our concept art, reference, and start sculpting. It's a lot like dressing it up," she said. "So I'll put on the chest armor, add pants and armored pieces, and keep building on top of it." But to find the perfect pose, they'll often do it themselves.
"Amanda loves it when I come into her cubicle and act things out," O'Brien said. "We have a bunch of plastic lightsabers and blasters laying around the office. Then she'll take a picture of me."
"It gets a little crazy sometimes," Brock confirmed.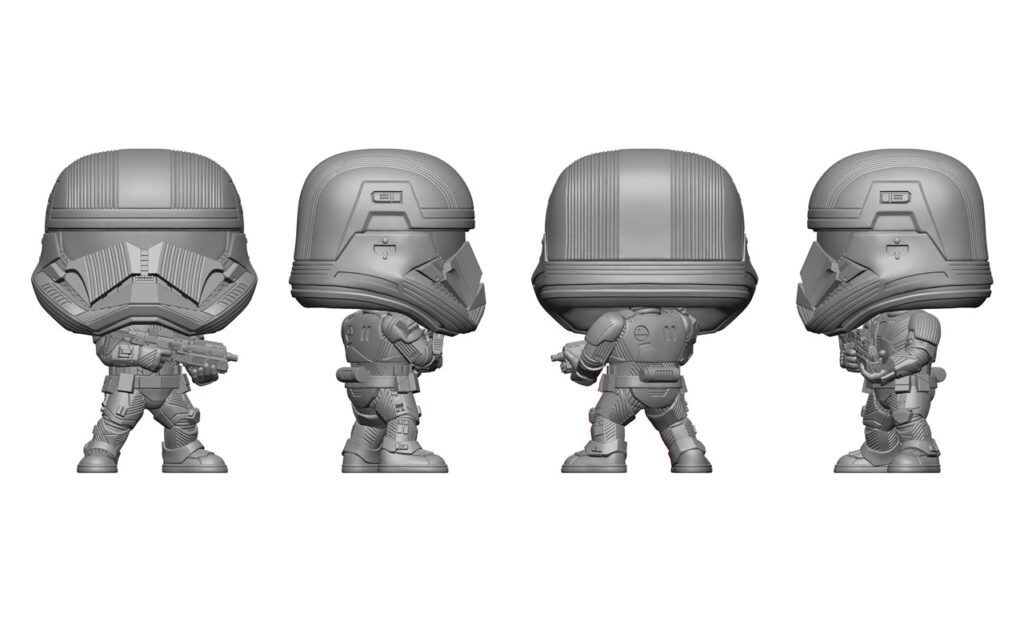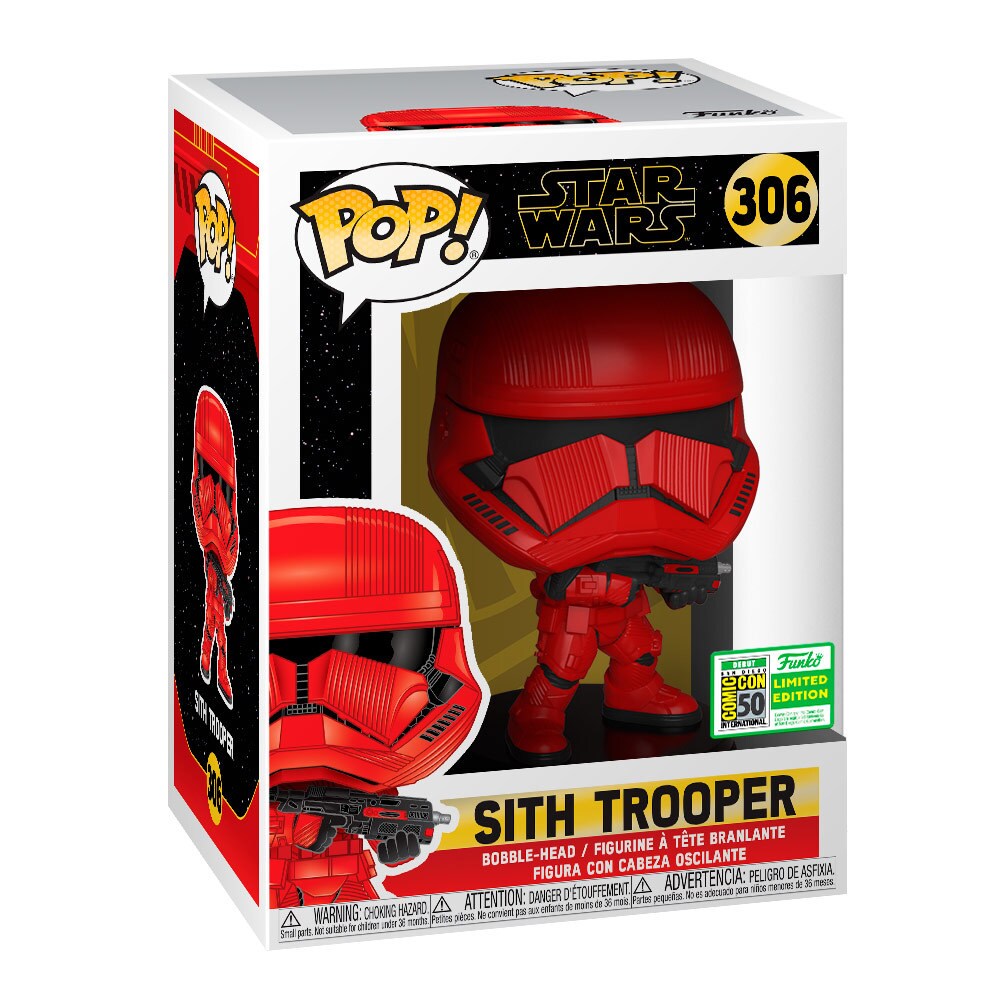 6. Creating the Sith Trooper Pop! required extreme attention to detail -- and a visit to a "super-secret room." The next evolution in trooper design, the crimson Sith trooper will debut in Star Wars: The Rise of Skywalker, featuring intricate detailing. "We went over this guy's reference with a fine tooth comb," O'Brien said. "He is a new stormtrooper from head to toe." Indeed, the figure, like its on-screen inspiration, is filled with finely-sculpted lines, which the team worked tirelessly to match. That was not the only challenge, however; color was also an issue. "That red is not just red," O'Brien said. He recounted the story of how, in order to ensure that the Pop!'s red was perfect, Merten took the Funko team into a room at Lucasfilm headquarters filled with screen-used props. There, O'Brien got to see the actual Sith trooper helmet from The Rise of Skywalker. "I held the Pop! to the helmet, and it was dead perfect," O'Brien said. "As a designer and a Star Wars lover, it was an epic moment." Funko's Sith Trooper Pop! made its debut as a San Diego Comic-Con exclusive -- the very first Pop! for The Rise of Skywalker.
Dan Brooks is Lucasfilm's senior content strategist of online, the editor of StarWars.com, and a writer. He loves Star Wars, ELO, and the New York Rangers, Jets, and Yankees. Follow him on Twitter @dan_brooks where he rants about all these things.
Site tags: #SanDiegoComicCon2019, #StarWarsBlog