Nien Nunb is back, plus more on the Star Wars-themed land coming to Disney Parks!
Disney's Hollywood Studios recently hosted the third Star Wars: Galactic Nights event at Walt Disney World Resort in Orlando, Florida, which included an exclusive discussion with some of the minds currently bringing Star Wars: Galaxy's Edge, the upcoming Star Wars-themed land, to life. The panel, moderated by David Collins, featured Scott Trowbridge (portfolio creative executive), Eric Baker (creative director), Jon Georges (executive producer), and Margaret Kerrison (managing story editor), who offered insights and a few big reveals. Here are some of the things we learned at the presentation.
1. Hello, AT-ATs.
Trowbridge revealed that the Millennium Falcon is not the only huge Star Wars vehicle being built for Galaxy's Edge: The team is building two towering AT-ATs, making our Imperial dreams come true. The walkers will be part of the second attraction in Galaxy's Edge (the first being the Millennium Falcon), with guests facing off against the AT-ATs. Trowbridge showed photos of the armored behemoths being built in Japan, eliciting roars from the crowd. The feet alone were massive, but the detail put into them, as well as the rest of the transport, promises to be most impressive.
2. Hello, Resistance Transport, too.
To help create that real-world feel for the vehicles in the universe, some Imagineers traveled to the sets of recent Star Wars films at Pinewood Studios. The plan is to replicate authenticity from the big screen and brings it to life on Batuu. As evidence of this, we were treated to some images of an all-new vehicle: the Resistance Transport.
The Transport will feature prominently as you take on the First Order firsthand. As Georges explained, "This is an actual, physical, full-size ship that you'll actually step on board and set off on an adventure of your own." It even features battle damage, indicating things have been challenging up to this point for the Resistance crew. Again, the attention to detail is staggering.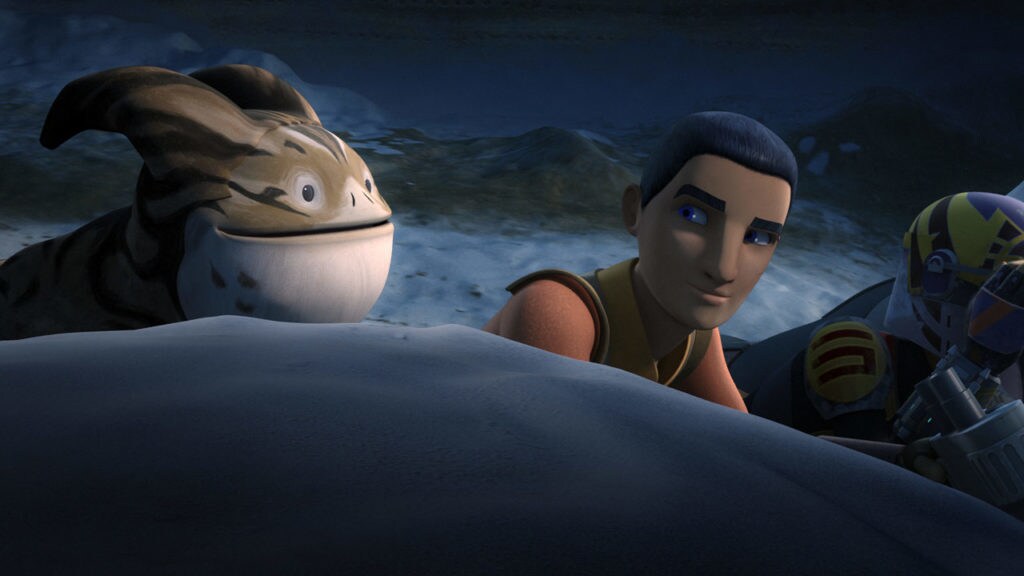 3. Loth-cats are coming to our galaxy.
Production designer Doug Chiang is working with artists to create physical representations of some Star Wars creatures, many of which have only been present in animated form up to this point. In fact, a creature pen is being built to allow for the illusion of a lifelike encounter with Star Wars wildlife.
Perhaps most exciting of all, however, is that the team is creating lifelike Loth-cats -- a fan favorite from Star Wars Rebels -- with which guests will get to interact. The image shown of the in-the-works creature elicited a cacophony of "Aww"s throughout the Epic Theater at Disney's Hollywood Studios. (It's a fair assumption we will all want to take these adorable little critters home after meeting them on Batuu.)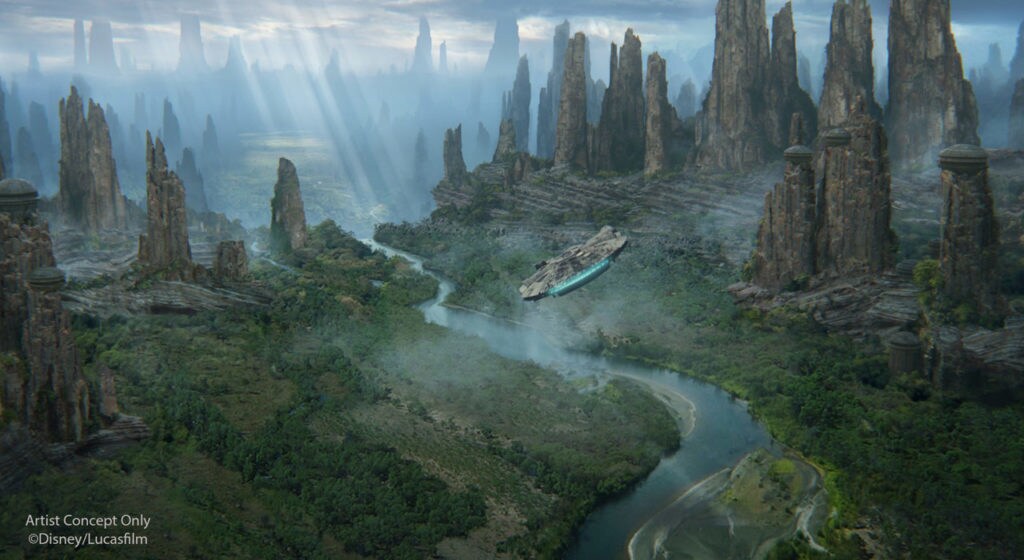 4. Set your coordinates for Black Spire Outpost.
Finally, we learned that the town on Batuu that Disney Parks guests will be exploring is called Black Spire Outpost. That name may be familiar to Star Wars fans, who first heard L3-37 tell Lando Calrissian in Solo: A Star Wars Story that he could not find Black Spire without her. The panel showed the exciting above images of Black Spire Outpost, and you can find out more right here.
5. Welcome back, Nien Nunb and Hondo Ohnaka.
While there are many new Star Wars encounters in Galaxy's Edge, there will also be some familiar faces. Nien Nunb, the co-pilot that helped destroy the second Death Star and returned to take on the First Order, is back. Actor Kipsang Rotich will once again voice Nien for Galaxy's Edge, adding some true connectivity to the Star Wars films. Disney went all the way to Kenya to find the actor, who was a graduate student at the time of Return of the Jedi, and showed a video where he shared his excitement about returning to this character.
Also returning is Hondo Ohnaka, the Weequay pirate from Star Wars: The Clone Wars, Star Wars Rebels, and Forces of Destiny. The last set of Galaxy's Edge trading cards (which guests received once they left the park for the evening) included an image of Hondo and Chewbacca at the entry ramp of the Millennium Falcon. At this point, it is hard to say what brought these two together, but it certainly seems to be a recipe for plenty of unexpected and exciting moments.
In just over a year, we will be immersed in the largest land ever created for the Disney Parks -- coming to Disneyland Resort in summer 2019 and to Walt Disney World Resort in fall 2019. Get ready.
Dan Zehr is a high school English teacher with an MS in Teaching and Learning, and is the host and co-creator of Coffee With Kenobi, a podcast that examines Star Wars' mythology from a place of intelligence and humor.