Get first details on the "infamous stop" coming to Disney Parks' Star Wars-themed land.
Move over, Mos Eisley.
During a panel discussion at Star Wars: Galactic Nights at Disney's Hollywood Studios on Sunday, May 27, story editor Margaret Kerrison revealed that the village in Star Wars: Galaxy's Edge is named Black Spire Outpost. As detailed on the official Disney Parks Blog, Kerrison also shared some of the outpost's interesting history, in which the landscape itself plays a big role:

"The largest settlement on the planet Batuu, Black Spire Outpost is an infamous stop for traders, adventurers, and smugglers traveling around the Outer Rim and Wild Space. Off the beaten path, this outpost has become a haven for the galaxy's most colorful -- and notorious -- characters. Widely known for the petrified remains of its once towering ancient trees, the spires now stand guard across the river valleys and plains and have long captured the imagination of travelers to this planet. To the first settlers, these petrified spires became more than just landmarks; they became the heart of the outpost itself."
Concept art for Black Spire Outpost was also released, one piece offering an eye-level view of what it might be like to travel through the locale...
...and one following the Falcon over a beautiful river valley.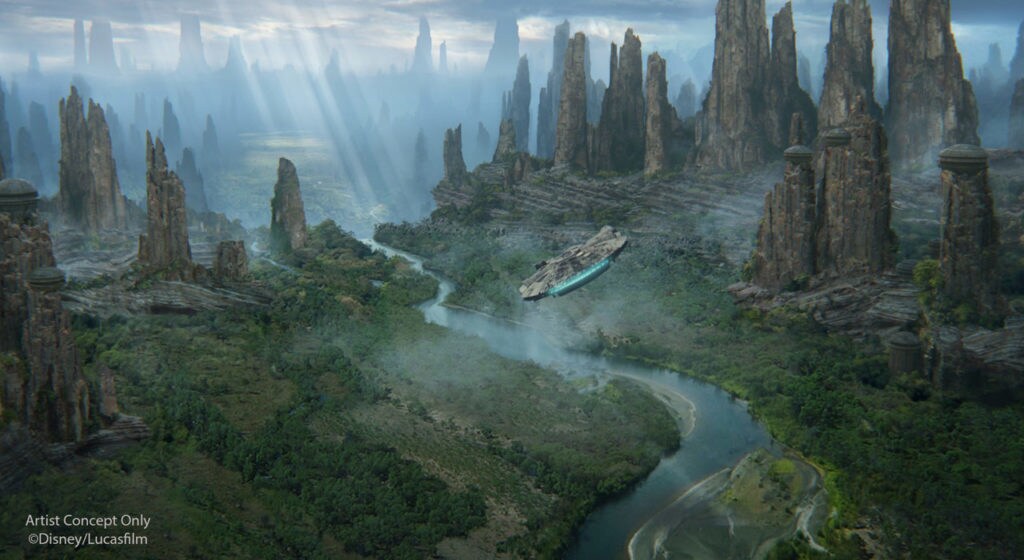 So set your hyperspace coordinates: We'll all get the chance to visit Black Spire Outpost when Galaxy's Edge, the highly-anticipated Star Wars-themed land, opens at Disneyland Resort in summer 2019 and at Walt Disney World Resort in late fall 2019.
StarWars.com. All Star Wars, all the time.