Geonosis

A harsh rocky world less than a parsec away from Tatooine, Geonosis is a ringed planet beyond the borders of the Galactic Republic. Its uninviting surface is made up of harsh, rocky desert, and the creatures that evolved on Geonosis are well equipped to survive in the brutal environment. The most advanced lifeform are the Geonosians, sentient insectoids that inhabit towering spire-hives. The Geonosians maintain large factories for the production of droids and weapons for the Separatist cause in the Clone Wars. After the Clone Wars, the Empire chose Geonosis as the construction site of the first Death Star, restricting travel to the system and sterilizing the planet's surface.
The Outer Rim world of Geonosis was home to an insectoid species known for skillful manufacturing. The Geonosians built the Trade Federation's droid army and played a key role in arming the Separatists.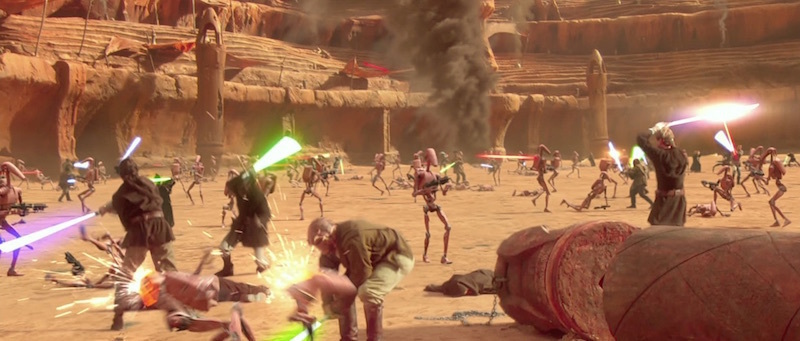 A rescue mission led by Jedi and clones became the first battle of the Clone Wars. With the Republic's new army pressing its attack, Dooku retreated with plans for a secret weapon of Geonosian design – the planet-killing Death Star battle station.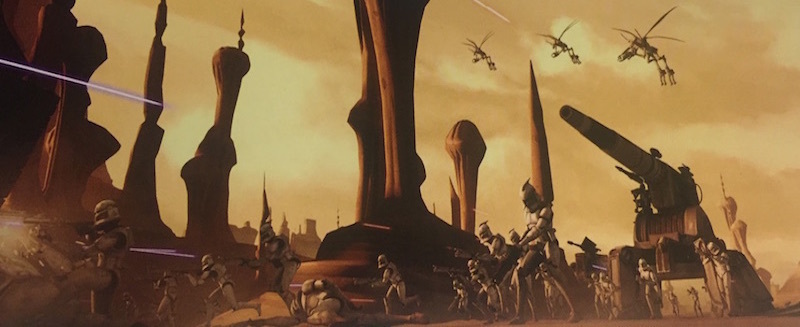 Geonosis was critical to the Separatist war effort, and the Republic launched a second invasion, determined to stop Geonosian leader Poggle the Lesser's support for Dooku's military machine.
THE DARK TIMES
Under utmost secrecy, the Empire began construction of the first Death Star in space near Geonosis. Travel to the system was restricted to all but a few, and the surface of the planet was sterilized.